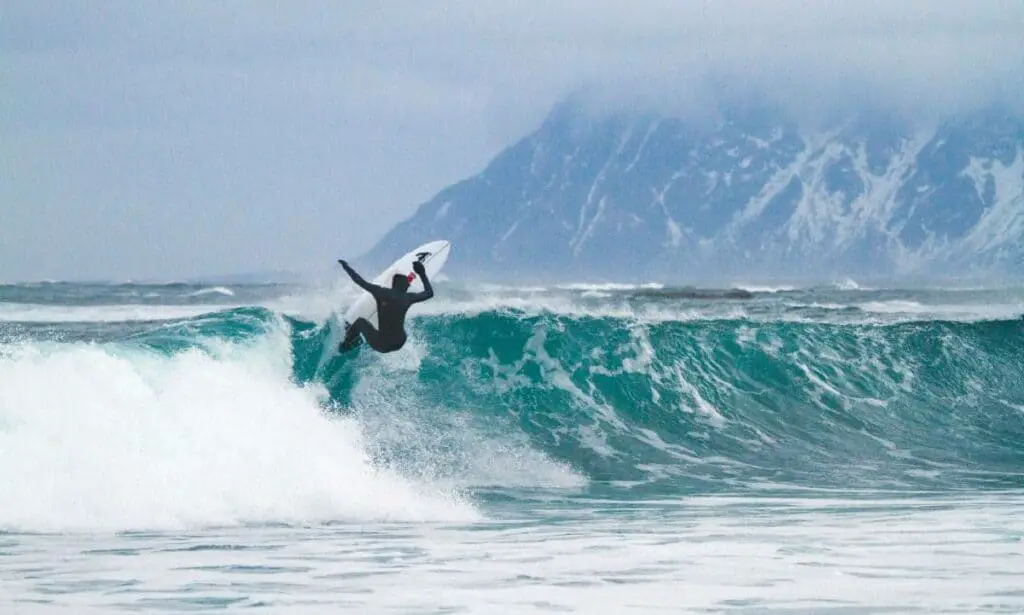 Patagonia Wetsuits, as per the brand's other apparel and equipment are expensive but equally, they are well regarded for their high quality products and rock solid warranties, repairs and customer service. Patagonia is a brand that really stands behind its products.
Further, Patagonia is a company with strong environmental and social morals and their wetsuits are no different. They are made of (primarily) Yulex natural rubber – which we will discuss in more detail further in this post – and as such, Patagonia are one of a few wetsuit brands leading the way of manufacturing wetsuits with as little impact as possible. 
Patagonia's Wetsuits have not typically been praised for their flexibility (when compared to typical petroleum-based neoprene suits from mainstream brands), but it is clear from customer feedback that this has improved substantially overtime and the latest iterations of the suits have come leaps and bounds in that department. 
This post will look at the materials and technology Patagonia is using in their latest wetsuits, as well as each series from the R1 Lite to R4 series of wetsuits and customer feedback for each. 
1. What are Patagonia Wetsuits Made of and how does it differ from traditional neoprene?
When Patagonia started making wetsuits in 2005 they wanted to building high-performance wetsuits that had the least impact as they had noted neoprene as the traditional wetsuit material, was the most damaging component of wetsuit manufacturing. 
Neoprene is a petroleum-based product which has been utilised in wetsuits since the 1950's and when Patagonia entered the wetsuit market, there was no viable alternative material available. 
Initially, Patagonia utilised a limestone derived neoprene (like others wetsuit brands Matuse and Vissla) with innovations such as internal wool lining however they realised that due to the amount of energy required to produce it, plus mining and transportation that there wasn't much difference between limestone and petroleum derived neoprene. 
Within a few years Patagonia partnered with a company called Yulex to produce a plant based and renewable product to replace neoprene in their wetsuits. The rubber in Patagonia Wetsuits is now sourced from sustainable sources certified by the Rainforest Alliance – which involves the sourcing of raw latex from havea trees which is then refined by Yulex to remove impurities and produce a stronger material which performs on par with traditional neoprene with the benefit of circa 80% less CO2 production.
2. Patagonia Wetsuits – R1 Lite Range
Water Temp Range: 65°–75° F/18°–23° C
Thickness: 2mm
Variations:
R1 Lite Yulex Front zip Full Suit 
R1 Lite Yulex Front zip Short Sleeve Full Suit 
R1 Lite Yulex Front zip Long Sleeved Spring Suit
R1 Lite Yulex Front zip Spring Suit
R1 Lite Yulex Long John
R1 Lite Jackets, Vest and  Tops
The R1 Lite Series is Patagonia's, well,  lightest wetsuit range designed for warmer water temps and spring suits.
Features:
Torso/thighs have solution-dyed 95% polyester (51% recycled)/5% spandex inverted microgrid thermal lining that minimizes weight, dries fast and offers excellent flexibility
Solution-dyed, high-stretch 100% recycled polyester jersey lining in the arms/legs improves flexibility and dry time; solution-dyed exterior face fabric made with 85% recycled polyester/15% spandex is durable, stretchy and water-resistant; lining and face fabric laminated with solvent-free AquaA™ glue
100% external seam sealing; all seams are triple glued and internally taped
Supratex kneepads and ankle cuffs for maximum durability and anatomic fit
Floating, asymmetrical front-zip with corrosion-proof Salmi® zipper provides better seal and extends suit's lifespan; unlike other designs, zipper is replaceable
Easy-access key loop
User Reviews – Fullsuit R1 LITE

"I put it on and did not want to take it off. Dries quick and I used it 4 days straight. Super flexible and warm enough for our unusual warm January."

"6'3, 175lbs, 31/32″ waist. Using a LT size suit. When the suit is on very comfortable! Sizing for a LT is a little on the short side, chest and leg inseam could use another 1". LT inseams usually around 34″ not the 31″-33″ pat has. So this suit occasionally can be too snug on the fellas (from the short chest/legs). Also the suit's entry is very narrow. I have a hard time with my skinny frame getting my shoulders in, and an impossible time getting this off. I think Pat in hindsight forgot that surfers have broad shoulders and should have made the suit entry a little wider.

That said the suit is very stretchy and I can squirm in, suit feels good with the tightness. Only worried about stretching it too much and it only lasting like a season. Suit is rated for 65-75*F temps. Honestly this thing is hot! And I produce a lot of body heat, but I like using this at around 50-70*F. Comfortable at either end. Very comfortable, cuffs at ankle and wrist are somewhat tight, would love to see some kind of inner grip/grit built in to help retain to gloves and booties. All the seams are pretty good, don't look like I'll have any issue with them. The cuff around the neck is nice, tight! But, not like those rubber gasket tight that make you feel like your choking while surfing. A soothing warm tight lol.

Last complaint is the width of the webbing on the interior of the neoprene is the perfect size for sand to get in and settle. Worried about the sand grinding the suit from the inside out. Been cleaning the sand every-time I use but theres always a bunch stuck in the fibers. No suit rash or hotspots yet. Used about 15x this spring/summer."

"This wetsuit is amazingly warm and stretchy.. I am going to see how long I can wear it into the winter SUP surf season.."
User Reviews – Spring Suit

"The warmth to comfort ratio was outstanding. I've been wearing it on 64′ days and stayed plenty warm."

"As great as it is in the water, the process of putting it on and off is pretty painful and I hope that with later models this could be improved through an extra zipper maybe."

"The wetsuit fits great, love the zipper, plenty warm. I did get a little neck rash the first few days."
3. Patagonia Wetsuits – R1 Range
Water Temp Range: 60°–65° F/16°–18° C
Thickness: 3/2.5 mm
Variations:
R1 Yulex Front Zip Full Suit
R1 Yulex Back Zip Full Suit
R1 Yulex Impact Fz Spring
User Reviews – Full suit 

"Fits great, is close to the skin, and moves really well. Feels like my nine plus suit in the sense that it keeps most of the water out of the suit so you stay warmer longer. Make more of these for taller people!!"

"This wetsuit is thinner and has no bad smell compared to traditional neoprene wetsuits. Awesome."

"Lots of good design features make this a fantastic suit. The stretchy cuffs at the bottom help with getting heels through but still keep water out. The whole fit is very snug, almost never flushes. The liner is warm and it dries super fast."

"I have been wearing Patagonia suits for over 10 years and the new updated Yulex suit is by far my favorite. It has the perfect combination of warmth, fit, flex a durability. With the improved fit and flex I found the front zip model to be much easier to get in and out of than other front zips suits I have had in the past."

"I have been in this new suit for a few months now. Phenomenal fit and stretch is the first thing I've noticed. The suit goes on with ease, like a pair of pants, and comes off as simple as taking off a jacket. Warmth remains to be a strong aspect to this suit as well. I primarily surf in and around Ventura and this suit leaves me comfortable all the time. I even used the suit on a recent trip to Santa Cruz, combined with some booties, this suit was adequate for this time of year. Durability is strong with this one. So far it's held up to the 3-4x of weekly surf. Patagonia has raised the bar to what's possible with Yulex and suit performance! It feels good to use a suit that is sustainable and performs so well. Have your cake and eat it to? It's possible with this suit."

"I've worn Patagonia suits for the last six years and every competitor's suit prior. Each Patagonia suit seems to get better and better. In the past I've had issues getting in and out of a front zip from any brand until the suit broke in. The flex and design of these new Patagonia suits makes it easy to get in and out of the suit the first time. Also, the suits seems to get lighter each year but still retains it's warmth."

"These wetsuits fit great! I've worn Patagonia Wetsuits for the past 6+ years and these are by far the best suits they have made. Well done!"

"I've owned a handful of Patagonia suits in the past and this is definitely the Best one they've created. When holding the suit in my hands you can already tell it is much lighter than previous years. After having the suit on I felt it fit nice, had a lot more flexibility and range of motion in the arms. The suit was way easier to get in and out of also. The warmth of the suit was spot on. Over all I would say it fit me perfect and its by far the best suit Patagonia has put out."

"Wow! Definitely excited to be surfing in this new R1. I've been using it for a couple months now on chillier mornings around Ventura, definitely warm without being constrictive. Biggest improvements I've noticed are the fit and stretch. I've owned several Patagonia wetsuits, this one's my favorite so far. This wetsuit is just plain comfy to wear! Can't wait to replace my old R2 with one of the new updated Yulex suits."

"I swim throughout the year in waters that always need a wetsuit. So I have three patagonia wetsuits R4 R3 and R1. I love the suits they are well manufactured. Tried other brands but patagonia keeps the cold out best. One BIGGG complaint: the zipper ( chest entry ) takes a lot of excessive dexterity with both hands to connect so that you can zip. Maybe not so hard for 20 year olds but come on patagonia 70 year olds like to be able to use a wetsuit also"

"Great wetty, true to fit, warm with great seals. I have even been wearing it in mid 50s water and I am plenty warm for several hour sessions."
4. Patagonia Wetsuits – R2 Range
Water Temp Range: 55°–60° F/13°–16° C
Thickness: 3.5 / 3 mm
Variations:
R2 Yulex Front Zip Full Suit
R2 Yulex Back Zip Full Suit
User Reviews:

"Thought I would wait a couple of months and give the suit a good work-out before I posted a review. I live in South Oz and usually wear a 4/3 thru the winter months. I had heard a few mixed reports about Patagonia wetties, but have had all of the regular known brands over the years and wanted to give them a try. I ended up getting a medium which is snug when first put on but perfect when it gets wet. It was the 2019 model which i heard they had improved the fit and likely the previous medium wouldn't have fit me as good.
Paddling is great and I don't feel restricted over the shoulders and no issue with the overall flexibility. There is always some compromise with a thicker wettie but this is great. I am keeping warm and enjoing 2 hour surfs most sessions. The interior wool lining is awesome and the best I have felt.
The only downside i have had is sometimes i get a bit of water flushing down the back of the neck when duck diving. Not sure why this is as the neck seal is nice and tight.
Overall I rate it highly and hope to get a few years use out of it. Normally I would use a steamer for about 3 years before replacing it."

"Bought the R2 Front-Zip Full Suit and really happy with it. Comfortable and keeps me warm. Also love that the suit is made with materials to be more environmentally friendly."

"I have been wearing Patagonia wetsuits for over a decade now. I was so excited about the Yulex suits, but the first generation Yulex lacked the stretch and flexibility of traditional neoprene suits and, for some reason, Patagonia changed the sizing of the suits. I've been wearing a MT forever (I am 5'10" and 165 lbs), but the first gen Yulex MT felt like a straight jacket. Here comes the part where Patagonia rises above. Not only did they improve the stretch of the second gen Yulex and return to their original sizing, they allowed me to exchange my used first gen suit for a new one. Can you say exceeding customer satisfaction expectations???? Patagonia makes some of the best outdoor equipment, they do it with a conscience, you can't beat the ironclad guarantee, and their customer service is unparalleled. This suit is super comfy, toasty warm and as almost as stretchy as a neoprene suit."

"I've been wearing Patagonia suits for at lest the lat 7-8 years. The new R2 Front Zip takes the cake. I've worn it now a dozen times or so and it's been great. The warmth to weight is truly impressive. I was mildly worried it might not be warm enough since it felt so light. Not the case at all. Fit is far improved and this new version has so much more stretch than the last yulex. Well done Patagonia!"

"I've been wearing Patagonia wetsuits for a while now and this newest model is by far the best yet. It's way stretchier and lighter than my old R2 front-zip but just as warm. I have some broad shoulders and had a lot of trouble getting in and out of my older Patagonia front-zip (almost got stuck a few times!), but in this new suit it's a cinch. I'm 5'11" and weigh 175 lbs and wear a size L. Stoked to see how it holds up this winter!"

"I have over 50+ days in my new R2 backzip suit and I absolutely love it. I am impressed by the performance, comfort and warmth. This new version is much easier to get in and out of and feels less restrictive when paddling. I highly recommend."

"I've always liked Patagonia suits but this is by far the best suit they've ever made. It's super soft, stretchy, and goes on really easily. Importantly, it comes off just as easily too. With front zips, it can sometimes be challenging to get it past your elbow when removing the suit – this one comes off with one pull. The fit feels really solid as well and mine fits like a glove. Additionally, the fact that the suit is made from Yulex vs. regular neoprene is a huge plus for me. Overall, it's an amazing suit and I'm really happy with it"

"I debated for a long time between getting this suit and the O'Neil Psycho Tech. I have used O'Neil suits my whole life and loved the super flexibility of the Psycho Tech. I'm hoping that someday Patagonia will be able to make a suit with something as flexible as O'Neil's Techno Butter, but I found the R2 to be plenty flexible once I got wet and am hoping that with time it will get looser. What I love about this suit was how warm it was. I read all of the user comments about this suit and was a little concerned about water getting into the suit via the ankles and else where. For anybody who is sitting on the fence and worried about this problem, I have had had ABSOLUTELY NO PROBLEMS with water leaking up the cuffs or cuffs. I think that really depends upon the individual's body and this can happen with any brand. That said, I'm very very skinny and yet the wetsuit fit snugly over my wrist and ankles. I have done numerous test just sitting in the water for extended periods and have yet to have this problem. I absolutely love the environmentally friendly aspect of these suits and was willing to sacrifice a little flexibility to have a suit that is fair trade made and that you can feel good about wearing. I have always had back zip wetsuits and was a little concerned about the unorthodox front zipper going from right to left as opposed to the other way, but the zipper works perfectly and like I said above, I have had zero problems with water seeping into the suit. I remember one time I was point sitting on my board and forgot that I had a wetsuit on. I was that comfortable in this suit even though the water off San Francisco's Ocean Beach can get pretty brisk in January. That's why I decided to write this review. I have been a Patagonia user since the early 80's and this is the first time I have bought one of their wetsuits. Like everything else they make, the quality and construction is nothing less than is superb. I only gave it 4 stars because I still think Patagonia can make a wetsuit as flexible as O'Neil's and when they do, I will give it 5 stars. Also, I got the R3 over the R2 because I thought it would be warm enough even it's not rated for temps in the low 50's. The R2 is obviously more flexible than the R3 but I have found it plenty warm enough for water in the low 50's (as I said before, I am pretty skinny and get cold easily….). Hope this review is useful for anyone who is sitting on the fence about the suit. Buy it, you won't regret it."

"Let me first say that I've been a die hard Xcel Wetsuit user for almost 30 years. I've used their ss/fullsuits and fullsuits in cool water, and hooded fullsuits, gloves, booties, ect.. extensively in the much colder Pacific NW for years before moving back home to So Cal. I decided to do my part and use a renewable resource product, try something different this time, and see what all the Patagonia/Yulex buzz was about…

I bought the R2 Yulex Front Zip Fullsuit (size XL) and have used it several times a week from January 2019 to June 2019. It was quite a snug fit out of the box and wasn't very flexible across the chest and shoulders for the first 3-4 surf sessions this past winter. After that initial break-in period it has continued to fit like a glove and is one of the most comfortable, flexible, and warm wetsuit's I have ever owned! I'm totally stoked on it's performance! The only reason I didn't give it 5-stars is that I just noticed a de-lamination in the nylon-2 material and a small separation in the welded rubber seam in the butt area of the suit. This is all from normal surfing use so I'm waiting to see how Patagonia addresses the necessary repairs. I've only read great things about the warranty of their products, so I've got my fingers crossed… I'd like to get a couple more seasons out of this wetsuit."

"I'll admit, I was no fan of the Yulex the first season. However, this new R2 incantation is far superior than last season's. While the initial stretch factor is not there as compared to a Rip Curl or Oneil, it is much improved for Patagonia. After the first two or three surfs, the Yulex becomes more supple and flexible and now the suit fits, feels and stretches like a glove. The zipper quality, and seams are very above par as well. Highly receommend this suit for someone who doesn't want to blow through a suit every year. Another huge benefit of the Yulex is the smell factor — no residual odor (or body odor) from wearing it!"
5. Patagonia Wetsuits – R3 Range
Variations:
R3 Yulex Front Zip Full Suit
R3 Yulex Back Zip Full Suit
Water Temp Range: 48°–55° F/9°–13° C
Thickness: 4.5 / 3.5 mm
User Reviews:

"The dedication and research to this part of surfing is covered! Great stitch and great fabric. A little tight at first but stretched to fill out and feel great."

"Just put in a few sessions with the Ms R3 Yulex Front-Zip full suit and really really really like the new design. I was using an R3 from Patagonia's full suit before the Yulex product. I still have it 5 years later with only one re-seaming. The new design definitely is an evolution forward. Love the new internal materials, it dries way way way faster, holds less water, flushes less often and has a better cut. Overall very sold on the Yulex design"

"I have used this wetsuit for river surfing in about 45-50 degree water this fall. It has been a game changer and kept me warm. I upgraded to the R3 wetsuit after using an R2 suit for the past 3 years. My R2 suit has been used hard and wasn't keeping me warm enough anymore. I have done some repairs myself to fix seams and minor holes from wear and tear over the past 3 years on the R2 suit. The R3 has extended my surf sessions and added to my enjoyment in cold river water. The wetsuit is made with typical Patagonia high quality. I have also noticed that my new R3 wetsuit dries out more quickly than my old R2 wetsuit. I highly recommend this wetsuit. I will keep using my old R2 suit for warmer summer conditions in the river."

"On my third season with the R3. Fits great – snug but flexible. Been using it for kitesurfing in Baja and it's warm enough for the Pacific side, but not too warm for the Sea of Cortez in the winter. The seam tape is starting to separate on the inside near the ankles, but it's an easy fix. I'm 5'9″ and 155 lbs."

"Perfect for winter in Oregon. Very comfortable, grid fleece is great. I don't feel a single seam, really well put together. Actually paddles as well as neoprene suits of comprable thickness that I've used. It sounds like they've worked on the fit in the shoulders and improved the stretch. The more durable material in the knees is a good idea. The 

stretchy ankle and wrist cuffs are easy to roll up to admit glove and bootie gauntlets, but still tight enough to keep water sealed out. For cold days (48 degrees is as cold as it gets here) I often will use a Water Heater Hooded Vest underneath, but this certainly isn't necessary. For use without a hood, the neck is well designed, tight but doesn't press on the throat at all. Has good seams and a burly zipper. Hope it lasts forever.

At 5'10" and 160lb the medium is perfect, easy enough to put on/take-off, but still tight, almost never flushes in a wipeout. And they're sourcing natural rubber, so it's a no-brainer."

"As a surfer I always feared the cold water leaking into my suit… with this suit it never happens. I'm always warm and it keeps the water out! It's perfect."

"This review is for an XLS size which was notnin the drop down menu. I just returned an R3 chest zip neoprene suit and bought the new Yulex R3 back zip. While I own both styles and understand how they fit differently for me with a shoulder injury a back zip is my only option. My old R3 was wool lined and frankly STIFF!! It was not used and sat in my closet. I couldn't get my shoulders into it without pain and help to get it off. I have read reviews and seen some online/YouTube reviews that say it is stiff when new. While there may have been some initial sizing or material stretch issues in the first year of yulex production, I can say with total certainty that the 2019 Yulex suits are the finest fitting wetsuits I've ever put on. Out of the box it was soft, warm and SUPER stretchy. I wear an XLS short. My shoulders are too broad the size smaller and this fits perfectly in arm and leg length. I can paddle even with my weak shoulder without any " rubber band" feeling and that was trying it on for the first time, let alone once it's broken in. I also LOVE the fact it is a greener product and non petroleum based. ALL manufacturers should be so responsible, I'm thankful Patagonia is… these suits fit true to dimension and are incredibly comfortable, I will not wear anything else, the quality, fit, comfort and smaller carbon imprint is worth every penny."

"This is the most comfortable and durable wet-suit I have ever worn. And…from a company that stands behind their products."
6. Patagonia Wetsuits – R4 Range
Water Temp Range: 38°–48° F/3°–9° C
Thickness: 5.5 / 4.5 mm
Variations:
R4 Yulex Front Zip Full Suit
R4 Yulex Back Zip Full Suit