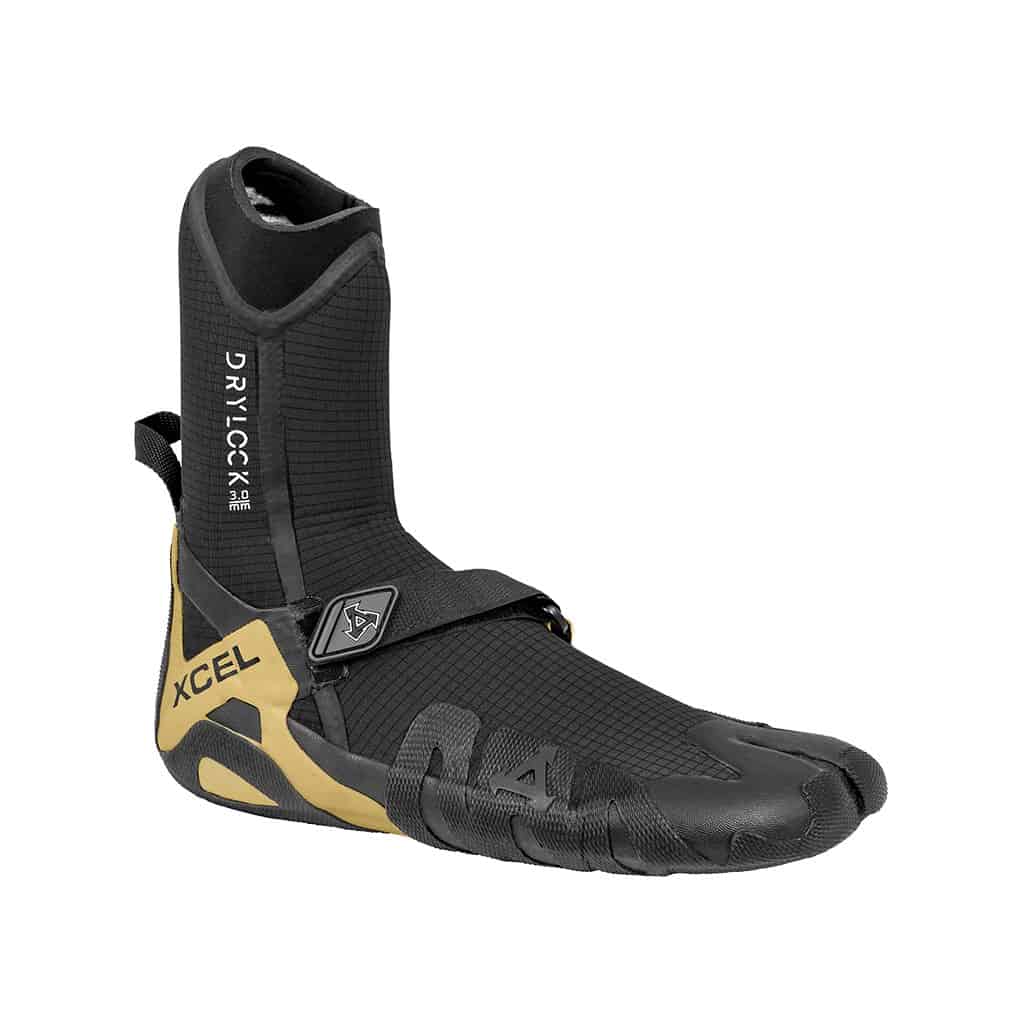 When it comes to wetsuit boots, like everything these days we've got a tonne of choices available. While most people would prefer to surf without them (and without wetsuits for that matter), wetsuit boots are an absolute necessity in particular surfing locations.
If you're surfing in really cold water they're going to make your experience a lot more comfortable, keep your whole body warmer and ultimately allow you to surf longer. 
If you're surfing at a reef break or a break with a jagged rock bottom, reef wetsuit boots are going to keep your feet safe from cuts and other under water or out of the water hazards. When surfing in tropical destinations such as Indonesia, a small reef cut can quickly become infected and put an end to your surfing holiday!
As such, getting the right surfing booties for your particular needs is going to depend on a number of factors. Our wetsuit boots guide will give you some more clarity to help you seek the right pair.
NOTE: Some links within this article are affiliate links, if you do click through and end up purchasing, we receive a small commission at no additional cost to you. 
Table of Contents
What are the different types of Wetsuit Boots?
Split Toe Wetsuit Boots
A wetsuit boot which separates the big toe from the other toes for better space, balance, and control while surfing. Split toe boots do have a funny look about them but they can provide better performance. 
Round Toe Wetsuit Boots
Classic/traditional wetsuit boots that don't have the toes separated. Known for better warmth and protection.
Reef Boots 
Designed with a rugged sole, and generally ranging from 1-2mm in thickness, reef boots or "reef booties" are designed to protect the feet from sharp coral, rocks and other sharp objects (or creatures). Reef boots can come in either Split Toe or Rounded Toe (read more on what's best, below) and are typically lower cut around the ankle like a regular shoe. 
Winter  Wetsuit Boots 
The primary purpose of a cold water or winter wetsuit boot compared to the reef boot is to protect your feet (and body) from the cold. As such they are thicker generally in the range of 3-7mm and are higher cut designed to sit inside your wetsuit leg (to stop cold water from entering the wetsuit).
Split Toe or Round Toe Wetsuit Boots – which is better?
Choosing between the split toe style and rounded toe is really a subjective, personal decision but there are certain 
The advantages of the split toe design
Better Grip – closer to a bare foot feel
Performance – with an overall tighter and closer fit and separation of the big toe – the foot is less free to move and slip about about as in the round toe boot so all of your body's movement is more effectively transferred through your feet to your surfboard.
The advantages of the round toe design
Generally cheaper (easier to design and make)
Warmer 
Somewhat easier to fit
It all comes down to personal preference. If you are not a fan generally of split-toe socks/shoes, round toe boots may be the best option for you. 
Different Types of Wetsuit Boot stitching
Basically there are two types of stitching on wetsuit boots, as per regular wetsuits:
Flatlock stitch– Cheapest, easiest, however let's in cold water
Blindstitched / Glued – Won't let the water sweep in through the stitchings, only through the neoprene.
If you're surfing in cold water, you want to make sure you choose waterproof seams with your wetsuit boots. Look for liquid taped steams, blind stitched seams, and glued seams to ensure you get waterproof wetsuit boots.
For reef boots this is generally not a concern.
Which size is right for you?
Of course, like a pair of shoes you want the right size wetsuit boots however this can be a challenge if you are ordering online.
As each brand has its own sizing chart to refer to with some variations between them, there is always room for error when it comes to individual feet. Make sure to check the right size accordingly! Wetsuit boots are not like your everyday shoes, where you can go for a little extra room in the toes. When surfing in cold water, your feet will decrease a bit, unlike when running, where the size of your feet swells.
How should wetsuit boots fit?
They should fit tight, but not too tight to the point of being uncomfortable. If you get boots too big for you, they will fill with water and you won't feel comfortable or in control. However, if they are too small, you might lose blood circulation, which is another issue. The right wetsuit boots should fit snugly around the heel and ankle
WINTER BOOTS
At what temperatures do you need to wear winter Wetsuit Boots?
While some of the decision to get out the wetsuit boots depends on your own tolerance and personal feelings when it comes to cold water, some will also depend on the outside temperature. Typically, to be comfortable you'll want to don the wetsuit books when the water temperature gets down to about 54 to 59 degrees Fahrenheit or 12 to 15 degrees Celsius.
What Thickness Wetsuit Boot Do I Need?
60F+                  No boots necessary unless dealing with sharp bottom (reef, etc.)
50-60F               3mm
45-50F               5-6mm
40-45F               6-7mm
30-40F               7-8mm
Quality Wetsuit Boots are critical for better performance in cold water surfing
The better your wetsuit boots fit, and the less they interfere with your movement, the better you're going to surf. Being the connection to your surfboard, the benefits of having some sensitivity, dexterity, warmth, and a really good fit are rather obvious.
As with choosing wetsuit thickness, having the right wetsuit booties for warmth and mobility is key to your comfort and performance. Cheap boots are not the answer in cold water. Frozen feet will send you back to the beach faster than almost anything else. 
---
Best Cold Water Wetsuit Boots
A best selling cold water boot and for good reason – these boots are good quality and offer bang for buck, great warmth and performance features. Featuring Xcel's new Thermolite IR an infrared fiber infused lining that enhances warmth by helping to create and hold the heat generated by the body.
New Thermo Lite Infrared
New Textured Exterior
Adjustable Strap
Taped Seams
Quick-Dry Fibers
Pull up Ankle Loop
Engineered Design
Single Rubber Bottom
USER REVIEWS:
"Comfortable, easy to put on and do not fill with water while surfing. They fit true to size and do the trick for the cold days!"
---
Extremely popular and highly rated premium wetsuit boot over the last several seasons. Super durable, comfortable, warm and high performing. You can't go wrong. 
CHANNEL FLEX – WEIGHTLESS, UNRESTRICTED STRETCH
ALL NEW CELLIANT BLACK – STAYS WARMER
QUICK-DRY FIBERS – STAYS DRIER
DRYLOCK ANKLE SEALS – LOCKS WATER OUT
ERGO STRAP DESIGN – LESS PRESSURE
PULL UP ANKLE LOOP  EASY ENTRY
TAITEX OUTER SEAM – DURABILITY
TAPED SEAMS – DURABILITY
3 DIMENSIONAL FOOT MOLD – CONTOURED FIT
SINGLE RUBBER BOTTOM – DURABILITY WITH BOARD FEEL
USER REVIEWS:
"On the days that feel too cold to surf, this Drylock boot helps motivate me to get into the water and surf longer when it is freezing cold. This is my go to boot for water temps between 42 and 58 degrees and I have had one pair last me for as long as 3 seasons!" (3MM Xcel Drylock)
---
Made with Patagonia's Yulex Natural Rubber, this range of booties also utilises a thermal lining derived from recycled polyester and solvent free, water based glue. With 100% external seam sealing; all seams are triple-glued, blindstitched and 100% internally taped they will keep your feet warm and are built for performance. 
The latest iteration of the Yulex booties is generally highly praised and a continued improvement over previous versions. One common point noted by customers is that their sizes run small, so be sure to triple check size charts if you are buying these without trying them on. 
USER REVIEWS:
"I am super picky about my booties, I hate booties with thick soles and you loose the feel your board. I was hesitant at first to try these because I did not know much about them but I knew Patagonia makes great stuff so I gave them a shot. I was super stoked by how well they fit and how comfortable they were. They were warm, comfortable, and I could still feel my board. I will for sure be buying another pair when these wear out" (R3 3mm Yulex Split Toe Surf Booties)

"HIGH QUALITY, HIGH PERFORMANCE, SLIGHTLY SMALL, SIZE DOWN! Really warm, because the fitting and the high quality design, it really helped with my performance. Went a size down like other comment suggested, it was a bit tight but slowly it'll stretch a bit to fit to your feet" (R3 Yulex Split Toe Surf Booties)

"Great booties. Well built. Run a little small (on the tighter side for people like me with Fred Flintstone feet). Just lean toward the next half size up, you'll be fine." (R3 Yulex Split Toe Surf Booties)


"I had to return my size 12s for 13s. these boots run a full size small. my toes were curled up in the 12s. But, a quick call to CS and a wonderful agent set me right, sent out the bigger boots right away and my account got credited right away. all good, hit the waves and feet were toasty warm." (R4 5mm Yulex Round Toe Surf Booties)

"Being a daily driveron a surfboard, I need durability in my gear. These are warm, quick drying, with an effective traction pattern. I liked them enough to buy a second pair and a winter suit to go along with them. The rubber has a nice feeling of bounceand it feels nice to know the product you bought is environmentally better than anything else out there." (R4 5mm Yulex Round Toe Surf Booties)

"I have been wearing these for most of the winter 2020 season in the US Northeast Atlantic with waters hovering just above freezing. I am super impressed. They are extremely warm; my feet never showing signs of getting cold after multiple hour long surf sessions. They are really comfortable; only note is the width felt a bit snug/tight the first couple wears, but they seemed to stretch & break in a bit quickly and have been perfectly comfortable ever since. Possibly my favorite thing about the booties: the sole. It's has a lot of movement and flex to it, being quite supple, and the board feel is enhanced due to that. They are a bit tough to take off after being surfed out, but that's pretty much the case for any 7mm bootie and a tired body. The only thing I can't speak to entirely yet is the durability, but so far they're showing no signs of wear. Stoked on these!" (R5 7mm Yulex Round Toe Surf Booties)
---
Solite says they're making game changing boots and it seems they're right. With a singular focus on wetsuit boots, this company has been raising their profile within a few short years.
Featuring eco-friendly neoprene upper, quick dry inner linings, the Thermo-Foam sole and durable seams they are praised for being lightweight, durable, warm and offering great performance, grip and board feel.
To top it off, Solite Boots are the world's first and only custom, heat-moldable booties. Custom fitting can be done in your kitchen with nothing more than a kettle of boiling water.
The only issue with these boots is that they're becoming so popular you might have trouble getting a pair. 
CHECK OUT SOLITEBOOTS.COM for availablity. 
---
Best Reef Boots
Mid-top type
Velcro Adjustable Strap on the front
Drawstring closure around the ankle
Durable sole with great grip
Available in 2 colors
Minimal feel
Grip and rock protection. Slightly higher cut than most to offer more ankle protection. The split-toe is covered to prevent the leash from tangling. Well reviewed and solid performer. These reef boots are perfect to pack for a tropical surf trip, or whenever going in on rocky/reef breaks.
Check Xcel Infiniti Reef Boots Price on XCEL.COM HERE.
---
2. O'Neill Superfreak 2mm Tropical Round Toe Booties
Well reviewed reef boots noted to be comfortable and durable, with good grip and performance. Users generally agree that the boots run small in sizing. As a guide, people tend to go up one size from their normal shoes for these boots with positive feedback.
Neoprene Rubber
Imported
Fluid Foam Neoprene
2mm Fluid Foam Neoprene
Round Toe Design
Torsion Control Front Strap
Textured Rubber Sole
---
---
We hope you've got some value from our wetsuit boots guide. If you have any feedback on any of these boots or any recommendations of others – we'd love to hear from you in the comments below.
While you're here check out our other wetsuit guides, men's wetsuit and women's wetsuit reviews :).
You may be interested in a related post: