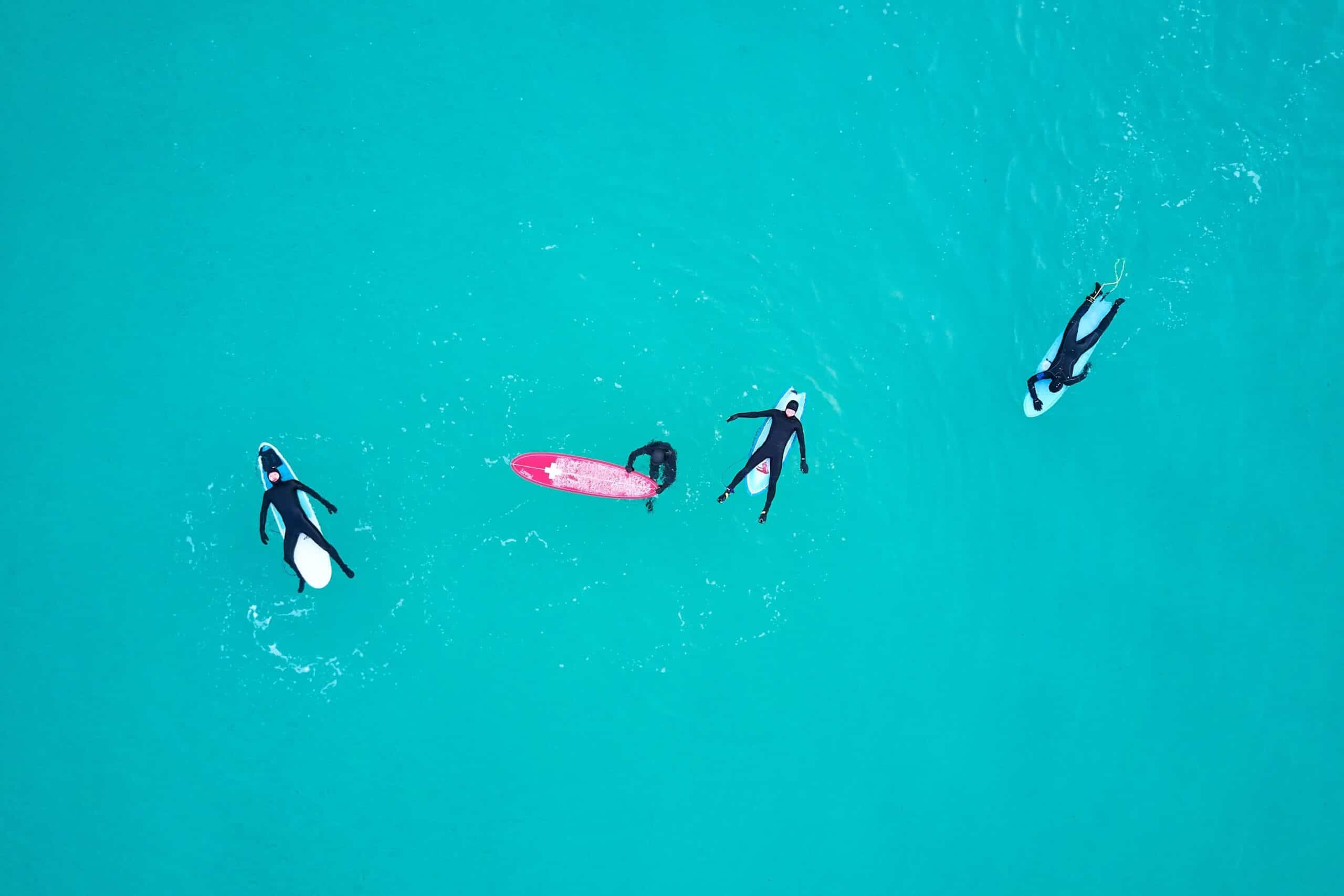 Surfing wetsuit hoods are a non negotiable when it comes to cold water surfing. At truly cold temperatures we simply couldn't be surfing without them and at milder temperatures they can make the difference between being comfortable and an intense headache (or worse!). Our head is the most sensitive part of the body when it comes to changes in temperature and our ear canals can only withstand a certain amount of cold. 
Just like wetsuits and other cold water necessities like wetsuit boots, there's a bit to know when it comes to weighing up what's best for you. Our surfing hoods guide will give you all the information you need to keep that noggin warm this winter. 
Table of Contents
Different Types of Surfing Hoods
Full Wetsuit with Hood
The most obvious choice for cold water surfing is a full wetsuit with built in hood. The key benefit from an all in one wetsuit with hood is that there is a complete seal, with no opportunity for flushing or the hood being separated which is better for warmth and overall comfort.
All wetsuit brands in their lower temperate cold water wetsuit ranges include wetsuits with built in hoods.
Checkout these brands directly if you are looking for full suit with hood options:
Patagonia, O'Neill, Xcel, Billabong, Rip Curl, Need Essentials, Vissla
Standalone Surf Hoods
A standalone surf hood is a separate hood which slips inside your wetsuit. The biggest benefit when compared to an all in one wetsuit with hood, is the versatility of being able to wear the wetsuit with or without the hood. 
The main drawbacks of a standalone surf hood is that they can be tricker to put on and that being a separate piece, does not provide a full water seal. 
One of key considerations for a standalone surf hood is the length of the neck – too short and you will likely find the hood will come loose from your wetsuit. 
See our top picks for best standalone wetsuit hoods HERE. 
Hooded Vest or Tops
Another option for a standalone hood and additional warmth is a layering system by way of vests or tops with hoods. Usually comprising a 1-1.5 mm vest or top, this can add a significant amount of warmth to the core body with the benefit of guaranteeing your hood will not come loose of the wetsuit and keeping a water tight seal at the neck.
This kind of layering system can add a great deal of versatility for a slightly under spec'd wetsuit for colder conditions. It's not a perfect system but could save you buying a whole new colder water wetsuit and hood combo. 
Patagonia Hooded Wetsuit Vest: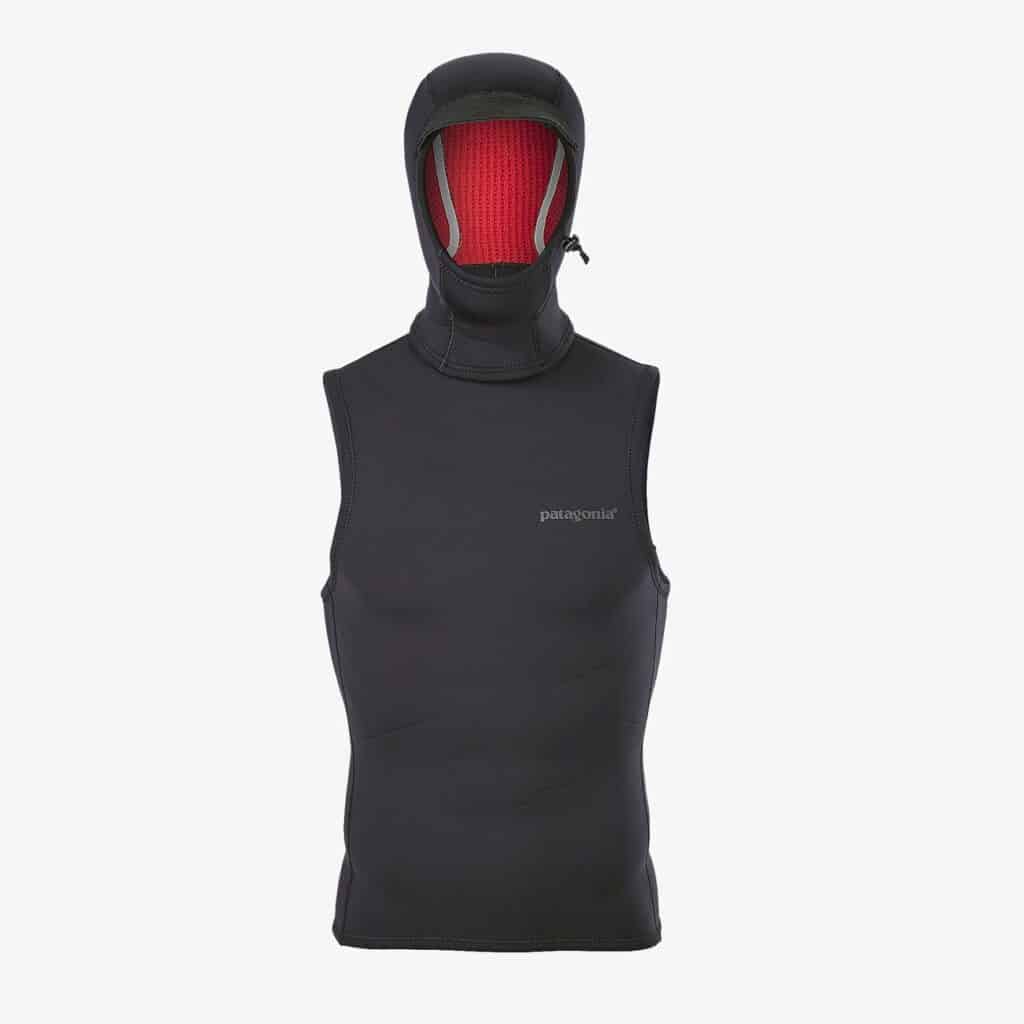 Needessentials Balaclava and vest:
Xcel Hooded Tops: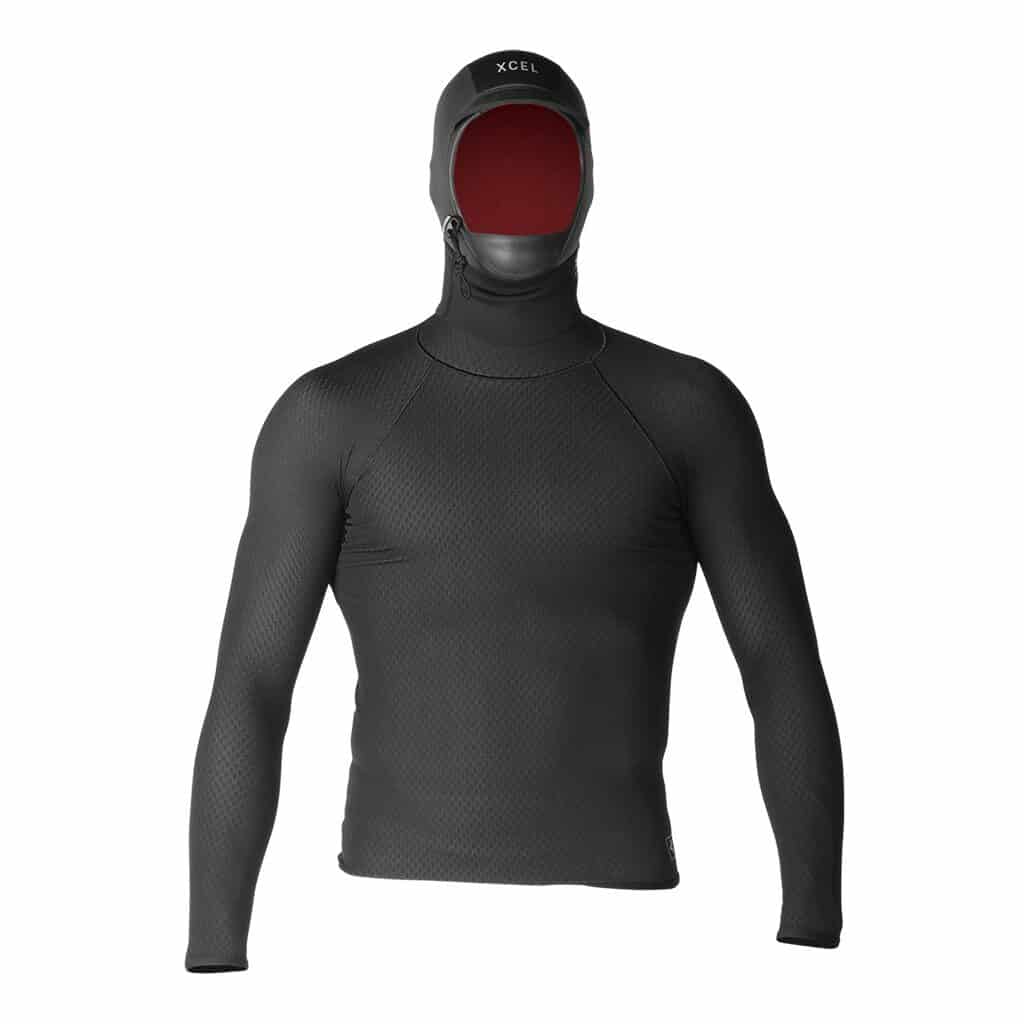 What are surfing hoods made of?
Your typical surf hood is made of the same materials as a normal wetsuit, most commonly a neoprene hood coupled with thermal lining to retain warmth. Each wetsuit brand has their own unique materials but top of the line surfing hoods are mostly quite similar with the exception of Patagonia who use a natural rubber called Yulex.
When to Wear a Wetsuit Surf Hood
People feel the cold differently, so as to when exactly you should be reaching for a surf hood is a personal preference. However, generally – in water temperates of 50-55 F (10-13 C) most people would start to appreciate a surf hood and anything less than that you'll be pretty crazy not to be using one. At higher temperatures there could be other factors at play such as extreme will chill as well as sun protection which could be reason enough to don the hood.
Getting the Right Fit
If you aren't trying on a surf hood in person, you can use the size charts to make sure you order a wetsuit hood that will fit properly. Most will show the range for the size based on the measurement of your neck and your head. 
Run a measuring tape around the circumference of your head from the forehead between your eyebrows and back around above the ears. Compare this measurement with the size chart on the product's page. Ideally, you want a hood to fit pretty snug like the rest of your wetsuit.
Best Wetsuit Hoods
1. O'Neill Psycho Surf Hood
One of the most popular standalone surfing hoods is the O'Neill Psycho
Features:
1.5 mm and 3 mm options
Suitable for men and women
TechnoButter firewall construction
Built-in sun visor
Full head fit
Adjustable cinch to tighten or loosen the seal and fit around your face
Smooth exterior for wind protection
2. Patagonia R3 Insertable Hood
Features:
Made from Patagonia's natural rubber called Yulex
Patagonia rates the temperature range from 9-13 C (48-55 F)
3. Hyperflex 5/3mm bibbed
Good budget option for colder water temps
Adds additional layering around the shoulders
Good for securing the hood and avoiding flushing
Added wind shield
Viser channels water away from the eyes
Well reviewed and most users report that it is comfortable and does not flush
Note: tends to run on the smaller size, so size up
4. Rip Curl Flash Bomb Surf Hood 3mm
Features 3mm E5 Flash lining and E5 flash line tape for maximum protection and comfort. It has a gasket that tucks into the inside of the wetsuit, providing an excellent seal to possible flushing.
2 layer neck gasket creating a very effective seal
Tucks into wetsuit
Reinforced seems also assist to avoid flushing
3 year warranty on stitching
Viser channels water away from the eyes
5. Billabong Furnace Hood 2mm
Features:
100% superstretch neoprene
sealed seams to keep out cold water 
Graphene + Recycler lining for warmth retention, and
a face gasket to resist flushing.
Long neck / bib for better seal under wetsuit
6. Vissla North Seas 3mm Surf Hood
Just like the Vissla North Seas full wetsuit (check out our review HERE), this surf hood is the perfect mix of warmth and comfort. 
Features:
100% Super Stretch Neoprene – Lighter, warmer softer, stretchier, easier to put on and take off.
Duramax Smooth Skin for Extra Comfort
Inside Thermal Liner Increases Warmth – Repels water and wind
Glued and Blindstitched Seam Construction
Brim 
Wetsuit Caps
Wetsuit Cap vs Hood
If you're surfing in water temperatures in the high 50's or more, but you still get those brisk wind days where you're really feeling the cold but not quite in the full surfing hood territory a wetsuit cap could be the right option for you.
Without extending all the way under your wetsuit the coverage is limited, but they will keep you head and ears warmer, as well as provide some added sun protection (kind of like a mini surf hat).
Here are a couple of decent and affordable options:
1. O'Neill Sport Cap
A minimalist wetsuit hood which is essentially a swim cap with a chin strap, the Sport Cap is a good option for someone looking for an inexpensive option for warmer temperatures where a full hood is just too much. The chin strap is secured with velcro which does a good job of holding and also gives you a wide range of fit adjustment.  Check price on AMAZON.   2. Xcel Axis Cap 2mm 
Check Price on XCEL.COM  
3. Patagonia Surf Cap
 Check price at PATAGONIA.COM  
4. Vissla 7 Seas Wetsuit Hood Vissla themselves call this a hood, but in our opinion it straddles the fence between wetsuit hood and cap. Not providing full coverage underneath the wetsuit, it is still going to be a much warmer option than the other caps listed here.  
Well reviewed for comfort and performance. 
Check Price at EVO.   
---
While you're here check out our men's wetsuit and women's wetsuit reviews and wetsuits guides :).
You might be interested in some of these related posts: