If you're a surfer, you're probably active in a lot of other aspects of your life, including your commute to your favourite surf spot. If your commute to the beach for a surf session isn't too long, and you own a bike, you should consider combining the two activities. But before jumping on your bicycle with your surfboard in hand, why not check out our guide for best surf racks for bikes.
Table of Contents
Why take your bike to the beach?
Driving is costly, and parking at the beach can be a nightmare. Plus, driving isn't as eco-friendly a mode of transportation as bicycling. Who wants to drive when you can take the time to breathe in that fresh sea air to get you ready for the waves?
If you're lucky enough to live close to the beach, you might prefer walking, but if you might think twice about this with a surfboard. Walking long distances with a surfboard can be a challenge, and it limits how much more you can bring with you to the beach.
Biking is good for the environment and your wallet, and it is a great way to warm up your legs before your surf session.
You may be used to riding your bike with your surfboard tucked under your arms, but this method is not the most convenient or safest way to transport your surf gear. If you plan to use your bike to get to the beach, it's worth investing in a proper surf rack to transport your surfboard.
Read on to learn how to choose the right surf rack for your surfboard and your bike.
What kind of rack do you need?
There are few things to consider when choosing the perfect surfboard rack. The type of surf rack for you varies depending on the type of bike and surfboard you own. Here are a few factors to think about:
What kind of bike do you have?
What else will you be carrying on your bike?
How you answer these questions determines what kind of surf rack you can get for your bike. Some surfboard racks can only handle a certain amount of weight, and some bikes may not be compatible with surf racks, even if they claim to fit most bikes. Be sure you have the dimensions for both your surfboard and bike handy before starting your search for a surf rack.
Once you've figured out your criteria, consider where you would like your surfboard to be on your bike.
Rear-Mounted Surfboard Bike Racks
Rear-mounted racks are good if you don't want the weight of the board on only one side of your bike and want to enjoy a more balanced ride. Be aware that if you have a large longboard, this type of rack might put too much weight on the back of your bike. Alternatively, you can look into a trailer-mounted bike rack for your surfboard, which attaches as a separate rear-mounted accessory.
Side-Mounted Surfboard Bike Racks
Side-mounted racks are the most common type of surf racks for bikes. They are usually straightforward to install, fit most bicycles, and accommodate most surfboard sizes. The wind won't affect your ability to speed up. Most surfer-cyclists will recommend side-mounted surf racks over rear-mounted ones.
Putting On the Surf Rack
Most surf racks are easy to assemble and install, but your local bike shop will help you out if necessary.
The only tool you need for assembly is an Allen or hex key, which usually comes included with the surf rack you purchase.
Most racks will attach to your bike's seat post, with bungee cords to help keep your surfboard secure while riding.
Best Surfboard Bike Racks
Now that you have all the information you need about your surfboard and bike, check out five of the best side-mounted surf racks out there: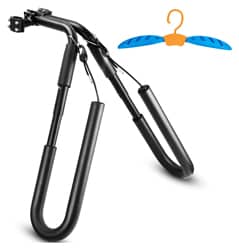 Rating: 4.5/5 stars
Price: $79.95 (Originally $99.95)
Weight: 3.79 pounds
Mounting Type: Side-mounted
Suitable for: Mountain bikes, beach cruisers, road bikes, any surfboard up to 8 feet
This Norker bike surf rack is easy to install and adjust, and it fits almost any surfboard up to 8 feet. The light-weight rack is also coated with soft foam to prevent any scratches on your board while you ride. Plus, it comes with a bonus wetsuit.
Rating: 4.5/5 stars
Price: $79.97
Weight: 3.25 pounds
Mounting Type: Side-mounted
Suitable for: Beach cruisers, road bikes, mountain bikes, BMX bikes, any surfboard up to 8 feet
The Ho Stevie! surfboard rack is similar to the Norker but also works with BMX bikes. The carrier arms rotate inwards, so there's no need to remove the rack whenever you ride your bike without your surfboard.
Rating: 4.6/5 stars
Price: $96.98 (Originally $153.09)
Weight: 4.84 pounds
Mounting Type: Side-mounted
Suitable for: Longboards
If your surfboard of choice is a longboard, this rack is for you. Moved By Bikes is a reputable company specializing in surf bike racks, so their products are trust-worthy. This rack is sturdy with a solid mount that's flexible for bikes of all sizes.
Rating: 4.3/5 stars
Price: $77.99 (Originally $124.69)
Weight: 4.23 pounds
Mounting Type: Side-mounted
Suitable for: Shortboards (7 feet or less)
This surf rack by Moved By Bikes is similar to their longboard bike rack, but it's small enough to make sure your shortboard remains snug. You must know the dimensions of your board before buying this one. It only fits boards that are up to 7 feet long and is not ideal for SUPs.
Rating: 4.2/5 stars
Price: $84.97
Weight: 3.17 pounds
Mounting Type: Side-mounted
Suitable for: Shortboards (8 feet or less) and 4.5 inches thick
This surf bike rack is great for bike racks that are 8 feet or less. The rack is also made from aluminum, so it will not rust. The green padding serves a dual purpose of protecting your board and making sure that cars see you coming during times of low visibility.
---
The Takeaway
Take the steps towards adding a surf rack to your list of essential surf gear. Choosing a surf rack for your bike takes patience to make sure you find the one that works for you. But once you find the right one, it will make your commute to your favourite surf spot all that more enjoyable!