The Catch Surf ODYSEA JOB PRO 5'2″ is made for charging heavy shore breaks and does that job well!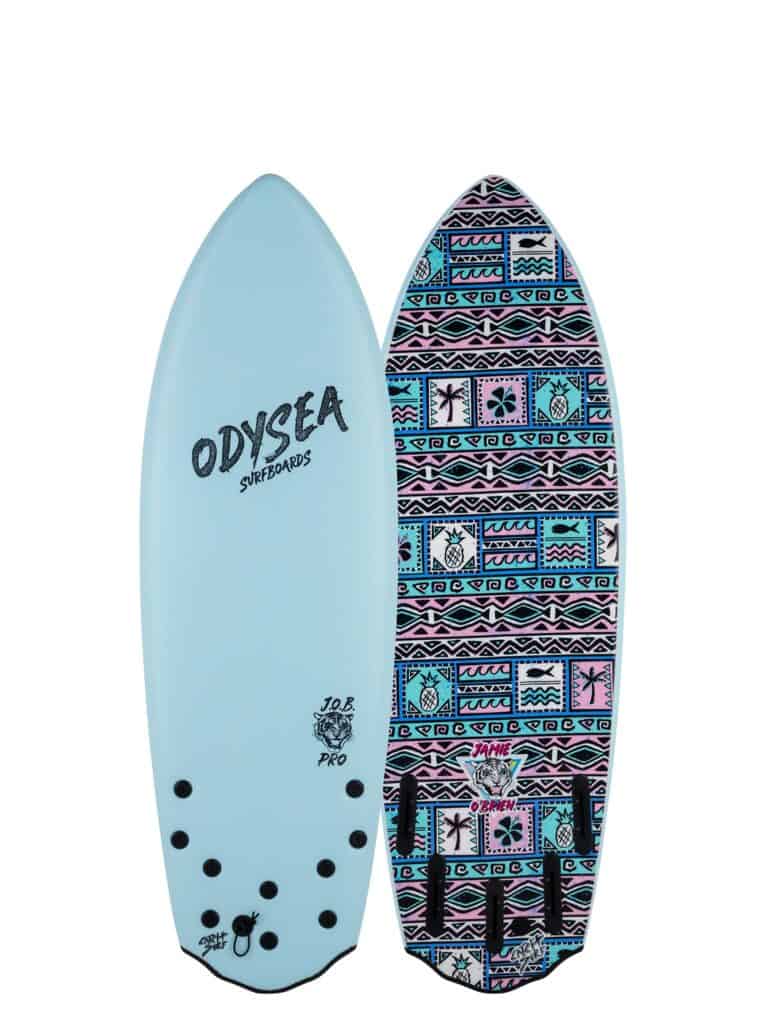 Catch Surf ODYSEA Review: JOB PRO 5'2" FIVE FIN
Reviewed by: Mick
Dimensions: 5'2" x 20.0" x 3.0" (38 Liters)
Fins: Hi-Performance Removable Fin System with Fins and Leash Plug
What we like: It has a Deep Vee Out and TailCentral Concave. It can be setup as Twin Fin, Tri Fin, or Quad Fin with high-durable HDPE bottom with bumper-tail.
What we don't: For now… not much!
Rating: 8/10
What does Catch Surf Say:
"The Odysea Job Pro was designed by Jamie O'Brien, the undisputed 'King of Softboards.' The JOB PRO's are designed and built to take soft surfboard performance to new levels! Jamie's new 5'2" Job Pro Five-Fin rips in a wide variety of waves. The soft top surfboard features the power to change up fin configurations for small wave packing or shredding. This means it has great shorebreak tubes on the bigger days!!!"
Key Features of Catch Surf Odysea Job Pro
Rocker and rails are shaped like a typical groveler with thinner rails for a foamie.
Standard fins are good but slow you down unless in big surf.
Construction has given me no trouble for the past six months.
Slick bottom has a slight double concave out the bat tail and ends with durable black foam protecting the board on the bottom.
What do you like about the Catch Surf Odysea Job Pro?
The Catch Surf Odysea Job Pro has a "skatey" feel with good float and paddle power for its size. It surfs well, rail to rail. The surfboard has a good hold in a quad set up with smaller fins. It has a durable construction and soft foam on top with no flex in the core.
What don't you like about it?
Not a lot of foam at the front middle and nose. You need to surf it with a light front foot. Foam gets dirty quick unless you keep the board clean from sand and excess wax.
Experience in the Surf – How does it go?
Surfed it in more powerful summer and medium winter conditions. Felt like the board wanted to go straight forward or straight across the face unless you had a lot of power in the wave.
What kind of waves is the board suited to?
Best for shoulder high beach break or small hollow waves that provide the power that the board needs to perform maneuvers and turns. Best for learning how to generate speed and setting up for maneuvers as the board has a bit of drag in the water and can hold back unless one rail is dug into the wave and the other is out of the water
What kind of surfer is this board best for?
Best suited for advanced surfers to intermediates who do not have any bad habits due to the low volume for a foamie and the muscle that is needed to get the board to turn.
Does the Catch Surf Odysea Job Pro compare to any other boards that you have ridden?
Compared to the Catch Surf Stump, this is an improvement in terms of maneuverability and flexibility. But I think, ultimately, the shape holds it back from other performance soft tops like the Softech Twin and the Doyle 5'4. It is not as fast as a glassed boards. But Catch Surf Odysea Job Pro has some speed and quirkiness that is unique.
Wrapping it up….
For Catch Surf Odysea Job Pro, I would give this an 8 out of 10! 
The board might need a change of fins for a person who is lightweight to make the most of it. Could use more foam in the nose and center. But the JOB Pro 5'2 is more for charging heavy shorebreak and does that job well!
---
What are others saying about the Catch Surf Odysea Pro 5'2″?
"The 5'2 five fin is amazing tons of float and surprising amount of control for a soft top. Will definitely be purchasing some more designs by catchsurf. Stay psyched!"

"Fun and snappy addition to the quiver!!"

"My 10 y/o son rode his new JOB 5'2" today, it paddled easy and he got some long mini point style waves, he was stoked. The smile on his face was the best. Thank you!"

"So Sick! Best JOB Model Ever! Five fin, and tons of volume and float!"

"Another sick board from catch surf Mr J.o.B really put his signature on this one catches everything on the gulf with ease"

"It is awesome and has a ton of float and I would definitely recommend"

"Made some good scary drops with this. Impressed cus I thought rails would give, but nope. Could hold in the barrel a little better, but I can't get out of the barrel anyways"

"The board is super fun to use and very unique"
---
We hope the Catch Surf Odysea review was helpful to you. If you have an Odysea JOB Pro 5'2 or other model yourself and have any comments to add we'd love you to hear your feedback below!
Check our our overview of the Catch Surf Surfboards board range here.