Surfing technology has advanced in many aspects over the last years and with that the once humble surf watch has come leaps and bounds. With modern surfing watches, surfers now have access to a variety of information and features about surfing conditions, tides, wind speed and direction, fitness tracking and GPS to name a few.  
Additionally, in 2023 smart watches are now becoming viable surf watch options having surf specific apps to track and measure all of the above features. 
There are plenty of surfing wearables available and if you're looking for one you've probably stumbled upon this guide for good reason – you don't know which one to choose! 
Surf watches and Smart Watches vary hugely in cost and utility, and in the end the decision should be based on how often you will use it, whether your watch requirements extend beyond surfing and of course, how much you're willing to spend.
We have invested a large amount of time to extensively review the market and based on our findings present the 10 best surf watches you should consider in your search.
NOTE: Some links within this article are affiliate links, if you do click through and end up purchasing, we receive a small commission at no additional cost to you. 
Table of Contents
Overview
What's become clear in diving deep into the most popular and best surf watches is that there is no real clear standout surf watch on the market and that the needs of one surfer will be different to the next, and as such it's fundamentally a personal decision.
With regard to the development of fully fledged "Smart" Surf Watches, it is clear that there is still a ways to go before we will see a watch that does both surfing and smart watch functions to a really high standard.
In terms of surf specific functions aka Tide watches, we think the Nixon High Tide is a high quality watch at the medium price point. The Casio G-Lide GLX 5600 is a more affordable high quality option which offers good value.
As for the Smart Surf Watch category, we feel the Casio G-Lide GBX 100 offers decent value for a quality surf watch with basic smart watch functions, while the over hyped Garmin Instinct "Surf Edition" does not really deliver on the surf front, despite the huge price and quality of the watch for other functions.
As a smart watch, we feel the Apple Watch is a great option for iphone users just as long as you invest in a quality waterproof case.
Lastly, there are many cheap quality waterproof watches that are available for under $20 that will do the most simple thing – tell the time – and continue working for years. For this purpose, we can't go past the classics from Casio.
Comparison Table 
| | | | | | | |
| --- | --- | --- | --- | --- | --- | --- |
| Product | Watch Type | Our thoughts | Best For | Price Point ($US) | Read our review | Check Price |
| Nixon High Tide | Tide Watch | Best Overall tide watch (Mid level budget) | Someone looking for a functional tide watch with minimalist and stylish design, suited to casual wear out of the water |  $220 | Read more HERE | On Amazon |
| | Tide Watch | Good value tide watch (lower budget) | Budget driven surfer looking for a reliable tide watch which will last | $140 | | |
| | Smart surf / multi-sport watch | Most Features (high budget) | Someone looking for the most advanced features – noting that we believe the surf functions themselves may not be as great as they are marketed to be | $350-450 | | |
| | Smart Watch | Most features beyond surfing. With some added protection can offer great utility as a surf watch with surf apps (High budget) | For iphone users willing to spend the money and looking for utility in and out of the water | $475 (for latest Series 6 – less for older versions) | | |
| | Smart Surf Watch | Best value Smart surf watch (Low Budget) | For someone looking for a quality surf watch with very basic smart watch functionality | $160 | | |
Best Surf Watches
Based on what we consider to be the most critical features for surf watches and significant research, we have chosen 10 best surf watches to help you navigate the tides and enhance your surfing experience.
Best Single Purpose Surf & Tide Watches (without smart watch capabilities)
Best for those that want a dedicated surf watch, designed specifically for surfing and are therefore the best at those key functions.
1. Rip Curl Men's Rifles Digital Tide Surf Watch
Rip Curl offers an affordable surf watch that lets you track your surfing activities with a breeze. It is a digital quartz watch with a detailed tide view functionality.
The device can track the low and the high tides, with 500 pre-programmed tide locations. If your favorite surf spot is not yet on the list, you can add the beach to the program.
Moreover, you can track your surf distance and speed. Therefore, allowing you to monitor your surfing activities for the week. The combined polyurethane and plastic bezel material make it resistant to shock, with a water-resistant depth of up to 100 meters.
Key Features of Rip Curl Rifles:
Surf Functions – Tide Data with 500-preset tide locations around the world
Switch between graph view and detailed view
Water-Resistance: 100 meters.
Shock-resistant.
Materials: Plastic and polyurethane.
Lightweight at 8 ounces.
Other features: Alarm, stopwatch, and timer.
Pros:
Affordable price point
Functional and simple design for its core surf features
Easy to program in your tide locations
Customers generally agree it looks good for both surfing and casual wear
Cons:  
Limited additional features
Some users report some water resistance issues which may be due to quality control, others report long term use with no problem.
2. Nixon High Tide
Nixon's High Tide is a recent release, an updated and step above the Supertide model and it's a beauty with an elegant aesthetic and a beautiful hi-def watch face. What's more, the rubber-silicone wrist band of the Nixon High Tide comes from recycled ocean plastic waste, which should appeal to most people.
The 8-ounce device is suited to both surfing and casual use and doesn't look like your standard surf watch.
The 550-presets of tide locations and moon data let you track the best locations for a good day of wild surfing. The watch has a minimalist design devoid of complexities, making it easy and simple to use.
Key Features of Nixon High Tide:
Surf Functions – Tide, sun and moon Data with 550-preset tide locations
Water-Resistance: 100 meters.
Shock-resistant.
Lightweight at 8 ounces.
Materials: Recycled ocean plastic
Customizable high-resolution screen.
Other features: Alarm, stopwatch, and timer.
2 year warranty
Pros:
Sleek, low key and comfortable design
Durable
High definition watch face looks really crisp compared to some of the competition
Customisable home screen is a cool feature
Easy set up and use
Cons:
Does not provide exact current tide height at any given moment (Just next high tide/low tide time)
Expensive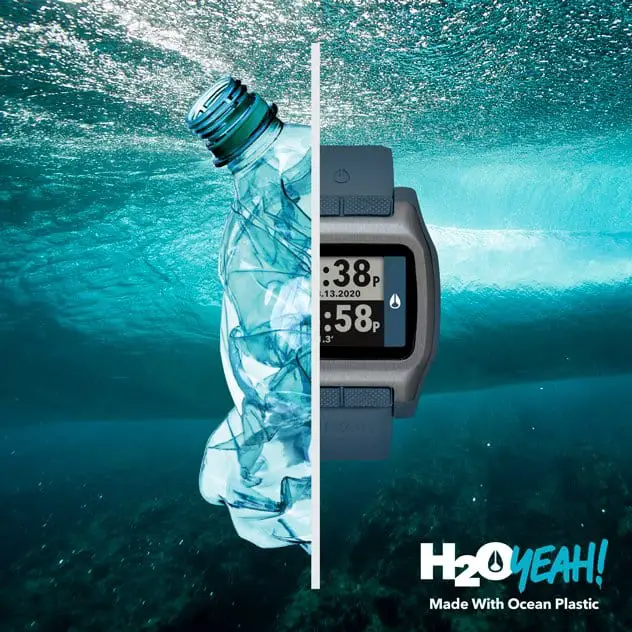 3. Rip Curl Search GPS 2
The Rip Curl Search GPS 2 is the brand's premium surf watch with a significant amount of surf functionality. 
In addition to tide data, it allows you to track your surf session, record your wave count, top speeds, distance traveled and time out in the ocean.
Later, you can share location maps, image and graphic charts with your friends with the mobile app. Also features sunrise-sunset times and moon phases.
Key Features of Rip Curl Search GPS 2:
Surf Functions – Tide, sun and moon data. GPS surf session tracking
Connection to Rip Curl Search App or website to analyse your surf session with location maps, image sharing, and graphic charts.
GPS Activity Tracking for multiple sports such as skiing, surfing, swimming, biking, running, and boarding
Water-Resistance: 100 meters.
Rechargeable.
Battery Life: 6-10 months without GPS, 10 hours using GPS before needing recharge
Pros:
Good looks and great displays and layouts
Comfortable and secure in heavy surf
Multi-sport/activity tracking features
Cons:
Expensive
Some phone syncing and slow GPS syncing issues reported
It seems the software has room for improvement
4. Casio G-Shock Frogman GF1000
Casio is one of the most trusted names in watches with more than 30 years in the industry and many innovations along the way. Casio watches are known for their durability and high quality, and the G-Shock Frogman will not disappoint.
The 200-meter water resistance will ensure its reliability even as serious diving watch. Surfers will find the moon data and tide graph very helpful. With the 10-month battery life, and solar recharging function, charging is not even an issue at all. The G-Shock Frogman is a perfect partner for both surfers and divers alike.
Key Features of Casio G-Shock Frogman:
Surf Functions – Moon Data, Tide Graph, and Dive Time.
Water-Resistance: 200 meters.
Shock-Resistant
Rechargeable.
Battery Life: 10 months (With Solar Power feature for extended battery life).
31 Time Zones.
Pros:
Waterproofing and tough reliability; if you are looking for ultimate confidence in water and shock proofing you can't go past this watch
For anyone who both surfs and dives, the Frogman is ideal
Cons:
Very expensive – the most expensive watch thus far, the high build quality comes at a cost. 
Quite large
5. Casio G-Shock G-lide GLX 5600
Casio's more budget friendly GLX 5600 is a good alternative to the Frogman model noted above. It is a surf orientated watch with tide and moon graphs, but limited other functionality. 
Noted Features of Casio G-Shock G-Lide GLX 5600:
Surf Functions – Moon Data (moon age of the input data, moon phase graph), Tide Graph (tide level for specific date and time)
Water-Resistance: 200 meters.
Shock-Resistant
Slim design
Battery Life: 7 years.
A myriad of other standard features you would come to expect from a Casio watch.
Pros:
Affordable price point
Positive customer feedback on tide functions and accuracy
Reliable as a waterproof surfing watch
Smaller/sleeker design suited to surfing
Cons:
Tide setting functionality is a little less straight forward than some of the other surf specific watches previously noted (all non Casio). This is a characterstic of Casio watches generally and they require some study of the manual. If you can get past that, a non issue for most. 
---
Surf Watches with Smart Watch Features
6. Garmin Instinct Solar Surf Edition

The Garmin Instinct Solar Surf Edition was specially designed for surfers and as it currently stands, is the most high spec'd Smart Surf Watch available but is it really as good as it is marketed to be? There are three surfing features unique only to this edition of the Instinct Solar. Tide data, surf activity tracking and Surfline Sessions (a feature which creates a video of every wave you ride in front of a Surfline camera, and sends them to your phone – iphone only).
Surf features aside, Garmin Instinct Solar is more than just a surfing watch. It has some smartphone functions that allow you to receive calls and text messages without bringing your mobile phone with you. The fitness tracker will serve as your coach and assistant in your workout activities, monitoring vital health aspects like your endurance, heart rate, stress level, sleep, weight, and more.
Lastly, the solar capability significantly extends the battery life. Thus, giving you longer time on every charge. 
Key Features of Garmin Instinct Solar Surf Edition:
Surfing Apps – Tide Data, Surfline Sessions connectivity, and Surf Activity.
Water-Resistance: 100 meters.
Shock-Resistance: US military-grade 810 thermal shocks.
Navigation Systems: GPS, Galileo, and GLONASS.
Battery Life with GPS mode: 70 hours (up to 145 hours with solar)
Fitness Tracking: heart rate, pulse oximeter, blood pressure, stress level.
Smartphone Functions: can be paired with compatible devices for calls and texts.
Pros:
Comfortable and lightweight
Responsive menu and system overall. It is not a touch screen and most customers seem to come around to that after initially wanting it to be touch screen and suggest it works well
Screen is highly presentable despite black and white only 
Great battery life
Multi sport tracking options make it versatile
Displays only essential things like calls and texts as opposed to an Apple Watch for instance which gives you updates on everything from your phone (this is a personal preference – some people might like that)
Cons:
Very expensive (circa same price as an Apple Watch)
Surf features are a bit underwhelming (note: reviews below)
Reviews:
"This watch does a lot of things well…but the focus of the Marketing and design is on the surf functions and they are not done well. All the great Garmin stuff aside…and many great features are there in spades, the surf tools need work urgently. To market a watch to a tribe of athletes that want very specific data, wave count, accurate speed and location, and then give that group only two of the three on a reasonably expensive Surf Edition is a travesty. I've tried a couple recommendations from the forum to fix the hyper-count of waves per session anomaly to not avail. It appears to me the threshold of what counts as a wave is set way too low (maybe 2-3 mph)….maybe it's movement toward the beach….whatever the count is based on makes the actual count of waves taken unusable."

"The solar surf edition sounds pretty sweet in the marketing materials, but I've been disappointed by all the special features above and beyond a normal Instinct. Solar? Have never seen any increase in battery life. Surfline rewind? Iphone app only and I have Android (like 85% of the population). Tides on the home screen? Only works when connected to your phone when I literally bought this to walk to surf and leave my phone at home. Wave tracking? Didn't track any waves until their update and now it routinely tracks 30+ (when I catch around 10). Thought it'd fulfill all my needs and it's just been an absolute frustration."
Overall, with the above user reviews in mind, as a surf watch – we can't help but think that this has been overhyped in the marketing spiel. However, it should be noted that the Garmin Instinct is generally well reviewed for general fitness tracking and outdoor pursuits such as hiking etc. On the balance of it, we think this is decent watch, but if you are buying a watch primarily for surfing purposes, you may be best to look at the more affordable options in this guide.
7. Casio G-Shock G-lide GBX 100
The GBX100 is the latest addition to the G-LIDE lineup and the first to incorporate some smart features, which are noted to be on the more basic end compared to the Garmin Instinct noted above or the standard Smart Watches noted below in this article. The trade off here is a much more entry level price, but with a high quality watch as you would expect from Casio. 
Key Features of GBX100:
Surf Functions: Tide Data including times and levels, Moon data, Sunrise, Sunset, smartphone link to choose from 3300 tide locations.
Water-Resistance: 200 meters.
Shock-Resistance
Battery Life with GPS mode: 70 hours (up to 145 hours with solar)
Training Functions and Training Data
Smartphone Functions: notifications of calls, texts, emails
Battery Life: 2 years
Pros:
Affordable
Slim/sleek design
Casio's are extremely reliable for heavy use in water
Significantly higher battery life than other smart watches
Cons:
Smart Phone functions are quite limited in terms of what you may expect for a smart phone in 2023. Call, email, text notifications simply let you know something has been received, to see detail requires multiple buttons.
Overall the CASIO GBX is well suited to someone looking for an entry level price Surf/Smart phone noting limited smart functions compared to a fully fledged smart watch.
---
Smart Watches & Fitness Trackers
Best for those that want a watch for multi purposes – surf, fitness, work, and social reasons. There's no going past them. Be warned – smart watches are not typically designed for high impact oceanic use but there are some solutions. Read more below. 
8. Apple Watch Series 6 

Can you surf with an Apple Watch? With the high cost of Apple Watch, surfers are right to question this.
All series of Apple Watch since Series 2 have carried with them a 50 metre rating of water resistance, but it is clear that they are not designed in any way to specifically handle the hazards of surfing.
There are however solutions to the limitations of the Apple Watch for surfing and they are waterproof cases. Cases such as the Catalyst Waterproof Apple Watch Case will improve the water protection and as well as potentially a more secure strapping option.
For iphone users, the Apple Watch would be a logical choice for a surf watch, being that the benefits outside of the water are significantly greater than the other watches we've looked at on this list. Ultimately it's a personal call as to how comfortable you feel bring it into the water, and that comfort level can probably be increased with the use of a quality case as mentioned. 
Specifically for surfing purposes, the Dawn Patrol App effectively converts the Apple Watch into a surf watch.  
Key Features of the Apple Watch:
Surf Features: Utilising the Dawn Patrol app – surf forecast data, tide data, track your surf session metrics
Smart Watch Features: Receive and make/send calls and texts while in the water (assuming cellular connected Smart Watch)
Fitness Tracking
9. Garmin Fitness/Smart Watches, VivoActive, Forerunner & Fenix
Garmin's range of fitness smart watches are some of the most popular in the world.
In the mid to high end range Garmin has a number of options including the Vivo Active, Forerunner and Fenix.
All of these watches offer fitness tracking applications to a large number of sporting activities, however with the Garmin Surf Tracker 2 they can be utilised for surf tracking purposes.
At the top end you have the Garmin Fenix which has the best specifications for waterproofing and general all round toughness. 
---
Cheap Waterproof Alternatives
Maybe you are just looking for a low cost watch which will do two simple things: Tell the time, and survive in the water. These guys from Casio will do the trick and will cost you less than $20. Some say they are the best surf watches ever :). 
10. Casio Classics
---
Key Features of the Best Surf Watches
Having more and more features that are now available in top of the line surf watches is great, but trying to weigh each watch and it's features against eachother, it's easy to feel overwhelmed. Further, if you have no idea about what features are the most important to look for than the search will be more challenging.
We've boiled down the key features that we think most surfers would consider when buying a surf watch.
Local Tide and surf information
Tide information is critical in surfing, as the tide impacts the quality of surf at almost all surf breaks all around the world. Depending on whether the tide is coming in or going out, the surf will start to change for the better or worse and this information is very useful when you are actually sitting on your surfboard in the water. Instead of asking the guy next to you "when is low tide?" and getting the wrong answer, you can get the exact tide details with a quick glance of your surf watch.
Watches with tide function tells you low and high tide times, and can also provide other local surf information including but not limited to the water temperature and swell heights. 
This is a straightforward function that works in various locations. Just input the beach name, and the app will automatically locate the beach using GPS and give you the wave data for that location.
Smart Watch Functions
While a surf watch is what you need for surfing, smart watch functions greatly increase a watches utility when you are out of the water. Some surf watches are incorporating smart watch features and standard smart watches themselves are being able to be used with surf related functions and apps. 
A  Smart Watch will give you access to calls and texts even without your smartphone around (assuming you've got cellular connection on your Smart Watch) which is pretty handy if you're surfing on work time (lucky you) or expecting an important call. There's nothing worse than being out in the surf and feeling like you need to go back to the car to check for a call. 
The other benefits of Smart Watches are many but quite obviously they are functional for everyday wear, have fitness tracking functions and are effectively extensions of your mobile phone with any number of cross applications.
Battery Life
In this modern age, there's one thing that drives us crazy and that's our devices running out of juice in an unreasonably short period of time.
A key feature, therefore, of a quality surfing watch is ensuring it is up to to the task for the whole day with GPS tracking and several apps always active most of the time. Some surf watches boast of a full day or two of battery life. 
But if you turn on the GPS function and other apps, the battery life will be greatly reduced to only a few hours. One of the qualities of the best surf watches is good battery life. The watch should last up to two days with all apps and GPS on, giving you interrupted enjoyment of your device.
Water Resistance
A fairly obvious feature as you would agree, a surf watch should be able to resist water pressure up to a certain depth. Water-resistance depth level does vary from one brand to another and from smart watches to more specifically designed surf and dive watches. 
For swimming, sailing, light diving, and recreational surfing, you will need a smartwatch with 100-meter water resistance. But for particularly heavy wave surfing, a 200-meter water-resistant surf watch may be preferable. 
Pre-loaded beach data
Most surf watches also have pre-loaded beaches; when it comes to this aspect, the more, the better. In just a few pushes of a button, you can easily check out the surfing beaches nearest to you. This is especially great for travelling surfers.
Fitness Trackers
The fitness tracking function may or may not be an important feature to all surfers, but if you're trying to improve your fitness and specifically for surfing, this could assist with your workout plans. You can monitor your heart rate level during every surf and note endurance and other indicators.
Some devices have a Heart Rate Variability feature that detects early signs of fatigue and stress. Thus, telling you to skip the next wave to avoid fatigue.
For younger people this may be overkill but for older surfers, these sorts of functions could be well worth having.