I'll come right out of the gate and say it – Soft top longboards are not just for learners!  9 foot + is where it's at and if you don't have one in your quiver you are missing out.
They offer the intermediate or experienced surfer a great deal of fun especially on small days with their extra float and "Surf into your friend's board without breaking it" toughness. Like other foamies, soft top longboards are no longer just a chunky piece of foam designated to the surf school. Designs and performance have come leaps and bounds in soft top surfboards.
If you're in the market for a soft longboard surfboard, you're spoilt for choice as there are a lot of great options and today we've put together a list of our 5 top picks. 
These boards are suited to all surfing abilities from beginners and experienced.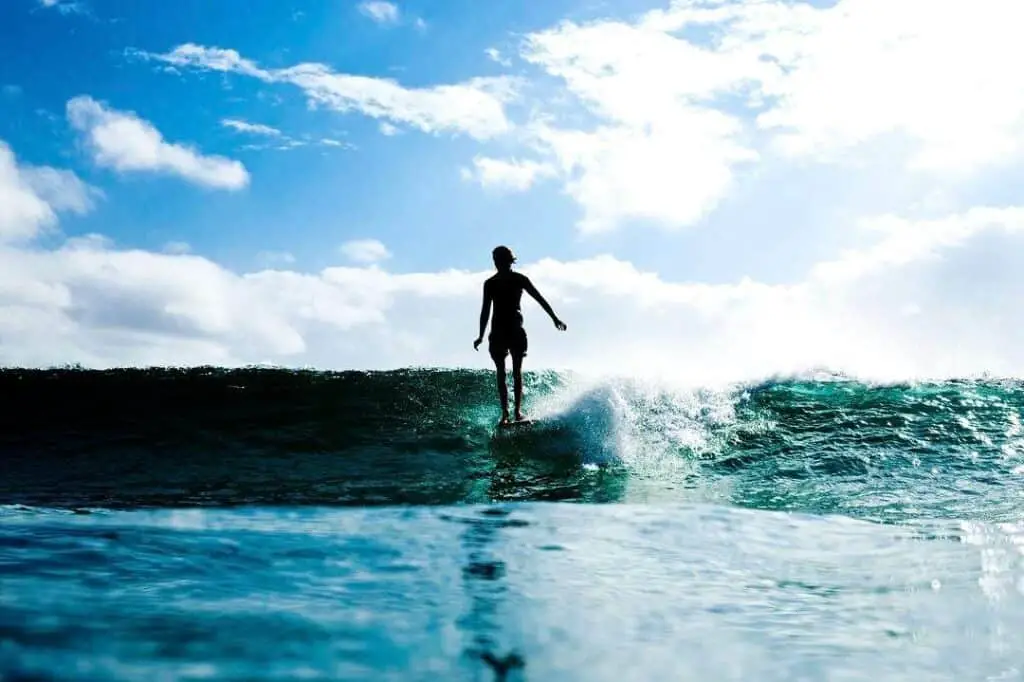 Why use a longboard surfboard?
The trim and glide of a longboard on a nice long peeling wave is an amazing feeling that has kept surfers coming back for more since mid last century.
It's a pretty nice feeling to take a few easy paddles and have the size and weight of a longboard pull you into a wave effortlessly. 
On a standard day, when the waves are small and gently rolling in – why would you bother to battle in frustration on a short board to try and catch waves that can't even support you? A longboard is your answer.
Soft top longboards have the further advantage of even greater float than than their fibreglass counterparts – they tend to pack a bit more volume – so they are easy to paddle and to catch even the smallest ripples. 
Try board swapping mid wave with a friend, no problem. No risk of denting each others boards. 
Who can use a longboard?
A longboard, in our opinion, is one of the more versatile type of surfboards in that it really can be used by anyone from complete beginner to the experienced style master and in waves from knee high ripples to as big as you want to take it (think Jamie O'Brien). 
And that's part of the reason the stereotype sometimes gets confused. Most surfers can jump on a longboard and catch some waves without issue, but to really surf a longboard well and with style takes years of practice. Those that master it, make it look beautiful and graceful in a way that shorter boards just can't replicate.
Beginners: Benefit from the stability, ease of paddling and getting into waves as well as the safety benefits of a soft top surfboard.
Intermediate/Experienced: Make the small and weak days fun, to use in really crowded surf, or to muck around with friends when your boards might collide. 
Single fin or tri fin?
Traditional classic longboards boast a big single fin, which gives the boards more speed as they track along a wave. They aren't as easy to turn but the way in which you turn them by transferring your weight to the back foot (a classic drop knee turn) has a unique style and works amazingly once you master it. 
The modern longboard surfboard often utilises a tri fin setup but with generally a larger centre fin to retain some of the characteristics of the classic longboard.
Soft top surfboards, by the most part utilise tri fins but without a large central fin. 
As designs get a bit more progressive in the soft top surfboard space we are starting to see some brands utilise traditional single bin boxes in their mid length and longboard shapes but it is rare at this stage. 
At the end of the day, we would suggest a single fin is great for a more experienced surfer who enjoys riding boards with single fins. A beginner or non-longboarder may prefer the general easy usability of tri fin setups.
---
Best Soft Top Longboards 2021
1. South Bay Board Co Tortuga 
What we love about the South Bay Board Co Tortuga:
This Hybrid Longboard is a classic longboard shape which is one of the more refined soft top longboards on the market. At 9'6″ with 84 L volume it is certainly bouyant but not overly so compared to other soft longboards available which max out at around 9 foot. This means a more closely aligned longboard design to traditional logs. 
Further while not a single fin per se, it is the only board within this list aside from the Plank noted above, which has a large central fin. It comes with two side bite fins which can removed to ride it as a single fin.
Suited to intermediate to advanced surfers. 
Features:
Tapered Rails and Proper Nose/Tail Rocker for classic longboard surfing
Tri-fin with larger centre fin (FCS fin boxes).
Classic Longboard Influenced Shape
Easy to paddle and get early entry into waves
Fingerprint Texture in the foam on the top deck (NO WAX NEEDED)
I-Beam wooden stringer and Bamboo Layered bottom. The I-Beam Stringer covers the full length as well as the bamboo layers plus a 6oz layer of resin to top and botom for extra durability and rigidity
EPS CLOSED CELL Foam Core
Size: 9'6″ x 24" x 3.25" (84L)
Supports weights up to approx 300 lbs (135kg)
User FEEDBACK: 

"This is the first longboard I've ever owned and it's awesome! It provides the stability of a classic foam board but is way easier to maneuver and way more durable at price that was almost half of other longboards online!"

"A friend suggested that I try a long board in the 9′ range. I got it out in the water and it paddled like a charm(I weigh 195, 50 something year old). It is also well made and strong. My recommendation is that if you are looking for a soft top long board, grab the 9'6 Tortuga, I think for the money you will be getting a lot."
2. Catch Surf Plank 
What we love about the Catch Surf Plank:
The Catch Surf Plank 9'0″ is a "classic" single fin longboard for those who still want to do drop knee turns, nose rides and surf with style usually not associated with a foamie. 
Features:
Special Fin Box that Accepts any Standard Longboard Fin
9" Performance Single Fin Included
Stiff Dual Composite Core and Triple Maple-Ply Stringers
HDPE Slick Bottom with Bumper-Tail
Size: 9.0" x 24.0" x 3.5" (98 Liters) – Note: the Plank comes in smaller sizes also which could be a great option for smaller surfers.
Includes: 9" Performance Single Fin Included, no leash included. 
Suitable for: Anyone from beginners to expert. This board is also a great option for larger surfers, or older surfers getting back into surfing. 
User FEEDBACK: 
Fun no matter the conditions
Quick and fast
Such an easy ride, easy to paddle and flies down the line
Good starting point for any older guys wanting to get back into surfing. I'm 39, 5ft8 and 200 lbs (90kg), average fitness.I got into the water with a the 9'0 Plank and caught about 30 waves in 3 hours after 18 years of not surfing. Fast paddler and very stable. Very fun board and well made also.
I'm about 6'3" and weigh 215 lbs (98kg). I went through three different boards before settling on this one. I made the right choice. This board is exactly what I was looking for in a longboard that can float and catch waves with low to moderate effort. It's super fun and it brings me joy when think about my next anticipated session. 450$ + tax isn't cheap, but I still love the board, and if you know you are looking for a solid longboard with float, you can't go wrong!
Absolutely love the 9′ Plank. Last fall I had transitioned from a prior softop to a 9'6″ epoxy board, but found it unstable, harder to catch waves, and extremely fragile. I got the Plank in June and could not be happier. I can catch anything with this board. The single fin I believe makes it easier to turn than the thruster. The best part about the board however is just not worrying about dings and/or damaging it. I just throw it in the back on the pickup and never think about it. Pretty much indestructible.
---
3. Ocean and Earth Ezi Rider
What we love about the Ocean and Earth Ezi Rider:
The Ezi Rider longboard is a high quality option for anyone looking for a fun alternative for small wave days that gets great feedback for the standard of construction from surf shops. These boards are stable, high volume, easy paddlers and wave catchers.
Features:
3 stringers
Interchangeable fin box with tri fin setup. 
Size: 9'0″ x 24″ x 3 5/8″ (93L) – weights up to 130 kg
Includes: Fins, no leash. 
Suitable for: Any level of surfing experience.
Customer FEEDBACK:
Stable, easy to paddle 
Very fun and rides well
Perfect for small waves
Very strong and rigid but lightweight
People find them to be of higher quality than some alternatives
---
4. Wave Bandit Easy Rider
What we love about the Wave Bandit Easy Rider:
The Easy Rider is a fun high volume and stable wave catching machine which is one of the more affordable boards on the list. 
While it is a really great board for learners, these boards can still certainly provide great value for all skill levels. With a lot of float, catching waves is easy and the board will work in anything from tiny knee high mush through to reasonable sized waves with a bit of shape
Features:
Good price point
Tri fin
EPS core
Double wood stringers
HDPE Slick Bottom 
Size:  9'0 x 24″ x 3 1/2″ (98L) – Note: Easy Rider comes in smaller sizes also
Includes: Fins, no leash included. 
Suitable for: All surfing ability levels
Customer FEEDBACK:
Lots of volume and float so great for a heavier surfer
Short fins and construction make it durable in shallow water
Paddles very well and so easy to get into waves
Great board for learners
Fun to use on mushy days
---
5. Catch Surf Log
What we love about the Catch Surf Log:
A very popular board within the Catch Surf Odysea surfboard range which has a lot of positive feedback from surfers! This board has been pushed to the limits by big name surfers such as Jamie O'brien so you know they can perform. Huge float, easy wave catching and works in small mushy surf to bigger waves too. This board is almost identical to the Plank but with the tri-fin setup. 
Features:
Stiff Dual Composite Core
Triple Wood Stringers
HDPE Slick Bottom with Bumper-Tail
Size: 9.0" x 24.0" x 3.5" (98L) – Note: the Log comes in smaller sizes too
Includes: Catch Surf performance fins, no leash included. 
Suitable for: All levels of surfing ability 
Customer FEEDBACK:
Fun board for everyone including beginner and intermediate/advanced surfers.
High quality and durable, makes small days super fun and increases your wave count
Will muscle through chop and bumps and catch basically anything. A must have for anyone's quiver
---
6. Rock-It Moby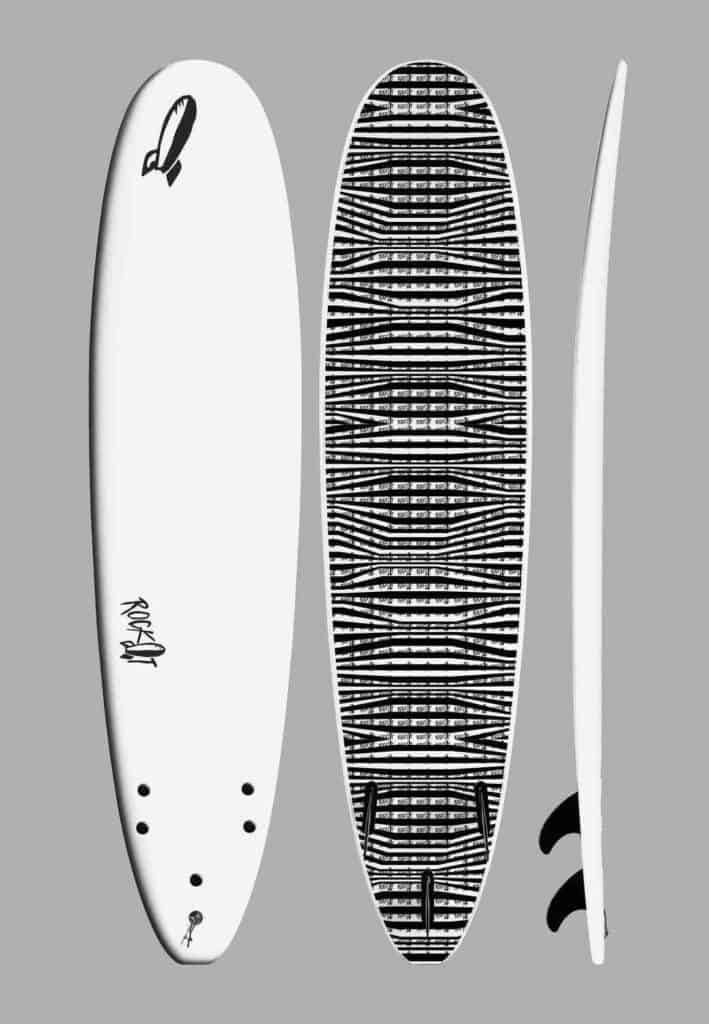 What we love about the Rock-It Moby:
The Rock-It MOBY 9'0 longboard is a big cruiser that can catch the smallest of waves.  Rock-It surfboards are very well made and can take the 
Features:
High quality construction backed by 12 month warranty
Tri-fin
Triple Wood Stringers
Produced with high degree of environmental best practise 
Size: 9'0″ x 24" x 3.5" (102 L)
Includes: Fins, no leash included. 
Suitable for: Learners through to advanced
---
We hope our soft top longboards guide has been helpful for you. Please let us know if you have any questions!
---