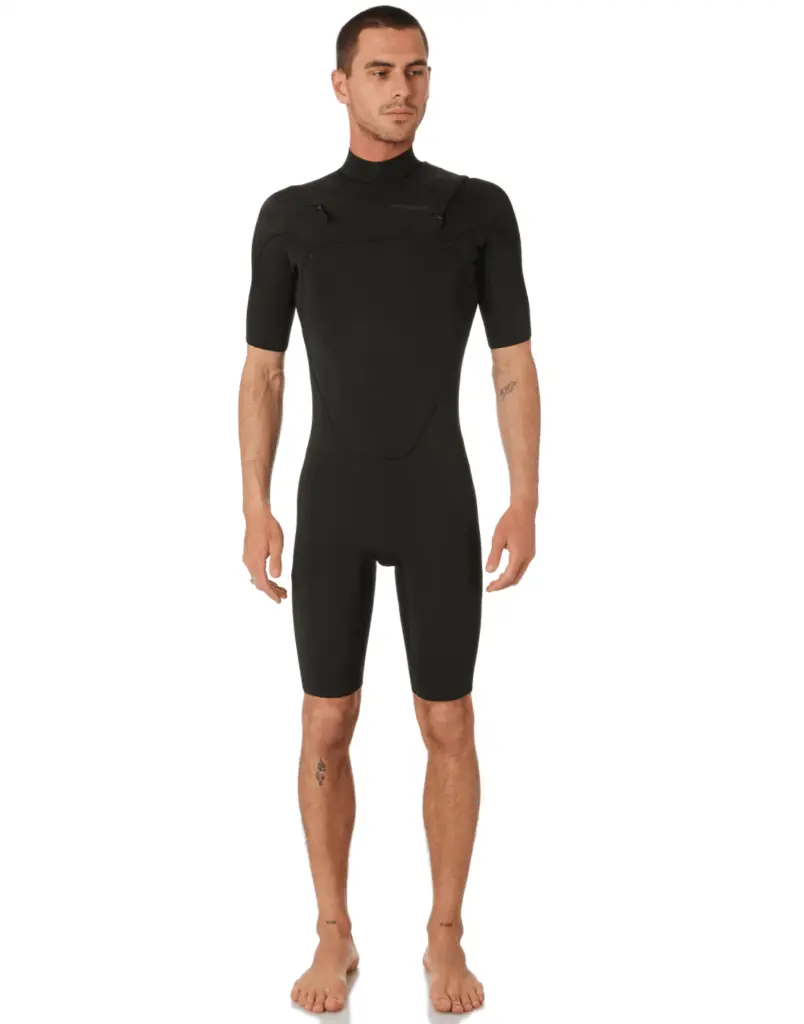 The most important item you need to be a surfer is a surfboard, that's undisputed. But what is the next most important item that every surfer needs? A good wetsuit!
Ask any surfer, and they will tell you that their wetsuits are indispensable. Sure, surfing in a swimsuit or board shorts is great, but let's face it – sometimes the water is just that little bit cold and a wetsuit is the obvious solution.
Surely we'll be too warm in a regular full wetsuit? That's okay because there's also something called a shorty wetsuit. This wetsuit style is typically cut off at the knees and elbows but there are variations. It's a fun and versatile alternative to the traditional full-coverage wetsuit, and every surfer should have one as part of their collection of surf gear.
Read on to find out how to choose the right shorty wetsuit for you.
Table of Contents
Why Choose a Shorty Wetsuit?
Shorty wetsuits serve the same purpose as full wetsuits and provide insulation while you're in the water. However, shorties are often made of a thinner material than full wetsuits.
They're great for summer or a warm spring day when you just need that little extra layer of warmth. For example, if your favorite time to hit the waves is at dawn, then a shorty swimsuit will keep you warm enough until the sun is fully shining.
Check out our Guide to Wetsuit Temperatures to figure out what wetsuit would work best for you.
Shorties aren't only great for surfers. If you also kayak, swim, windsurf, jet-ski, or do any other water sport, then you'll be able to use your shorty wetsuit a lot!
Even if the weather is warm enough to wear a bathing suit, some surfers still opt to wear shorties to provide additional protection for their torso against board rash or creatures in the water, such as jellyfish.
Before you choose your new shorty wetsuit, make sure you ask yourself these questions:
Are you only using your shorty for surfing? Do you partake in other water activities that would require a wetsuit?
Is your wetsuit mainly going to be used in the spring and/or summer?
What is the climate like where you live/surf? The climate differs between California, Australia, and the coast of British Columbia, and so your surfwear would differ as well.
What is your budget?
Are you ok with a back zipper, or do you need the practicality of a front zipper for your shorty?
Once you answer these questions, you're ready to learn about the different types of shorty wetsuits.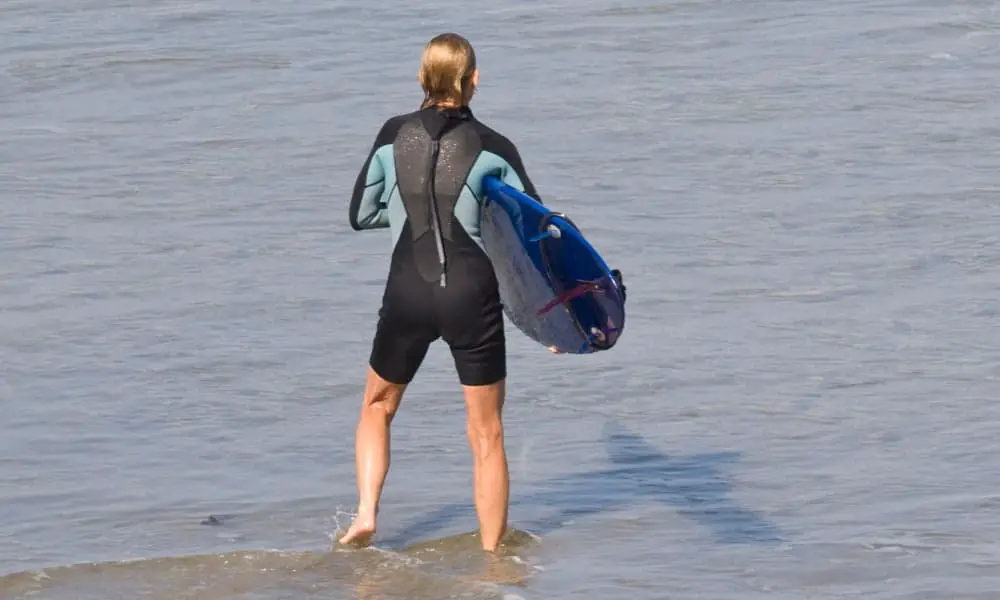 Different Types of Shorty Wetsuits
Although all shorty wetsuits have the common feature of covering the torso, upper thighs, and upper arms (to some extent), there is still a variation of styles to choose from.
Traditional Shorty Wetsuit
This design is the basic shorty with short sleeves on the upper part and a button half that extends to the upper thigh.
Triathlon Shorty Wetsuit
Similar to shorty suits, a triathlon shorty wetsuit features both short sleeves and shorts. They also have extra room and flexibility in the shoulders for optimal triathlon movements and range of motion.
Short John Wetsuit
This wetsuit is similar to the traditional shorty, but instead of short sleeves, this shorty features a tank top style, in case you want more mobility in your arms.
Long John Wetsuit
This wetsuit doesn't have shorts at all – it features the same tank top style as the short john wetsuit, but with a full pant leg. Sometimes it's just your arms that need a little extra freedom.
Long Sleeve Spring Suit
This shorty wetsuit features full arm coverage while keeping the traditional shorty above the knee length.
The Best Shorty Wetsuits
Now that you know more about the different types of shorties, it's time to decide which one is right for you. Below is a list of some of our top picks of shorties to rock this spring season.
Men's Shorty Wetsuits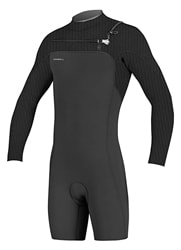 Rating: 4.8/5
Price: $205.00
Material: Neoprene Rubber
Sleeve Type: Long
Closure Type: Front Zipper
O'Neill is a reputable company known for California surf gear and surfwear, so you can't go wrong with their wetsuits. The Hyperfreak is their most popular line, so we've included this Hyperfreak long sleeve spring suit as one of our picks.
This men's shorty wetsuit is simple and ideal for entry-level surfers who don't know where to start. Although it is a long sleeve shorty wetsuit, it is made with O'Neill's lightest and most flexible neoprene material, making it great for surfing.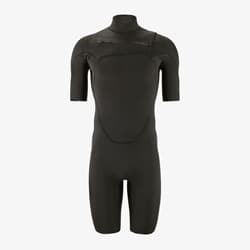 Rating: 3.6/5
Price: $229.00
Material: 85% Yulex® natural rubber/15% synthetic rubber by polymer content
Sleeve Type: Short
Closure Type: Front Zipper
If you want to feel good about how your shorty wetsuit is made, consider shopping at Patagonia. As one of the world's leading environmentally-friendly brands, they use ethically-sourced quality materials. They carry an assortment of wetsuits, but the Lite Yulex is our go-to when it comes to shorties. Using a natural rubber instead of neoprene, when you choose one of these shorties, you're helping both yourself and the environment.
Check out our review of the fulls men's range of wetsuits from Patagonia here.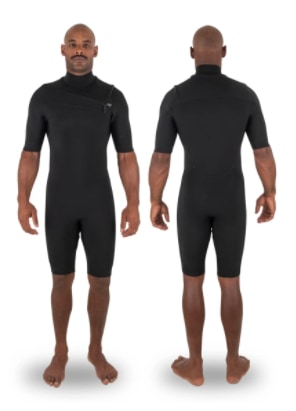 Rating: N/A
Price: $160.00
Material: Limestone Neoprene
Sleeve Type: Short
Closure Type: Chest Zipper
Needessentials is an Australian wetsuit company ran with manta "only what you need". With an absence of branding or unnecessary features they're high quality wetsuits without the high price tag. This chest zip shorty is made with thermal-lined limestone neoprene, making it great for cooler water temperatures. The well-constructed seams make this a high-performance shorty that won't disappoint.

Rating: 4.5/5
Price: $84.95 – $96.38
Material: Neoprene Rubber
Sleeve Type: Tank
Closure Type: Back Zipper
At 2mm, this shorty is on the thinner side, so it's ideal for warmer waters, or for days when you just need a little more than board shorts. The tank top design will give you additional mobility for paddling. Whether you're surfing, swimming or wakeboarding, this shorty will make you feel unrestricted.
Check out our full review of O'Neill's O'Riginal Short John Wetsuit.
Women's Shorty Wetsuits
Rating: 4/5
Price: $129.00
Material: 85% Yulex® natural rubber/15% synthetic rubber by polymer content
Sleeve Type: Tank
Closure Type: None
The major selling point for this shorty is the material. This neoprene-free wetsuit is comfortable and perfect for those who are looking for a quality wetsuit but are trying to be more conscious about the environment. The tank design provides a little extra freedom for your arms but ensures that your torso always remains warm.
Rating: N/A
Price: $180.00
Material: Limestone Neoprene
Sleeve Type: Long
Closure Type: Back Zipper
This shorty features long sleeves, which gives it an added warmth while still maximizing flexibility. Although your legs are still free, the limestone neoprene will still keep you warm while protecting your arms from the sun.
Check out our review of another Need Essentials shorty, Women's Front Zip Spring.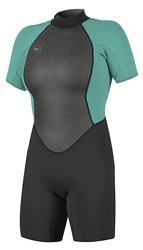 Rating: 4.7/5
Price: $70.19 – $119.95
Material: Neoprene Rubber
Sleeve Type: Short
Closure Type: Back Zipper
This shorty is similar to the men's version, but it's customized to fit the female form. If you aren't immediately attracted to its sleek design, its ultra-soft material will melt in your hands. This shorty provides flexibility that results in an elevated performance. It's also wind-resistant, providing extra warmth even once you come out of the water.
Kids Shorty Wetsuits
Kids' wetsuits can be more of a challenge to buy, so check out our Kids Wetsuit Guide to make sure you know exactly what you should be looking for!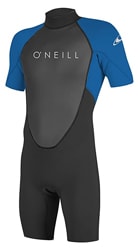 Rating: 4.4/5
Price: $74.00 – $179.95
Material: Neoprene Rubber
Sleeve Type: Short
Closure Type: Back Zipper
Kids don't like to feel restricted anyway, so a shorty wetsuit is a way to go for your little ones. This kid's shorty wetsuit is similar to O'Neill's men's shorty, making it great for the little surfers in your family.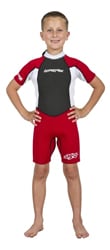 Rating: 4.4/5
Price: $19.99 – $56.07
Material: Neoprene
Sleeve Type: Short
Closure Type: Back Zipper
This kid's shorty is an affordable alternative to the kids O'Neill shorty, which may be ideal if your kid tends to grow out of their clothes quickly. It's constructed to provide maximum flexibility and comfort. It's also versatile – great for if your child is surfing then decides to just go out for a swim. These shorties come in an assortment of colors for your kid to choose from.
The Takeaway
Choosing a new wetsuit may be quite the task with all the options available, especially if you're new to surfing. Shorty Wetsuits are a great addition to a surfer's gear, and they will take the edge off on those slight cooler days. The best Wetsuits are all about comfort, durability, and flexibility, and shorties are no exception.
To make sure you're always prepared, consider adding a shorty to your wetsuit collection. Shorties are perfect for warmer days and to protect your body as much as possible.
If you have a shorty wetsuit that you'd like to review, we'd love to hear what you think! Submit your review here.
You might be interested in some of our other recent posts: