These have gotta be the sexiest foamies around, amiright? Damn. But do they surf as good as they look? The general consensus of the Almond Surfboards R Series Review is….a resounding yes!
Almond Surfboards have been producing their beautiful traditional style surf craft since 2007 and are known equally for the high quality of their surfboards.
In recent times Almond have introduced two softboard models into their collection and have joined the likes of Formula Fun, Album Surf and Spooked Kooks in that their boards are 100% recyclable. To top it off, many are saying that these boards ride extremely close to their fibreglass counterparts.
This Almond Surfboards R Series review will look at the two softboard models Almond currently have available which are based on two of their most popular shapes – the Secret Menu, Joy, and new for 2020 the Pleasant Phesant. 
1. R-Series 5'4″ Secret Menu 
The Secret Menu has for a long while been Almond's most popular board under 6 foot so it makes a lot of sense that they picked it as their first softboard. It is a little pocket rocket that paddles like a longboard but is definitely rippable. Although small it packs a volume of 36.4L so it will definitely float 'bigger than you would think' surfers.
Constructed with double stringer for real surfboard stiffness, a high density copolymer foam core with a waxless deck pad and future fins box (in quad fin setup) this is one rad little unit.
There is only one size available but with a number of eye catching deck designs:
5'4″ x 21″ x 2 3/4″ (36.4L)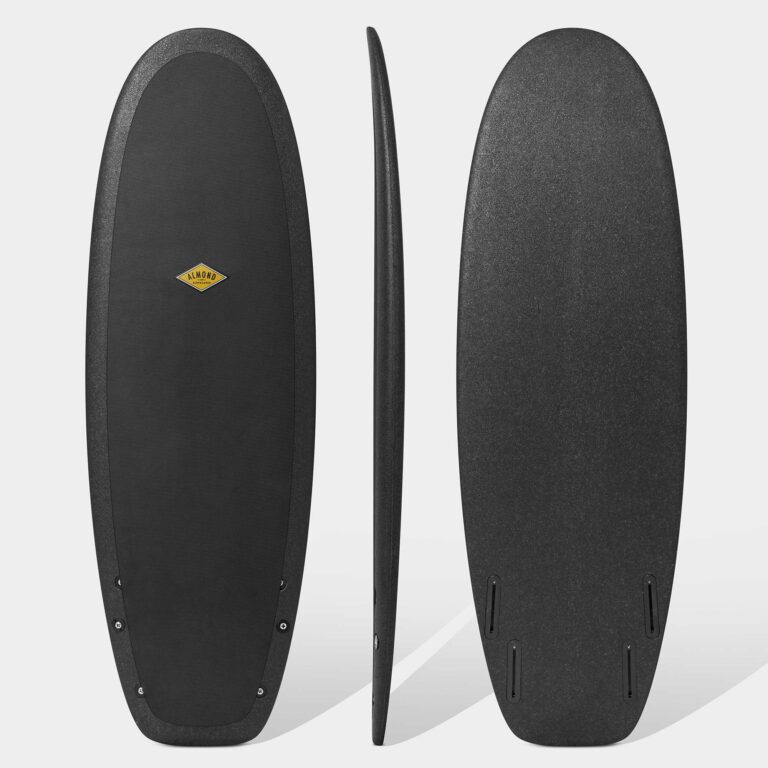 User FEEDBACK: 

Exceeds many expectations as a foam board even in head high +/ bigger waves and reported to go well in variety of waves including small, mushy, punchy, clean and closeouts
Seems to be best in 3-5 foot range
Can catch small waves like a longboard
Fast, forgiving and stiff
Very versatile
Lightweight. Easy maneuverability
Many like that you don't need to wax, however noting you need to wear a shirt of wetsuit to avoid chaffing 
Several tall surfers circa 6'1 – 6'5 say it surprisingly worked for them despite the small size of board however I did note one review of tall surfer saying they found it too small
Skatey feeling when carving
Great float and easy to paddle
It is a really fun board but it also performs at high level when needed
Lack of wax and small size great for always having in the car
Futures fin box setup is really popular for quality and variety of fin options
Many comments about the refined rails
Many mention the great look of the boards and getting comments from people saying "can't believe it's a foamie"
Can duck dive easily
Manueverable 
People like that it is environmentally responsible
Perfect travel campanion
Fast, generates lots of speed and great for drawn out lines
2. R-Series 6'4″ Pleasant Pheasant
Almonds Surfboards have struck a popular nerve with their R-Series and in 2020 have added another of their key surfboards to the soft top lineup. The Pleasant Pheasant or Plez Phez as it is affectionately called straddles the gap between the Secret Menu and Joy at 6'4″ and 50L volume.
With the added length and volume this board will offer benefits for paddling, extra glide and earlier entry into waves compared to the Secret Menu. With more rocker and less volume than the Joy, the Pleasant Pheasant allows for more control, tighter turns and exploration on the face of the wave. 
As Almond says:
"The advantage of the Plez Phez is the ability to get your foot right on the tail, where you have maximum control of the board.  The addition of the side bite fins in no coincidence—they help give the board added bite into the surface of the wave for pumping and generating speed.  The round tail and relatively compact outline make for tighter turning radiuses when you put this board on rail. The ideal approach on a Pleasant Pheasant would be to utilize the entire rail line to drive the board and generate speed, and then shift your weight back to push the board through a cut-back turn".
With a single fin box, and Futures side bites – the Almond R-Series Pleasant Pheasant is another unique entry in the foamie world. 
One size only, but with a number of deck design variations:
6'4″ x 21.4″ (50L)
User FEEDBACK: 

Best R-Series yet
It's an easy board to catch all sorts of waves with, from clean 5ft peelers to mushy 2ft beach break. Once in motion, it is FAST accelerating like a real board and very distinct from any other foamie that I have ridden. Turning is easy and thrilling, you have high control over trim and direction, with the ability to really pull the board around if needed. It duck dives fin, it paddles out great, it feels safe and thrilling at once.
Ridden a few times now in mediocre to fun surf. Board is a blast! Tons of volume for great float and wave catching ability.

The JOY has also been a very popular and versatile board for Almond Surfboards and is the second board to be developed into a softboard version for the R-Series.
With a low rocker and substantial volume, it's a wave catching machine which will get you into waves early. A pintail design helps it turn easily. Thankfully, Almond have retained the single fin box for this board which is rare for a foamie.  
The Joy R Series' construction is the same as the Secret Menu mentioned above, also with double stringer and a wax free deck pad. 
This board will suit a variety of surfers from beginner to advanced.
One size only, but with a number of deck design variations:
8'0″ x 22″ (72.2L)
User FEEDBACK:

People love the recyclable construction and wax free deck
Great in shore break and decent size surf
Good feedback as to suitability for learners as well as seasoned surfers
Some feedback regarding deck/rails causing chaffing
Catches everything, easy to paddle into all size waves and gets into waves early
Manoeuvrable and versatile down the line speed
Holds well while riding in the pocket, doing bottom turns and cheating 5.
The dense foam construction is reported to ding, dent and tear quite easily if comes in contact with sharp or rough surfaces so you do need to take care 
People love the look of it
Reviewers comment that it surfs much like a regular board and many say it is the best softboard they have ridden, much more responsive
If you've got any feedback on any of the R-Series boards, please drop a comment below. 
While you're here check out our other foamie reviews and wetsuit reviews.
Happy Surfing!