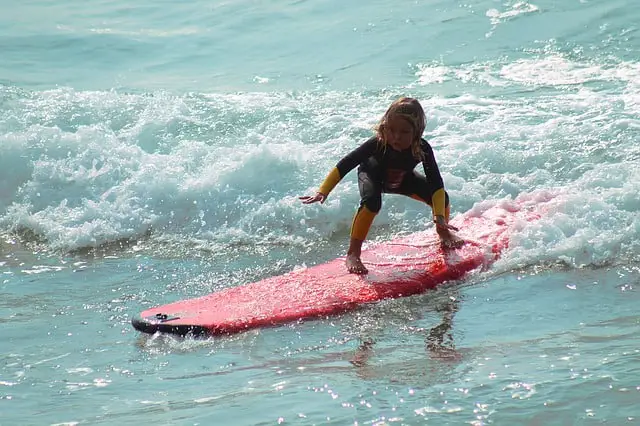 So you're looking for the best kids surfboards? Well here is the guide for you. 
It's an exciting time when your children are old enough that they can learn to surf and it's pretty cool to think that soon enough not only will you be able to go surfing with them, but they'll be surfing better than you! I know I'd be a 100 times better surfer if I could have started when I was 5 years old instead of 15 (Damn you, Dad!).
If you're in the market for the best value boards that won't break the bank but will get your little guy or gal catching their first waves on a surfboard or advancing their skills you've come to the right place.
In this guide we are specifically talking about young children who are being introduced to surfing for the first time or are starting to develop their surfing and generally in the age range of 5 years old to early teenage years. 
RELATED POST: Kids Wetsuit Guide
*Note – this guide contains affiliate links. If you purchase any products we receive a small payment which helps us to continue creating surf related content.
Why are soft tops the best kids surfboards?
The number one reason why you would choose a soft top over a fibreglass or other type of surfboard for your child is safety. The soft deck, rails, and fins all make any impact of the board that little bit less concerning. They're also lighter generally and easier to handle.
Secondly, the volume and float that they will find in one of these boards is going to make it easier for them to start learning how to paddle, and make it easier for a parent to push them into waves.
For a more advanced child, this added buoyancy and is also going to help them when they are learning to paddle themselves into a wave. These are just a few reasons why softboards really are the best surfboards for kids. 
Tips for introducing a child to surfing for the first time
The benefits of surf for kids are endless! However, It can be tricky to teach a child to surf and you can't force it – they have to want to do it and they need to feel comfortable in the water.  
Here are a couple of points to consider:
If not already, get them comfortable in the water. They have to be able to confidently swim before you could think of putting them on their own board
Peek their interest in surfing (if you are anything like me you've been showing them surfboards etc since they were born!), you could watch some surf video with them or surfers at the beach
Practice on a surfboard on the sand before you go to the water
Stay close to them in the water, or take them out on a longboard just to see how it feels
For their first time on the board without you holding them use a boogie board (or one of the shorter boards recommended below can be used as a boogie board)
If possible get them to learn with a friend or group of friends. Learning with others will encourage them more particularly if they are a little bit scared. Also it will be great for them to have a friend who is learning as they could go on to be long time surf buddies.
Tips for a child with advancing skills
If you've taken your child into the waves a few times and they have been able to get some of the basic skills nailed down – perhaps they have really shown an aptitude for surfing – you should consider getting them some lessons with a surf school/instructor.
This will ensure they are on the right path from the start and before they develop their techniques and may allow them to leap ahead in terms of their development.
From there, it's all about letting them surf surf surf and they'll probably make it pretty clear they want to keep surfing
How much does a good quality child's foam surfboard cost?
Like most things, surfboards range widely in cost and quality. The foam surfboards for kids that we recommend in this guide range from mid-quality level to very high-quality soft boards and the old saying of "you get what you pay for" definitely applies here. 
It goes without saying really, that the cheaper boards have less in the way of quality construction and will not last as long.  
The best surfboards for kids that we recommend in the guide range from $40 to $117 US dollars for a bodyboard style board for beginners and $90 to $230 US dollars for a surfboard. 
You can definitely find cheaper boards out there but you will quickly find they bend out of shape and fall apart.
What surfboard size is best for kids?
It's our belief for children as well as adults that when it comes to learning the bigger the board the better, however it must be of a size that the individual can handle. 
For very young children in the 3-5 year bracket, who can now swim but are just beginning to play on a board, the best starting point is a short bodyboard that they can get the hang of catching white water and playing about in the shallow water. 
From there for ages approx 5 to 10 years generally boards in the range 4 foot to 6 foot range with high volume is ideal – still large enough to have sufficient volume and float and the feel of a surfboard and to get the hang of paddling and standing up. 
Every child will learn at a different pace and depending on their preference, once they have the hang of basic surfing they could look at a variety of boards. If they seem to want to surf in a high performance type of direction then staying with board of around 4 to 6 foot may be perfect for them. Other children may benefit from a longer minimal type board of say 7+ foot with a rounder shape and overall easier more forgiving surfboard.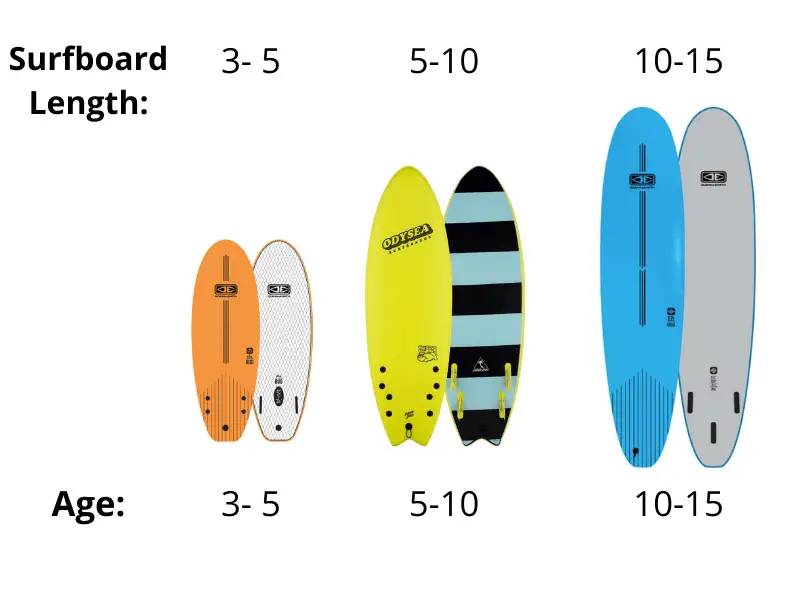 Kids Surfboard Size Chart
The kids surfboard size chart below is an indicative representation of the above categories. When kids do advance their skills they may wish to stay on shorter boards ie. children over 10 years may not wish to stay on the mid length / mini mal  boards – it is a personal preference. 
---
Our top pick: Best kids surfboards
1. South Bay Board Co Guppy 6'0 & 8'0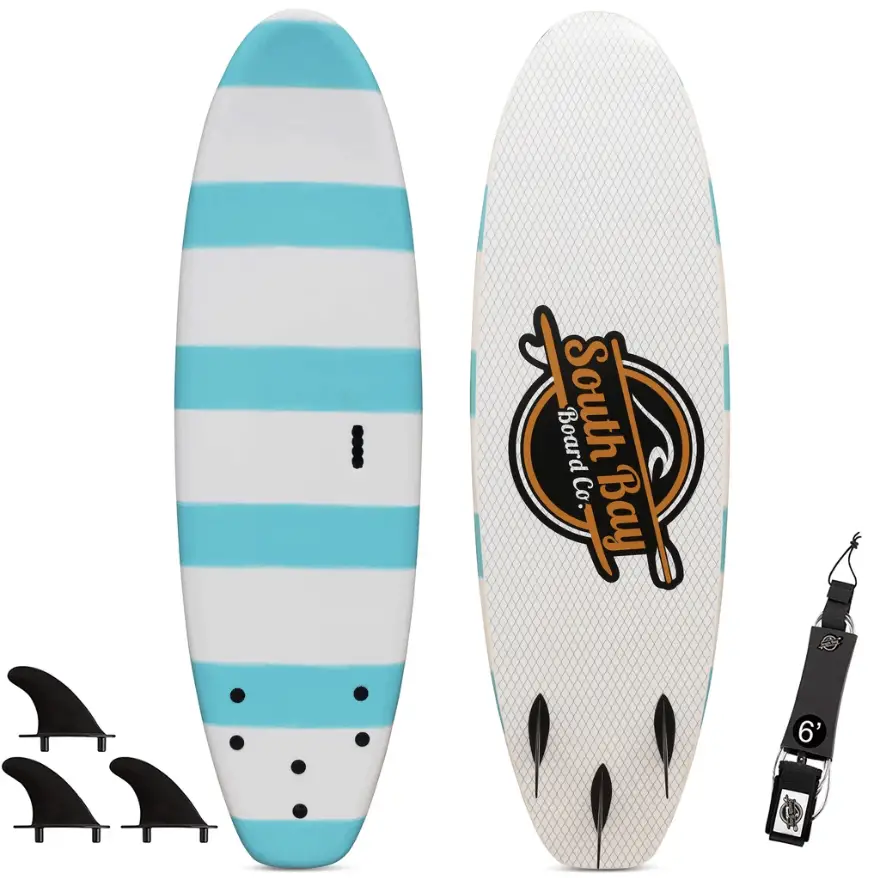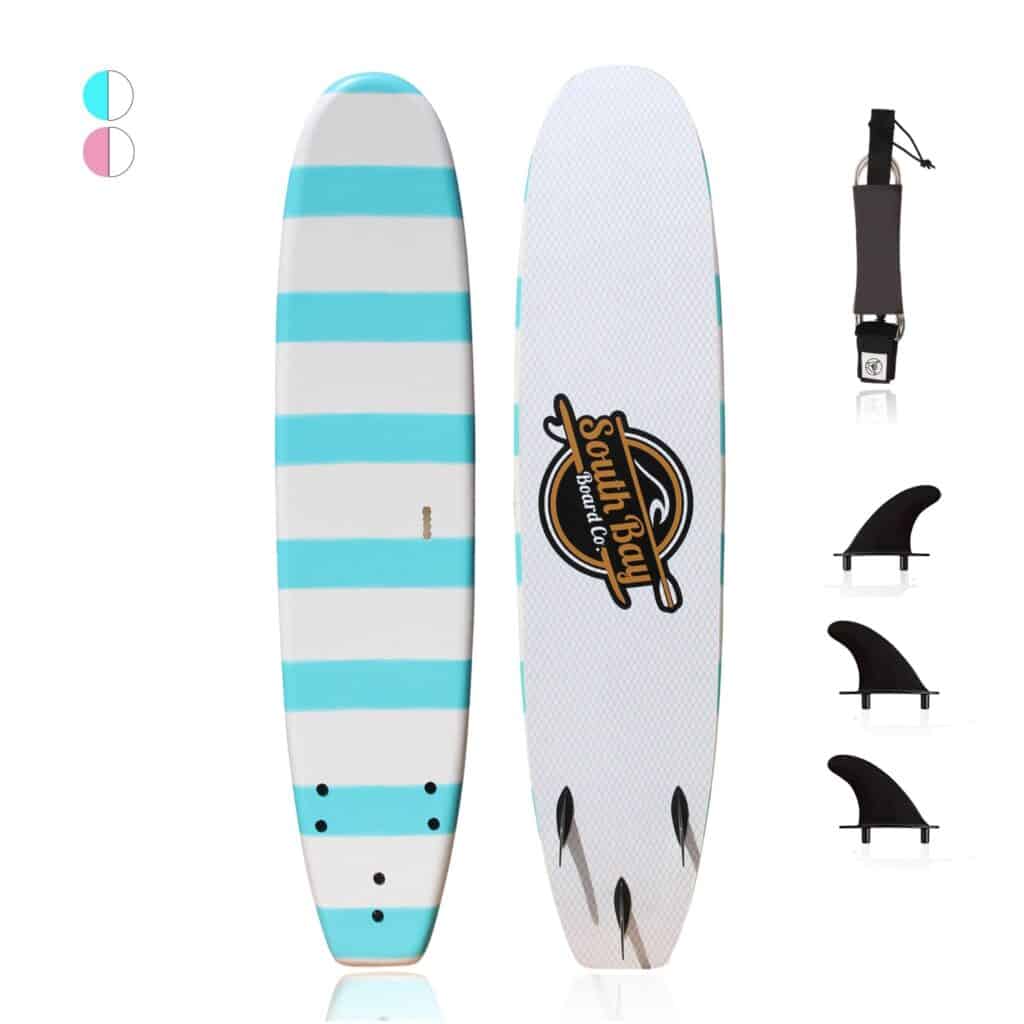 The South Bay Board Co Guppy Surfboards are a beginner shape designed with long lasting & light weight EPS Closed Cell Foam that includes an EZ Carry Handle that's perfect for the kids! The Guppy features a rounded nose and semi-squared out tail for maximum stability and performance while also keeping safety in mind. The pattern on the top deck allows you to spot the board easily while its in the water during those busy summer days.
This board is perfect for anyone from beginners to those who are a little more experienced in the water. While they are very affordable, these boards from South Bay Board Co are not lacking in quality.
Sizes: 
6'0″ x 21" x 3" – 40L (suited to smaller and younger children)
8'0″ x 22″ x 3″ – 80L (suited to pre-teen and teenagers, or even adults)
Includes: Fins & leash
Suitable for: Good for beginners and those already starting to develop their skills
General Customer feedback:
Great learner boards for kids
Handle in deck is a popular feature
Lightweight
Easy to fit and store in car
Some people note quite easily dents
Affordable
Reviews – Guppy 6'0 : 

"My daughter and I love the pink guppy! I wanted to have her try out surfing as she loves being in the ocean. The pink guppy has been perfect for her, she never wants to come out of the ocean! The handle is the best, she says she's a "real surfer" because she can carry her little pink board all by herself".

"My older son is not new to surfing we actually bought his first board at Catch Surf! When my 11 year old son and my 7 year old daughter asked to start surfing I wanted to research different boards. My friend told me about the South Bay Board Company so I checked them out. I was impressed with the reviews and trusted my buddies opinion so we tried them out! My kids LOVE the boards! I love the board because they are so easy to spot out in the sea of surfers! If you are debating buy one debate NO MORE they are brilliant quality for the money!!"

Reviews Guppy 8'0:

"Exactly what my son needed! I wasn't sure if my boy would like to surf, but I purchased the guppy for him (great price & it was free shipping). My son loved the board right when we unboxed it. Took it to the outer banks, he was surfing on his own day 1. He thinks he's a surfer now, great board, thanks sbbc!"


"Great surfboard for my teen! Better quality and solid construction compared to the big box store foam boards we borrowed from friends. This board has a soft top made of foam and a hard, slick underside, with 3 fins and a leash. I think the other reviewer must not have known this is a soft top Foam board, not one of the hard boards for advanced surfers. It's not cheaply made at all. It has much higher quality construction than the cheaper foam boards you buy at big box stores. Great purchase!"
2. Rock-It Chub Twin Fin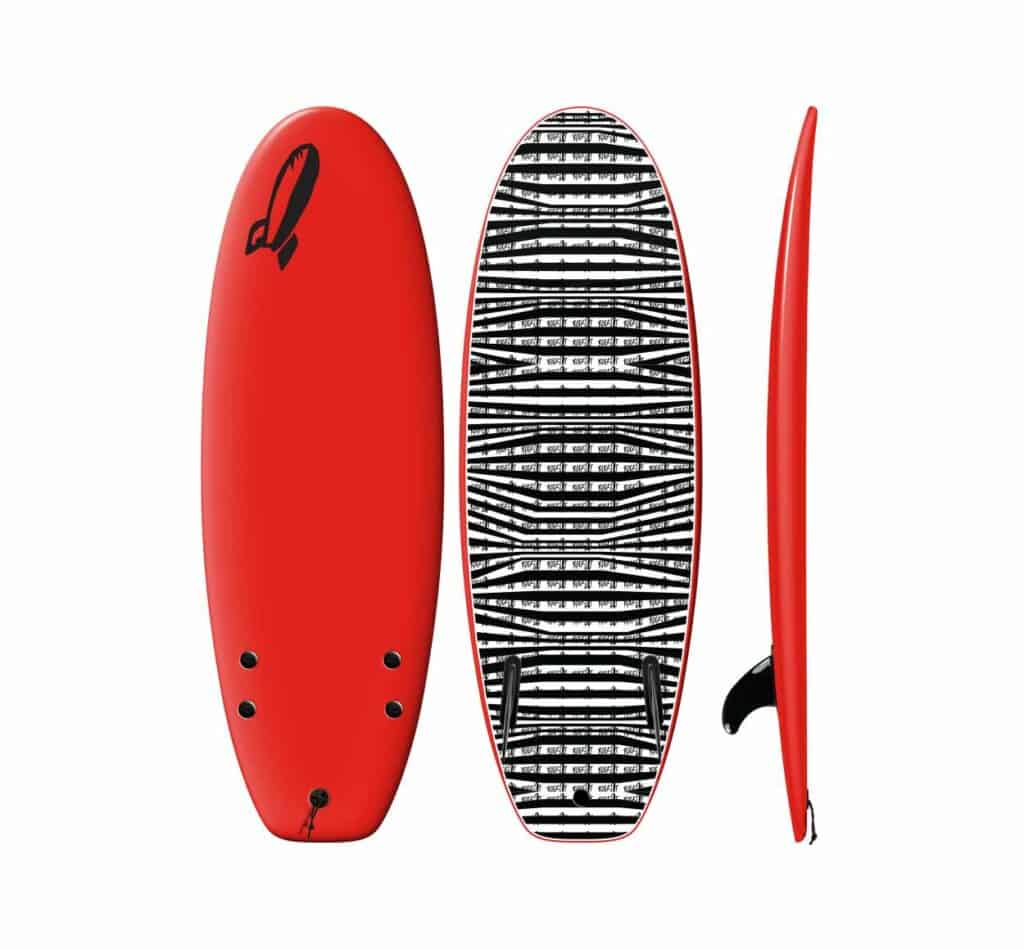 The Rock-It Chub at only 4'10" is packed with volume (35L) so it provides great buoyancy and is easy to paddle for a little one. 
Construction:
Two marine wooden stringers coated with an epoxy nano-coating
Proprietary EPS foam core and a UV resistant soft top layer
12 months manufacturers warranty
Made using environmentally sensistive manufacturing processes and all materials in the board are fully recyclable
Sizes: 4'10" X 19.5 X 2.5" / 35L
Includes: Fins (no leash, you will need to buy separately
Suitable for: Good for beginners and those already starting to develop their skills
Customer feedback:
Great feedback from parents of 5 – 10 year old children
Quality construction
Safe
Float really well
---
3. Wave Bandit Shred Sled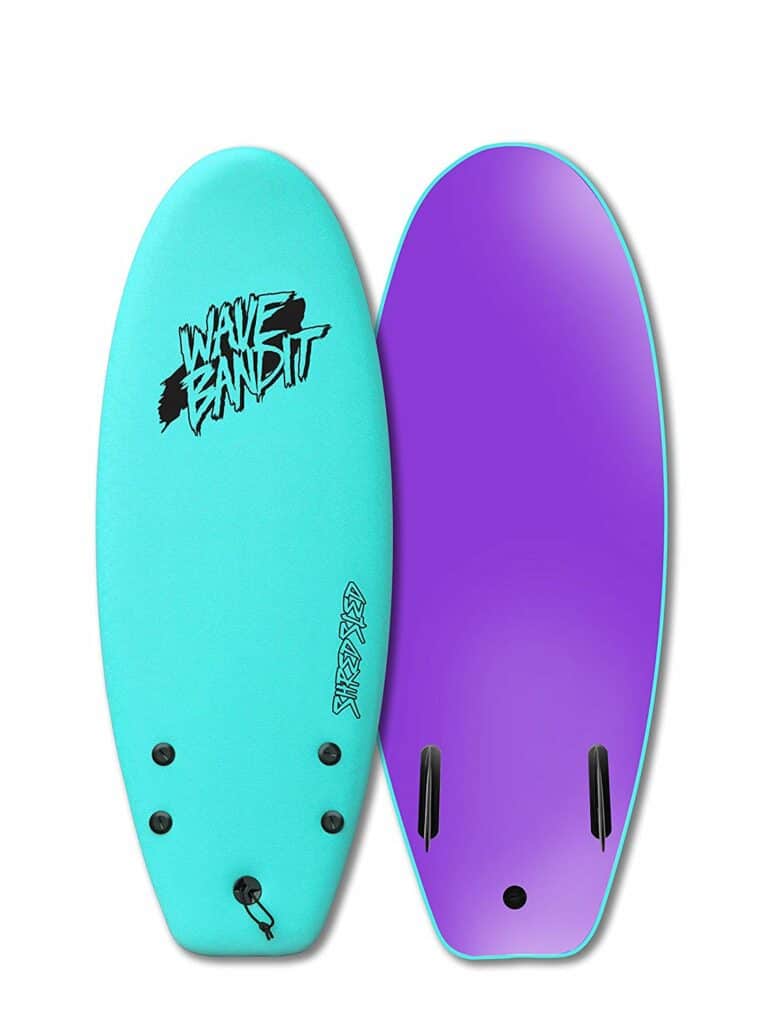 The Shred Sled (& Mini) are aimed at kids learning to surf with a performance edge. For the little ones these boards can offer a slightly different path than the typical learner boards. Constructed with dual composite core they are built for speed. The smaller board is a bodyboard (no fins) while the 48″ is designed to be ridden as a small surfboard. 
Sizes: 37″ and 48″ 
Includes: leash (both sizes) and safety fins (48″ only)
Customer Feedback: 

Positive feedback as kid friendly board.
Some comments about being able to float children only up to 22kg (50 lbs)
Suitable for: The 37″ suits any smaller children when starting out to be used as a bodyboard. The 48″ is children who have some advanced surfing skills already
---
4. Ocean and Earth Bug Mini
Ocean and Earth Surfboards Bug Mini's are great for younger surfers, offering stable, safe and durable boards that are the perfect size – not too much board to handle!
They aren't limited to kids though, the larger sizes can offer experienced adults a fun little option too. Beginner's can also use the smaller size as a body board. 
Although very short, these boards pack volume so are easy to paddle and have good float. 
Construction:
A multi layered core with EPS, controlled flex layer and substrate: rigid & fast.
Triple stringers for extra strength
Fair amount of rocker for a foamie as well as double concave for added performance 
HPDE Slick bottom
Twin fin setup (all boards except for the larger 5'8″ which is thruster fin setup (tri fin). Fins are screw in plastic fins which are pretty safe
Sizes: 
4'0″ (48″) – 26L with soft fins (Suits weights up to 30kg)
4'8″ (58″) x 19″ x 2 3/4″ (30L) – Twin soft fins (Suits weights up to 40kg)
5'2″ (62″) x 19.25″ x 2 3/4 (33L) – Twin Soft Fins (Suits weights up to 55kg)
5'6″ (66″) x 19″ x 2 3/4″ (36L) – Tri fin setup soft fins (Suits weights up to 65kg)
Includes: Fins (leash not included)
Suitable for: Range of children from absolute beginner (bodyboard style) to advanced older children
---
5. Wave Bandit Performer Mini Twin
The Wave Bandit Mini Twin Fin is a little pocket rocket with full rounded nose and square tail, suited to experienced lightweight shredders or kids who've got a bit of surfing experience already, looking to improve on a high-performance board (probably not idea for a kid who is just starting to learn). 
These boards have a bit of rocker to them so are well equipped to handle tighter turns and steeper waves. They are loose and responsive and will handle waves up to around 4 feet.  
Sizes: One size only – 4'10″ x 19.5 x 2 15/16 (35L)
Includes: Leash and removable fins
Customer feedback:
Some suggest very close to a PU shortboard with very high performance ability

Can surf very small to head high surf 

Good for both adults and kids
Suitable for: Beginner and advanced children
---
6. Catch Surf Beater
The Catch Surf Beater are flexible in that you can ride them as a bodyboard, skimboard or surfboard with or without fins. The latest Beaters are light but with two maple-plywood stringers and dual composite core so are strong and durable. Tapered D-rails and a twin-channel crescent tail allow the board to perform well even when ridden finless.
Sizes: 
54" (4'6″) x 20" x 2.5" (35 Liters)
48″ (4'0″) x 20″ x 2.5″ (31 Liters)
Includes: Fins (leash not included)
Suitable for: Smaller lighter children beginners will be able to learn to paddle around on the Beaters but this board is better suited to advanced children showing an aptitude for performance style surfing. 
---
Honorable mentions:
7. Wave Bandit Shockwave
These Wave Bandit bodyboards are good option for children taking their first rides in the whitewash who aren't quite ready to get on a board. Perfect to start developing their awareness of the waves and whitewash without venturing out of the shallow water.  
Sizes: 36″, 42″ and 45″
Includes: Wrist leash
---
8. Catch Surf Skipper
The Catch Surf Skipper is an example of a board that doubles as good board to push your kids into waves but also be able to surf it yourself. Our reviewer Terry discusses in our in depth review of the board (see here):
"It has been great for both me and for my 5 year old son. The high volume of this board has been great for pushing my son into small waves, and offers him great stability for picking up waves easily."
Sizes: 
5'6" x 21.0" x 2.875" (42 Liters)
6'0" x 21.5" x 3.0" (48 Liters)
6'6" x 22.0" x 3.125" (55 Liters)
Available in both quad fin and thruster fin setup.
---
9. Rock-It 5'8 Albert
Like the Skipper above, the Rock-It ALBERT is a great all-round surfboard that can be enjoyed by kids or parents alike. Sporting a twin-fin retro fish design which floats well and catches waves with ease.
Quality construction two wooden stringers and multiple layers of fiberglass cloth and epoxy resin wrapped around an EPS core which are vacuum and heat sealed soft top.
This board gets great reviews as a learner board and is Rock-It's best seller.
Size: 
5'8″ x 20.5″ x 2.5″ (35.4 L)
---
10. Gnarlaroo Dune Buggy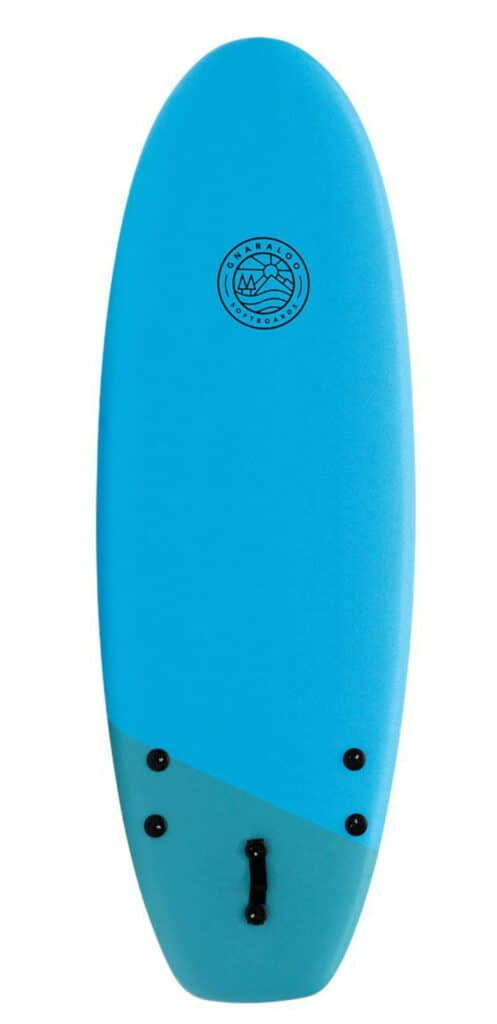 With a thick polyethylene deck and a soft slick skin on the bottom which is super durable, the Dune Buggy is soft enough to keep kids safe.
Core: Expanded polystyrene core with internal stringer system. Other softboard surfboards can over flex, but the integrity of the rocker is maintained in the Dune Buggy bringing the feel closer to a traditional fiberglass surfboard.
Construction: Safe for all skill levels, the vacuum construction process eliminates hard or sharp surfaces, and prevents peeling or bubbling.
Additional Features: Flexible thruster fin set with leash attachment loop are simple too install making it fast and easy to hit the water.
Size: 
4'10" x 19.5″ x 2 5/16″ (35 L)
---
We hope the guide for the best kids surfboards was helpful for you. Please let us know if you have any questions or comments below!