That sinking feeling when you damage your new board. We've all been there, it sucks! Our soft top surfboard repair guide is here to help you.
Unfortunately, the reality is you'll end up damaging all your surfboards more than you like – fin cuts, hitting rocks, dropped in the car park (or maybe in your garage) 😉 – they're all hazards of the sport. As such, gaining the skills necessary to complete your own soft top repair is an important part of the learning experience.
As for a simple tip – make sure you store your board away properly when not using it. Often times people damage their boards in the safety of their own home just because they have it leaning loosely up against the wall (this has happened to me soo many times!). Why not build your own DIY surfboard Rack.
As the materials that make up softboards are different to hard boards, the methods and particularly the products used to repair them differ. 
For major repairs, it goes without saying if you don't know what you're doing it's best to get a professional to take care of it. 
But if it's a typical hole, fin cut or minor damage then you should learn how to have a go at it. There's something extremely satisfying about fixing a surfboard, even if it doesn't look perfect.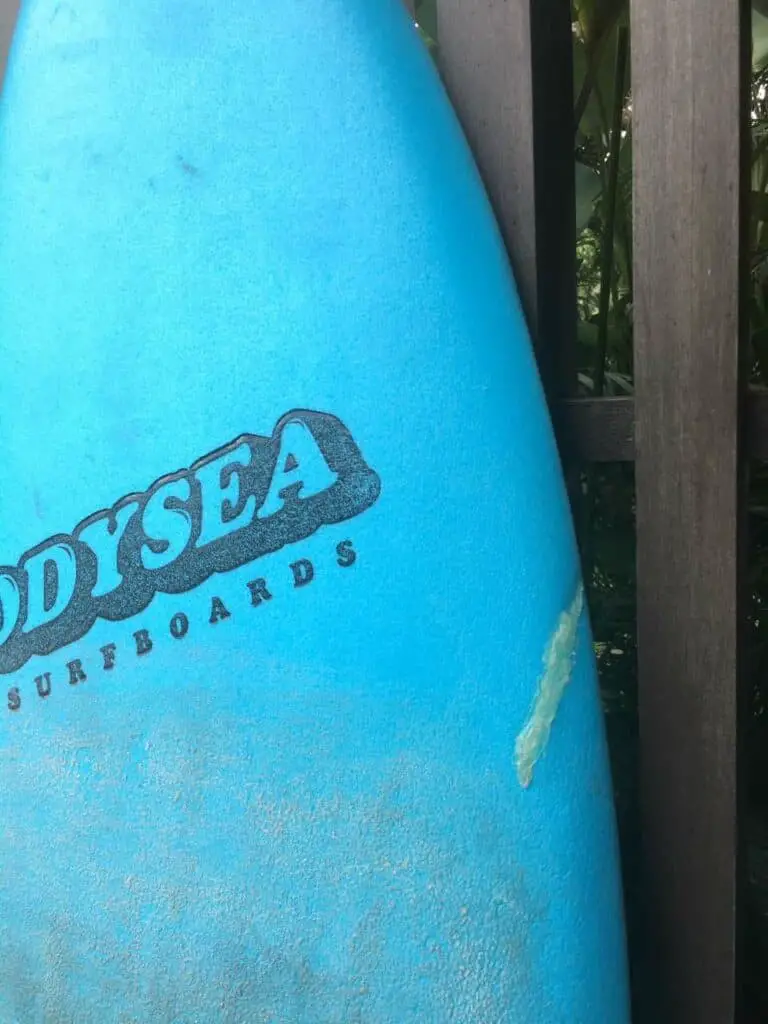 Do not use bodyboard repair kits for a soft top surfboard repair!
Let's start by saying what most soft top manufacturers tell us. DO NOT use bodyboard repair kits to complete your soft top repair such as "The Blob" or "Sponge Rez" as they will eat away and damage the internal EPS foam core. 
Bodyboards look very similar to softboards with their slick bottom and foam decks but bodyboards are generally made of PP (Polypropylene) or PE (Polyethylene), while the softboards are made from EPS (Extruded Polystyrene).

Where and what type of damage?
The severity of the damage and the specific location on the board will require different approaches so we will break it down by each component:
Fin chop / Holes

 
For punctures, cuts, gashes, pealed seams, skin rips and/or de-lams use: 3M Adhesive Sealant 5200 Fast Cure, Sikaflex 291, Gorilla Glue and/or hot-melt glue from a glue gun. 
Epoxy Resin can be used but only in areas where you won't place your hands or feet as it cures hard. The previous mentioned products dry to be a little more soft and malleable without any sharp edges. 
Read next – Soft Top vs Epoxy Surfboard
Another option is SolarRez UV Cured Wetsuit repair. This dries clear and "rubbery" so there will be no sharp edges. As its Solar Cured, it may require a few layers to ensure the mixture can set.
Follow manufacturer's instructions for correct and safe use of these repair compounds.
Ensure the area in question is clean and dry before attempting soft top repairs. Allow 24 hours for repairs to cure and dry before use.
Damage to slick Bottom
Most damage caused to the slick can be repaired in a similar fashion to dings on a typical hard surfboard. 
Solar cured Epoxy such as Dura Resin or Gorilla 2 Part Epoxy are suitable products as they cure hard so is perfect for the slick side of a soft top surfboard. 
If the surface of the damaged area is rough give it a light sand with a relatively fine grit sand paper/block. Once smooth, ensure it is clean and dry before applying any epoxy resin.
Apply the epoxy resin to fill any holes or sections and smooth it over using a bit of plastic so that it dries smoothly. Try to remove as much of the excess resin around the area in question to avoid having to unnecessarily remove it after it has set. Ideally you want to limit the amount of sanding that is required after it has cured/set. Be warned this stuff reacts quite quickly so you don't have a lot of time to waste.
Bubbled Deck

 
Delamination or bubbles on the deck of soft top surfboards is a common issue that can occur from over exposure to heat, or even just from age or prolonged use. 
This damage is generally very "cosmetic" and really shouldn't affect board performance. If it's a bubbled deck, we'd recommend slicing the deck, just enough so you can squeeze some glue in there.
Gorillia 2 Part Epoxy or a similar product will work well for this. Just double check packaging or ask at your hardware store to confirm it is an EPS safe one, and if you have any doubts, test it on a small sample area first.

Temporary minor repairs
If you are on a surf trip or away from any repair materials and you get a fin cut or small hole in your softboard but really want to keep surfing it, a simple "temporary" soft top surfboard repair trick you can use involves materials you are likely to have on hand:
Surf wax (any kind)
A lighter 
A spoon or metal cup
Place a small piece of wax in the spoon and heat with lighter flame until it starts to melt.
Carefully pour the liquid wax into the crack/hole you are filling.
Give it a bit of time to cool and harden and use the bottom edge of the spoon to press it firmly into place. 
This is only good as a temporary fix to limit the amount of water that will get into the hole. It is not an ideal fix and should be properly repaired as soon as possible.
---
We hope you learned something – please feel to comment with any questions or issues you have with your foamie, or any tricks of the trade you have for soft top surfboard repair.
While you're here, feel free to check our in depth reviews and softboard buyer guides.
Check out our article on how to wax a soft top surfboard.