Softech Surfboards were one of the earlier companies to establish themselves in the modern soft board market and their boards and range on offer has come a long way over time. In Softech's words, "inspired by the latest fiberglass surfboard designs, the Performance Series blurs the lines between serious ripping and having fun".
With several models to choose from in the Softech Surfboards Performance Series, we thought we'd dig into a review of what they are all about (in no particular order)…
This is Mason Ho's signature model, a fishy shape with a twin fin setup which has proven to be very popular and some would say the funnest board within the series. It is designed for speed and a loose style of surfing. You can ride them in a shore break or less than ideal conditions without fear of damaging them (Check out video below of the man surfing over exposed rocks). The Mason Twin has a double channel in the tail which gives a bit more squirt and drive. In terms of waves, the Twin is said to work in anything from knee to head high surf and the range of sizes available will suit more experienced surfers of weight up to approx 85 kg. 
User FEEDBACK: 

Sharp turns, slidey and very fast for a softboard
Quiver killer for summer waves
Makes small shoreys super fun
Eye catching board design and colour
Very grippy with only a small amount of wax
Available in 3 sizes with FCS II Twin fin setup:
5'2″ x 19 2/3″ x 2 5/8″ (31L)
5'6″ x 21″ x 2 5/8″ (35L)
5'10" x 21 x 2 ¾"(39L)
Check out our review of the Softech Mason Twin here. 
Check MASON TWIN Price & Availability in your region (U.S.A, Canada, UK, Europe, Japan):
The Flash is a great all-rounder high performance board with a fuller nose and lots of volume through the middle and a pretty flat rocker. That means it is both an easy paddler and wave catcher and maintains speed through slower sections of the wave. Like all of Softech's Performance Series, this board has real definition in the rails and a double stringer providing stiffness and responsiveness in turning.
The board has a Polyethylene (PU) deck and bottom so waxing on top is basically like a regular board and you can add a traction pad too which you can't really do on most soft tops.
User FEEDBACK: 

5'7 noted to be easy to duck dive
Good quality construction and durable
Perfect for traveling as it is light and you don't have to worry as much about dinging it

Easy to paddle and to get into waves due to volume
Works in waves up to 4-5 foot and can do all – barrels, airs and layback snaps
Several reviews gave very positive feedback when they changed the included softflex fins to Reactor/ Accelerator FCS II. 
Great for beginners and more advanced." 
With 4 sizes on offer, the EG Flash will suit a large range of surfers from beginners to advanced and weights up to 95kg (on the 6'6″):
5'0″ x 20″ x 2 3/5″ (34L)
5'7″ x 20 1/2″ x 2 2/3″ (37L)
6'0″ x 21 1/4″ x 2 2/3″ (39L)
6'6″ x 21 2/3″ x 2 2/3″ (44L)"
Check EG FLASH Price & Availability in your region (U.S.A, Canada, UK, Europe, Japan):
Check out our hands on in-depth review of the Bomber HERE! 
The Bomber has a pulled in almost pintail shape with a wide longboard nose, a pronounced domed deck (super buoyant at 60L). With all that foam it is very forgiving and stable. In terms of rocker it is fairly flat throughout with a little lift in both the tail and nose, with a double stringer for strength. 
It paddles into anything and picks up speed really quickly, trims like a longboard but is very easy to move it around exactly as intended with a bit of pressure on the back foot.
This board is suited to a wide range of surfers from beginners looking for a shorter but stable board, and intermediate to advanced riders after a board which has best of both worlds between performance and cruiser. All sizes have very high volume so the 6'4″ & 6'10" can cater for weights up to approx 90 – 100 kg.
User FEEDBACK:

Paddles like a dream and surfs like a mini-mal and a shortboard at the same time
Great board if you are transitioning from long to short
Really easy to paddle and glide into even the smallest waves
 

 

View this post on Instagram

 
Check BOMBER Price & Availability in your region (U.S.A, Canada, UK, Europe, Japan):
The Kyuss King Fish signature model is a wide little board packed with volume, built for speed in less than ideal conditions and perfect waves alike. With a flattish rocker it serves as a great groveller that can be pushed around. This board has a double stringer making it a bit more rigid and strong than the standard Rocket Fish  (outlined below) and the Mason Twin.
Another difference with the Rocket Fish (Twin Fin), the Kyuss King Fish has a center stabilising fin which gives it a bit more control and less of a skatey loose feel. 
This board could really suit anyone looking for a fun, fast and loose board. There's plenty of volume and will suit intermediate to advanced surfers anywhere in weight up to approx 75- 80 kg (or kids/lighter learners) on the 4'8″ and surfers up to approx 85 kg on the 5'8″
User FEEDBACK: 

Super fast and loose
A great groveller as it catches anything
Popular with kids (4'8) as well as adults
Available in 2 sizes with FCS II thruster (tri) fin setup:
4'8″ x 21″ x 2 1/8″ (29L)
5'8″ x 21 1/2″ x 2 2/3″ (36L) 
Check KYUSS KING FISH Price & Availability in your region (U.S.A, Canada, UK, Europe, Japan):
5. Filipe Toledo Wildfire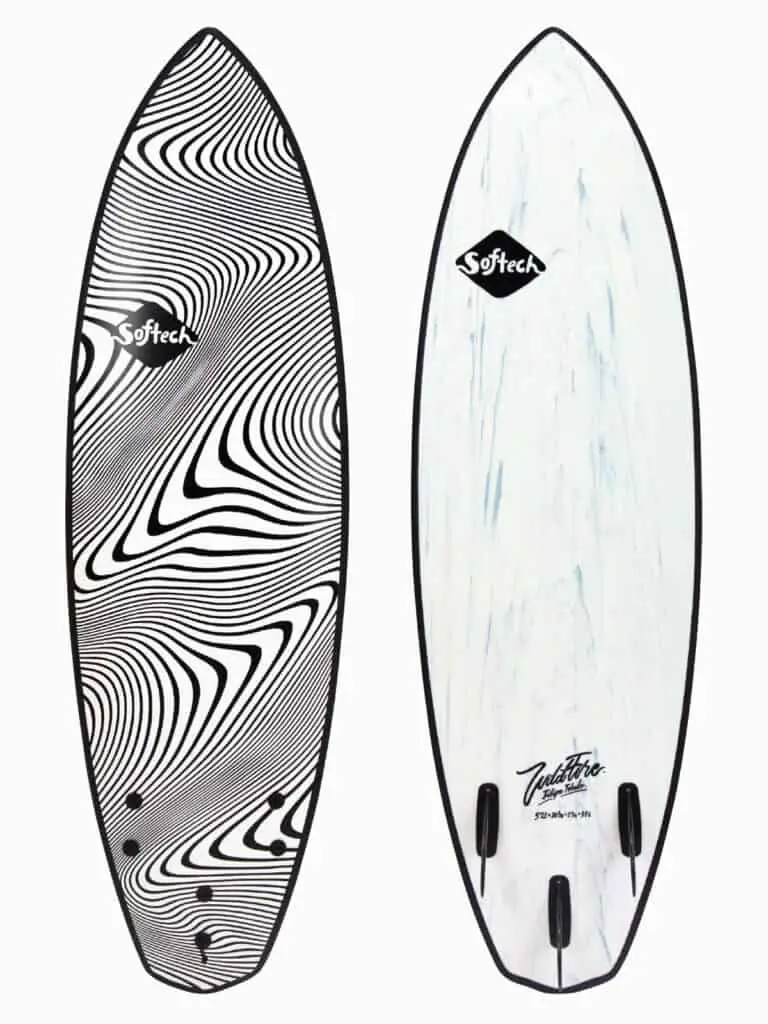 The Filipe Toledo Wildfire is the most refined and performance orientated board in the lineup, suited to the intermediate to advanced surfer to make the most of slightly weaker waves. With a sealed epoxy core, it is lightweight and durable and has double composite stringers to keep it stiff. The rails are defined much like standard high performance surfboard, with a diamond tail, flat rocker profile and volume in the front end which all combine to ensure the board is going to easily catch weaker waves but provide a high level of performance
User FEEDBACK: We searched and searched….but couldn't find much feedback on this model which was only recently released.
Available in 2 sizes with FCS II thruster (tri) fin setup:
5'3 x 19 x 2 5/8 x 32L
5'11 x 20 5/8 x 2 3/4 x 37L
Check TODELO WILDFIRE Price & Availability in your region (U.S.A, Canada, UK, Europe, Japan):
The Mystery Box is the only quad fin board in the series, which give lots of acceleration and glide. It's an unusual shape with a sawn off nose and fish tail. Low pinched rail creates bite and a positive connection to the wave through the turning arc. One key positive of this board is it's hard(er) deck and it comes with a full deck grip avoiding the need for wax.
Designed to be ridden shorter than your usual surfboard for added turning response. This one is fast, stable and surprisingly loose off the tail. 
Only available in one size: 5'2″ x 21″ x 2 2/3″ (39L)
User FEEDBACK: 

Peforms amazingly in 3-4 foot waves
It's good for juicing speed out of small waves without having to ride a longboard
Check MYSTERY BOX Price & Availability in your region (U.S.A, Canada, UK, Europe, Japan):