For both novice and experienced surfers alike, nothing can be more annoying than missing a wave by a stroke or two.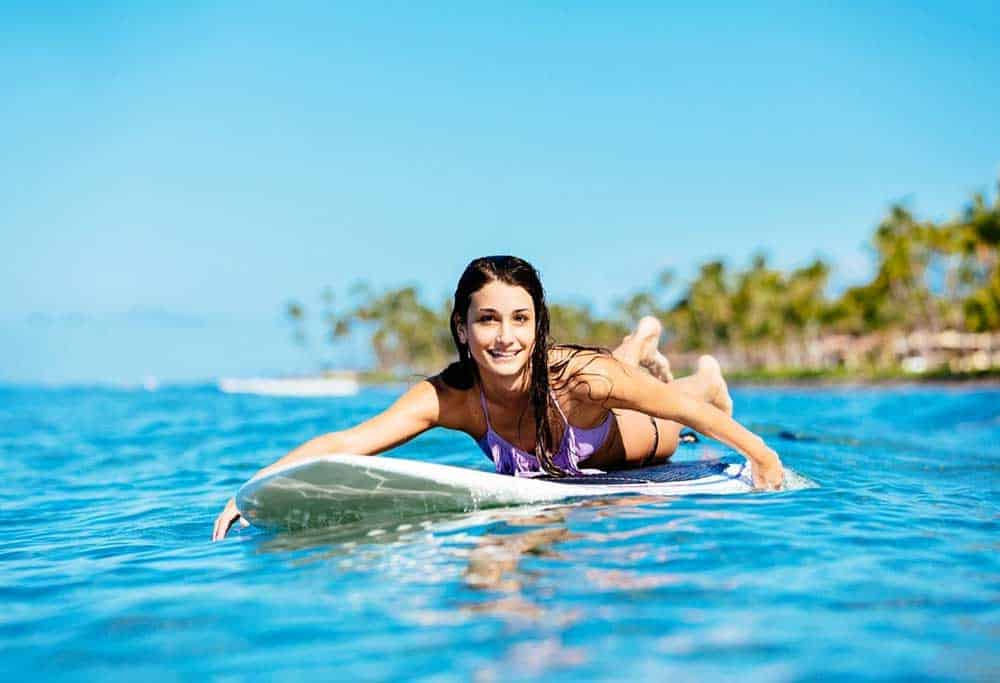 The same goes for anyone who is too tired to paddle back out to the lineup, so you end up missing out on the perfect set of waves because you've run out of energy. 
If you work on improving the technique of your paddle, you'll be able to get out to the lineup faster – so you'll never miss a good wave again! 
What to Expect?
There are many ways to improve your paddling in surfing, including practicing proper technique, increasing your endurance through regular paddling, and incorporating specific exercises into your training routine.
In this article, we will focus on exercises that can help you improve your surf paddling without the need for equipment. These exercises can be done at home or at the beach, and are designed to target the muscles used in paddling.
Some of the exercises that we will cover include triceps stretches, cobras, stability ball alternating supermans, foundation training postures, and glute ham raises. These exercises can help improve your endurance, work on your posture and stability, and strengthen the muscles used in paddling.
The Importance of Paddling in Surfing
Surfing is one of the most popular water sports in the world. It requires a lot of skill and practice to master, and one of the most important skills is paddling.
Paddling is the foundation of surfing, and without it, you cannot catch waves or move around in the ocean. Paddling is also a great exercise that helps to build strength, endurance, and flexibility.
When you paddle, you engage your shoulders, back, core, neck, and arms. These muscles are essential for surfing, and if they are weak, you will have a hard time catching waves and staying on your board.
Paddling also requires a lot of endurance, as you need to be able to paddle for long periods of time without getting tired. If you are not in good shape, you will struggle to keep up with the waves and may miss out on some great rides.
To improve your paddling, you need to focus on building strength, endurance, and flexibility in the muscles used for paddling.
There are many exercises that you can do to improve your paddling, including:
Side Arm Raises (With Arm Circles)
Above the Head Arm Raises
Paddle Pulls with Resistance Band
Paddle Pulls with Weights
Dumbbell Paddle Pull
Dumbbell Presses on a BOSU Ball
Barbell Presses on a BOSU Ball
Tricep Pulls
These exercises target the muscles used for paddling and help to build strength and endurance. They also help to improve flexibility, which is important for paddling efficiently.
By incorporating these exercises into your workout routine, you can improve your paddling and become a stronger, more skilled surfer.
Technique 
Unlike swimming, you'll need to keep your head up when paddling out on your surfboard. Keep your eyes on the horizon, and keep watching where you want to go.
You'll also want to keep your head as still as possible – if you're moving your head too much your board will yawl side to side and slow you down. Work on keeping your board straight so you're travelling in a forward direction and you'll notice a drastic improvement in speed.
Relax Your Body
Just like most sports/workouts you don't want to be tense as that's usually when technique starts to falter. When paddling, the muscles in your back, neck, shoulders and arms will all be engaged. Work on engaging the muscles without tensing. 
The 3 Phase Paddling Technique
Paddling can be broken down into three different phases. 
Catch: This is where the hand enters the water, and "catches" the water. During this phase you'll want to press down into the water, as your shoulder rotates around your elbow. Think about pulling your body towards your hand as you drive down. You'll want to create lift as you travel forwards. 
Power: This phase is all about generating a powerful movement underwater. Unlike swimming, the power in paddling is generated in the second half of your stroke, during the middle three quarters of the paddle. Here you'll want to drag your arm through the water, propelling yourself and your board forward. 
Release: This is where your arm exits the water. Here you'll want to press your hand behind your body, and brush your thigh. Don't forget to rotate your torso slightly, so you can alternate the pressure – but don't rotate too much, you want to keep the board travelling in a straight line. 
Tips 
To keep yourself moving quickly, here are few tips worth remembering:
Keep your nose out of the water: Position yourself so you're in the middle of the board, so you can keep your nose up, and your tail resting flat with the water line. If you're positioned too near the top of the board, your head will drag under. If you're laying too near the back, you'll be dragging your feet – neither of these are good for faster paddling. 
Head up: Keep your eyes looking forward in the direction you're heading and keep your head still so you don't sway side to side. 
Keep your body central on the board: If you're not centred, one side of your body will overcompensate and you'll be more likely to tip over. Also remember to keep your feet together. This will reduce drag and keep the momentum going. 
Keep elbows high during catch phase: If your elbows are in line with your hand when it hits the water, this will slow you down and weaken your paddle. Keeping your elbows raised will result in less drag. 
Momentum: The more consistent your paddling the better your speed (similar to riding a bike). Once the water is running under your board, keep up with that momentum – it's more efficient than slowly paddling. 
Tips for Efficient Paddling in Different Conditions
Efficient paddling is essential for any surfer, whether you're a beginner or an experienced rider. Here are some tips to help you improve your paddling technique in different conditions:
Flat Water
When paddling in flat water, focus on keeping your strokes long and smooth. Use your entire arm to pull through the water, and keep your fingers together to create a cupped hand. This will help you generate more power and move through the water with less effort.
Another key to efficient paddling in flat water is to keep your body position balanced. Keep your weight centered on the board, and avoid leaning too far forward or back. This will help you maintain a consistent speed and conserve energy for longer sessions.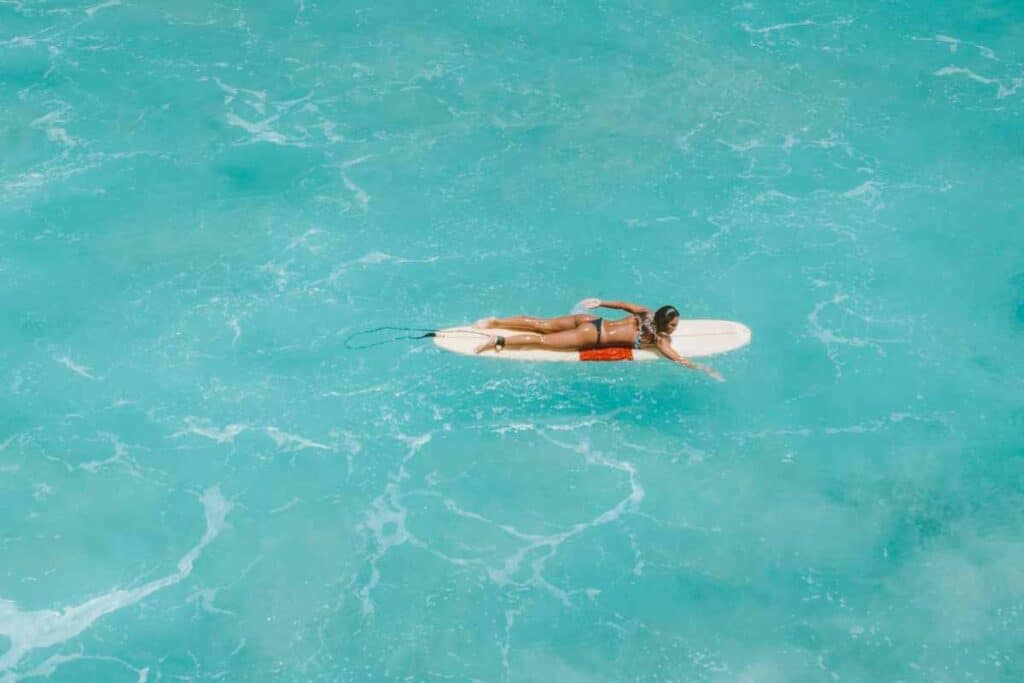 Choppy Water
In choppy water, it's important to adjust your paddling technique to the conditions. Instead of focusing on long, smooth strokes, try to generate shorter, quicker strokes to power through the waves. Keep your body position low and centered on the board to maintain stability and control.
When paddling in choppy water, it's also important to keep your head up and look for incoming waves. This will help you anticipate changes in the conditions and adjust your paddling accordingly.
Strong Currents
When paddling in strong currents, it's important to use your core muscles to generate power and maintain control. Focus on using your entire body to pull through the water, and keep your strokes short and powerful.
Another key to efficient paddling in strong currents is to stay close to the surface of the water. This will help you avoid getting swept away by the current and conserve energy for longer sessions.
Remember, efficient paddling is all about technique and practice. By focusing on these tips and incorporating exercises to improve your paddling strength and endurance, you can become a more confident and efficient paddler in any conditions.
How to Paddle Out Surfing 
Once you've mastered the 'white waves', a lot of surfers set their eyes on paddling out the back so they can get to the unbroken 'green waves'. This is a massive step up which can be intimidating for any novice surfer, but there's a sense of accomplishment when you make it.
If you're paddling out when there is a break in the waves, you'll notice a vast increase in the speed you make it out to the lineup. Where possible, avoid oncoming waves by paddling to the side of them. If you're looking to paddle out, the key is to move as fast as you can when there is a lull so you can go beyond the breaking waves. 
Tips
Watch the waves: Get a good vantage point so you can determine the best place to paddle out. Look out for clear areas away from breaking waves that will provide you with a clear path to the lineup. 
Learn techniques for 'punching through': There are several techniques you can learn to help you punch through the white waves to make it to the green. Turtle rolls (Malibu boards), duck dives (shortboards) and white-water push-ups are all must-know techniques. 
Avoid oncoming waves: You'll want to avoid any oncoming white waves, even if you have to paddle horizontally to do so. Getting hit by these waves will drag you back towards shore no matter how strong your paddle is. 
Paddle hard: If you want to get 'out the back' you'll need to break through the impact zone as quickly as possible. Be determined with your strokes or it'll take longer to break through. Once you're beyond the impact zone you can take a rest. 
Hold your position once you're 'out back': If you're surfing on an open beach it's difficult to establish where you are. Use landmarks for reference points so you can tell if you're drifting. 
It's always best to avoid paddling out if the conditions are out of your comfort zone, and you don't feel confident enough to do it yet. You can always enlist the help of an instructor when attempting to paddle out for the first few times to help build your confidence. 
How to Paddle Through Waves 
If you want to paddle through waves and pass the break, the best technique you can use is the 'punching through' method. This the easiest and most effective method of passing through small waves on a big surfboard. The 'punching through' method uses the speed and flotation of a longboard to drive through the wave instead of under it. 
Tips
Walk until water level is up to your chest: Hold the board by its nose, and carry it at your side. Once you're chest deep, take a look at the horizon, begin paddling once bigger sets of waves have passed and the water is calmer. 
Lay on your board and paddle out: Paddle hard towards white water, keeping yourself straight. The more speed you have, the more control you'll have when it comes to pushing through. 
When you're 6 feet (2 meters) away from white water, grab the rails, push down and arch your back: The white water will pass between you and your surfboard, so hold tight on the rails and keep your weight centered.  On bigger waves you'll want to kick one leg into the air so you can shift extra weight onto the front of your surfboard. This will prevent you from being knocked backwards off of your board by more powerful white waves. 
When the white waves hit, you want to be facing straight forwards: Keep yourself perpendicular (or 90 degrees) towards the wave. Hold tight whilst the white water passes. Keeping yourself head on will keep the momentum going so you can pass through the wave. 
Common Mistakes in Paddling and How to Fix Them
Mastering the art of paddling is crucial for any surfer looking to improve their performance. However, even experienced surfers can fall into bad habits when it comes to paddling.
Here are more common mistakes and how to fix them:
| Mistake | Fix |
| --- | --- |
| Incorrect hand placement on the board | Place your hands shoulder-width apart on the rails of the board, with your fingers pointing towards the nose. This will give you the most power and control when paddling. |
| Lack of body rotation | Rotate your torso as you paddle to engage your core muscles and generate more power. This will also help you maintain balance on the board. |
| Using only your arms to paddle | Use your entire upper body, including your shoulders and back, to paddle. This will help you conserve energy and paddle for longer periods of time. |
| Paddling too deep or too shallow | Find the sweet spot by paddling with your arms at a 90-degree angle, with your hands entering the water at your shoulders and exiting at your hips. |
By avoiding these common mistakes and practicing proper paddling technique, you can improve your endurance and catch more waves. Remember to stay relaxed and maintain a steady rhythm when paddling, and you'll be well on your way to becoming a better surfer.
Mistakes You Want to Avoid – Summary:
Not paddling hard enough – the harder the paddle, the faster you travel. If you don't have enough momentum you'll be pushed backwards and can even be flipped off your board.
Not being perpendicular to the wave – surfers who try to punch through when angled towards the wave get pushed back or knocked off their board.
Trying to push through big walls of white water – you want to push through when the sea is calmer, as trying to pass big, powerful waves will result in you being flipped off the board. 
If you're facing bigger white water waves, you might want to use the 'Turtle Roll' instead. Once you're about 6 feet away from a white water wave, you'll want to grab the rails beside your chest and turn yourself and your board upside down (take a deep breath before you go under)!
Once underwater, leave some space between you and your board. Wait for the wave to pass over you before flipping back over.
To flip, pull one rail with one hand, and push the other, kick your legs to help you back up. Like the 'punch through' technique you want to be perpendicular to the wave on approach, or you can end up flipping. 
How to Get Paddle Fit for Surfing 
It can be pretty disheartening when you're trying to catch the waves and find yourself tired out from paddling before you've even had the chance to start surfing.
Luckily, there are some easy ways you can improve your paddle fitness in and out of the water. 
Swimming: Freestyle swimming can be a great way to build your cardiovascular fitness, and can help you find the right breathing rhythm for when you're hitting the waves. However, you don't want to go crazy with the distance. Repetitive movement in the same direction does more harm than good. Instead you want to mimic the short bursts you do in your surf sessions. Rest, and then go again. You can even swim using a backstroke between sets, as it's less intense, but keeps you moving. 
Improve your posture: If you're sitting down all day for work, there's a chance that when you lie on your board your shoulders aren't in the right position. In fact, paddling itself isn't very good for your posture. As you need to lift your head up when paddling, this can put too much strain on your lower back, shoulders and neck. Pilates is a great activity to help with improving your posture. 
Build strength in your shoulder muscles: work your rotator cuffs, triceps and lats. These muscles are the foundations of good paddle strength. When working out, stick to body weight exercises or light weights. You want to be lifting about 60-70% of your maximum load to avoid strain. 
Use workout machines that mimic the motion of paddling: Use ski machines or lat pulldown bars. Even mimicking the motions you make during paddling with weights in hand can help build strength. 
Go for the burn: Surfing is full of short bursts of intense activity. Continuously planking for one minute at a time is a great way to feel the burn. 
Try activities that require strong arm strength: Rock climbing and boxing are great activities you can try to help build and sustain paddle strength. 
Stretch your chest and triceps: You want to pay extra attention to stretch your chest and triceps. This will release any excess tension from your neck and shoulders when building paddle strength. 
Train in the water: If you're in a long lull between lineups, try paddling fast and hard for ten strokes. Then take ten slower, drawn-out strokes. Repeat 5 times, catch your breath and do it again. This will help you build a fast-twitch response you need for catching waves. You'll also get used to going from mild-activity into hyper-drive. 
Surf: If you can get out on the waves at least twice a week and keep on top of your posture, this will keep you reasonably fit enough to keep going at those waves. The best way to get better is practice, practice, practice. 
Exercises to Improve Surf Paddling
Surfing requires a lot of paddling, which can be challenging for beginners and even experienced surfers.
Fortunately, there are several exercises that can improve your paddling endurance and technique.
Here are a few options:
Cobras: This exercise targets your upper back and shoulders, which are crucial for paddling. Lie face down on a mat with your arms at your sides. Lift your chest and arms off the ground while squeezing your shoulder blades together. Hold for a few seconds and then lower back down. Repeat for several reps.
Stability Ball Alternating Supermans: This exercise is similar to Cobras but adds an element of instability to engage your core. Lie face down on a stability ball with your arms at your sides. Lift your chest and arms off the ball while squeezing your shoulder blades together. Alternate lifting your left arm and right leg, and then your right arm and left leg. Repeat for several reps.
Foundation Training Postures: Foundation Training is a system of exercises designed to improve posture and alleviate pain. Many of the postures involve strengthening the muscles used in paddling. One example is the Founder, which involves standing with your feet shoulder-width apart and hinging forward at the hips while reaching your arms back. Hold for several seconds and then return to standing.
Glute Ham Raises: This exercise targets your hamstrings, which are also important for paddling. Lie face down on a glute ham raise machine with your feet anchored. Lower your upper body forward and then use your hamstrings to lift back up. Repeat for several reps.
Push-ups: This classic exercise targets the chest, shoulders, and triceps, which are essential for paddling. Start with 3 sets of 10 reps, and gradually increase the number of reps as you get stronger.
Pull-ups: Pull-ups are a great way to strengthen your back and arms, which are also crucial for paddling. If you can't do a full pull-up, start with assisted pull-ups or inverted rows.
Planks: Planks are an excellent way to strengthen your core, which helps you maintain proper posture on the board. Aim for 3 sets of 30 seconds, and gradually increase the duration as you get stronger.
Dumbbell Rows: This exercise targets the upper back and shoulders, which are essential for paddling. Start with a light weight and gradually increase the weight as you get stronger.
Swimming: Swimming is an excellent way to improve your overall endurance and strengthen the muscles used in paddling. Try to swim at least once a week for 30 minutes.
These exercises can be done at home or at the gym. Incorporating them into your workout routine can help improve your paddling endurance, technique, and overall surfing performance.
Helpful for beginners – How to Practice Surfing at Home?
Conclusion
Improving your surf paddling requires a combination of proper technique, strength, endurance, and flexibility. By focusing on your stance, arm and back strength, and overall fitness, you can paddle more efficiently and catch more waves.
Remember that improving your paddling takes time and dedication. Be patient with yourself and celebrate your progress along the way. With consistent practice and the right exercises, you can take your surfing to the next level.