You can think of them as Catch Surf's weird younger cousin…. Wave Bandit surfboards are a little cheaper, aren't quite up to the same standard of construction or durability and they have pop through fins instead of interchangeable pro fin boxes. The Odysea range have 3 stringers, the Wave Bandits have 2. The Odysea's also have some intermediate layers on the top and bottom that add some more strength and performance. All things told, they will perform similarly but the Catch Surf Odysea range are more durable and have the performance edge.
With the above in mind and a cheaper price point the Wave Bandit range is primarily aimed at beginner surfers. Not to say they can't be enjoyed by any level of surfer (check out some of Ben Gravy's exploits on these things!). Further there are stacks of great reviews for all the models from both learners and advanced. 
Here is a breakdown of the Wave Bandit lineup!
---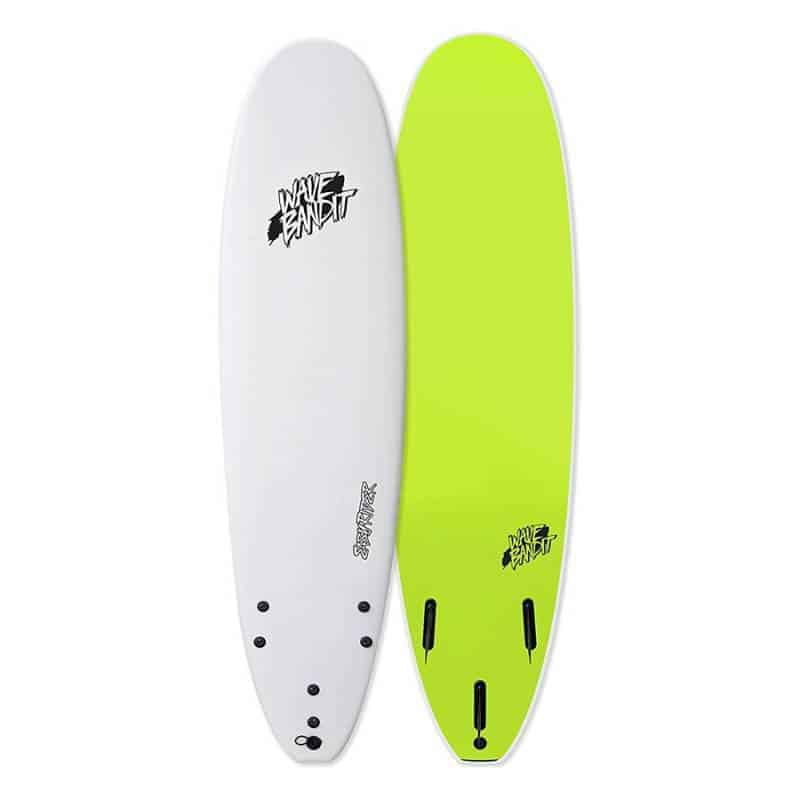 1. EASY RIDER
The Easy Rider is a longboard which is well suited to beginners due to its high volume stability and full bodied egg shape. It is constructed with double wood stringers and EPS core, durable HDPE slick bottom, PE deck and bumper-tail. 
While it is a really great board for learners, these boards can still certainly provide great value for all skill levels. With a lot of float, catching waves is easy and the board will work in anything from tiny knee high mush through to reasonable sized waves with a bit of shape
User FEEDBACK:

Lots of volume and float so great for a heavier surfer
Short fins and construction make it durable in shallow water
Paddles very well and so easy to get into waves
Great board for learners
Fun to use on mushy days
There are 3 sizes to choose from 7'0 to 9'0. For kids, lighter learners or advanced surfers looking for a mid length the 7'0 will suit the best. The 8'0 and especially the 9'0 have significantly more volume and weight. If you are looking for a little more maneuverability I would suggest going for 7'0 or 8'0. The 9'0 is an absolute tanker which won't turn as easily but will catch anything if that's what you need it for!
7'0 x 22 1/2″ x 3 1/8″ (72L)
8'0 x 23″ x 3 3/8″ (86L)
9'0 x 24″ x 3 1/2″ (98L)
Check EASY RIDER Price & Availability in your local region:
AUSTRALIA:
---
2. PERFORMER
The Performer comes in two versions: The tiny 4'10 Twin Fin and the Tri Fin (3 sizes from 5'6- 6'6). 
The Mini Twin Fin is a little pocket rocket with full rounded nose and square tail, suited to experienced lightweight shredders or kids who've got a bit of surfing experience already, looking to improve on a high-performance board (probably not idea for a kid who is just starting to learn). Despite their small size they still pack a significant volume of 35L! These boards have a bit of rocker to them so are well equipped to handle tighter turns and steeper waves. They are loose and responsive and will handle waves up to around 4 feet. 
The Tri Fin Performer range is suited to a wider range of surfers. It's a fish shape with less full nose than the mini otherwise similar in construction and quality and provides good down the line speed, you can throw them around and seek out barrels. The 5'6 much like the Mini Twin Fin is well suited to intermediate to advanced surfers and lighter learners/kids. The 6'0 and 6'6 will suit less advanced or heavier surfers.
The  Mini Twin is 4″10″ x 19.5 x 2 15/16 (35L)
The Tri Fin comes in:
5'6" x 21.0" x 2.875" (42L)
6'0" x 21.5" x 3.0" (48L)
6'6″ x 22′ x 3.125′" (55L)
User FEEDBACK: 

MINI TWIN

Some suggest very close to a PU shortboard with very high performance ability 
Can surf very small to head high surf 
Good for both adults and kids

TRI FIN

Plenty of float but easy to turn and very responsive
Feels like good quality
Great for kids
Awesome for barrels
Can handle heavy waves 
Check PERFORMER Price & Availability in your local region:
AUSTRALIA:
---
3. SHRED SLED & SHRED SLED MINI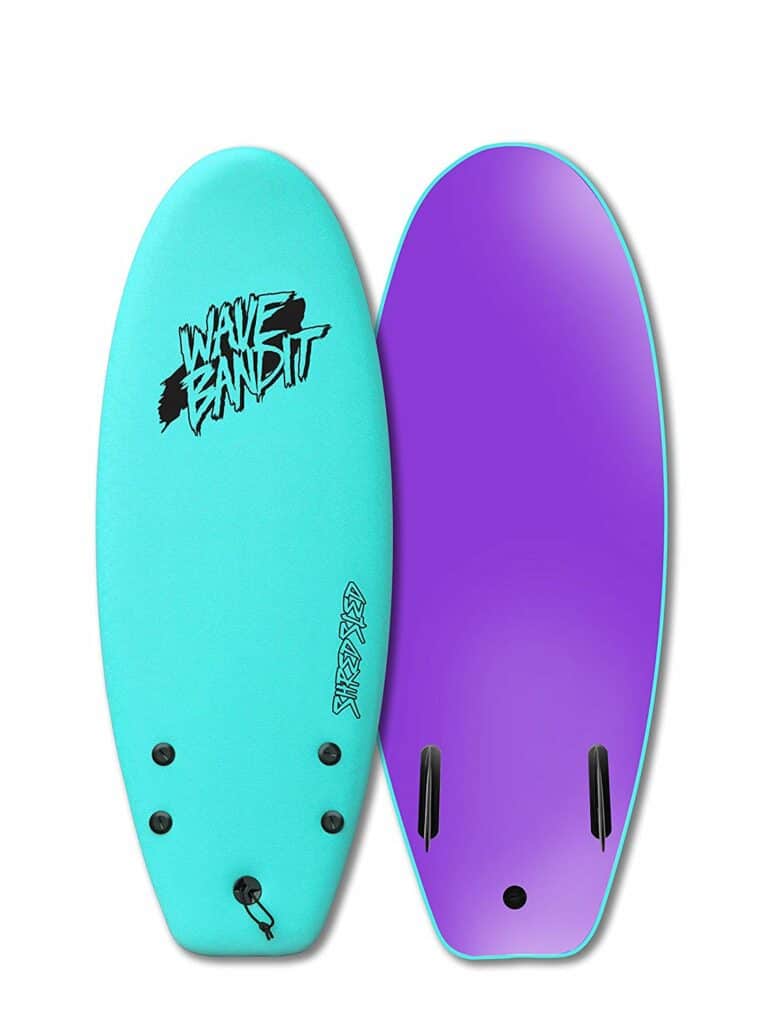 The Shred Sled (& Mini) are aimed mostly at kids learning to surf with a performance edge. Unless you are some kind of surf god who can ride a toothpick, you're gonna have a bit of trouble on a 4 foot board! However, for the little ones these boards can offer a slightly different path than the typical learner boards. Constructed with dual composite core they are built for speed. They come in two sizes: 48″ and 37″. The 48″ has safety twin fins and 37″ has none – it is a body board. 
User FEEDBACK:

Shred Sled

Kids love them with great colours
Some parents (experienced surfers) can surf the Shred Sled too
The Performer comes in two versions: The tiny 4'10 Twin Fin and the Tri Fin (3 sizes from 5'6- 6'6). 
The Shred Sled Mini is said to be a more functional shape than a standard bodyboard and a friendlier shape for a kid to handle. 
User FEEDBACK:

Shred Sled Mini

Positive feedback as kid friendly board.
Some comments about being able to float children only up to 22kg (50 lbs)
Check SHRED SLED Price & Availability in your local region:
AUSTRALIA:
---
4. SHOCK WAVE
The Shock Wave is a bodyboard with channel bottom and 50/50 rails for added drive. 
This is another popular one for kids or those looking for an alternative to stand up surfing.
Check SHOCKWAVE Price & Availability in your local region:
AUSTRALIA:
---
The whole Wave Bandit Surfboards lineup is compared below.