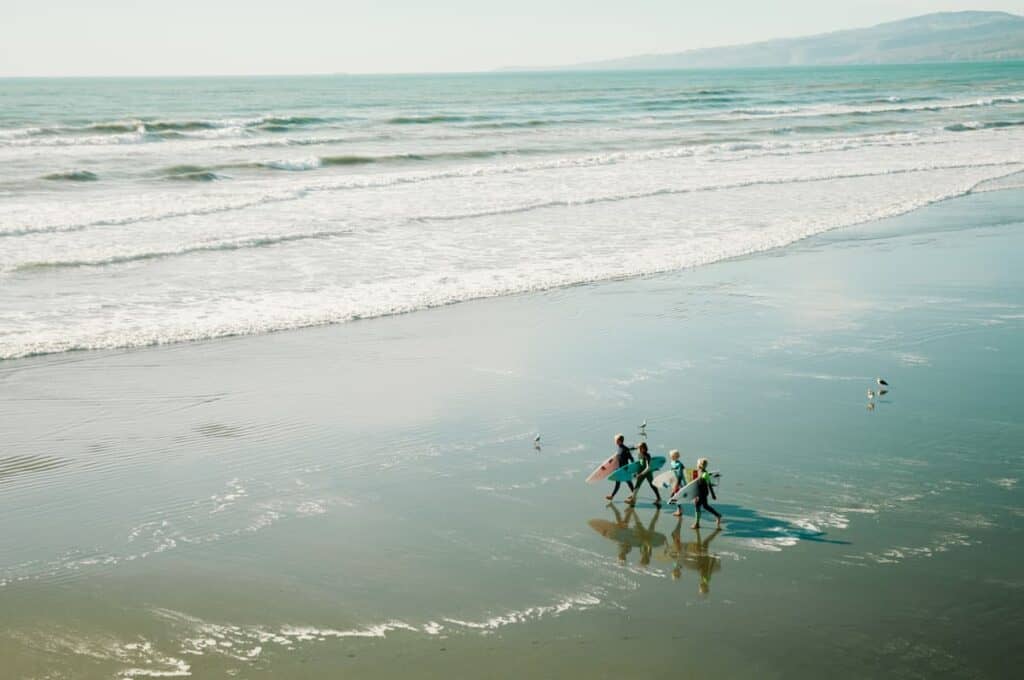 Kid's Wetsuit Guide: What's Most Important?
With so many options available, choosing the right wetsuit for your child isn't easy. With this kids wetsuit guide you will be able to better choose the right child wetsuit for the temperature, their size, and for the conditions. 
Wetsuits are very important for kids. You need to make sure the child wetsuit you choose will keep your child warm and protected in the water. As well as keeping them warm, you'll be able to protect your child from board rash, sun and other issues.
RELATED POST: Best kids surfboard guide
*Note – this guide contains affiliate links. If you purchase any products we receive a small payment which helps us to continue creating surf related content.
Table of Contents
Two Types of Child Wetsuits to Consider
The first thing to understand in our kid's wetsuit guide is the two types of wetsuits for children: Spring and Full. Let's look at both types of wetsuits for children before we go any further.
Full Wetsuits for Kids
A full child wetsuit provides coverage down to the ankles on the legs and to the wrist on the arms. They come in a range of thickness from 2mm to 5mm. While the 5mm might seem like it provides the best protection, it's unnecessary to get a kid's wetsuit this thick unless you plan to be in very cold water.
Thicker wetsuits make it harder to move for your children and can make it hard for them to enjoy time in the water. These are much stiffer and will restrict your child. For most areas with cooler water, a 2mm or 3mm full child wetsuit will be thick enough to protect them.
Spring Wetsuits for Kids
A more common type of wetsuit for kids, the spring wetsuits look like shorts and a short-sleeve shirt. They go down to just before the knees and just before the elbow. You can find these child wetsuits in thicknesses of 2mm and 3mm.
When your child is in the water and the air temperature is plenty warm/hot, but the water is cooler than 70-degrees Fahrenheit, a spring wetsuit is a good choice. It can also come in handle on windy days when it feels colder outside than it really is.
Choosing the Right Size Child Wetsuit
After you've chosen the type of wetsuit that's right for your child, getting the right size is the next part of the kid's wetsuit guide. You want to make sure it fits correctly or your child might be uncomfortable or unprotected.
The best way to make sure you get the right size is to use a size chart. Most major manufacturers of child wetsuits will provide a size chart. The charge should give you an idea of the age range, height range, and a few other measurements. Take all the measurements and match them to the chart including waist, chest, and hips.
You want a wetsuit that fits snug, but not so tight that your child is uncomfortable. If the wetsuit is too big, however, it could become ripped from snagging or not allow your child to move freely. Remember, a wetsuit should act like another layer of skin, so it should not be loose at all.
---
Kid's Wetsuit Guide: Frequently Asked Questions
1. Are child wetsuits necessary in warmer waters?
While water temperature is a factor to consider when choosing the thickness and type of wetsuit for your child, they should still wear a wetsuit in warmer waters. A child wetsuit provides additional protections. It's not just about protection from the cold.
In addition, as wetsuit can protect your child from:
Board rash
Sunburn
Cuts and scrapes
Even when the water isn't cold, if your child plays around for hours, they might get cold. It's always a good idea for your child to wear a wetsuit in the water.
2. What thickness should I choose for my child's wetsuit?
The thickness will depend on water conditions. For tropical waters, a 2mm or a 3/2 wetsuit (3mm torso and 2mm arms/legs) in slightly cooler temperatures will be sufficient. . If you plan to have your child out in cooler temperatures a 3mm or 4/3 wetsuit will likely be the right choice. You can choose a 5mm for very cold temperatures, but the thicker you go, the less flexibility your child will have. 
If you decide to get a 5mm thick wetsuit, it's best to choose 100% super stretch neoprene as the material. This will allow for more flexibility compared to other wetsuit materials.
3. Does my child's wetsuit need a lining?
If you buy a good quality wetsuit, you won't need to worry about the linking. Good wetsuits have a nylon lining already. The lining helps to make the wetsuit more comfortable. Some of the more expensive suits might even have titanium linking to help keep heat in.
4. Is a cheaper wetsuit enough for my children?
With your children growing quickly, it's hard to rationalize spending a large amount of cash on a wetsuit. They will likely grow out of it within a few months to a year and you'll be stuck buying another one. However, cheaper wetsuits might not provide the comfort or the fit to fully protect your child.
It's important to consider how often they will use the wetsuit. When you look at a child wetsuit, you want to make sure you choose the right one to protect your child and to fit your budget.
5. When should your child wear a wetsuit?
It's a good idea to have your child wear a wetsuit anytime they will be in the water or around the water. Whether they are simply swimming or you will be taking out the boat, a wetsuit is a good idea.
Of course, if you plan to hit the waves and go surfing, a wetsuit is a great idea for your child. The best way to make sure your child is fully protected is to create a habit of wearing a wetsuit anytime they are in the water outside.
We hope kids wetsuit guide helps to make the process easier in choosing a wetsuit. Most importantly, you want to make sure it fits well, provides the necessary protection, and doesn't break the bank since they will likely grow out of it by next season!
You might be interested in some of our other wetsuit guides: