Soft top surfboards have firmly solidified their position in the surf world now after their huge rise in popularity during the 2010's. In this post we're going to dive into what soft top surfboards are, their history, pros and cons and how they compared to fiberglass surfboards. 
History of soft top surfboards Late 1950's to Present Day
Balsa wood to PU Foam Late 1950's
Until the late 1950's surfboards were primarily made by hand from solid balsa wood. These surfboards were not only extremely heavy, but also took a large amount of time and effort to build each surfboard. 
Hobie Alter, creator of the Hobie Catamaran led the charge in the late 50's who started focusing on a newly developed foam (PU foam) which had been invented during the war period. Unlike the previous Styrofoam, this new PU foam was able to be cut and planed to shape, and most importantly it bonded with fiberglass resin without melting.
Hobie and his team managed to break away from the competition by focusing purely only on foam surfboards, and halting production of balsa. The shift to utilising foam surfboard blanks with fiberglass had massive implications for performance improvements for surfboards, but of course also mass production.
The Boogie Board 1971
In 1971 after a few years of fascination with shorter surfboards, Tom Morey somewhat accidentally stumbled on his idea of the boogie board. In his garage in Hawaii, Tom found himself with a 4 foot offcut of foam which for its initial trial run he wrapped it in newspaper and took it into the waves. 
Morey quickly realised that his new wave riding device removed a lot of the barriers to entry for surfing. The skill level required to catch a wave was a lot lower when staying prone, and the small, soft lightweight board was a lot safer than the larger surfboards used by most surfers.
The Boogie Board soared in popularity for the next few decades creating an entire industry along with it that peaked during the 80's and 90's. Relations between surfers and body boarders was often sour, however there was a clear appreciation for the soft top construction. Suddenly there was an easy and safe way for beginners to ride a wave in busy beaches where lifeguards prohibited surfboards, and to get out and have fun in shore breaks where a regular surfboard would not only be dangerous, but also at risk of being broken.
There were some attempts at creating a stand up soft top surfboard over the next 30 years, but none of them reached mainstream. The performance was poor, and the construction methods available resulted in poor performing surfboards with limited appeal.
The soft top surfboard movement 2004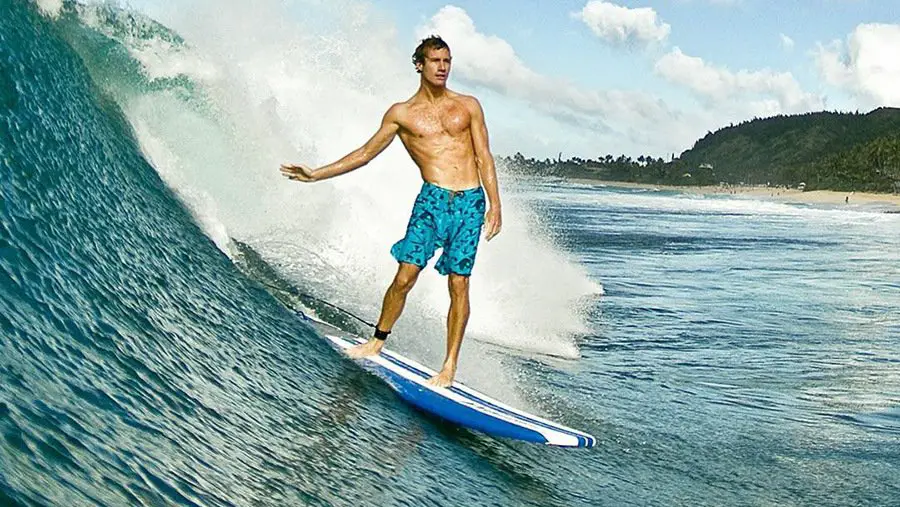 It wasn't until 2004 when Matt Zilinskas who was working at Wham-O, the owner of the Boogie Board brand when he approached John Yey, the owner of AGIT global, the manufacturer of Boogie Board with an idea to create a mass-produced soft top surfboard. Together Zilinskas and Yey launched the brand Wavestorm, which went on to become the biggest selling surfboard ever, famously available for only $99 at Costco.
Despite some of the venomous opposition to Wavestorm, there was no denying the popularity of these boards. In 2007, the brand Catch Surf was created by George Arzente who teamed up with Tom Morey himself to create higher quality soft surfboards. The first boards they shipped were high-performance soft top boards known as the The Y boards. The individual models were known as The One and The Super One.
The real breakthrough for Catch Surf came with the next iteration of the board which was their popular Beater Board.
The rest is history.
Soft Top Surfboards today
Following Catch Surf's rise over the following rise over the next 5 or so years, the number of soft top surfboard brands that have popped up since the mid 2010's is extraordinary. In fact, most mainstream surfboard companies now incorporate soft tops into their lineups.
No longer are foamies limited to beginner surfers and as the years have gone improvements in the construction and design of them has been significant, with high performance boards, mid lengths and even refined longboards being available.
Key components of foamie surfboards
Blanks
Like a regular surfboard blank, a soft top starts with a digital design created in a CAD program. A CNC milling machine then takes a larger square piece of EPS foam and cuts it into the specified shape (this is where the term pop out surfboards comes from). After the blank leaves the cutting machine it needs some manual sanding to smooth out any imperfections.
Wrapped Core
Some foam boards, usually the more high-end ones, have a layer of fiberglass. The blank will be wrapped with one or more layers of 6 oz fiberglass cloth sealed with epoxy resin. 
Read next – Soft Top vs Epoxy Surfboard
This makes the board more stiff which means it is more durable, more responsive and will surf more like a regular hard board, which while not so important for an absolute beginner is important for any intermediate to advanced surfers who want more out of their board.
Soft deck 
A foam surfboard has a soft, dentable EVA + PC top layer. The outer EVA layer (Ethylene-Vinyl Acetate) is glued to the fiberglass or synthetic wrap of the foam core.  Usually the board and its layers will be cured by a vacuum bag to equally distribute the pressure over the surface of the board.
Hard bottom
The hard bottom side of foamies are typically sheets of high-density polyethylene (known as HDPE) which is one of the most versatile forms of plastics. On the positive HDPE can be sourced from recycled HDPE which some soft top brands are incorporating into their boards. Australia's Spooked Kooks confirm that:
"100% of all High-density Polyethylene used in our boards is recycled post-consumer plastic waste. This includes the entire "slick" (underside of the boards), leash plug, fin boxes, fins and fin key".
There are some exceptions – Surftech have a range of soft top surfboards that utilise fibreglass bottoms and have a performance factor almost on par with their non-soft versions. 
Soft EVA layer over deck/rails with sheet of HDPE to bottom
Stringers
Most foam surfboards are made out of an EPS blank with wooden stringers. It is common for longer boards to have 2-3 stringers but most boards of good quality will have at least 1-2 even at shorter lengths. 
Fins
Learner foamies usually have soft fins or soft edge fins. These are rigid plastic fins with bendable rubber edges to avoid injuries and dings. These entry-level boards will often have simple fin slots that you can screw in on the top of the board.
The more performance oriented foamies generally have proper fin boxes (FCS or Futures) which allow any fins of your choice. During the shaping process holes are cut where the finboxes go later on. As one of the final steps the fin boxes are pushed into the holes in the soft top board.
Who are foam surfboards best suited to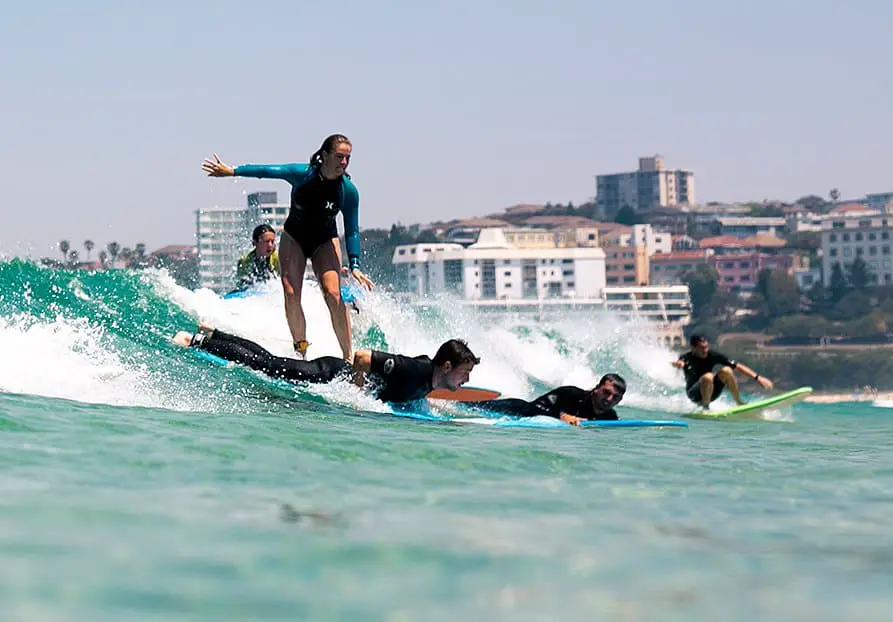 Beginners
There's no doubt that softboards are the best surfboards for beginners. As we've noted above in the history of soft tops, the whole movement towards soft decks was in order to create safer boards for beginners. 
Not only do they withstand the common knocks and bumps that surfboards inevitably get, particular for learners but they also prevent harder knocks when surfboards connect with the surfer or others. More on the pros and cons of soft top surfboards below.
Experienced
Improvements in softboard design have meant that more and more high performance boards are available, so by no means are foamies only for beginners. Soft tops can offer experienced surfers a fun alternative to their regular board on smaller waves or less than ideal surfing conditions. 
Pros & Cons of a foam surfboard
Pros:
Higher Volume = more float
The increased volume and resultant buoyancy of soft top surfboards is a key advantage particularly for learners but also for intermediate or more experienced surfers when surfing in lower quality waves. It basically means it's easier to catch waves.
This is for a number of reasons. Firstly, they're sitting (floating) higher in the water and are therefore easier to paddle. It takes less work to paddle on flat water, but also to paddle into and catch waves.
Secondly, the increased volume of foamies make them significantly more stable so it's easier to stand up on and keep your balance. When you add up these factors, soft top surfboards make it easier for people to learn to surf.
Safety
Surfing has its risks and most of the time this is more so going to be you or another surfer, more than the actual waves themselves. Particularly when surfing in busy locations where there's a lot of surfers and surfboards.
One of the key positives of soft tops is that if the board hits you or someone else nearby, the padded rails and deck lower the chances of injury. Of course accidents can still happen but comparatively soft top surfboards are safer.
For more experienced surfers, the padding on a soft top can be advantageous when surfing shore breaks and closeouts where the chances of your board hitting you increases.
Cost
Although some would say foamies are getting pretty expensive – they're still on the whole a lot cheaper than hard boards. As a beginner, the entry cost of a user friendly learner surfboard is very low.
Wax Free
Some (but not all) soft tops are now coming with wax free deck pads which is an added bonus if you don't have to worry about whether you've waxed your board recently, and slipping when you are out in the surf.
Cons:
Less maneuverability
For your typical learner orientated soft top surfboards, the extra volume and other features can make soft top boards more difficult to turn on the wave. This is because they're basically designed to go straight.
That said, higher performance boards are designed to be able to turn and surf like a regular hard board.
Difficult to duckdive
For the majority of soft tops over early 6', duck diving is made very difficult if not impossible due to the extra volume and flotation. Therefore getting a softboard out past the breaking waves when surf is over a certain size is very difficult. 
Lack performance in more critical waves
Soft tops can be difficult to make steep drops on since they often have a flatter rocker. The flat rocker is great for paddling and picking up speed once you're on the wave. But, the flatter rocker can make it difficult to get used to steep takeoffs even if you are a skilled surfer.
Foam surfboard vs fiberglass
So what are the reasons why you would choose a fiberglass board over a soft top surfboard? 
Fiberglass boards are what we sometimes called traditional surfboards. Typically, fiberglass boards are shaped out of PU foam and glassed over with fiberglass on top and bottom. These boards are more delicate than soft tops, but are smoother and faster on the wave face and feel much more responsive. Fiberglass boards are geared towards the intermediate or experienced surfers that can benefit from the additional performance factor you can only really get with a hard top.
Pros of fiberglass surfboards:
Responsible & high performance
Fiberglass boards are very responsive when you are riding the wave. If you want to do turns, snaps, or cut backs, you will find that a fiberglass board will respond better when you shift your weight around.
Personalisation
It's easier to get a personalized fiberglassed board. There are many shapers out there who do custom boards so that you can get a board made specifically for you. Whether you want to ride a specific kind of wave or are at a certain skill level, it is easier to find a suitable fiberglass board or have one made than it is for a soft top board.
Going along with the customization, you will find that many fiberglass boards have a higher level of craftsmanship to them. Shapers work to finish sanding the foam before glassing a fiberglass board.
Weight 
Fiberglass boards are much lighter than a soft top board. Typically, this is because they are smaller, but you will find that a fiberglass board is lighter than a soft top of similar size.
Repairable
Despite being able to damage fiberglass surfboards quite easily, repairing them is relatively easy to do (or at worst you can give it to a professional to repair). This is opposed to soft top surfboard repairs which are not always easily done. 
Cons of fiberglass surfboards: 
The need for wax
You have to wax a fiberglass board and maintain your wax. Soft tops usually don't need to be waxed, but if you don't wax a fiberglass board, you'll slip right off.
Cost
Fiberglass boards are expensive. We've mentioned the level of craftsmanship that goes into making a fiberglass board. It can make a great product, but it means that the cost of your board will be high.
Damaged easily
Fiberglass boards are also delicate. They are prone to dinging or breaking. If you drop them they can crack. If the nose runs into the sand, part of the glass can either buckle or even snap off. Saying that, fiberglass boards can be repaired more easily than soft top surfboards. 
Foam surfboard or fiberglass for beginners?
We believe there's notsubstitute for soft top surfboards for learner surfers and it would seem that surf schools would agree.
If you are just starting out and wondering whether you should cut straight to a fiberglass board, it can definitely be done but you may speed up the process if you just jump on a super floaty foamie board at least until you've mastered the basics.
This comes down to the fact that you eliminate some of the more difficult aspects of learning to surf when you have the added buoyancy that a softboard provides – paddling, standing up and keeping your balance.