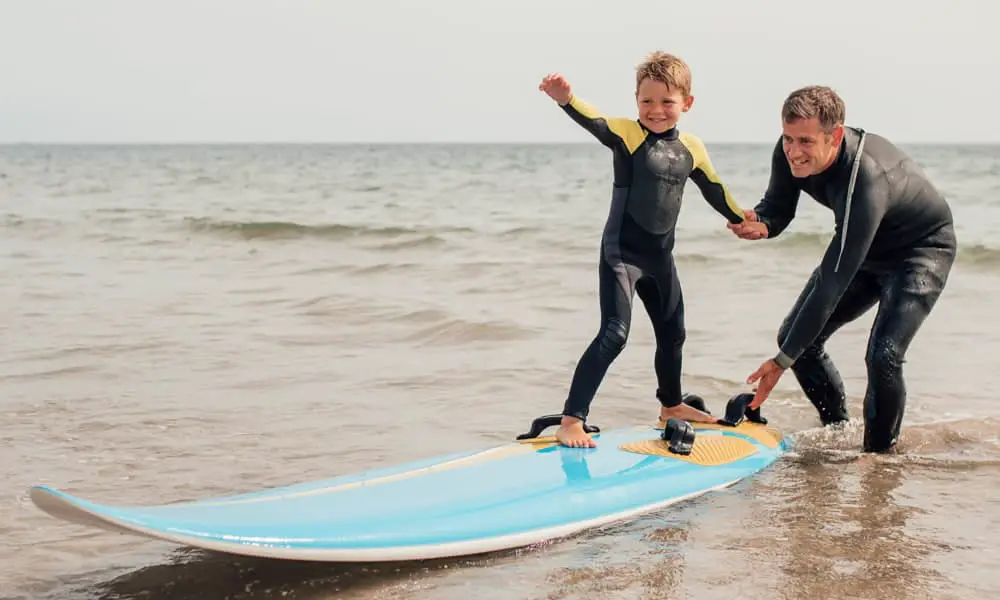 Surfers all over the world are catching waves daily and for many good reasons. The health benefits are endless, both body and mind, and it's exhilarating. Whether you're new to the sport or a seasoned veteran, there may come a time when you want to share your surfing experience on the water with your family, more specifically your kids.
Most experts agree that the right age for a kid to start surfing is around eight, but of course you can get them in the water earlier and many keen surfing parents have their kids on a board as soon as they can swim. If you're a little more conservative on this front, you may have reservations because of the possible misconceived dangers associated with it. There isn't a sport that comes without some form of danger but done responsibly, surfing can be perfectly safe. So, is it time to get your kids out on the water? If you're considering it, there are plenty of reasons to grab your kid a surfboard and head to the beach.
1. Improve Their Swimming
If you're considering getting your kids into surfing, then there is a good chance that they know how to swim. After all, swimming is a pretty key part of surfing. But maybe they're not the strongest swimmers or they're great swimmers in a pool but haven't yet experienced doing it in the ocean.
Swimming isn't just about being able to go through the motions, but it's also about confidence. Surfing is a great way to boost that confidence and get your child used to a variety of situations. When learning to surf, kids will quickly develop the skills needed to navigate the ocean and its waves and, in turn, gain the confidence needed to control any situation they may be in, surfboard or no surfboard.
2. Balance and Coordination
Beginner surfers understand all too well how much of a balancing act it can be. You end up spending more of your time falling off your board than you do standing on it. But every time you fall, you learn something, whether you realize it or not.
Younger kids will continue to develop their fine motor skills right into their teens, so getting them on a surfboard at an early age is a great way to not only help develop their balance and coordination but to help them refine.
While you may think that it is something they will learn eventually anyway, take a quick moment and think of the people you know that would never have the balance or coordination to get on a board. That's because they didn't spend the time refining those skills when they were young.
3.Exercise
We live in a world full of technology advancing at a rate most of us can't even comprehend. It makes our lives easier and, in turn, can make us, for lack of a better term, lazy.
Video games, TVs, smartphones, it seems as if every kid is glued to a screen. Now, more than ever, kids must get some exercise, especially over the summer holidays. What better way to do that than to take them surfing?
Surfing combines both aerobic exercise and strength building. It is a true full-body workout that makes kids stronger, builds their cardio, and increases their stamina. Above all else, a workout like this when a child is young will reduce the chances of overuse injuries when they are older.
4. Confidence
We don't think there is any better way to instill confidence in a young kid than surfing. Unlike team sports tied to winning or losing, scoring points, and comparing kids to each other, surfing is about the development of an individual.
It's going to be hard. It's going to be painful. It's going to be frustrating. Kids might even want to give up. But when that moment comes when they are successful, it will be the ultimate boost in confidence. As those surfing skills develop, so too does the confidence, and not only will kids become more self-assured on the water, but in everyday life.
5. Patience
Success doesn't happen overnight. As much as we love to dream about being successful in an instant, it doesn't happen, which can be true of anything we do in life, surfing included.
Learning to surf doesn't come easy, and it takes a long time to learn and even more time to perfect but the reward comes from sticking with it. Furthermore, it's not just learning how to surf that takes time. It's all the intricate little details that go along with it. Surfers have to wait patiently for the next wave. They need to patiently negotiate ocean currents and spend time taking care of their boards. For children who have not yet developed their patience, all factors involved in surfing will help them do just that.
6. Tenacity
Like confidence and patience, tenacity is an important part of taking a child and preparing them for adulthood. Surfing is full of failures. Whether you're brand new to the sport or a seasoned veteran, failure is going to happen. Overcoming those failures and learning how to do something the right way doesn't translate just to surfing but life as a whole.
7. A Sport for any Individual
Just because a kid isn't interested in team sports doesn't mean they're not interested in sport at all. Maybe they want something they can do on their own, learning at their own pace without any pressure from others around them. There are a surprising number of kids that feel this way and never end up finding what suits them the best.
If they are comfortable working as a team, surfing can still be for them, especially if they have no interest in traditional team sports. Surfing is a lifestyle, and because of that, it brings people together. If a kid wants to be a part of something as a group, surfing can help accomplish that as well.
Whether looking for a sport that helps them individualize or one where they can be a valuable member of a group, surfing can do either.
8. Mental Wellbeing
We've already taken a look at the physical benefits of surfing, but the mental ones can be just as important. Sure, surfing can be hard, strenuous, and at times even stressful. But it doesn't always have to be that way and can be reserved for the most intense surfing lesson.
Imagine yourself sitting on your board in the water, waiting for the next wave. No one is around; the only sounds are of the ocean that surrounds you. Sounds pretty peaceful, right? Well, that peacefulness is the gateway to relieving stress, collecting your thoughts, or escaping them entirely. We can all relate to how stressful growing up can be, and if there's something that can provide a little relief from that, then it can't be a bad thing.
9. Mental Fortitude
Surfing can not only clear a kid's mind, but it can also strengthen it. Kids are going to be faced with adversity in surfing as they will in life. When they learn to overcome that adversity in the open water, they will carry that same willpower throughout their life, and be better equipped to deal with whatever the world can throw at them.
10. Engage with Nature and Learn the Value of Conservation
There can be lots of ways for a kid to engage with nature. Camping, hiking, fishing, and even gardening are all great ways to get in touch with the world around them. But there is something to be said when it comes to surfing and connecting with nature.
Surfing is often just you, your board, and the open ocean. It immerses your child in the outdoors, giving them a higher appreciation and a better understanding of the marine life around them and building their ocean awareness. Sure other sports can help them to connect with the outdoors, but that connection just isn't as deep as it is when surfing.
Hand in hand with that connection comes the value of conservation. For the most part, surfers understand the delicate balance of ocean life. They respect that balance and are very conservation-minded people. Becoming a surfer as a child can often lead to an adult that is more invested in conservation and protecting our oceans.
---
Surfing isn't for everyone so you must make sure it's right for your kids. If they have little to no interest, forcing it on them isn't going to help. But if they do think it's a fun activity, it easily tops the list of the best hobbies for children. Look into surfing lessons with a qualified surf instructor to get your child started on their next adventure.
While you're here, make sure to checkout our best surfboards for kids and kids wetsuit guides.