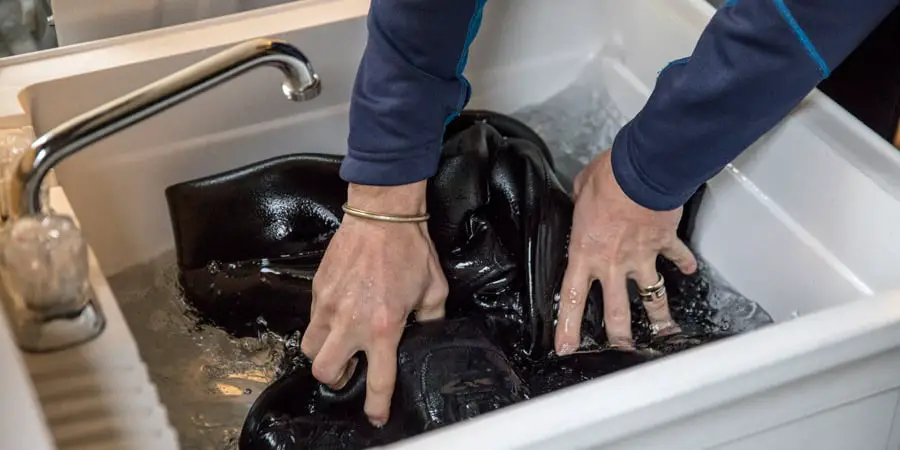 As a surfer, your wetsuit is one of your bigger investments. It's important to choose the right one, but it's also important to know how to wash a wetsuit.
With proper care, you can make a wetsuit last much longer. Knowing how to wash a wetsuit will also keep you from damaging it. Here are a few of the best methods for washing a wetsuit.
3 Easy Ways to Wash Your Wetsuit
1. Hand Wash a Wetsuit
When it comes to how to wash a wetsuit, the most popular way is handwashing. You should hand wash your wetsuit after every use. It can be done in three easy steps.
Step #1 – Rinse in Cool Fresh Water
Start by rinsing your wetsuit in cool fresh water after use. This is one of the most important steps you can take to make your wetsuit last longer and stay in good shape. 
The saltwater can impact the neoprene and you don't want it to build up. Take the time to rinse your suit in cool freshwater. Make sure not to use hot water because heat will impact the flexibility of the neoprene. 
Make sure to thoroughly rinse the outside of the suit. Then, flip it inside out to wash the inner layer. 
Step #2 – Drip Dry
After rinsing your wetsuit, you want to let it drip dry in a dark area. Don't dry it in the sun as the heat can cause damage to the materials.
It's best to fold the suit over a padded hanger. If you don't have a place to hang the suit, lay it flat in the shade to dry.
Step #3 – Properly Store your Clean Wetsuit
The final step for washing your wetsuit is to properly store it. Don't stuff it into a bag or corner, as this will impact the structure. Make sure to store it properly on a hanger folded over at the waist.
2. Use Wetsuit Cleaner
You should always remember to rinse your wetsuit before using a wetsuit cleaner. You can use specialized wetsuit shampoo and conditioner to help remove salt and other residue from the ocean. Using wetsuit cleaners also helps prevent and remove odors.
Periodic use of wetsuit cleaners can extend wetsuit life by keeping neoprene supple and fresh while protecting against fading, dryness, and premature aging. Below are a few highly rated products:
3. Wash a Wetsuit in a Washing Machine
If possible, you should always use the first method when it comes to how to wash a wetsuit. Washing your wetsuit in a washing machine should only be done if you have no other choice.
Even if you have to use a washing machine for your wetsuit, never, under any circumstances, should you use the dryer.
If you must use the washing machine, remember these tips:
Don't use hot water – Use cold or lukewarm water only.
Avoid detergent – Detergent can damage the neoprene. You can use a wetsuit cleaner instead.
Don't spin it – The spin cycle will impact the integrity of your wetsuit and it won't last as long.
When it comes to washing a wetsuit, handwashing is the best option. If you must use a washing machine, make sure you follow the above tips.
Following the three steps in the first method of how to wash a wetsuit is the first part of the process. After you've washed your suit in cool water, you can use a wetsuit cleaner before hanging it to dry.
Learning how to wash a wetsuit will help to extend the life of your suit. Use these three methods to ensure your wetsuit lasts as long as possible and avoid needing to undertake a wetsuit repair.
While you're here check out our men's wetsuit and women's wetsuit reviews :).
You might be interested in some of our other wetsuit guides: