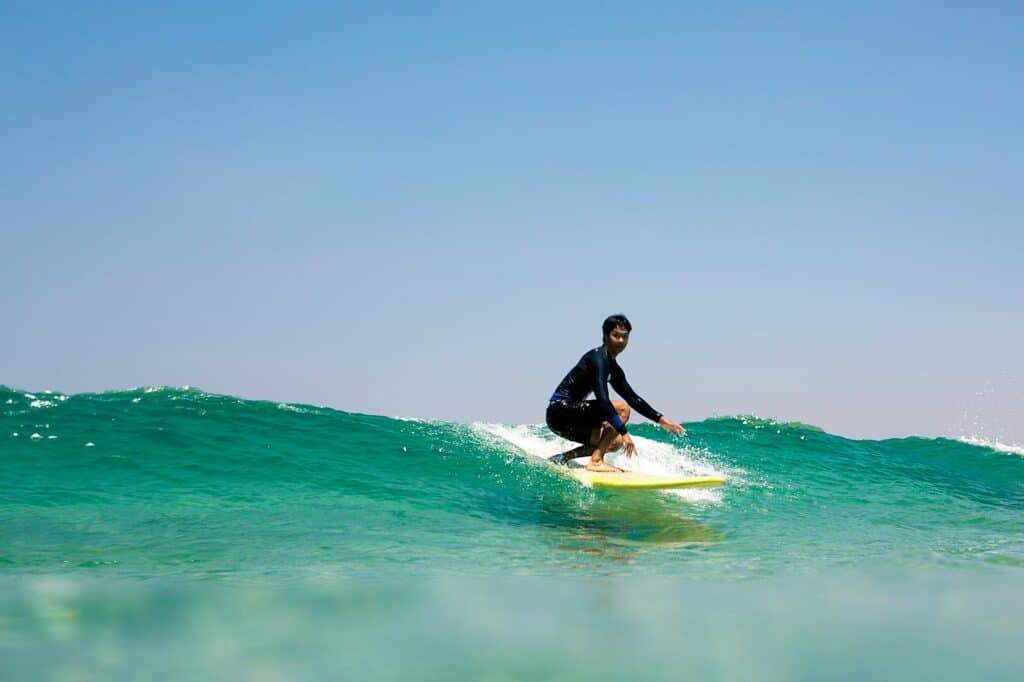 The age old question for beginner surfers: What size surfboard should I get?
Longboard or short? Something in the middle? There's a lot of options out there but the most important thing to consider is which kind of board is going to get you paddling, catching and standing up on waves the quickest and setting you up to step up to a more advanced board.
The Shortboard v Longboard debate
For as long as I've been surfing there's always been a rift between the shortboard and longboard camps. I've had friends of mine who've refused to ever ride anything other than a shortboard.  
Admittedly with the range of boards now available and as it's become more mainstream for surfers to ride any kind of board they want, I've seen some of those people shift their preferences. Others continue to ride only shortboards today (very well I should add) and a few who were always stubborn and never got on an appropriate board have never really got any better.
At the end of the day, it's a personal preference but for me I've always leaned towards higher volume and longer boards because:
More often than not the waves are small or lower quality
They are easier to paddle and to catch waves (and that's the whole point right?)
Ok, ok…so what does that mean for a learner?
A lot of people starting out are already for one reason or another standing in the shortboard camp – perhaps it's because they've seen surfers ripping around on a shortboard or they've watched pro's on TV and they think that in order to learn to surf like them, they need to ride the same sorts of boards. The truth is when you are starting out learning the fundamentals of surfing, you've got to develop basic skills which you will really struggle to do on a low volume board that's hard to paddle and won't catch small waves. If anything, a board like that could really slow down your learning, or put you off surfing all together when you find it too difficult. 
Different types of learners, different types of boards
So does every learner surfer need to choose the biggest board possible? No, not exactly.  The other part of the equation is that you need to be able to handle the board – in the water and out. If it's too big you may have trouble getting onto it and controlling the board in the water and you'll struggle to carry it on the beach. Kids, lightweight learners and adults all have different needs and capabilities which need to be considered: 
Kids
Children, depending on their athleticism and confidence in the water can potentially suit a wide range of boards but longer, heavy longboards are generally not the best.
For younger kids literally starting out, if they haven't already – get them on a bodyboard, or similar to get them comfortable in the ocean and moving in the waves. Wave Bandit have some great options for little kids.
For younger kids looking to step up to stand up surfing, it's important to ensure they have enough volume under feet to be able to paddle and to be carried by waves. Ocean and Earth have a great range of boards in their Bug Mini range which are perfect for kids.
For older kids/teens that are advancing their skills, the options start to widen up.  Once they've developed the basic skills and mechanics of paddling and successfully standing and catching waves, depending on their preference you could consider a slightly larger and higher volume board (my recommendation). 
The smaller boards within the Ocean and Earth Ezi-Rider range are great options. For those that have really advanced and have a preference to go down the high performance style of surfing route – both Catch Surf and Softech have some options well suited to younger surfers.
Our full buyer guide for kids soft tops is HERE.
Adults 
For adults, again there's a number of factors to consider (eg. weight, general strength) but I would suggest that for somebody starting out and getting onto a surfboard for the first time to choose a longer board which is as big as you can comfortably carry.
For lighter Adults a Mini-mal style board of between 7'0″ to 8'0″ is probably ideal. The benefit of these boards is that they are still high volume, easy to paddle and easy to get into waves but are not so big that you'll struggle to control them. Ocean and Earth Ezi Riders longboards of 7'6″ and 8'0″ are good examples, as well as Wave Bandit's Easy Rider or Mick Fanning Softboards Beastie boards.
For larger Adults I would recommend a longboard of 8'0″ to 9'0″ as the best place to start. Again the Ocean and Earth Ezi Rider Range, Wave Bandit and Mick Fanning Beasties are great options. Check out our 9'0″ Beastie longboard review here. You will find these boards very stable, easy to stand up on and so easy to paddle around and effortlessly get into and be carried by small waves.
Our full buyers guide for best surfboards for beginners is HERE
Other things to consider
Aside from the basics of what size surfboard you should get as a beginner surfer, there's a couple of other key factors you should consider and which will help you to progress your learning faster:
Surf in the right waves for learners: Go for small, uncrowded surf spots when you are just starting out. You'll get more waves without big crowds and that is the only way to learn (plus you won't make people angry and get in the way!)
Quantity over quality: You want to try and surf as many waves as possible to develop your skills, don't worry about how good the waves are
Learning takes time: It's all about repetition, learning to surf is not easy, it is a commitment and it will take dedication and time but it is very rewarding and worthwhile
So, what size surfboard should I get?
To wrap things up, our thoughts on the matter are:
Choose the highest volume board that you can realistically carry and comfortably control in the water. 
A longer mini-mal or longboard with a full round shape will provide the best platform for you to learn how to paddle around in the water, to get comfortable catching waves (and whitewater) and standing up on your surfboard.
Once you've mastered the basic wave catching skills, the sky is limit and you can progress to other boards (short, long or in between) depending on your preference. Don't be too impatient to progress before you've mastered the basics!
Good luck and please let us know if you have any questions with your board selection – we are happy to help!