Ocean and Earth Soft Boards are known as being some of the best value boards on the market. They offer high quality construction, durability and good performance at an affordable price. Their boards aren't so flashy like some of the newer brands but they are widely available, and surf shops report really positive customer feedback.
The Ezi Rider range of boards is aimed at the beginner level and comes in a range of styles from fish shape to longboard:
---
1. MR Ezi-Rider Twin Fin
Mark Richards (MR) is one of the most notable surfers of the 70's & 80's and his progressive twin fin designs which he created during these years are still relevant and popular today.

Designed directly with MR using his classic twin fin templates the Ocean and Earth MR Series is a fun range of soft boards in two different constructions – the EZI Rider soft version and the stiffer Expoxy/soft hybrid suited to more high performance.

The MR Ezi Rider is suited to learners, kids and more experienced surfers alike and come in two sizes with Twin fin setup:
5'6″ X 21″ X 2 3/4″ (40L) – suited to surfers of weights up to 70 kg
6'0″ X 21 5/8″ X 3 1/8″ (47L) – suited to surfers of weights up to 85 kg
With an EPS core and 2 stringers these boards strong and durable, with less flex than cheaper boards. They come with soft PU Twin fins (5.5″) which are interchangeable.
Ocean and Earth claim their boards are built and tested to sustain very high heat loads which helps with protecting from de-lamination from ongoing sun exposure. The soft deck skin is water resistant and grippy. 
Lastly they come guaranteed against faulty workmanship or defective materials for 12 months from date of purchase (which should be standard).
---
2. Ezi-Rider 5'6″ – 7'0″ (Fish shape tri-fin)
The short to mid length boards in the Ezi-Rider range are a fish shape offering great options for intermediate surfers or for learners who aren't interested in larger boards.
These boards have more performance features (rocker, fish tail) than the longboard Ezi-Riders – more turnability and can be surfed more on rail and in a little more critical waves.
For this reason they could be a good option for someone who is advancing from their first beginner board and looking for something with a little more performance.
Alternatively for a more experienced shortboarder looking for a fun alternative in average surf conditions.
These boards have 3 stringers for extra strength.
User FEEDBACK: 

Great alternative board for more experienced surfer when the waves aren't good enough for a typical short board
A lot of fun in mushy surf
"I bought both of my girls (6 & 8 yrs) an Ocean & Earth Ezi-Rider 6'6″ last year and they a brilliant. They also float me (at 'roughly' 100kgs). I'll be picking up another this Xmas for my 5yo boy-grom"

5'6″ x 21″ x 2 3/4″ (40L) – Suited to weight up to 70 kg
6'0″ x 21 5/8″ x 3 1/8″ (47L) – Suited to weight up to 85 kg
6'6″ x 21 1/4″ x 3″ (52L) – Suited to weight up to 90 kg
7'0″ x 22 1/4″ x 3 1/4″ (60L) – Suited to weight up 95 kg
Check Price & Availability in your region (U.S.A, Canada, UK, Europe, Japan):
---
3. Ezi-Rider 7'6″ – 9'0″ Longboard
The Ezi Rider longboard range is a high quality option for learners or those looking for a fun alternative for small wave days. These boards are stable, high volume, easy paddlers and wave catchers.

The mini mal (7'6″) would be a good option for lighter learner who may not be able to handle to bulk of the larger two boards.

The range has the same high quality construction of the other Ezi-Rider boards mentioned above, with 3 stringers and interchangeable fin box with tri fin setup. The 3 sizes are:

7'6″ x 22 1/8″ x 3 1/4″ (64L) – supports weights up to 100 kg

8'0″ x 22 3/4 x 3 3/4″ (80L – weights up to 110 kg

9'0″ x 24″ x 3 5/8″ (93L) – weights up to 130 kg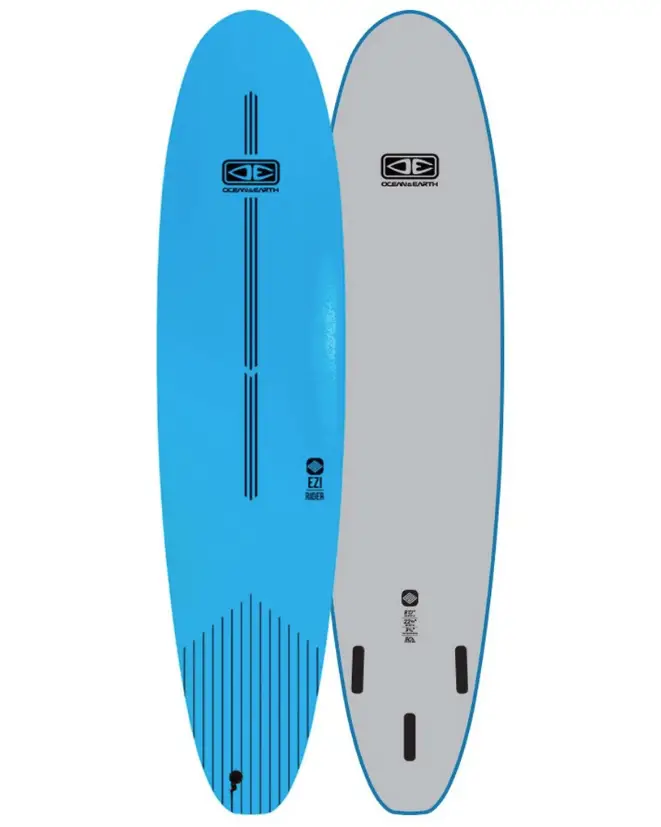 User FEEDBACK:

Ideal learner board
Stable, easy to paddle 
Very fun and rides well
Perfect for small waves
Very strong and rigid but lightweight
People find them to be of higher quality than alternatives
Check Price & Availability in your region (U.S.A, Canada, UK, Europe, Japan):