Anyone who has considered surfing for the first time has grappled with this question…. what are the best surfboards for beginners? There is a LOT of choice out there – so many shapes, lengths, brands, materials. Where do you start?
In this guide we will take a detailed look at the best soft surfboard options for learners, specifically adult learners or older children (we've covered kids in another post altogether).
While we're at it you may want to take a look at our post on vital tips for anyone looking at taking up surfing.
Why Soft tops?
Soft top surfboards are the typical starting point for most beginners and in many opinions,  including ours – there is no better option! Here at Get Foamie it's no secret that we're big fans of softies; for first time learners, intermediate stage and experienced surfers alike.
When it comes to beginners, there are many reasons for starting the surfing journey with a soft top but the key advantages are that they are:
Durable – softboards can take a beating and withstand all the usual bumps that you will inevitably have when learning to surf
Higher volume – with more volume a soft board sits higher in the water (floats) and provides stability making it easier to paddle and to catch waves
Safe – With soft rails, deck and fins there are less sharp or hard surfaces to cause injuries to yourself or others
In addition to the above, foamies have become so popular now that the range of designs, shapes and colours is so extensive that you will not have any trouble finding the right beginner board for your needs.
How much do good quality soft learner boards cost? 
Like most things, surfboards range widely in cost and quality. The boards we recommend in this guide range from mid-quality level to very high-quality soft boards and the old saying of "you get what you pay for" definitely applies here.
All boards within our best of list have a minimum of 2 stringers which provide the boards with the required strength to not only surf better having less flex, but they will hold their shape and last for a long time if they are properly looked after.
You can definitely find cheaper boards out there but you will quickly find they bend out of shape and fall apart.
What surfboard size and shape is best for a learner?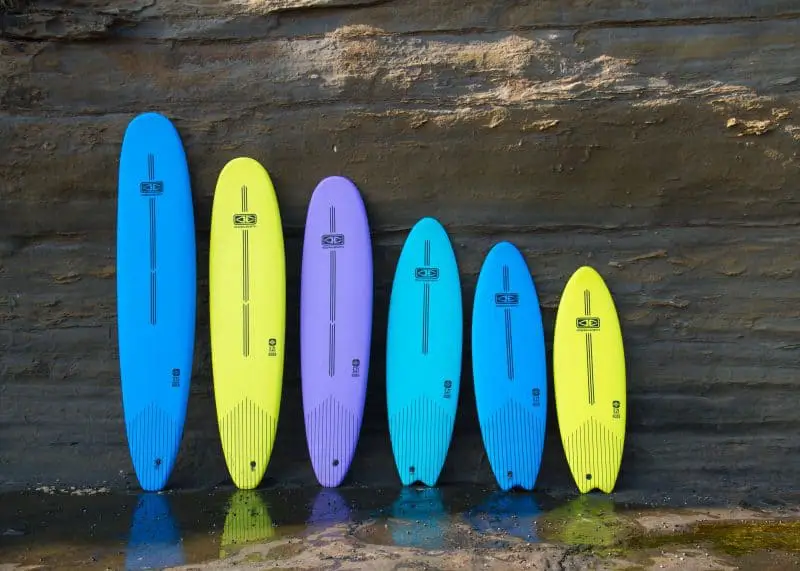 There are many shapes and sizes when it comes to surfboards but the key features a beginner needs are high volume, wider and rounded nose,  and generally longer length, factoring in the individual's height, weight and strength.
The 3 styles we would suggest for most beginners are:
Longboard (9 foot +)
Mini Mal (shorter longboard 7-8 foot)
High volume mid-length (6-7 foot)
Where you sit in the above options would depend on your size and general level of strength. While we would urge you to get as big a board as possible, it's important not to go to the other extreme and get a board that is too big for you! Surfing is hard enough when you can't handle or control a huge longboard as you will need to carry it on the beach and be able to move it around in the water.
For a lighter/ smaller beginner surfer we suggest going for a mid length or mini mal type board.
For a larger beginner surfer we suggest a Mini Mal or Longboard.
For some more information on the whole shortboard vs longboard debate and choosing the right length of board – check our our post on the subject here. 
What boards are not right for a learner?
Some learners naturally aspire to surf like Kelly Slater (good luck with that!) and they think that riding a short/high-performance board is the only way to do that. The fact of the matter is, you've gotta learn the ropes first and you'll have a much easier time doing so on the types of boards mentioned above. Once you progress from your first beginner board, you can upgrade to a high performance surfboard from there and you'll be in a far better position to excel and improve quickly.
Best surfboards for beginners (lighter or smaller surfers)
1. Ocean and Earth Ezi Rider 6'6 – 7'0
The Ocean and Earth mid-length Ezi Rider range have more performance features (rocker, fish tail) than the longboard Ezi-Riders, they are more maneuverable but still have sufficient volume for a lighter learner who prefers a smaller board.
PROS:
Affordable
Easy to turn
Can handle slightly more critical/steeper waves
It can also be enjoyed by more advanced surfers
CONS:
Not as stable as some of the other boards on this list, for an absolute beginner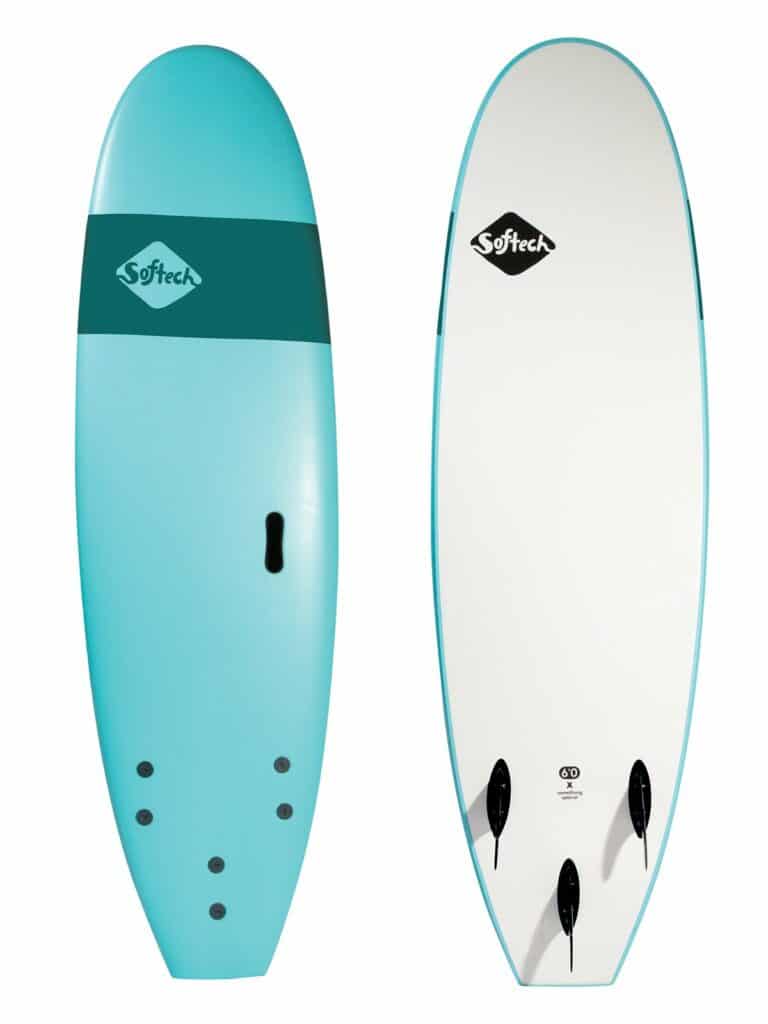 The Handshaped Softboard (AKA Softech "Roller" in Australia) is a stable board ideal for learners which will allow them to advance and start to perform basic turns. Their 6'0, 6'6, 7'0 and 7'6 are suited to lighter learners.
PROS:
Full rounded template, high volume and very stable
It has a built in hand hold on the deck for ease of carrying
High quality construction including double stringers
FCS inter-changeable fin system (so you can swap out soft fins for higher performance fins once progressing)
Lightweight 
This board gets great feedback from both learners and experienced surfers so you'll be able to get good long term use from it 
CONS:
The longer models in the Softech Handshaped Softboard range  are a touch more expensive than some other boards we have listed.
Note: Currently sold out in USA
The Wave Bandit Easy Rider 7'0 is a full-bodied egg shape board with high volume (72L) very well suited to lighter learners. 
PROS:
One of the cheapest boards on this list for its size
Quality of construction is still reasonable
Paddles very well and so easy to get into waves
Fun to use in mushy not so perfect waves
CONS:
May not get as long a life out of this board compared to some of the other options due to slightly inferior construction.
Designed with a wide round tail to provide lift and push in weak waves, and a pretty flat rocker means it surfs well in a variety of conditions.
With an even distribution of volume through the board, it's really stable so is a great board for someone looking to learn or improve their surfing. The mid length Beasties are well suited to light weight learners for these reasons.
PROS:
FCS inter-changeable fin system (so you can swap out soft fins for higher performance fins once progressing)
Lightweight 
This board gets great feedback from both learners and experienced surfers so you'll be able to get good long term use from it 
It's fast, turns well and catches waves easily
CONS:
More expensive than most of the other boards on out top beginners list
The Rock-It Shortbus is a great allrounder and mid-length beginner board. It's small enough to easily carry around but boasts enough size and volume to float and surf most people. 
A great option for someone transitioning from a longer board or for first time learner.
7'0" x 22" x 3" (72L)
Constructed with high quality materials and using environmentally sensitive processes:
Three marine wooden stringers coated with an epoxy nano-coating to resist water absorption, then surrounded with a proprietary EPS foam and a color-fast & UV resistant soft top layer
Recyclable
One year manufacturers warranty
PROS:
Affordable
Quality construction and warranty 
Doesn't require much wax
Great feedback from learners
6. South Bay Board Co Ruccus 7'0″
South Bay Board Co perfected the design of this 7'0″ foamie for incredibly fun surfing with a Soft-Top Surfboard. The focus of this design is high performance and durability suited to a range of surfing abilities from beginner through to intermediate – advanced. 
Features:
A slim pinched in squash tail with rubber bumper (for sharper turns and safe vertical storage) 
Compressed Finger Print Textured IXPE Foam Deck (No Wax needed)
Hand Tapered Rails, Beginner Friendly Nose Rocker to prevent nose diving, Slight Tail Rocker for added release in turns
Bottom Deck Features a Slick HDPE surface with a full Double Concave shaved from the nose to the tail
Size: 7'0" x 22" x 2.85" 
Fins & Leash included (packages available with surfboard bag etc as extra)
User FEEDBACK:

Great for beginners – kids
Works in smaller and larger conditions
Can be enjoyed by experienced surfers too
We've now taken it out numerous times in small and larger conditions 

Solid construction and high performance design

Great value for the price
Best surfboards for beginners (taller/heavier surfers)
The Ezi Rider longboard range is a high quality option for learners. These boards are stable, high volume, easy paddlers and wave catchers. 
7'6 (64L)
8'0 (80L)
9'0 (93L)
PROS:
Many report very good quality of construction
7'6 supports all weights up to 100kg (note there is not a minimum weight these boards support – It is just a preference with regard to the size of board you wish to handle)
8'0 supports all weights up to 110kg and 9'0 up to 130 kg