Before the release of their High Performance Series, Softech was concentrated on learner friendly softboards, a range of boards designed to give first time surfers an easy step in catching waves and developing the basic surfing skills.
As an addition to our other Softech Surfboard Reviews, today we're going to break down the Softech Original Series and see what people are saying about these softboards. 
1. Handshaped Softboard / Roller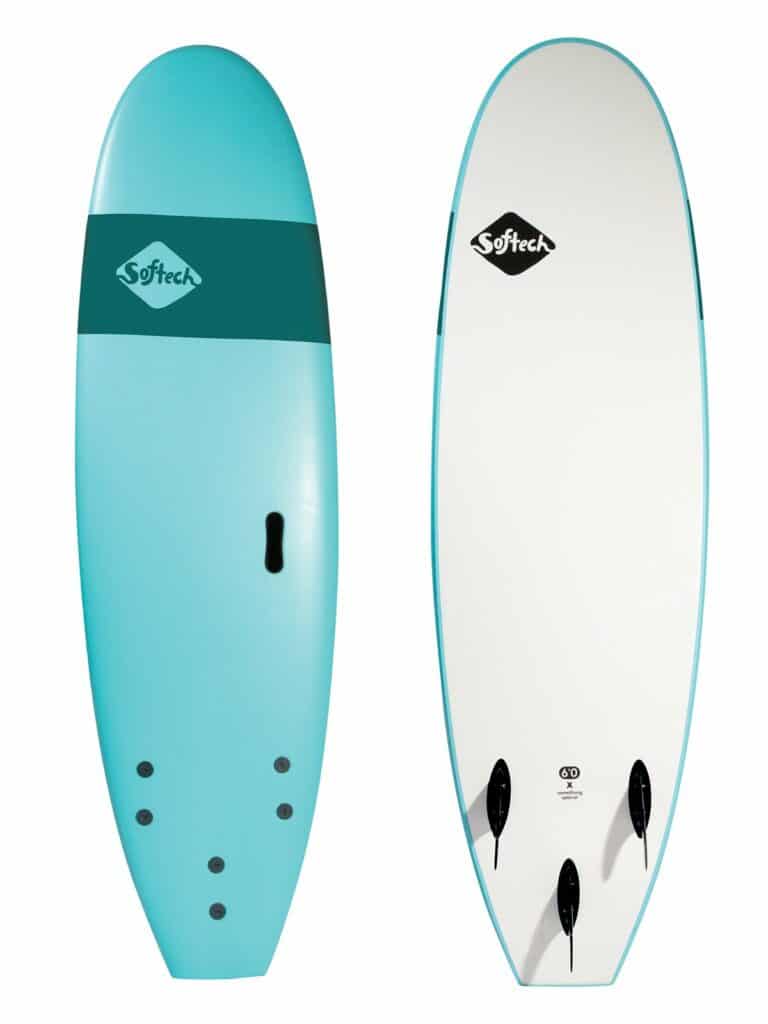 This board goes by the name of "Handshaped Softboard" in the USA/Europe and "Roller" in Australia. No idea why they've gone these different names for different regions…. 
The Handshaped Softboard has a full rounded template and lots of volume so really they offer an ideal stable board for learners which will allow them to advance and start to perform basic turns.
Like other Softech boards, these feature a 100% Waterproof EPS foame core, double stringer for strength and rigidity (lacking in cheap knock off softboards).
One unique feature of this board is hand hold in the deck, which learners seem to appreciate and make it much easier to carry to the water.
User FEEDBACK:

Great option for kids and learners and helps to improve their surfing
Lightweight and handle is a great feature
Also suited to more experienced surfer for fun alternative in small waves
Good looks
Can easily float heavier surfers
Stable and easy to control
Easy to paddle and to catch waves
Good price and quality 
Safe
Available in 6 sizes with FCS VFS  tri- fin setup (Variable Fin System – interchangeable hard/soft fins):
6'0″ x 21 1/4″ x 2 3/4″ (54L)
6'6″ x 22 1/5″ x 3″ (61L)
7'0″ x 22 1/4″ x 3 1/7″ (66L)
7'6″ x 22 1/4″ x 3 1/7″ (72L)
8'0″ x 24″ x 3 1/3″ (94L)
8'4″ x 24″ x 3 1/2″ (103L)
Check HANDSHAPED SOFTBOARD Price & Availability in your region (U.S.A, Canada, UK, Europe, Japan):
The Sabre has a more refined shape than traditional learner boards and is more suited to someone who's looking to advance from that beginner stage and concentrate on a more performance orientated surfing style.
The Sabre has a Polyethylene (PU) deck and bottom so waxing on top is similar to a regular fibreglass board and you can add a traction pad too which you can't really do on most soft tops.
User FEEDBACK: 

Kid friendly and safe

Affordable 

Ability to swap out fins to improve performance is popular
With 3 sizes on offer, the Sabre will suit a range of surfers from beginner to intermediate skill level or experienced surfer as a fun board. 
5'4″ x 19 7/8″ x 2 3/4″ (33L)
6'0″ x 20″ x 3″ (39L)
6'6″ x 21 x 3″ (45L)
Check SABRE Price & Availability in your region (U.S.A, Canada, UK, Europe, Japan):
3. Sally Fitzgibbons Signature Model 
The Sally Fitzgibbons model has been designed specifically for girls and women who want to experience the fun and enjoyment of surfing. It is a learner orientated board with good width and high volume throughout the board offering stability, paddle power and ease of wave catching. The boards have the standard high level of Softech construction with two wood stringers and waterproof EPS core, slick deck and soft top foam. These boards like the Handshaped Softboard model have a handle in the deck which is a popular feature for learners and make it easier to carry.
The board has some up turn in the nose to stop it sinking, and help with performance and lift in the tail which helps turning.
These boards can suit kids or adult learners, or more advanced surfers.
There are 3 sizes and they all come with plug style soft fins:
6'0″ (54L)
6'6″ (61L)
7'0″ (66L)
User FEEDBACK:

Great learner boards
Paddles very well
Despite being geared to the learner, there are enough performance features in the design to work for more experienced 
Another example of different names for different regions: This board is know in USA/Europe as "Fat Boy" and in Australia and "Zeppelin".
No matter the name, this is an extra wide and super volume board.  They are incredibly stable for learners but can be enjoyed by advanced surfers too.
It is a shorter, fatter mal shape ideal for beginners who need to extra volume for paddling power a wider deck for stability when getting to their feet.
There are two sizes:
7'0″ x 26 x 3″ (89L)
8'0″ x 26 x 3 3/4″ (114L)
A lot of online retailers incorrectly specify that this board comes with FCS VFS system however it comes with the standard screw in plug soft fins.
User FEEDBACK:

Great board for a heavy person to learn on (ie 100kg + surfers)
The extra width is really helpful for stability
Easy to ride
Currently not available in USA via softechsoftboards.com, however for AU they have availability here.
Make sure you check out the rest of our Softech Surfboard reviews and please feel free to drop your feedback on any of these boards below!
Alternatively, if you have any questions just shout.