Lightweight longboard and great option for beginners
MF Softboards Beastie Longboard (9'0 – first generation MF Softboards)
Reviewed by: Scotty
Dimensions: 9'0″ x 24″ x 3 1/2″ (88.71 L Volume)
Fins: Tri fin set up (plug style fins) Note: latest generation Beastie has choice of FCS II or Futures fin boxes
What we like: Lightweight, easy to carry, lots of float and paddles well – perfect for learners
What we don't: The small fins mean you can't turn it like a traditional longboard and it can slide out if waves get a little bigger
Rating: 8/10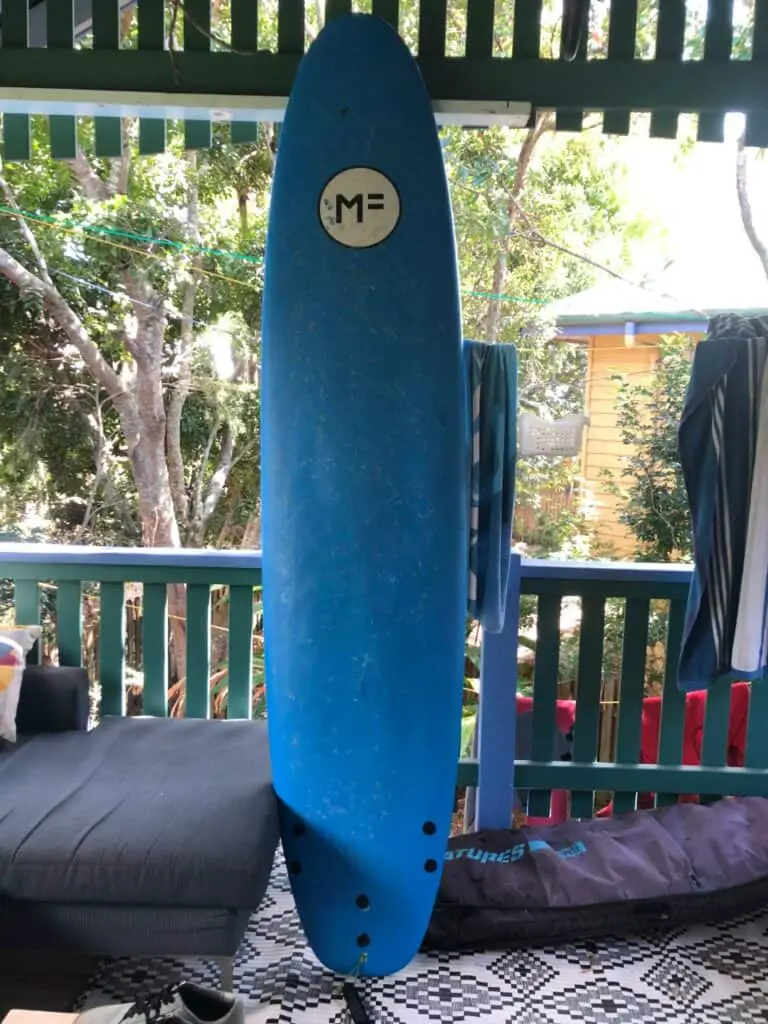 The Beastie comes in four sizes from 6'0 to 9'0, so there is obviously quite a bit of difference between the 6'0 and 9'0. While I can't really talk from experience for the 6'0, it looks like it can be turned on rail and ridden like a shortboard. The 9'0 is a different, ah.. beast. It's quite a tank but granted it is pretty lightweight for its size.
I bought this board specifically so that when I had friends visiting who don't surf, I could bring the Beastie along for them to have a go on. Previously I've had friends borrow my expensive longboards and that was always a nervewracking experience to watch them paddling out into a crowded break…
So, I can wear two hats for my MF Softboards Beastie Review. That is looking at it as a beginner board, and also for a more experienced surfer.
Key Features
Heaps of volume offering float and stability – 3 1/2 inches thick with volume well distributed through the board
Slight rocker and lift in the tail and nose so this board can be used on slightly bigger waves (caveat – will discuss further below)
Wide round tail for lift and accelaration even in tiny waves
The construction of the MF Softboards uses carbon and epoxy cloths which wrap the EPS core (under the soft foam outer layer). This adds real strength and rigidity to the board and provides durability, better performance and speed
Lightweight for its large size. I found that although it is quite big and even for friends with shorter arms who couldn't hold the board on their side properly, could still carry the board overhead. Much lighter to carry than a normal longboard.
Plug tri-fins (newer model has choice of FCS II or Futures fin boxes)
Soft deck which although quite grippy definitely requires wax.
Lightweight longboard and great option for beginners
Experience in the Surf
I've taken learner friends to a number of spots with this board from small/weak beach breaks to small point breaks. They found it easy to paddle around, easy to get into waves and to turn.
For me, I have ridden traditional longboards for a long time so personally would choose to ride a solid normal longboard over a foam board most of the time. I find not having a big centre fin and therefore not being able to ride the board as I would normally (big drop knee turns etc) is not so appealing although I did find the board responsive, fast down the line and it performs well.
On the other hand, a friend of mine also got the 9'0 Beastie at the same time as me, he is an experienced surfer who pretty much only rides shortboards but he has been having a heap of fun riding this in big surf. He loves it because he doesn't have to worry as much about damaging it, and can get in early on big waves. His feedback though on large waves is that in order to hold a line you have to push the rail in and keep your weight to the inside otherwise it will slide out.
What kind of waves is the board suited to?
For learners or average surfers I would suggest this is best for waves up to around 3 foot. Anything too much bigger and it will slide out a bit due to the fins.
That said – Daredevils or those who want to have a fun alternative board they can push to the limits like my mate can definitely use it in bigger waves!
What kind of surfer is this board best for?
Learner – for someone starting out or for anyone like me, as a board to have on hand for when friends want to go surfing with you and you want something lightweight, user friendly that they can take out and actually stand up on.
As a muck around board or fun alternative for someone looking for a longboard to test out and push the limits on bigger waves.
Conclusion
If you are looking for a good all rounder beginner board that is high quality and will peform well, the Beastie Longboard is definitely worthy of your consideration. For a beginner it will surf much like a PU longboard but with the added benefits that go with having a softboard (light, safer etc). Compared to some cheap longboard foamies on the market that don't have the same level of internal construction, these boards will not only perform better but they are more durable.
---
What are users reviews saying about the MF Softboards Beastie?
"Caught more waves and had more fun in 2-3 foot waves than I have in a very long time! It feels almost like my old fish to turn and isn't too hard to duck dive (6'6″)!"

"I have a 9ft Beastie it is a ripper, catches waves really easily, fast down the line and turns well."