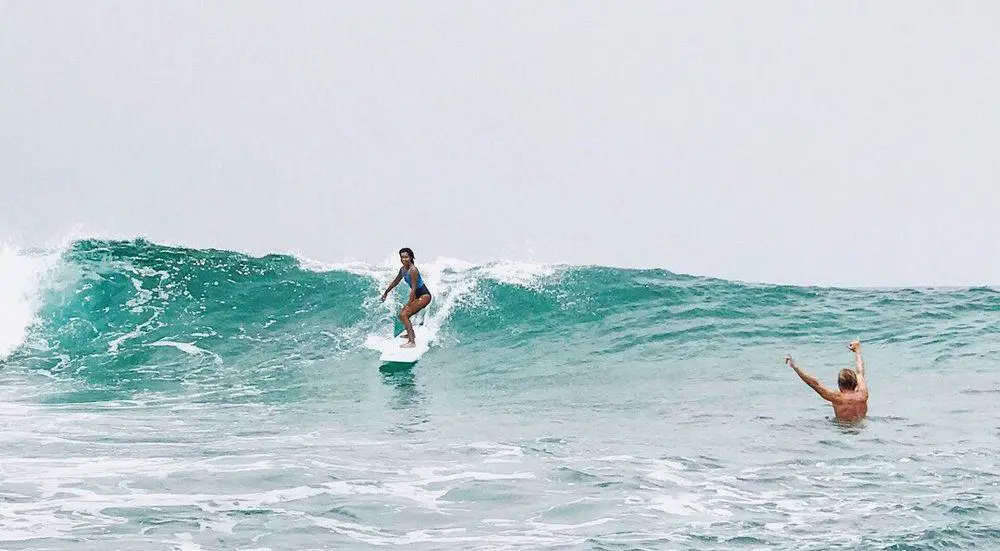 Who is Rockit Surfboards?
RockIt Surfboards began when founder Nick Naylor searching for a suitable beginner surfboard for his 5 year old boy.  There were plenty of huge foam longboards and expensive glorified bodyboards to choose from, but real shaped surfboards were not easy to come by and they were expensive.  With a background in product development and merchandising he decided to combine his passion for surfing with his business experience to provide a quality product that will spread the joy of the surfing. 
Further, environmentally sensitive production is a key part of the business starting with recycled EPS foam cores. The boards are entirely heat laminated with no harmful dyes, glues, resins or toxins used in the production process and they manufactured in a facility that uses collected rainwater. All materials used are recyclable.
"What prompted me was the pain of being a surfer and an environmentalist at heart, but also creating a product out of materials that are the antithesis of that. In other words, guilt.

We still haven't found a material that has cost and performance benefits of petrochemical-based foams, so what can be done to at least make that a bit better? When you start going down the rabbit hole and learn how something is made, you see the possibilities.

In general, EPS at the factory level is highly recyclable. I learned from an EPS manufacturer that it was pretty easy to spec recycled foam from manufacturing waste, so why wouldn't you? So I made an agreement with my factory to do so".
Rockit surfboards are high quality, affordable and are primarily aimed at beginners from kids to adults, but they are still a bunch of fun for experienced surfers as noted from customer feedback. 
---
1. Rock-It Chub Twin Fin 4'10"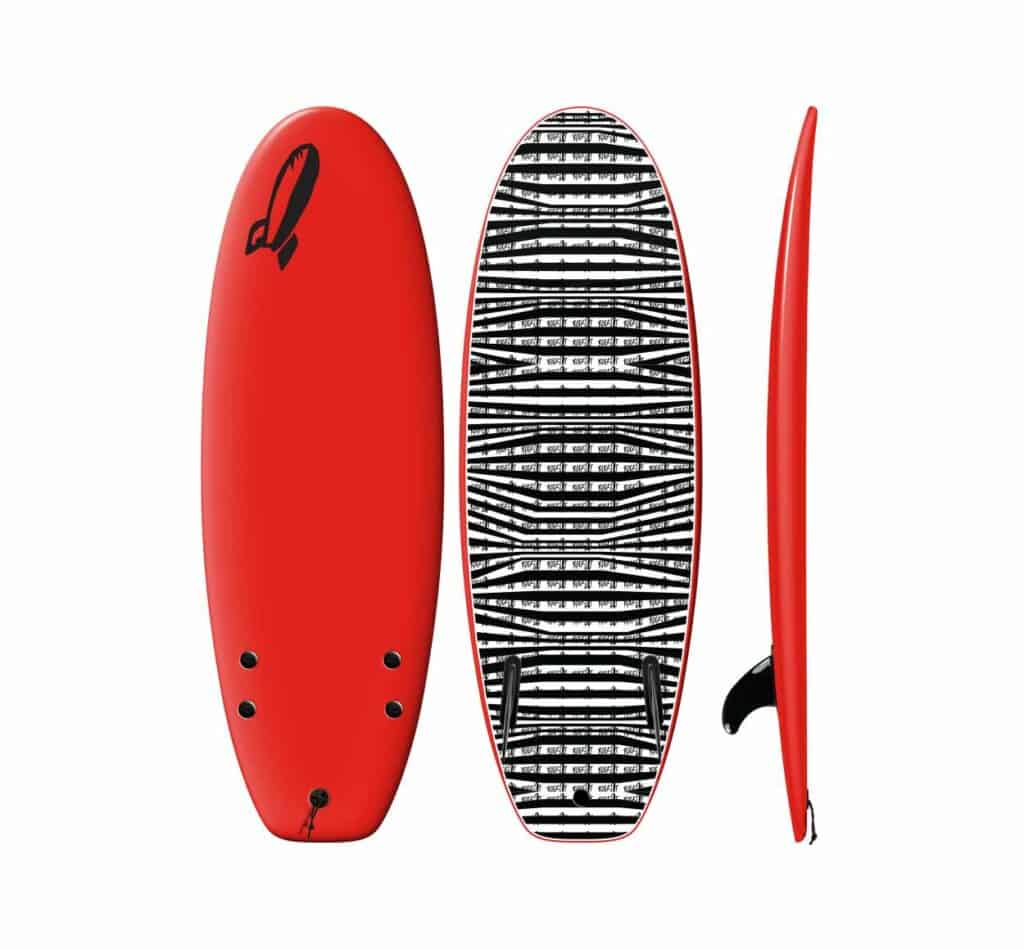 The Rock-It Chub at only 4'10" is packed with volume (35L) so it provides great buoyancy and is easy to paddle for little kids.
Construction:
Two marine wooden stringers coated with an epoxy nano-coating
Proprietary EPS foam core and a UV resistant soft top layer
12 months manufacturers warranty
User FEEDBACK: 

Great feedback from parents of 5 – 10 year old children
Quality construction
Safe
Floats really well
Sizes: 4'10" X 19.5 X 2.5" / 35L
Includes: Fins (no leash, you will need to buy separately)
Suitable for: Good for children starting out and those already starting to develop their skills
---
2. Rock-It 5'8 Albert
The Rock-It ALBERT is a great all-round surfboard that can be enjoyed by kids or adults alike and is the most popular and best selling board in their lineup. Some parents have reported they like it so much they use it more than their child they bought it for ;).
Sporting a twin-fin retro fish design which floats well and catches waves with ease.
Quality construction two wooden stringers and multiple layers of fiberglass cloth and epoxy resin wrapped around an EPS core which are vacuum and heat sealed.
Size: 5'8″ x 20.5″ x 2.5″ (35.4 L)
User FEEDBACK: 

Cheaper and comparable if not better quality than competition
Can catch waves noone else is going for 
Works well with traction pad and stomp pads 
Great for all age and skill levels 
Value for money
High quality construction
Works better than would have thought in bigger waves, not just small summer waves
Some have said better for lighter beginners (or kids), or more experienced surfers due to relatively small size
---
3. Rock-It Baby Jesus 6'0
The Rock-It 6' BABY JESÚS is a performance soft top with a rounded tail and removable thruster tri fin setup. With 50 liters of volume, it's a highly buoyant wave catching machine and great first shortboard for júnior, but as soon as it's double-over knee high Mom and Dad can rise from the dead to paddle out and show the kids how it's done!
Size: 6'0″ x 19.7″ x 2.75″ (50L)
---
4. Rock-It Shortbus 7'0″
The Rock-It Shortbus is a great allrounder and mid-length beginner board. It's small enough to easily carry around but boasts enough size and volume to float and surf most people. 
A great option for someone transitioning from a longer board or for first time learner, child or adult.
7'0" x 22" x 3" (72L)
Constructed with high quality materials and using environmentally sensitive processes:
Three marine wooden stringers coated with an epoxy nano-coating to resist water absorption, then surrounded with a proprietary EPS foam and a color-fast & UV resistant soft top layer
Recyclable
One year manufacturers warranty
User FEEDBACK:  

Quality construction and warranty 
Doesn't require much wax
Great feedback from learners
---
5. Rock-It Big Softy 8'0
The Rock-It Big Softy is designed for easy surfing. It is big, stable and easy to paddle which makes it perfect for beginner surfers or a fun option for more experienced in small surf or to change things up a little bit. 
Size: 8'0 x 22.7" x 3.3" (81L)
User FEEDBACK: 

High quality construction
Very fun board 
Well suited to beginners and kids
Safe
---
6. Rock-It Moby 9'0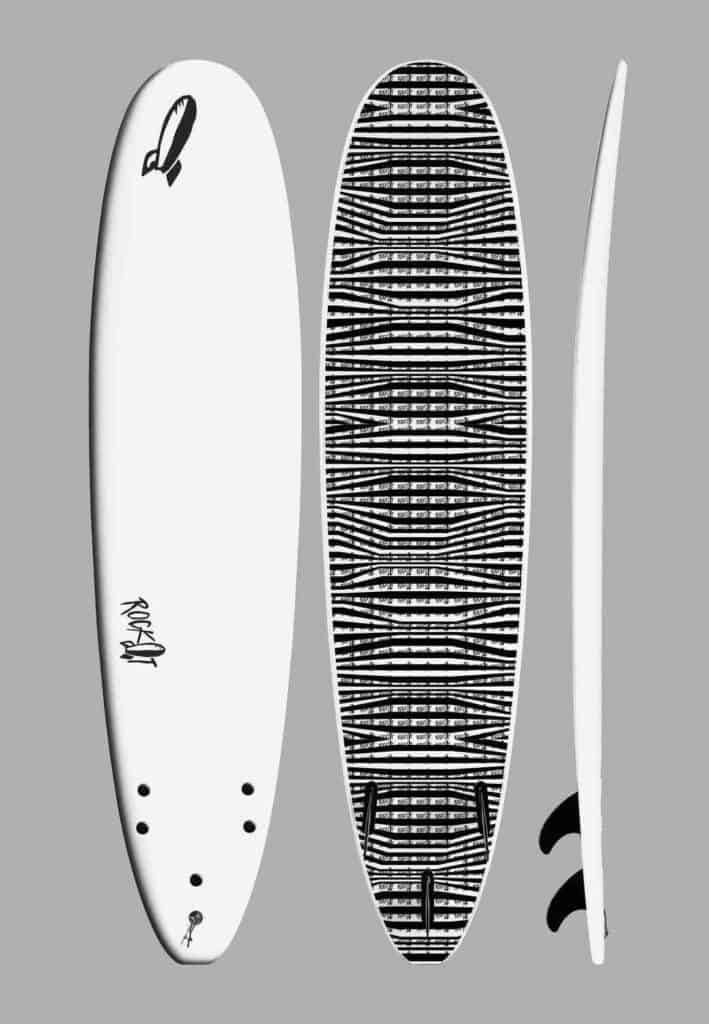 The Rock-It MOBY 9'0 longboard is a big cruiser that can catch the smallest of waves.  With high quality construction you can expect from Rockit surfboards the Moby can take some rough treatment.
Suitable for learners through to advanced. With significant volume these boards are mega buoyant and can float any weights up to the heaviest of surfers.
Size: 9'0″ x 24" x 3.5" (102 L)
---