In this guide, we're checking out one of the most vital parts of surfboard equipment – the fin. The fin is arguably the most important piece of surfboard equipment. Although, an argument can be given for the board itself.  Irrelevant arguments aside, let's get into it.
We're diving deep into all the relevant dimensions that shape a fin's design and how they affect the surfboard's performance overall. So be warned, it's going to get specific.
Types of Surfboard Fins
When it comes to surfboard fins, they aren't just neatly organized into categories. Understanding the types of surfboard fins involves understanding the different considerations that went into their design.
Surfboard fins differ based on size, shape, weight, and much more. And even when you understand the fin itself, you must consider how it's attached to the board and whether you will be using multiple fins!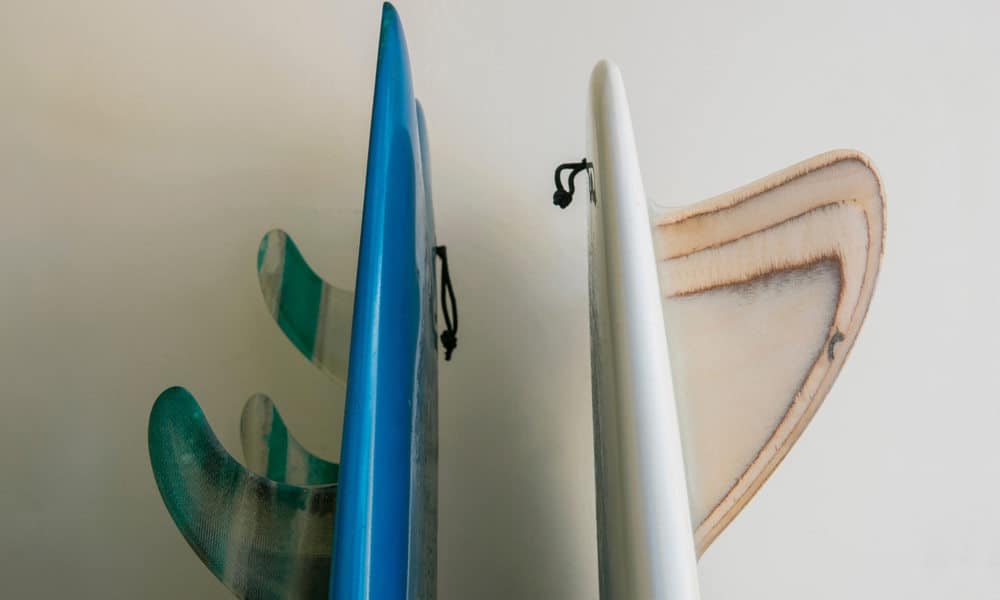 It can be complicated, but the best way to understand it is to dive right in. We'll be giving you a full guide on surfboard fin types, examine the dimensions, the most popular fin configurations, and the most popular materials. We'll also take a look at some of the more popular fins available.
If it seems complicated, well, it kind of is. However, it makes a difference in how you surf, so let's check it out:
Fin Dimensions
Understanding how each fin is shaped and measured is the most important part of understanding surfboard fins. For this reason, it's the first topic we'll cover. Here are the major dimensions which shape surfboard fins:
Overall Size
The overall size of the surfboard fin will probably be the first factor you look for because fins are sized according to your weight. The more you weigh, the larger fin you will require. And while this might differ depending on individual preferences, it is a great starting point.
Fins generally fin size ranges from XS to XL. Each fin will likely include a chart that matches size to weight, so it's best to consult this chart for each purchase.
The overall size of the fin also makes a difference in how you ride. Larger fins allow for more stability and control but sacrifice maneuverability. A smaller fin allows for sharper cuts but might be more difficult for maintaining stability in bigger surf.
Depth
Depth is another dimension that is closely related to fin size and refers to the length that the fin extends beneath the board. The longer the fin, the more stability, and control, as it provides more surface tension underneath the board.
More advanced riders (or riders of short and medium surf) might lean toward shorter fins. Shorter fins allow them to move freely and gives a sharper turning radius.
Base
The base of a surf fin is the part that attaches to your board. The shape of the base refers to its length and width. The more length and width, the more water can cut around the fin, giving you more power and drive but decreasing your responsiveness for quick turns.
Alternatively, with a shorter or narrower base, you can expect faster turns and increased responsiveness. 
Rake
The fin rake refers to the shape of the fin. More specifically, it refers to the amount of "arc" and how far back the fin bends. A fin with a higher degree of the rake can grip the water with more efficiency, which provides more stability, and larger, more gradual turns.
A fin with less rake will have more "pivot", allowing you to cut around more quickly and efficiently.
Foil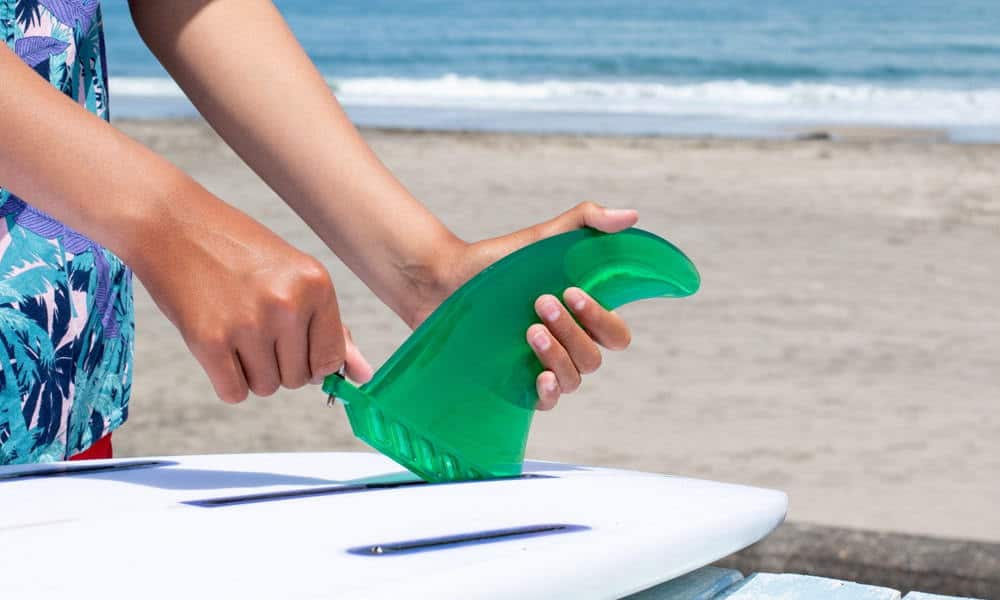 A fin's foil is a little difficult to explain without examining a fin yourself, so bear with us. The foil of a fin is its shape when you are looking at a fin from directly above it. It refers to the level, and convexity of the fin on either side. This shape affects the way the fin cuts through the water.
Generally, a foil will differ depending on the type of fin. If the fin is placed on the center of your surfboard, the foil will be evenly shaped on each side. This is also known as a "50/50".  It is so that the board can travel straight without drift. An outer fin is generally convex on the side that faces outward, with a flatter interior edge.
Cant
Cant is the angle at which the fin juts up from the board. For example, if you place your board on its back and the fin points perfectly straight up, then you have zero-angle canted fins. Typically, the center fin will have zero cant, and any fins on either side will be angled.
More cant give you the ability to cut harder through turns, but it also slows you down as it provides resistance against the water. Zero cant allows for a faster board in a straight line and more stability in a bigger wave.
Toe
The toe is the angle at which the fins point toward the stinger. Of course, the center fin will be angled perfectly straight toward the board's stinger, so only the side fins will be toed.
Side fins with more toe will be angled inward, which increases resistance as the board rides. It also allows you to use this resistance to cut easily (more maneuverability), although it will also slow you down in a straight line.
Flex
A fin's level of flex will primarily depend on the materials the fin is made with. A more flexible fin provides more maneuverability, while a less flexible fin can better cut through the water, increasing your speed.
Attachment
The final factor is not quite related to the shape of the fin, so much as how it attaches to the board. There are two primary types of surfboard fin attachment – glassed-in or removable fins.
Glassed-in fins are attached to the surfboard themselves, laminated in glass, and cannot be replaced.
Some surfers consider them more stable, but it also makes the board much less portable (and difficult to fix if the fin snaps off).
Removeable fins are the choice of most surfers today. These fins allow the surfer to customize their board based on water conditions. Boards that support removable fins have a "box" where fins can be screwed in.
The board will note the types of fins with which it is compatible. Commonly, removable fins use either an FCS (Fin Control System) or an FCS II attachment system. They're easy to swap out and install but be sure you buy the proper type of fins for your board!
Fin "Types"
Now that we've examined different ways the shape of a fin can differ, you can see why it's challenging to group fins into specific categories. With so many possible variations, there are thousands of fins available with unique functionality.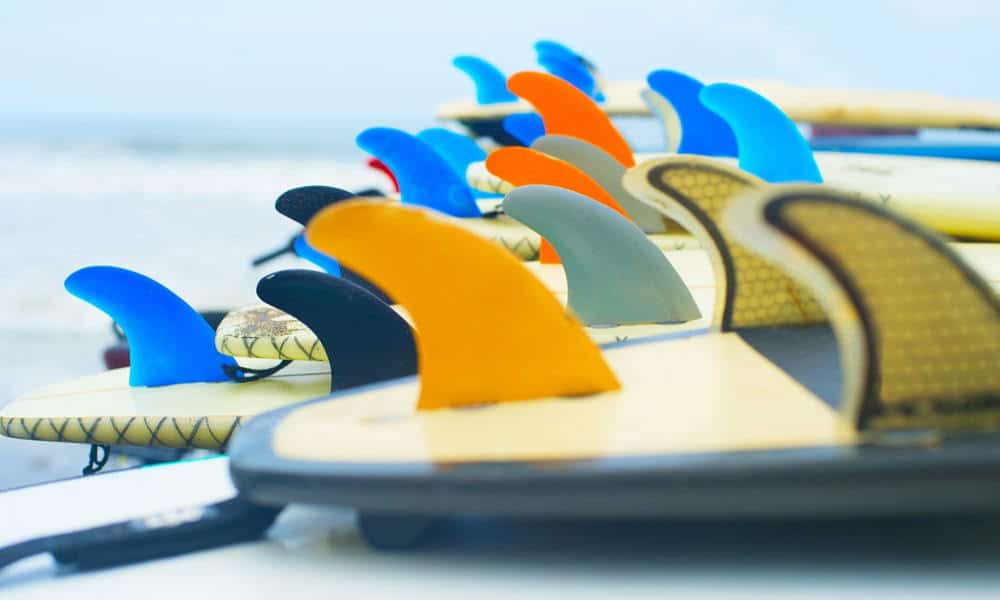 Certain fins are categorized based on their defining features. It helps to explain the fin's intended use. Popular varieties include:
Flex Fin: Many fins advertise themselves as "flex fins" – which means (obviously) that they are more flexible. These fins have flexibility, which is more suited to maneuverable, quick-turning radiuses.
Flex fins often feature a wide base and a narrower tip, but this isn't always the case. The flexibility will combine with the shape of the fin to provide a different ratio of stability vs. maneuverability. For example, a flex fin with more rake will be better suited to longer, drawn-out turns.
The Rake Fin: Rake fins have, you guessed it, lots of rake. This means that they swoop backward with more intensity, giving more surface area for more hold on the water. The result is smoother, drawn-out turns, and more stability.
Rake fins might differ in their overall shape, but they often utilize a wide base and have a good degree of flex for maneuverability.
Pivot Fin: A pivot fin is among the least flexible surfboard fins. A pivot fin is generally wide at the base and the tip, which is ideal for nose-riding. It often serves to add extra stability but also to slow down the board to stand on the nose more easily.
Fin Configuration and Setup
Many aspects of a fin's shape relate to its positioning on a board. Therefore, a proper understanding of fins requires knowledge of how they are installed onto the surfboard. There are several popular styles, which utilize one or more fins.
Common fin configurations include:
Single
This surfboard fin setup is the most basic and classic design. A single fin sits in the center of the surfboard in an upright position. Single fins provide good stability and control and are used on boards built for that purpose (such as longboards).
Single fins are great if you want the surfboard to move in a straight line predictably but are not ideal if you are aiming for more maneuverability.
Twin Fins
Twin fins are a double fin setup, with each fin mounted on either side of the surfboard (near the rail). Twin fins allow for more maneuverability than a single. They also permit the board to generate a good amount of speed. Twin fins are popular on shortboards.
Thruster (Three Fins)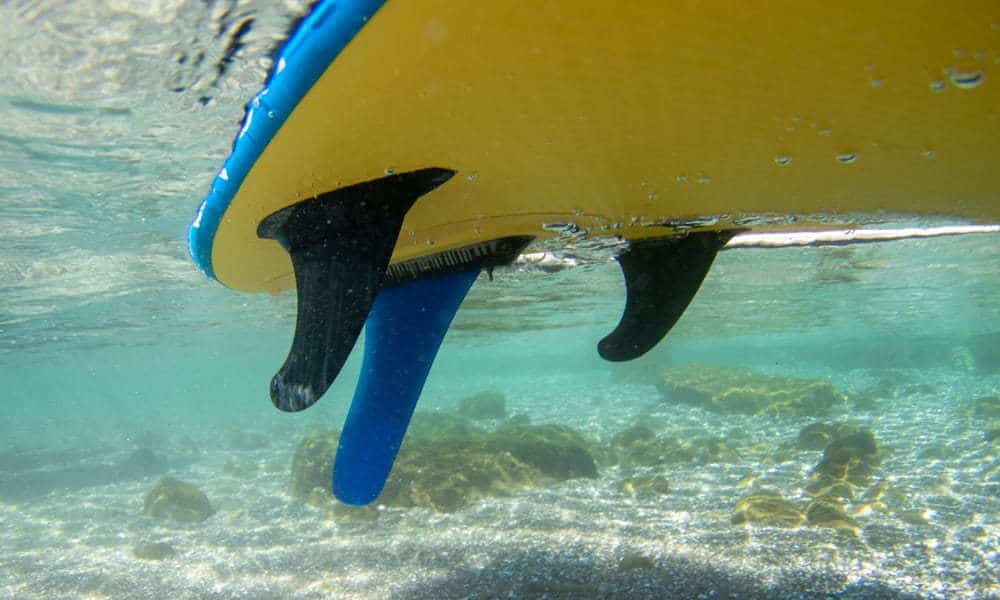 The most common fin configuration is the thruster. The thruster uses three fins (a middle fin and two near each rail) that provide a great mix of control and maneuverability. Thruster setups can differ based on the cant of the two outer fins and their degree of toe which can provide speed/stability vs. maneuverability.
Quad Fins
Quad fins utilize two outer fins and two inner fins. It increases the amount of water being channeled through the fins, allowing for even more speed and powerful drives. The fins work together to offer a better mix of stability and speed compared to most board setups. 
And More
Much like the fins themselves, there is a near-infinite number of possibilities for fin configuration on your surfboard. It is especially true when you consider that each fin can differ in terms of size, shape, angle, and more.
Many surfers will experiment to find the style that best suits their riding. They will even adjust their setup based on surf conditions and location.
Fin Materials
Moreover, surfboard fins also differ based on the materials used in their manufacturing. Most surfboard fins are made using a type of plastic or fiberglass material, or a combination thereof.
Some fins utilize more than one material. For example, some fins have lightweight cores, which allows them to sport a more lightweight design while still achieving the performance of a larger fin.
Picking Your Fin
As you can see, what might have seemed like a simple topic branched off into a staggering number of possibilities. Fins differ in size and shape, and their performance will differ based on how (and how many) you attach to your surfboard.
The good news is that there is no "wrong" answer. It's all about finding what works for you and rolling with it. Surfing is about experimentation anyways. If you aren't sure, then buy a board that can support multiple attachments, and try out different setups! You might be surprised how your surfing can improve simply by swapping out a fin.