As soft top surfboards continue to improve and with more and more high performance softboards becoming available, the humble soft top surfboard fin is no longer a basic soft fin. It used to be that the only fins on soft tops were rubber plug fins.
These days many quality soft top boards are coming standard with FCS or Futures Fin boxes. But if you're looking to do something about the standard plug fins there are now many options for soft top surfboard fin replacement which will completely upgrade the performance of your foamie including single fins, bonzer side bites or even FCS fin boxes. 
Whatever you need to know about soft top surfboard fins and fin box conversion kits, you should find it in this guide.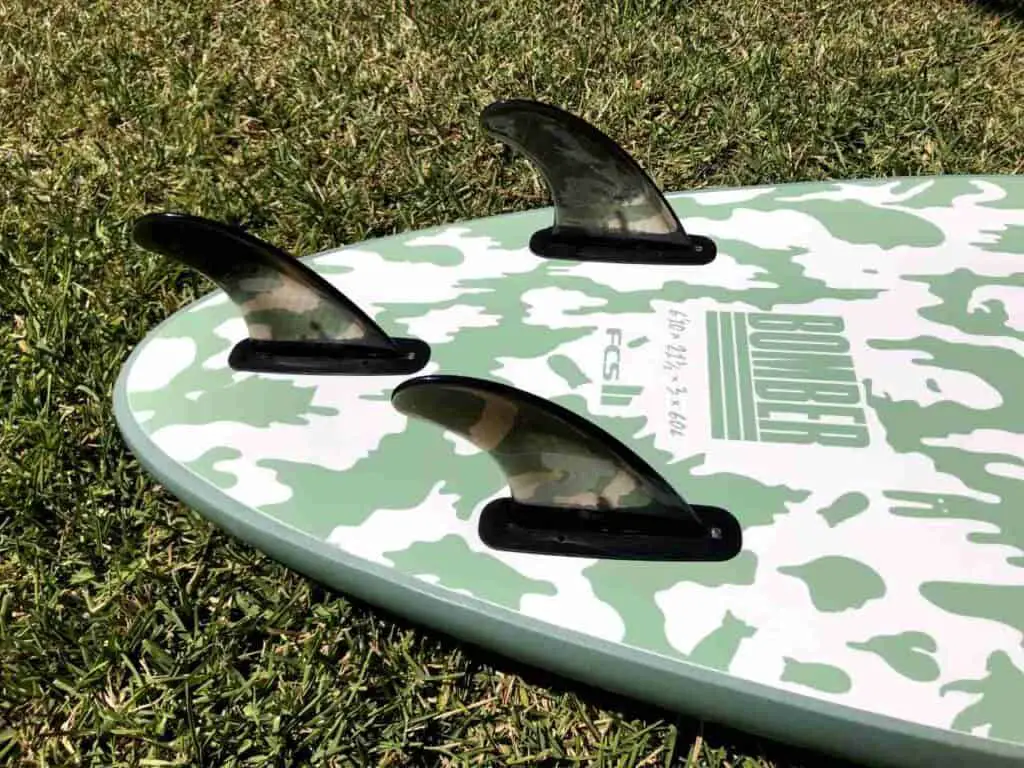 Standard Soft Top Surfboard Fin Plugs
For many entry level or beginner soft top surfboards, the stock fin setup is generally a fin plug system with plastic or rubber fins which attach to the board with a plastic screw with a "plug" end which is exposed on top (aka deck) of the softboard. 
In terms of performance these standardised fins won't get anyone with any surf skills too excited. They aren't the most secure fins nor quality but they are generally made to be softer and therefore less likely to cause as much damage if they connect with you or someone else. 
For this reason, plug fins may come out from time to time and you may find you needing a replacement. Luckily, these are easily available and here are a number of options:
Standard soft top tri-fin (3 fin) setup
Upgrade Options & Soft surfboard fin conversion Kits
Single/Centre fin – Upgrade your soft top surfboard
These can be used on longer foam surfboards to replace a smaller centre fin to give a more traditional longboard feel. Popular with converting Wavestorms and other beginner soft top boards, adding a larger centre fin is an easy way to upgrade the performance of softboards and particularly for more advanced surfers this can really change up the usability of the surfboard.
Surfers report more speed, better control in bottom turns and increasing ability to hold a proper line and even to do cutbacks so well worth considering if you're looking to get more out of your soft top.
It can be used as a single fin to replace three fins, or used in conjunction with 2 side fins. 
Some of these plug style centre soft top fins have 3 plug points whereas your standard softboard fin will likely only have two plug points in the board. Therefore it will require a third hole to be drilled into the board (with exception of the South Bay Board Co centre fin with only 2 plug points so no drilling required).
South Bay Board Co claims their fins are compatible with most soft top boards including Wavestorm, Liquid Shredder, Catch Surf, INT, CBC, Wave Bandit, Stormblade, Alpen Flow and others.
See these options:
Side bite fins
Another option to change up your soft top is to replace the side fins with bonzer side bites.
These can add extra drive and push on the wave to a single fin option like we have noted above or alternatively use only the side bites for an almost finless surfing experience with a touch more hold, which is especially needed in larger waves. 

FCS Soft Plug Fin Box converter Sets
Utilising the existing plug points on your soft top surfboard – these fin sets simple screw into the same holes and provide FCS fittings so you can install whatever FCS surf fins of your choosing.
FCS and single fin compatability with simple installation (stick on fin box)
If you're looking for a fin install that doesn't require use of any holes or plug points on the surfboard these fins from air7 could be for you. Available in a couple of options including a larger fin (centre/single fin) box and standard FCS tri fin boxes.
The larger centre fin box allows you to place a larger centre fin in further forward position that the standard plug points that you're soft top will have (as demonstrated in the video below). 
Installation is as simple as applying the included sticker base to the board and applying the fin box which has a self adhesive, putting some weight on it and letting it set for 24 hours for maximum adhesion. 
---
Hope you have found this soft top surfboard fins guide helpful. If you've got any questions please leave a comment and we'll try and help out!