Surfing is a popular sport that requires skill, balance, and understanding of the waves.
As surfers gain experience, they become familiar with the etiquette and rules essential for enjoying the sport and maintaining safety in the water.
However, there is a group of individuals who may not have the experience or knowledge to adhere to these unwritten laws – the surfing kooks.
A kook, in surfing terms, refers to an amateur surfer who thinks they are far better at surfing than they truly are. Kooks can disrupt the flow and harmony in the water, unknowingly breaking surf etiquette and frustrating experienced surfers.
Despite the negative connotation linked to the term, it is often used playfully to tease beginners who are still learning the ropes of the sport.
To an outsider, it may be challenging to identify a kook, but there are telltale signs that set them apart from the skilled surfers.
Understanding the behaviors and characteristics of surfing kooks can help them avoid becoming a nuisance in the surf community and progress in their skills.
This article will delve into the world of surfing kooks, exploring their actions and providing guidance on how to prevent falling into this category.
What is a Surfing Kook
Surf Etiquette Explained
Surf etiquette is a set of rules and guidelines that ensure safety and respect for all surfers in the water.
It includes understanding the right of way, not dropping in on other surfers' waves, and paddling out the correct way.
Adhering to surf etiquette is essential for maintaining a harmonious atmosphere in the lineup and avoiding accidents or conflicts.
Common Kook Behaviors
A kook is an amateur surfer who may act or think they are better at surfing than they actually are.
Kooks often display behaviors that disregard surf etiquette and show a lack of understanding of the sport.
Some common kook behaviors include:
Dropping in on someone else's wave
Paddling for an easy wave and falling
Not knowing how to join the lineup properly
Improperly waxing their surfboard
These behaviors can be frustrating for experienced surfers and may lead to labeling the individual as a kook, which is considered a derogatory term in the surfing community.
Kooks vs Experienced Surfers
In contrast to kooks, experienced surfers display a deep understanding of surf etiquette and respect for their fellow surfers.
They are aware of the rules of surfing and make conscious efforts to follow them. Experienced surfers are more skilled in wave selection, take-off, and riding techniques, which sets them apart from kooks.
Key differences between kooks and experienced surfers can be summarized as follows:
| Kooks | Experienced Surfers |
| --- | --- |
| Disregard surf etiquette | Follow surf etiquette |
| Limited surfing skills | Advanced surfing techniques |
| May boast about abilities | Humble and respectful |
| Lack of understanding of surf culture | Well-versed in surf culture |
It is important to note that being a beginner does not automatically make someone a kook.
The key difference is the lack of respect for surf etiquette and an overconfidence in their abilities.
Beginners can avoid falling into the kook category by learning and abiding by surf etiquette and respecting their fellow surfers in the lineup.
Mistakes Made by Kooks
Paddling and Lineup Errors
Kooks, or beginner surfers, often make mistakes while paddling and positioning themselves in the lineup.
Some common errors include:
Paddling too slow or fast: Kooks might struggle to find the right pace, either missing waves or getting caught in them.
Bad positioning: Beginner surfers often end up too far inside or outside the lineup, making it difficult for them to catch waves.
Poor wave selection: Kooks may try to catch any wave that comes their way, failing to recognize unsuitable or dangerous conditions.
Failing to observe lineup etiquette: In crowded lineups, beginners may not understand the importance of waiting their turn and giving priority to other surfers.
Dropping in and Right of Way
Another common mistake among kooks is disregarding the proper right of way rules when catching waves. These errors can lead to accidents or collisions with other surfers.
Examples include:
Dropping in on another surfer: Kooks may not recognize when someone has priority on a wave, resulting in them catching a wave that another surfer is already riding.
Snaking: This behavior, where a surfer paddles around another surfer to steal a wave, is not only frustrating but also dangerous.
Misunderstanding priority: In some cases, kooks might fail to grasp the concept of right of way and how it applies to the wave they are trying to catch.
Dangerous Conditions
In their eagerness to get out and surf, kooks may neglect important safety precautions or ignore signs of dangerous conditions.
Some examples are:
Surfing in crowded areas: Kooks are often attracted to popular spots, but their lack of skills can put other surfers at risk.
Going out in big or powerful waves: Without proper experience and skills, beginners shouldn't paddle out in challenging conditions.
Ignoring currents and tides: Kooks might not understand the importance of knowing local conditions and risk getting swept away or stranded.
Ditching their boards: In their panic to avoid a wipeout, new surfers may ditch their boards, which could endanger other surfers nearby.
By being aware of these common mistakes and working to improve their skills, beginner surfers can avoid the label of "kook" and become more confident in the water.
Surfing Culture and Kooks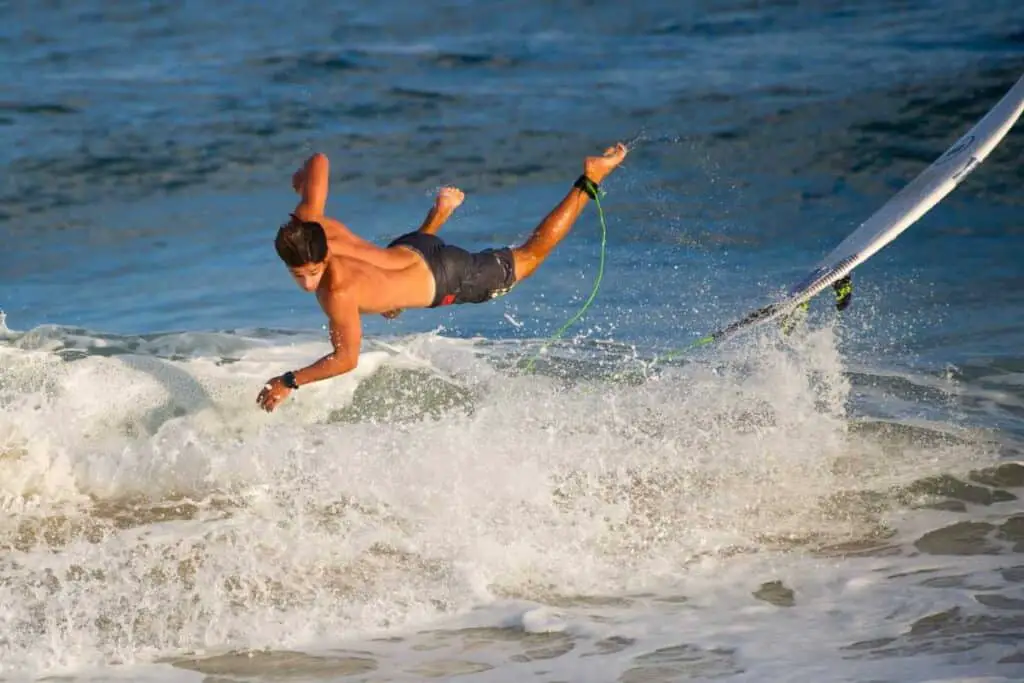 Groms, Posers, and Novice Surfers
Surfing is a diverse community featuring people of varying skill levels.
At one end, groms are young, eager surfers who often possess innate talent for the sport. They immerse themselves in surf culture while honing their skills, sometimes surpassing experienced surfers.
Posers, on the other hand, give off the impression of being surfers but don't have the actual skill or experience.
They may imitate surf etiquette, wear surf apparel, and discuss surf lingo and slang without truly understanding the lifestyle. Unlike groms, posers can frustrate and disrespect the surfing community by monopolizing conditions, showing a lack of safety, or attempting to claim priority on waves rather than respecting the proper order.
Novice surfers are individuals who are new to the sport but actively work to improve. Although they might struggle, the difference between them and posers lies in their genuine desire to learn surf etiquette and progress in the water.
Surf Lingo and Slang
Within surf culture, slang terms can designate skillsets and commitment levels:
Kook: denotes a disruptive, disrespectful, or clueless surfer who may be a poser, a novice, or even an experienced surfer with bad manners. A kook might prioritize style over substance, neglect rules, or exhibit carelessness and ignorance in a variety of surfing situations.
Pro surfer: refers to a professional or highly skilled surfer capable of tackling challenging conditions with grace and ease. This individual is well-respected for their knowledge, experience, and understanding of surf etiquette.
Apparel and Attitude
The attire a surfer wears can be significant in determining their status within surfing culture.
Key differences include:
| Gear | Pro Surfer/Kook | Novice/Grom |
| --- | --- | --- |
| Board | Standard surfboard, typically made of fiberglass, tailored to an individual's ability and conditions | Foamie or soft-top surfboard, ideal for beginners seeking safety and stability |
| Wetsuit | Quality wetsuit designed to regulate body temperature in colder conditions | Low-cost wetsuit often aiming for style over function |
| Accessories | Practical and functional gear (leashes, fins, and board bags) | Often flashy, unnecessary, or ridiculous accessories |
A surfer's attitude can also distinguish their position within the community.
Pros and groms take the sport seriously, practicing continuously and respecting surf etiquette. Kooks, however, generally disregard rules and lack consideration for others in the water, leading to the label of "kook" in the surf culture.
Advice for Beginner Surfers
Selecting the Right Equipment
For beginners, choosing the right equipment is crucial in enhancing their surfing experience. Start by selecting a surfboard that is appropriate for your size and abilities.
Generally, novice surfers should opt for a longer, wider board with more volume for added stability in the water.
Some other essential equipment includes:
Fins: Ensure your board has the right fin setup for your skill level and surf conditions.
Wetsuit: Invest in a quality wetsuit that is suitable for the water temperature in your surf spots.
Leash: A leash keeps the board attached to your ankle, preventing it from drifting away in case of a wipeout.
Improving Surf Skills
To improve as a surfer, you'll need to focus on these key aspects:
Paddling: Master the technique of paddling to efficiently reach the lineup and catch waves.
Standing up: Learn the proper technique to quickly and smoothly stand up on the board without losing balance.
Wave selection: Develop the ability to identify the right waves to ride based on your skill level.
Remember that practice makes perfect, so be patient and don't get discouraged when progress seems slow.
It is essential for beginners to understand their limits and gradually work on building their stamina and skills.
Following Surf Etiquette
Respecting surf etiquette keeps you and other surfers safe and ensures an enjoyable experience for everyone.
Here are some basic guidelines to follow:
Always prioritize safety for yourself and others.
Don't paddle out straight through where surfers are riding.
Look both ways and in front of you before standing up on a wave.
Respect the lineup and don't "snake" other surfers (cut in front of someone who has priority).
By heeding this advice, beginners will be on their way to becoming skilled and well-rounded surfers, enjoying their time in the water while respecting the rules and the environment.
Miscellaneous Tips
Avoiding Hazardous Behavior
When surfing, it's crucial to avoid hazardous behaviors both for your own safety and to prevent being labeled a kook.
Some behaviors to avoid include:
Snaking: cutting in front of another surfer when they have the right of way
Paddling for a closeout wave: attempting to catch a wave that is quickly shutting down
Turning recklessly: making sudden or unpredictable turns that put others at risk
Remember, the surfing community values respect and etiquette, so avoiding these actions can go a long way in gaining acceptance among experienced surfers.
Whitewater Rollers and Channels
Whitewater rollers are sections of turbulent, broken waves that can make paddling out challenging for beginners.
To navigate them more effectively, try the following tips:
Look for channels: areas with less wave action, usually indicated by deeper water or absence of breaking waves. Paddle along the channels to conserve energy and enter the lineup more easily.
Use both arms simultaneously: when paddling through whitewater, utilize both arms in a synchronized manner, which provides more power and stability.
Proper Surfboard Care and Maintenance
Taking proper care of your surfboard is essential to avoiding the kook label and ensuring your board lasts longer.
Here are some important steps to follow:
Avoid leaving your surfboard in direct sunlight for extended periods, as it can lead to delamination and other heat-related damages.
Rinse your board with fresh water after each session to remove any salt and debris.
If you store your surfboard for a longer period, wrap it in a protective cover or bag to prevent potential dings or scratches.
Regularly inspect your board for signs of wear or damage, and address any issues promptly to prevent escalating problems.
By following these tips and practicing proper surf etiquette, you will enjoy your time in the water and minimize the risk of being labeled a kook.
Frequently Asked Questions
What is a kook in Hawaii?
A kook in Hawaii refers to a beginner surfer who lacks the necessary skills and knowledge of surf etiquette. Kooks typically struggle with paddling, falling frequently, and often violate the unwritten rules of the lineup, causing frustration among more experienced surfers.
What does kook mean in surfing?
In surfing terminology, a kook is a novice or inexperienced surfer who displays poor surfing skills and etiquette. Kooks often do not understand the basic rules of the lineup, which may lead to dangerous situations or conflicts with other surfers.
What is a Pogue in surfing?
A Pogue in surfing is a term used to describe a local surfer from a less privileged background. It primarily refers to surfers from the Outer Banks of North Carolina, where lower-income communities are often referred to as "pogues." It is used to describe surfers who are talented but may lack resources or support to pursue surfing as a profession.
What is a kook in Australian slang?
In Australian slang, the term "kook" retains its meaning as an inexperienced or unskilled surfer. However, it can also be used more broadly to describe someone who is clueless or awkward in other activities or social situations.
What's the origin of kook?
The word "kook" is believed to have originated from the term "cuckoo," referring to the bird. In slang, "cuckoo" is used to describe someone who is a bit nuts or slightly insane. The term "kook" has since been adopted in surfing culture to characterize inexperienced surfers who appear clueless or display unusual behavior in the water.
What is a grom in surfing?
A grom, short for grommet, is a young surfer, typically under the age of 16. Groms are enthusiastic and eager to learn, often displaying great potential in the sport. Unlike kooks, groms are not necessarily inexperienced or seen as negative; they are young surfers eager to improve their skills and knowledge within the surfing community.