Your surfboard's fins influence so much the way you ride. Fins cut through the water to influence your board's speed, manoeuvrability, power, and more. To better understand how this works, you need to understand fin placement. We'll give you a rundown of each of the most popular styles and give some more general info on how a surfboard fin works. 
Surfboard Fin Placement Variables
To understand why fin placement is important, it helps to look at how each variable affects your riding. Of course, because fins can be all shapes and sizes, and placed at different angles, widths, and positions, there are a nearly infinite number of fin placement possibilities. For this reason, it's best to break it down.
Here are some of the most important variables to consider in your fin setup:
Spread vs. Compact
The first variable to consider is how closely (or far apart) you place the fins on your surfboard.
With all other variables being equal, a tighter fin cluster will result in added maneuverability, allowing you to make tighter turns and quicker cuts. For this reason, this style of placement is popular for shortboard riders or more advanced riders.
A more spread-out fin cluster provides more stability and control. It results in a more drawn-out turn radius and gives the stability necessary for larger waves. This stability results in a faster surfboard in a straight line. It tends to be a more popular option for longboard riders.
Forward vs. Neutral vs. Back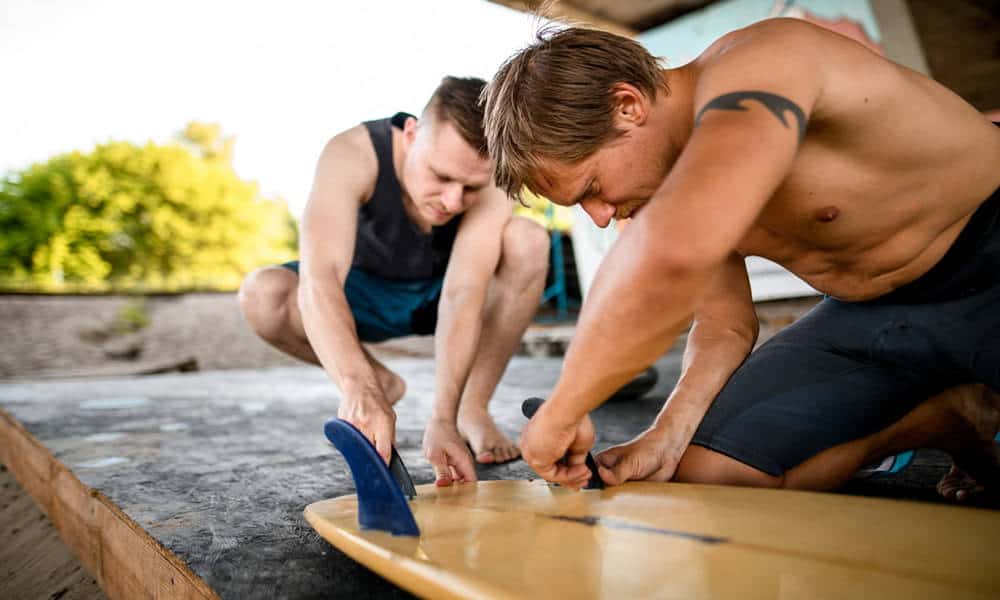 Another important variable is how far forward or back you place the fins. A rear fin which is placed further back on the board, holds the water better, drawing it toward the base, providing more stability and drawn-out turns.
Fins that are placed further forward on the board allow for looser turns and are quick turning. They are considered ideal for smaller waves and shortboards.
Fins with a more neutral position provide a solid mix of both. You'll get a good blend of control and stability, making it ideal for a broader range of conditions. It is the choice of most riders.
Cant
A fin's cant refers to its angle and how far it "leans" from the center of the board. For example, a fin that juts straight up from the board has zero cant.
More cant on your fins means that they contact more water, giving you more "hold", and more responsiveness for sharper turns. On the contrary, fins with less cant (straight up-and-down) provide more stability and generate more speed in a straight line.
Toe
The "toe" refers to the inward angle of the fins and how they point in toward the stinger.
Fins with more toe-in contact a greater surface area as they move, which produces more drag and gives you the ability to make sharper turns. Fins with less toe-in can cut through the water more quickly, but also give you decidedly less of a turning radius.
Surfboard Fin Placement Styles
Now that we've outlined the main fin placement variables that can influence your surfing, let's examine how most surfers set up their fins. These fin placement styles are among the most popular options, and the one you choose is influenced by the waves you ride, as well as your preferences.
Popular Styles
Single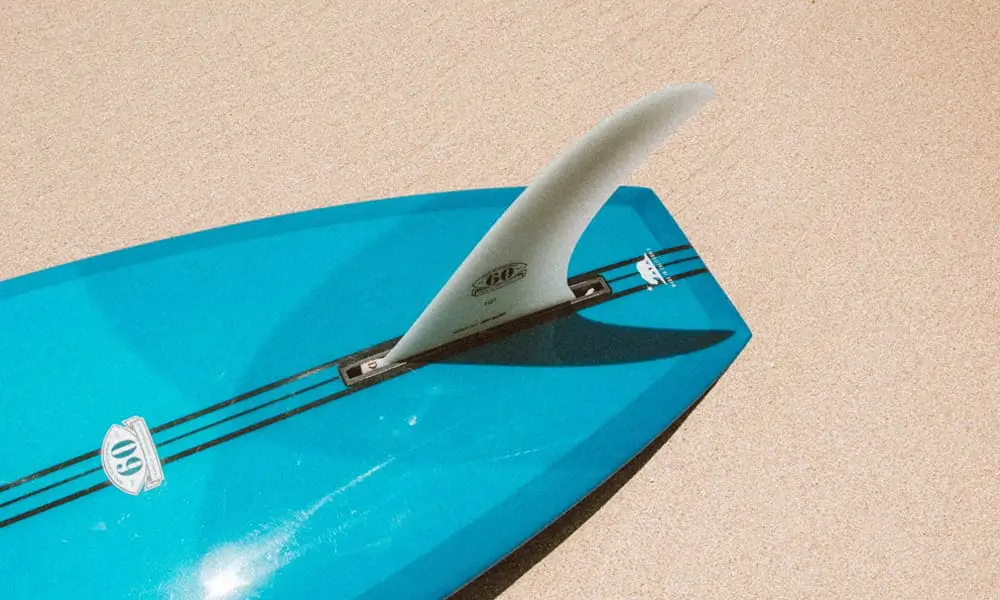 Traditional Longboards tend to have a single fin setup. A single fin setup provides ample control and stability in a straight line. Due to the lack of any side fins, this setup is not ideal for turning and perform surfing moves like cut backs – it takes some skill and experience to turn a single fin with style. It's mostly found on older surfboards and longboards.
Dual / Twin Fins
Dual fins are meant to emphasize loose turns and maneuverability. Due to their lack of a center fin, they don't provide greater stability and are better suited for short-medium waves. Shortboard riders generally look for these types of fins.
Thruster / Tri Fins
A tri-fin setup, also known as a Thruster fin, is the most popular fin setup today. A Thruster provides a great blend of stability and control. The outer fins are usually toed-in to allow for looser turns, which may be combined with extra cant. The center fin provides an extra degree of stability not found on a dual fin setup.
Overall, a Thruster gives an excellent mix of maneuverability and stability. It is sought after on all board types and for all skill levels.
Quad Fins
A quad fin setup is, you guessed it, a setup that utilizes four fins. It has become quite popular for shortboard surfers. The outer fins provide greater control or more looseness, depending on their cant and toe-in.
The interior fins are great for generating speed and help keep the board more stable. It's a wonderful all-around setup that is popular for short-wave riders.
And More!
As you can probably imagine, there are many more options available. All the variables above combine to create endless possibilities. If you want to experiment yourself, consider a surfboard with a 5-fin setup. These boards allow you to experiment with many different fin placements, including single, dual, thruster, quad, and more. 
Putting it All Together
Even within the above styles, there are so many ways to customize your fins to your preferences. As a surfer, it's all about experimentation. Tweak your fins until you find the ultimate setup for your riding!