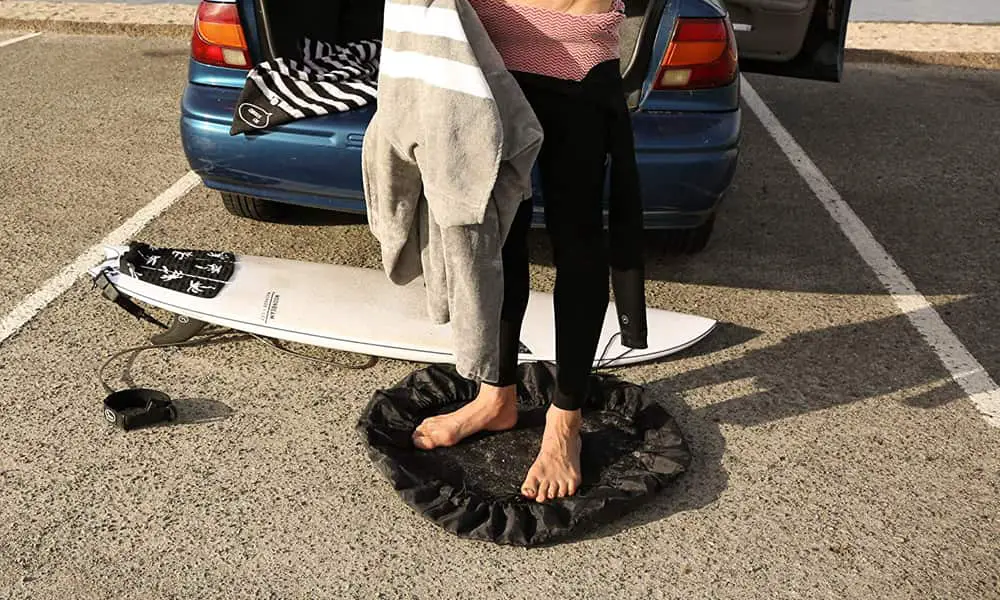 There are essential pieces of equipment when it comes to surfing: the board and a wetsuit. Though, it's debatable whether a wetsuit is essential. Plenty of surfers get by just fine without one.
Then there are accessories. Things that are nice to have but not necessarily essential. But who draws the line between necessary and not? It depends on who you ask, but one thing is for sure, if you truly love something, it becomes something you can't live without. A necessity.
Sometimes you find things that you didn't know you needed and for us, that's wetsuit bags and change mats. It used to be that if you wanted a wetsuit bag and a change mat, you had to buy each separately but lucky for you, many change mats now double as wetsuit bags. It's up to you to decide what are must-haves for your adventure and what aren't. It's up to us to help you make the right decision, so let's take a look at some wetsuit change and mat bag combinations that we love.
Wetsuit Bags and Change Mats
After a long surf session in the water, there is no better feeling than peeling of that constricting wetsuit. It sometimes can't happen fast enough. Of course, that might be a bit of an exaggeration, we all love our wetsuits, but we can all probably relate to the feeling.
The struggle is real when it comes to changing out of a wetsuit. Changing on the beach means it's going to get covered in sand, which isn't just messy, but potentially damaging to the suit itself. Besides, who wants to be tracking all kinds of sand into their car.
If you decide to bypass the beach and go straight to the car, changing on the pavement in the parking lot will eventually lead to damage to your wetsuit. It may not happen the first time, it may not even happen the tenth time, but it will eventually happen.
To avoid any potential damage to the suit you invested in, or to stop having to constantly clean the sand out of that suit and the back of your car, you want to invest in a change mat. But why not take it one step further and get one that also doubles as a bag. A change mat that doubles as a bag not only contain any mess and keeps it to a minimum after you have changed, but it can also protect any belongings that you have brought to the beach with you while you surf.
Designed by a professional surfer and vlogger from California, the Ho Stevie! A Wetsuit Change Mat and Waterproof Bag is a high-quality, no-nonsense bag that makes changing out of your wetsuit easy and mess-free. Simply open it up and lay it flat on the ground for a convenient place to stand while changing.
Once you're out of your suit, you just have to pull the drawstrings tight, and it turns into a handy carry bag that is lightweight and waterproof, containing the wetness and eliminating the aggravating mess in your car.
The Northcore Grass Change Mat/Bag stands out as one of the best thanks to its quality construction and incredible durability. It uses heavy-duty water-resistant polyester that will stand up to years of use and abuse.                         
With heavy-duty handles and drawstring, this mat easily converts into a wetsuit bag that is small, lightweight, and easy to transport.
What we love the most about this wetsuit change mat/wetsuit bag combination is the 6mm thick artificial grass bottom that is comfortable on the feet and protects from the hot sand or pavement you may be changing on.
Originally, we were concerned that the artificial grass may hold on to sand more than other wetsuit change mats do, but we were pleasantly surprised with how easy it is to clean. Just wash it out by hand with a bit of water, and let it air dry.
The Ocean and Earth High N' Dry Collapsible Wetty Bucket may not be the most compact change mat/bag combination, but the collapsible design still ensures that it is easy to store when not in use and large enough to stand in and get out of your wetsuit.                    
This mat/bucket combination is strong, durable, and waterproof. The unique welded seams are tear-resistant and hold up to an incredible amount of weight and pressure, meaning you can fill the bucket with water without the worry of it splitting at the seam.
The bottom of the wetsuit changing bucket features a removable 55mm foam pad that is not just easy on your feet when changing but also disperses water and helps with drainage while you are drying off.
Once you are finished changing and ready to go, the extra-long adjustable shoulder straps make carrying your gear easy and comfortable.