Have you been searching for the perfect flick for family movie night, or do you need a fun film to entertain the little ones? A surf movie is a perfect solution. It's sure to be packed with adventure and lots of laughs. What's more, most sports and surf movies are full of valuable life lessons for children of all ages.
To help you in your search, check out our list of the best surf movies for kids below. It's not always easy to know which movies are appropriate for very young kids, so we broke it down for you below. We included options for kids and very young children as well as entertainment that the whole family can get in on for surf movie night.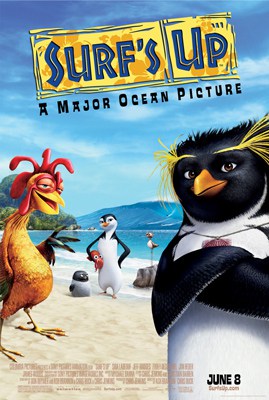 This feel-good surf flick is a favorite among kids and parents alike. Centered in the Antarctic and the jungle, the animations are stunning. The soundtrack is packed full of hits from Lauryn Hill, Pearl Jam, and The Romantics. Plus, it features the voices of Shia LeBeouf and Zooey Deschanel, and they don't disappoint.
Aside from the amazing production value, the storyline is equally as entertaining. Join Cody Maverick as he heads to Pen Gu Island to win the biggest surfing contest in penguin history. What starts as him trying to beat the current champ, Tank Evans, soon turns into something far greater than that. Cody meets a wise old surfer named Geek, who helps show him that the friendships you build throughout the journey mean more than any championship title. So, if you're looking for a surf movie that teaches you important life lessons without being too sappy, then look no further.
IMDB Score: 6.7/10
Rating: G
Length: 1hr 25min
If you're searching for fun surf movies for kids, you can't miss this Scooby-Doo classic. It's a wildly colorful animated film centered around another surfing competition. We recommend this movie for all viewing ages. Yes, parents, you might even find yourself hooked too. One fan raves, "This is the best Scooby-Doo ever made! Still as fun and exciting as when I was a little child!"
The plot focuses on Shaggy, Scooby, and the gang. They're heading to Hawaii to watch the Big Kahuna of Hanahuna Surfing Contest. When they arrive, they become friends with the previous surfing champion named Manu. Then, all of a sudden, Manu's girlfriend Snookie is kidnapped, and it's up to the crew to find her. Little do they know that the evil Wiki Tiki spirit has other plans. He's angered by the fact that the mainlanders are invited to the surfing contest, so he sends his evil Wiki Tiki demons after them.
IMDB Score: 6.4/10
Rating: G
Length: 1hr 14min
If your child is a Barbie fanatic, they're going to love this surf film. Featuring both A Mermaid Tale and A Mermaid Tale 2, this 2-movie collection is packed with adventure in a gorgeous underwater world. These are the perfect surf movies for kids of all ages, including very young children.
In A Mermaid Tale, Barbie stars as Merliah, a Malibu teen who discovers she's a mermaid during a surfing tournament. In this heartfelt adventure, Merliah must save her mother and the Oceana kingdom with the help of her new dolphin friend and two other mermaids, Xylie and Kayla.

During Barbie in a Mermaid Tale 2, Merliah heads Downunder to Australia for a big surfing competition. Joining her along for the ride are both her human and sea friends from the first movie. Just when things are going great, the evil mermaid Eris has come to take over the throne in Oceana. Merliah discovers the importance of embracing both the human and mermaid world while saving the underwater kingdom once again and giving it her best shot at winning the surfing competition.
IMDB Score: 6.3/10, 6.1/10
Rating: G
Length: 1hr 15min, 1hr 13min
Are you in the mood for a surfing movie about faith and overcoming adversity? If you haven't seen it yet, this is one you won't want to miss. This movie has a powerful message for all ages; however, parental guidance is recommended for children under 8 years old.
Watch the inspiring journey of a gifted surfer, Bethany Hamilton, who struggles to get back into the ocean after losing her arm in a shark attack. Bethany has to trust her faith in God as she relearns how to do everything with one arm, including getting back into big wave competitive surfing. If she can overcome her new fear of the water, that is. Overall, the shark attack scene isn't very graphic, and the movie is more inspirational than anything. It has a great lesson that shows children to never give up.
IMDB Score: 7.0/10
Rating: PG
Length: 1hr 52min
Fans of Surf's Up were delighted when the sequel finally came out ten years later. They were, however, a bit disappointed that it's not a continuation of the story from the first film. It's one of the main reasons the ratings suffered, although the storyline is still just as good. Regardless, this surf movie is for kids and one that the whole family can get in on. Just don't be thrown off – the voice of Cody Maverick is now Jeremy Shada instead of Shia LeBeouf. Real-world WWE wrestlers make up the rest of the voiceover cast.
The plot focuses on one of our favorite surfers, Cody Maverick, and a group of extreme surfers, the Hang 5. The crew heads to the Trenches to surf some of the biggest waves in the world. Along the way, they encounter bullies, 50ft waves, wipeouts, and nearly drown. But not to worry, like most movies for kids, there's a happy ending.
IMDB Score: 4.6/10
Rating: G
Length: 1hr 24min
Happy Watching!
We hope you enjoy family time watching these fun surf movies for kids. Each film made our list because of the high entertainment value and the life lessons learned for whoever watches. Do you have any other favorite surf movies for kids that you didn't see on this list? We'd love to hear about them! Send us a message or let us know in the comments below so we can share it.