Softlite Surfboards are perhaps the dominant force in soft tops within Australia. Their colourful boards really stand out and I personally see them wherever I go. 
With a variety of ultra user friendly boards (namely the Pop Stick and Chop Stick) that actually surf amazingly and a more recently added high performance range, they've got a lot to offer. 
In this review we take a look at all the boards that make up the Softlite range.
---
SOFTLITE SURFBOARDS – MAD LABS SERIES (HIGH PERFORMANCE SHAPES):
The Softlite Mad Lab Range is a high performance range of softboards that have been designed to feel as close to riding a fibreglass board as possible.
There are a few standout features which characterise the range:
ROLLED PARABOLIC PE RAILS: hand shaped softer rails near the nose tapering down to sharp harder edge rails at the tail, similar to regular shortboards.
MESH INFUSED SLICK BOTTOM: The Reinforced mesh is infused into the Dura HD Slick which provides a frame of strength, stiffness and recoil, making it easier to pump from rail to rail with the right amount of tension.
---
1. Bio Hazard 5'0″
A small wave all-rounder which goes well in anything, but is made to perform best in junky summer conditions.
Size:
5'0″ X 20 1/4″ X 2 1/4″ (32L)
Features:
Significant width for its length for paddle power and stability
Wide tail allows easy speed generation
Flat rocker to maintain speed through flat sections of wave
Double stringer
Suited to:
Surfer who wants a board for crowded conditions
For younger surfer for learning
beginner riders weighing 20-30kg
Experienced surfers up to 65-70kg
User FEEDBACK:

"So easy to get speed in the weakest of waves. Frothing!"
---
2. Beaker 5'6″
Check out our in-depth review of the Softlite Beaker HERE
A high performance twin fin fish shape with a high wide point for great paddle power and speed through flat sections. Overall, the template is still quite straight though, making it super fast if your surfing hollow waves and perfect for flowing turns.
Not an ideal board for beginners but could be ridden by learners weighing 25-40kg.
Will float experienced surfers up to 80kg.
Size: 5'6″ X 20 7/8″ X 2 3/4″ (38L)
---
3. Bunsen Burner 5'10"
Softlite's take on a high performance shortboard.
Size: 5'10" X 20 7/8″ X 2 3/4″  (38L)
Features:
With a high wide point it is easy to paddle and works in both small and larger waves
Pin tail provides hold in hollow conditions.
Thruster fin set up
Not the ideal board for beginners but will float beginner riders weighing 30-45kg and an experienced surfer up to 85kg.
---
4. Test Tube 6'0″ – 8'0″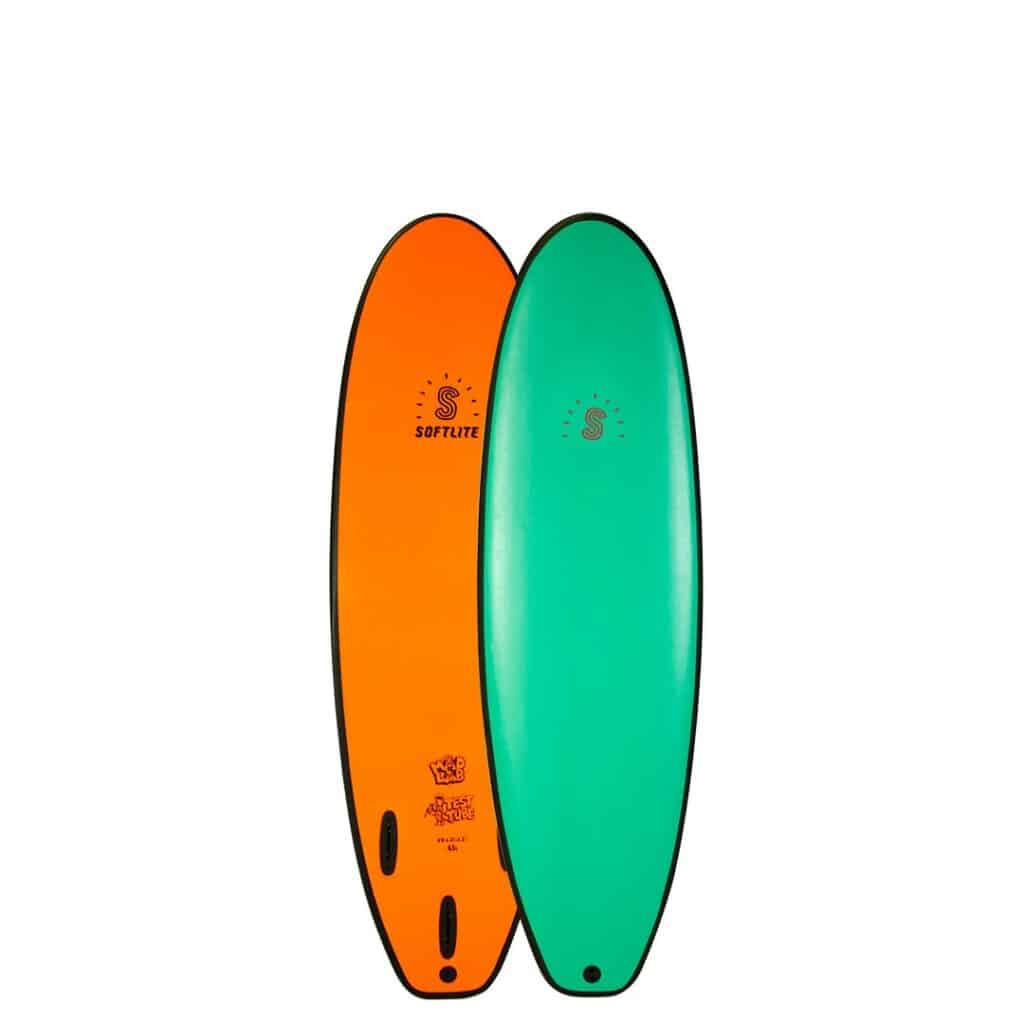 The Test Tube utilises Softlite Surfboards mal shape and is designed to paddle fast and offer extreme stability.
The boards are very versatile, and even suitable for experienced surfers. They are great for small days, and big enough for traditional longboard moves such as noseriding etc.
Size: 6'0″ X 21 1/8″ X 2 3/4″ (45L)
---

---
SOFTLITE SURFBOARDS – ORIGINAL RANGE
---
1. Pop Stick (4'8″ – 5'6″)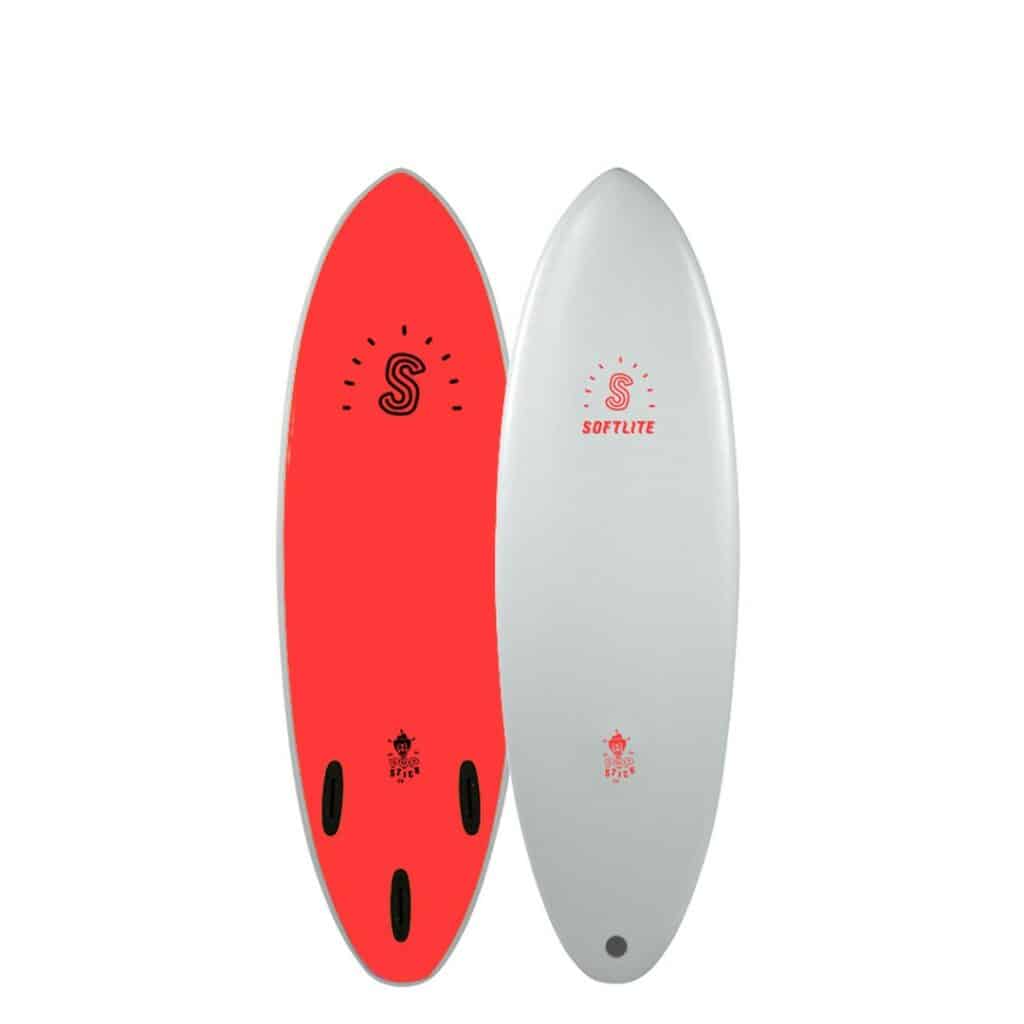 Softlite Surfboards Pop Stick is one of the staple boards within their range and covers sizes from 4'8″ – 7'0″ and you'll see them on most Australian beaches. The Pop Sticks are based on a traditional surfboard shape and designed for all levels on surfing, although Softlite have given them a little bit of extra width and thickness. Suggested lengths will depend on height, weight and skill levels. 
The smaller end of the Pop Stick range is suited to light weight kids between 25-40 kg, or experienced surfers up to approx 85 kg (on the 5'6″ board).
Sizes:
4'8″ X 18 7/8″ X 2 3/8″ (28L)
5'0″ X 20″ X 2 3/8″ (31L)
5'6″ X 20″ X 2 3/4″ (36L)
The 4'8" is suited to the lightweight grommie who already has mastered basic surfing skills. For an advanced surfer, it'd surf best for people up to 60kg.
The 5'0″ is designed to suit as a first board for a child, but also rippable for someone more experienced. This shape is similar to the small wave performance shortboards such as Neck Beard and Dumpster Diver with a square tail. 
The 5'6″ is the most user-friendly for experienced adult surfers with sufficient volume to serve weights up to approx 85kg.
The shape of 5'6″ Softlite Pop Stick has been updated from previous versions:
A slightly more forward wide point giving better paddle power, stability and for better usability to get the most out of smaller waves.
They have kept plenty of surface area through the tail for added drive and rounded tail for smooth turns. 
Thinned out the board generally for better performance
Added a second stringer for more strength and rigidity 
New fin system
We would recommended this for beginner riders weighing 25-40kg, although if you are an experienced surfer up to 80-85kg, it should float you as well.
For the beginner to intermediate rider, these boards are a good step when progressing from a Mini Mal, or when the goal is to ride a fibreglass shortboard.
For the experienced surfer, these boards have a little bit more rocker, making them more suitable for better wave conditions, and similar in performance to their usual shortboard.
---
2. Pop Stick (6'0″ – 7'0″)
Sizes:
6'0″ X 20 7/8″ X 2 1/2″ (37L)
We would recommend this for beginner riders weighing 30-45kg, although if you are an experienced surfer up to 85-90kg, it should float you as well.
6'6″ X 20 2/3″ X 2 3/4″ (44L)
We would recommend this for beginner riders weighing 40-60kg, although if you are an experienced surfer up to 90-95kg, it should float you as well.
7'0″ X 21 1/3 X 2 7/8″ (48L)
It is the ideal board for someone who is looking to step down from a Mini Mal and start doing proper turns, or just the lazy, more experienced surfer who wants an extra bit of volume for the weaker Summer swells.
The updated Pop Stick has a bit more curve, with the wide-point pushed forward a little bit. This ensures that you have plenty of volume under your chest, meaning you'll never be struggling for paddle power. A bit of extra volume up front also gives a little bit of extra stability and will help the board plane across fat or weaker sections of the wave.
While the new shape has essentially increased the surface area a little bit, Softlite have thinned the board out overall, which is particularly noticeable through the rails. This makes the rails a bit easier to sink through turns and generally makes the board a bit more responsive. We feel that this has allowed us the perfect balance of maneuverability and stability.
The round tails makes it feels a bit looser, but is nice and smooth, especially when transitioning between turns. While the round tail adds an extra bit of surface area, this helps give a bit more stability on the back foot. Once again we've reduced the thickness a little bit, increasing responsiveness, and also allowing the tail to have a bit more bite in hollower waves.
---
3. Chop Stick (6'0″ – 9'0″)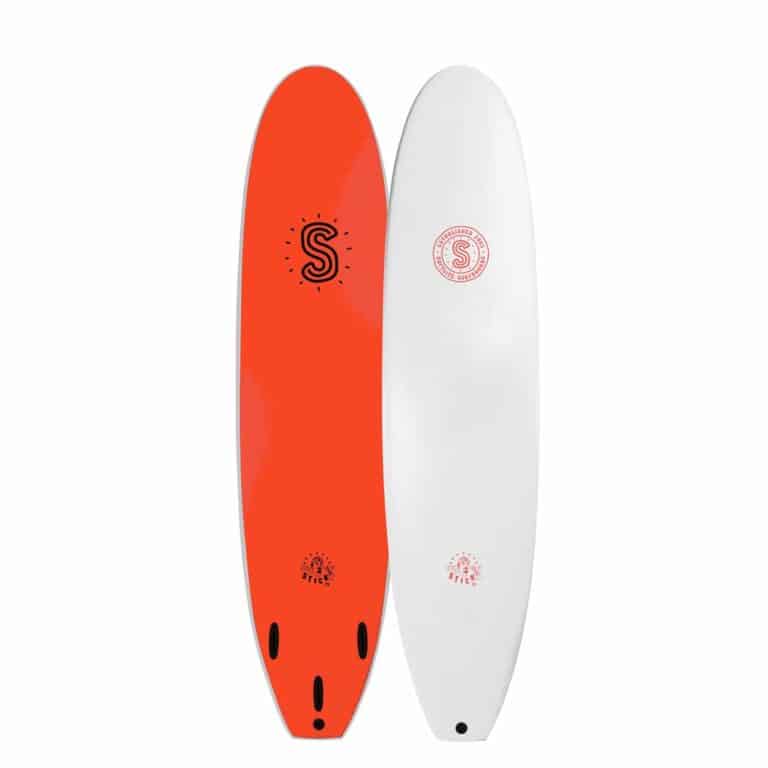 Check out our in-depth review of the Softlite Surfboards Chop Stick 6'6″ HERE.
The Chop Stick is slightly less refined than the Pop Stick and is based on a Mini Mal Shape, so it is more forgiving and ideal for learning as they paddle well, give you more time to get to your feet and allow you to catch more waves and wide nose provides great stability.
Not restricted to learners however, these board will give the experienced surfer more waves than they can handle and offer a really fun alternative in small 
Sizes:
6'0″ X 20 5/8″ X 3″ 45L (Suits beginner weights 35-50kg)
6'6″ X 21 1/4″ X 3 1/8″ 50L (Suites beginner weights 45-65kg)
7'0″ X 21 1/4″ X 3 1/8″ 54L (55-75kg)
7'6″ X 21 5/8″ X 2 3/4″ 59L (60- 85kg)
8'0″ X 22 5/8″ X 3 1/8″ 70L (70-95kg)
9'0 X 23 5/8″ X 3 5/8″ 90L (85kg +)
---
4. Fish Stick (5'2″ – 5'9″)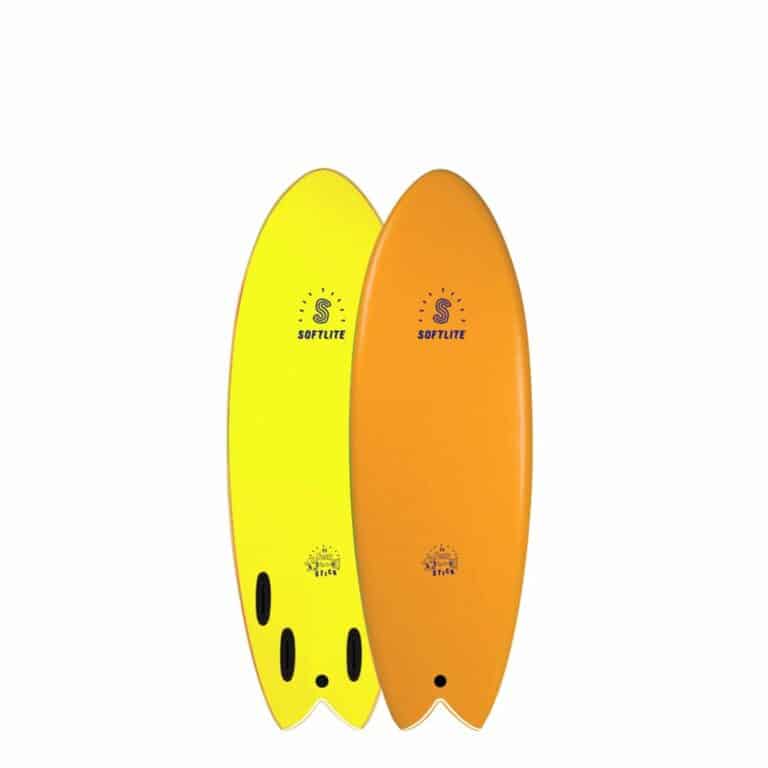 5'2″ X 19 7/8″ X 2 1/8″ (32L)
 5'6″ X 20 1/4″ X 2 1/2″ (38L)
 5'9″ X 21 1/8″ X 2 3/4″ (42L)
The Fish Stick range is Softlite Surfboards fish shape with quad fin setup. Primarily they are designed for the intermediate to advanced adult surfer to perform best in below-average conditions.
The Fish Stick is also a great board for kids to learn to surf on. Extra volume, combined with the high wide point, make these boards paddle extremely well, and catch waves easily for their size. It also provides a nice stable base for a child to learn on without being overly long,
---
5. Koolite (6'0 – 8'0″)
6'0″ X 21 1/4″ X 3 1/8″ (47L)
7'0″ X 22 1/4″ X 3 1/4″ (68L)
8'0″ X 22 1/4″ X 3 3/4″ (85L)
The Softlite Surfboards Koolites are the ultimate beginner board. They use a rounded Mal shape (Similar to the Chop Stick Range) for some extra surface area, and extra thickness to bump up the volume further. This makes the Koolite paddle fast and extremely stable, so it's ideal for the early stages of learning.
Recommended surfer weights:-
6'0: 30-50kg or below.
7'0: 50-75kg.
8'0: 75-100kg.
Note: The below video shows the Koolite boards being surfed in pretty heavy waves! They tried to find some mellow waves to show how the Koolites surf but couldn't find any!
Softlite Surfboards are available in Australia directly via softlite.com.au.
If you are in Europe check here for availability