Surfing waves are often classified into four varieties, each of which caters to a specific style of surfing and surfer level: beach breaks, reef breaks, point breakers, and river mouth waves.
In this article, we'll guide you through the 4 main types of surfing waves, as well as other wave types you may encounter in some areas of the world. 
What is a wave?
Waves are the sequence of contours that occur on the sea's surface and grow higher and higher; in more scientific words, they are regarded as sources of energy created by the force of the wind in an area of the ocean known as fect.
Waves can travel thousands of kilometers and grow in size as they travel. Although there may be some outliers, the largest ones originate offshore and the smaller ones tend to form near the shoreline.
How do waves form?
Waves that you surf are formed when the wind hits the surface of the water, causing a ripple effect. Also, when temperature and atmospheric pressure change, significant air movements are created, which can cause big waves.
But that's only the beginning because once the waves form, they can travel hundreds or even thousands of kilometers before hitting the shore or shallow water, which is when they "break" and you need to surf.
A breaking wave will generally take one of three forms — surging, spilling, or plunging:
Surging waves – This sort of wave comes in from relatively deep water onto steep beaches and surges up the beach rather than breaking. It can happen at high tide if the beach profile is too steep for the wave to properly break.
Spilling waves – These are caused by a gently sloping seafloor, which causes the wave to gradually peak. Because the wave's energy release is rather sluggish, the crest 'spills' down the wave face.
Plunging waves – These are the best waves for surfing, and they occur when a swell passes from a deep ocean to very shallow water, such as on a reef. This obstructs the wave's forward velocity, resulting in a crest.
What is a beach break?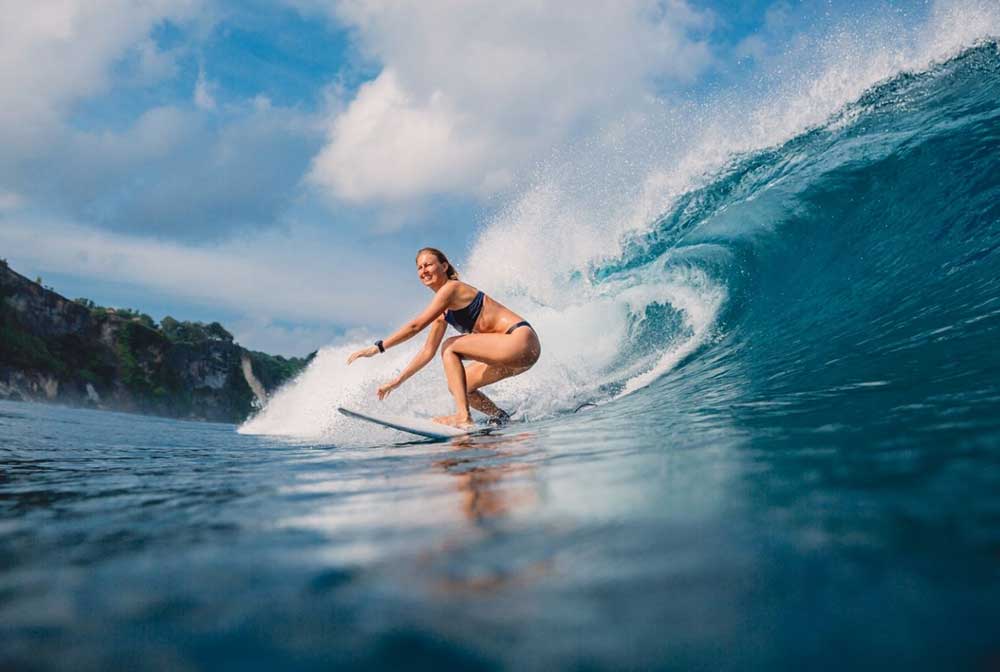 If a wave moves from deep to shallow water over a sandy seafloor, it is called a beach break. These sorts of waves are ideal for novice surfers since they break with less energy than a reef break and are gentler on those learning to ride them. Although beach breaks waves are often brief, the chance of major injury is limited due to the fact that you will be falling onto a sandy bottom.
This is not to say that all breach breaks are simple to surf or lack power. Beach breaks, such as Nazare in Portugal, have some of the world's largest and most powerful waves.
What is a reef break?
The waves break over a rock bottom at reef breaks. As a result, the contour of the seabed is permanent, and the line-up shifts solely in response to the size and direction of the swell. To paddle out, there is usually a clearly defined channel next to the line-up.
The majority of the world's largest and heaviest waves break on reefs, but there are plenty of gentler, more forgiving reefs to be found. Even now, reefs are often avoided by inexperienced surfers. 
The biggest danger is the reef itself, which often hides just a few feet below the water's surface; the risk of serious injury causes some surfers, including former world champion Tom Carroll, to wear helmets.
In tropical areas, waves constantly break over live coral, which can lacerate a surfer's skin at the slightest contact, leaving injuries that are often at risk of infection if it's not properly treated right away. 
What is a point break wave?
A point break occurs when lines of swell reach a stretch of land at an oblique or even perpendicular angle, breaking around the ground rather than directly towards it. They are more likely to occur along a cliff and can break over sand or rock, although the resulting waves peel for far longer than most beach breaks or reefs.
Some point breaks, such as California's famed Malibu beach, offer mellow, pouring waves with a leisurely pace, making them perfect for longboarders; others specialize in draining barrels or high-speed, strong walls.
South Africa's Jeffrey's Bay, where three-time world champion Mick Fanning was attacked by a great white shark in 2015, is widely regarded as the ultimate point break; other notable examples include Chicama in Peru, widely regarded as the world's longest wave, and Skeleton Bay in Namibia, without a doubt the world's longest barreling wave.
What is a river mouth wave?
For any surfer, strong river mouth waves are a rare and phenomenal occurrence. They are similar to point breaks in that they are formed when the river deposits sand into well-defined sandbars and the wave rips off in a predictable and clean fashion along that point. 
Mundaka, in Northern Spain's Basque Country, is the most famous and popular river mouth wave. On a good day, it is commonly regarded as Europe's best wave, a thrill for surfers, which also makes it a somewhat busy wave.
Other common types of waves include:
Reform Waves
Because of the variable depth of the seafloor, this unpredictable wave can die down as it hits deep water and then reforms or breaks again. These are said to be appropriate for all types of surfers. Experienced surfers can kick-off before the new waves get too deep, while beginners can look for inside reform waves.
Double-up Waves
This wave is the result of two waves colliding and merging. As a result, you get a massive and forceful wave. These waves are incredibly dangerous and hollow, especially as they start to break.
They are best suited for professionals or those with years of experience. Aside from that, you should be able to predict where a wave might go. A left-hand wave, for example, is one that peels or breaks to the left from the perspective of the surfer. 
Crumbly Waves
These waves, also known as mushy waves, are easy to identify since they are not very steep, quick, or hollow, and they crash gently. These waves are caused by very gradual bottom contours.
They aren't extremely strong or powerful, therefore they're best suited for newbies or those looking to learn surfing tricks. Furthermore, they can be found practically anywhere in the world on pretty much every beach.