Quality user friendly funboard which has enough performance factor to handle bigger surf
Softlite Chopstick Review by: Tom (6 years surfing experience – intermediate)
Dimensions: 6'6″ X 21 1/4″ X 3 1/8″ (50L)
Fins: Thruster fins (standard Softlite fins included) with Bones and Shanks fin system. 
What we like: Great performance in larger waves, wider nose and proper fin boxes – riding it finless.
What we don't: Can sometimes feel a bit bulky, duck diving
Rating: 8/10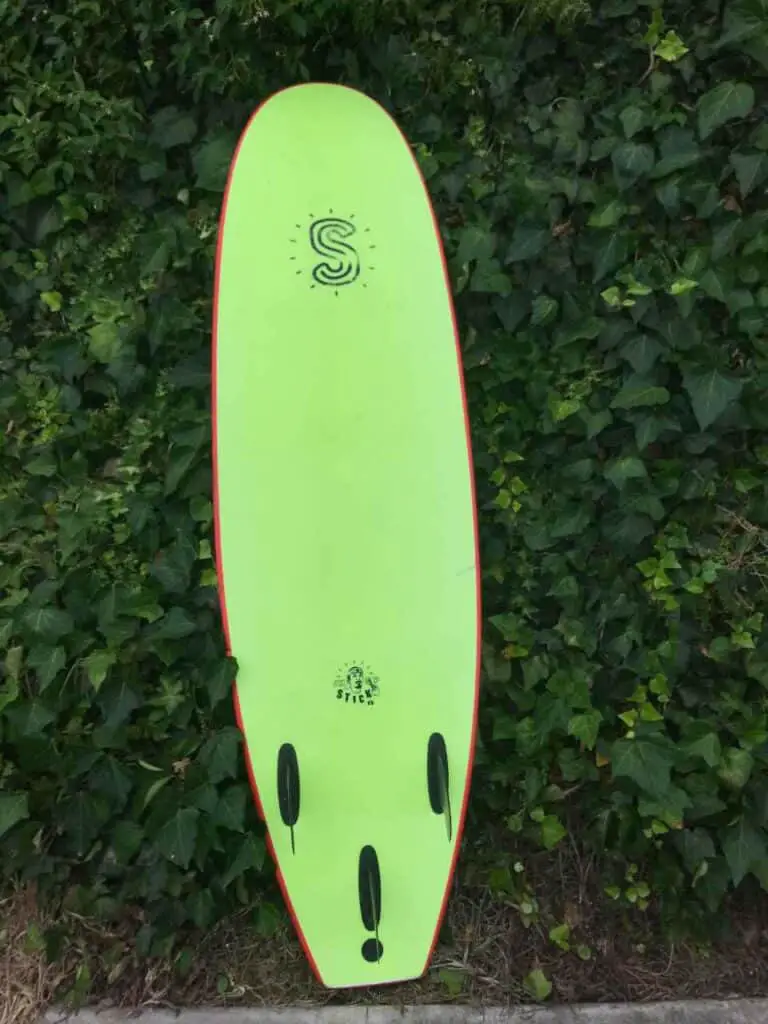 What does Softlite Say:
"The 6'6 Softlite Chop Stick uses our Mini Mal Shape template. This is ideal for learning as they paddle fast, allowing you to catch more waves, and give you a little more time to get to your feet. Once you're up and riding, the wider nose makes them extremely stable.

Compared to some of the other 6'6's on the market, there are 2 main features which we believe puts the Chop Stick above the rest.

Thickness– it's a touch thinner than most of our competitors. Once you've a got a few weeks of surfing under your belt, this ensures your board doesn't hold you back once you start ripping!
Rail Profiles – Due to our Moulded Core process, we have been able to refine our rails profiles (particularly at the front end), so they are nice and rounded, and not sharp and bulky. This help to stop you from nosediving & catching rails while riding, and similarly to the thickness, makes the board a bit more responsive through turns.
Key Features – Softlite Chopstick
Wide nose and full template rounded egg shape – providing stable and forgiving ride
Thinner than most foamies – a good thing for performance and intermediate to advanced surfers
Defined rails – Softlite's moulded core process creates nice and rounded rails, not sharp and bulky. Combined with slight rocker through the front end and lift in the nose, helps to keep board from nosediving & catching rails while riding. Also, similarly to the thickness, makes the board a bit more responsive through turns. 
100% Waterproof Moulded EPS Core 
10lb PE Deck
Xtra Duralinx Slick Bottom
Double Bamboo Stringer re-inforced with Fibreglass Taping
Edge Trim System, Exoskeletal Strength Membrane, Leash Plug
Thruster Fin Set Up with Bones and Shanks Fin System. – Fins Included with Every Board
What do you like about it?
Really enjoyable board. I especially love to use it in the summer given flags can be up and waves are a bit smaller, so its great for that. Also pretty manoeuvrable on larger waves. I really like the wide nose so walking up the board is pretty easy. Also my only foamy with proper fin boxes so easy to swap fins, sometimes use it finless. 
What don't you like about it?
Can sometimes feel a bit bulky and slow. Just small enough to duck dive for me but I'm 6'4" and pretty heavy, my girlfriend likes to use it but sometimes struggles with it in bigger swells.
What kind of waves is the board suited to?
As touched on earlier, its a cracking summer board for when flags are up and waves are smaller. This is when I get the most use out of it, but I think it works best on medium sized waves when theres enough power to allow some manoeuvring and turns.
What kind of surfer is this board best for?
Certainly suits a beginner to intermediate surfer but experienced surfers can also have a lot of fun with it. 
Does it compare to any other boards (soft tops or regular) that you have ridden?
I only really ride a smaller fibreglass, this softlite and a big foamy mal so haven't had a wide scope of boards to compare it with. Doesn't really compare to these but i definitely use it more than the mal. 
Any other Comments?
Really fun, definitely worth the extra money given the other (cheaper) options I had. Love to use it and love to share it with others. 
For the Softlite Chopstick, I would give it an 8 out of 10. 
---
Aussies, you can get your Chopstick direct via Softlite.com.au and everyone else, Softlite say they are working on increasing international distribution.
If you've got a Softlite yourself and have any comments to add we'd love you to comment below!