There's a bit of confusion out there about foamies so we're here to tell you everything you need to know about how to wax a soft top surfboard.
Surf wax is a constant companion for a surfer and the ritual of waxing your board before a session is something fairly unique for a sport. Even the smell of a fresh stick of wax is enough to get any surfer excited and itching to jump into the water.
If you aren't familiar with the process of waxing a regular surfboard, than you're probably even more confused about your new foam board. Many people, and particularly learners seem to wonder if softboards even need to be waxed at all?
More over, you may not even know which area of the board you should be waxing…. So we're here to help 🙂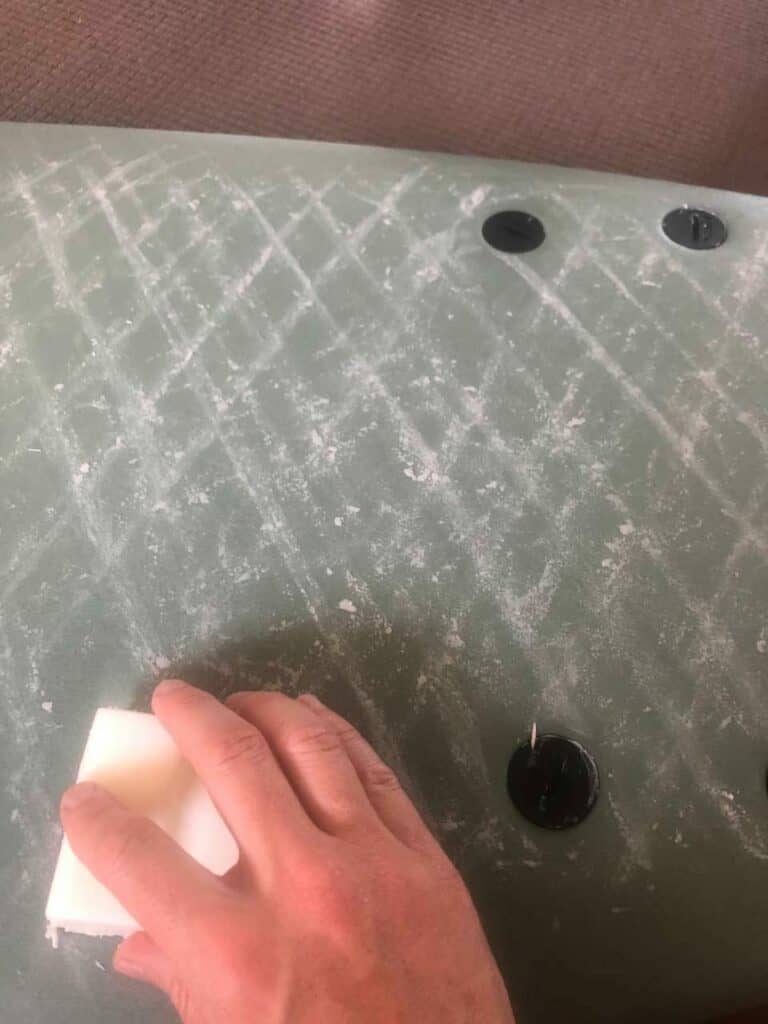 Which soft surfboards need wax and which don't?
The fact of the matter is, with the large range of softboards out there – they're all different. Some boards are purposely designed with very grippy deck materials that don't require any wax at all such as South Bay Board Co Surfboards,  Almond R Series surboards and Formula Fun Surfboards.
Despite the nostalgic surfer's relationship with wax that we noted above, most people would be pretty damn happy to not have to think about waxing their boards ever again – not to mention not having to worry about about melted wax in your car! These soft top surfboards boards that do not require wax are for now the exception and not the rule across the industry and therefore the majority of foamies do in fact require wax!
Of these, some boards are made with rougher soft deck materials which offer quite a bit of grip but still require a light coating of wax to ensure to give you better traction, like Catch Surf boards for instance.
Then, some boards that have smoother deck materials are closer to a fibreglass board (such as MF Softboards) and therefore the more wax you will need.
One thing is for sure, wax doesn't seem to hold as long on softboards so you will need to reapply a little wax more regularly (say every 1-2 sessions).
It also comes down to your personal preference, as some people like more wax on their boards than others. As a learner, you'll need to ensure you have a good grip so in most cases more wax will only be a good thing. It can't really hurt in any case and you'll soon find out what you like.
Lastly, if you really don't want to apply wax that often check out our guide on how to use a traction pad on a soft top surfboard.
What kind of surf wax should I use?
When it comes to what kind of surfboard wax you actually need to use, it is important to note that as softboard materials are more porous than solid fibreglass, they don't take the application of surfboard wax as well. You can still use normal surfboard wax, of course, but it just won't apply in perfect little bumps like you can achieve with a fibreglass board.
HOT TIP – use a softer grade of surf wax as it will apply easier to softboard materials (Softer grades of wax are cool/cold water rated as discussed below but can be used in warmer water too).
Softboards are more or less like bodyboards so you can use bodyboard wax! Some say specially formulated bodyboard wax is stickier and less viscous than surf wax but who really knows if that is true or not, it could just be softer grade of wax.
Some foamie surfboard brands such as Catch Surf and Softlite have started producing their own specially formulated "softboard" wax too.
Do I need different wax for cold or warm water temperatures?
Yes – There are different hardness grades of wax for various water temperatures (check your local surf report site for your water temperature). To a certain point you'll need to use suitable wax for your region's water temperature but as a general guide softer (cool water) wax will apply easier to your foam surfboard.
If you're in a super tropical location (very warm water), you will need a harder block of wax to stop it basically melting off your board in the water…
General wax temperature ranges:
Cold, for very cold water below 58 degrees F (14 degrees C).
Cool, for cold waters between 59 to 66 degrees F (15 to 19 degrees C).
Warm, for temperate waters between 68 to 77 degrees F (20 to 25 degrees C)
Tropical, for tropical waters over 77 degrees F (25 degrees C).
The grades of wax range from the softest (Cold) to the hardest (Tropical).
Do I need to apply a Basecoat wax before using regular wax on my foam surfboard?
A basecoat wax is effectively a super hard wax formulation that does not have any tack to it and is used to make a thin coat on a board which is easier to apply sticky wax on top of. With fibreglass surfboards, a basecoat is very beneficial and helps the regular wax to stay on longer term.
Some people say that a basecoat is beneficial for soft top surfboards too but I personally don't feel it is absolutely necessary as in my experience soft tops generally don't need as much wax and hard wax doesn't apply itself as easily to the foam, but applying a base coat wax layer underneath your top coat will not hurt at all. Catch Surf, for instance, specifies that basecoast wax is not needed for their boards.
How to wax a soft top surfboard
1. Get out of direct sunlight
If you wax your board properly, it can take a bit of time. So first things first – find a shady spot or do it inside. If the wax is in direct sunlight in the midday sun you will probably find it melting pretty fast and that can make a real mess of things.
Lay the board flat on the ground.
Be a little bit careful with the fins if you are not on soft ground (eg grass or sand) and don't place too much pressure down on the fins as they could be damaged like this.
2. Make sure the surface is clean
If this is the first time you are putting wax on the board, chances are it is already clean but if not make sure it's free of any grime. Despite what some websites say, it is not recommended to use cleaning solvents on soft tops – just use a clean cloth.
3. Basecoat wax
Note – If you are not using basecoat formulated wax you can just use your regular wax to a pply a basecoat with the same method outlined here:
You do not need to cover the entire board unless you plan on walking all the way to the nose of the surfboard and generally you should only wax areas where you will place your feet once standing and perhaps where your chest/stomach rests on the board when in paddling position to stop you slipping around.
You will definitely need wax above the fins for your back foot and up to approx half way to ⅔ of the way forward depending on how long the board is (If you have a traction pad at the tail of the board you will obviously not have to wax this area at all – bonus!)
To apply the basecoat wax use the edge of the block and drag in diagonal lines (45 degree angle) across the deck running parallel to each other. (refer photos 1 – 2 below).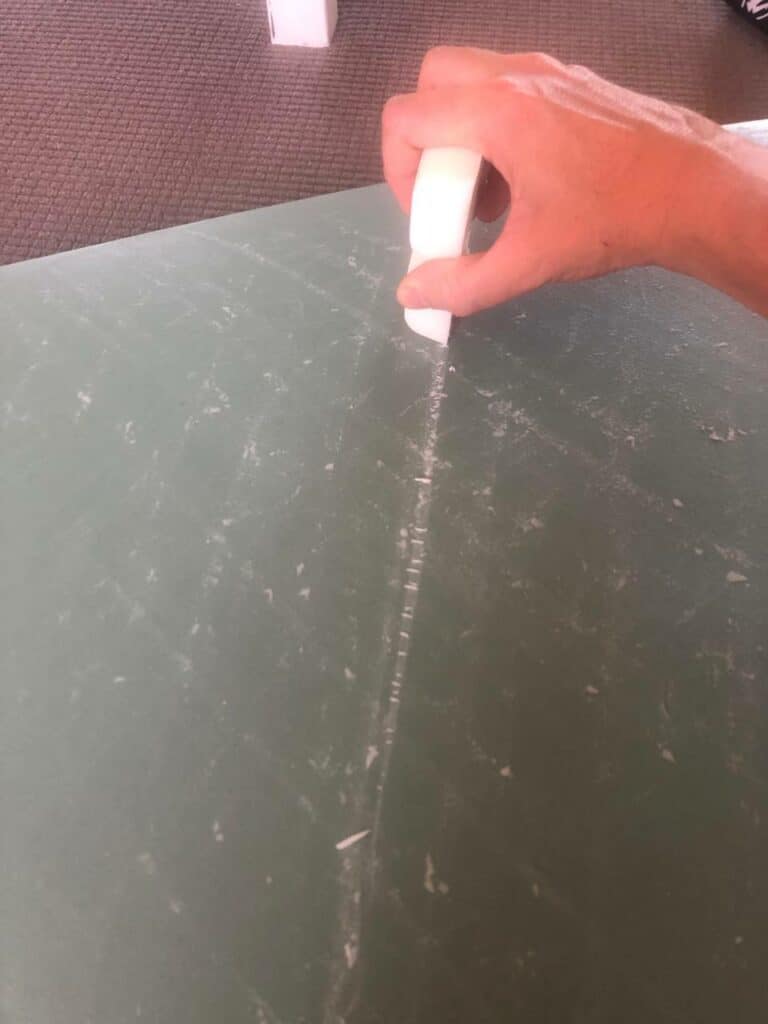 Then run lines in the diagonally opposite side to create a cross hatch (refer photo 3 – 4).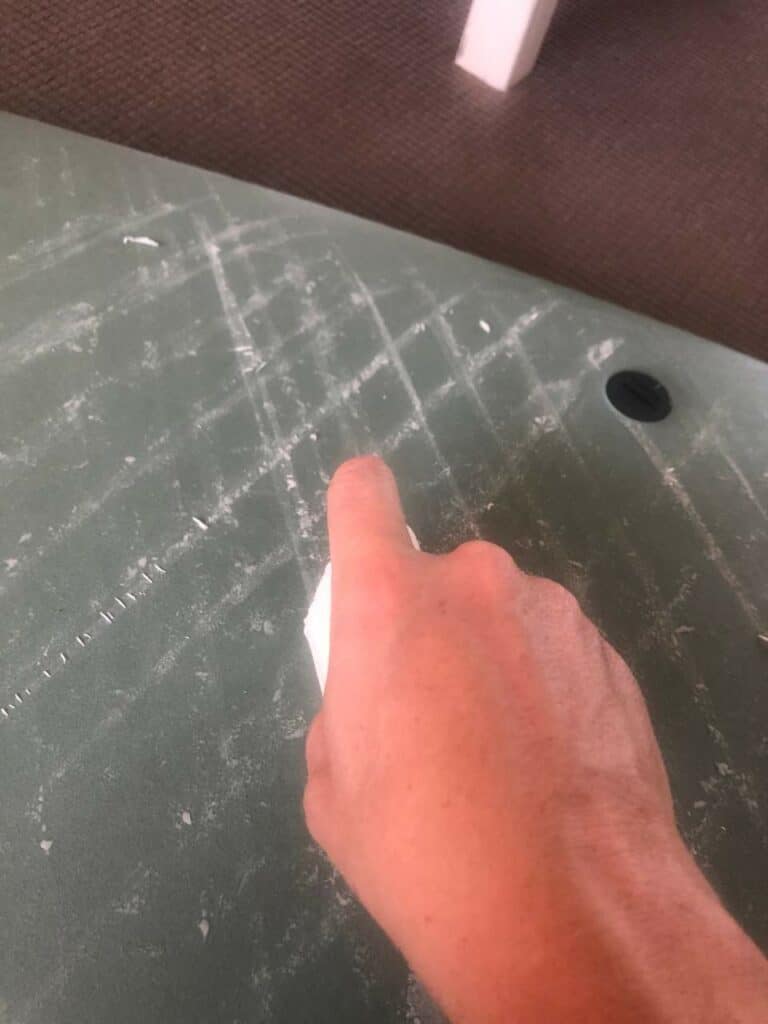 4. Top coat of wax
Once your cross hatched base coat is in place, you can take place the bottom side of the wax stick (ie the large circular bottom face) and rub the wax lightly all over the cross hatched and in between areas (photos 5 – 6). This will provide a small top coat over the base wax.
You will find that the wax will come off quite easily during a single surf session and so you will need to apply another light top coat before your next surf.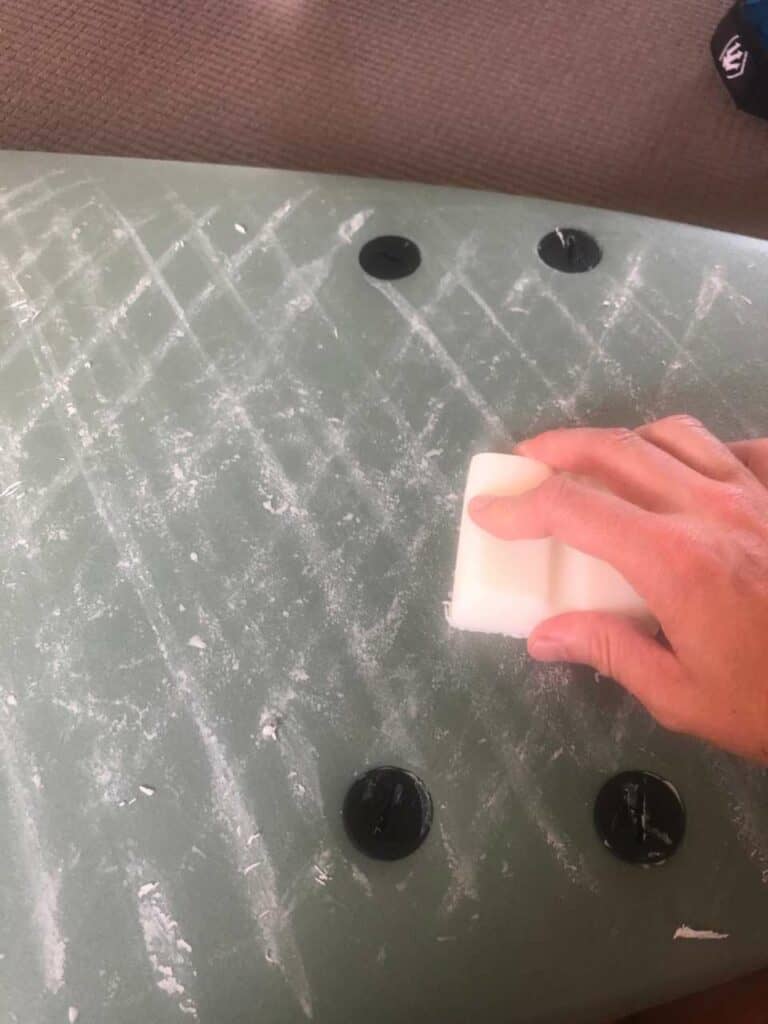 Crusty old wax, how to get rid of it?
One of the downsides of softboards is that it is quite difficult to remove some bits of old surfboard wax as the deck material is more porous and so they can start to look a bit dirty over time.
The beauty of fibreglass boards is that when the wax starts to look dirty you can quite easily remove the wax completely and start again. Boards can look brand new again.
With soft tops, you can remove was in the same way you would a fibreglass board:
Leave the board in the sun for 10 minutes or so until the wax starts to get softer
Use the hard/scraper edge of a plastic wax comb (available at any surfshop or online) and gently scrape the old wax away.
One you have the wax removed you can clean with a light degreasing solution and cloth but as noted you may not get it looking brand new
 What brands of wax are best suited?
There are specific softboard / bodyboard formulations by Catch Surf, Sex Wax, Softlite (Au), Limited Edition, Miramar, Nomad, Parafinaria, Stealth, Sticky Bumps, VS and Mrs Palmers (Au) among others.
Aussies – check out the range of wax available on Surfstitch here.
Everyone else including United States check out surfboard wax available on Amazon here.
There are also more and more eco friendly brands emerging which you should consider including Matuna's Surf Wax, Surf organic and Famous Green Label Cool Organic Surf Wax.
Lastly, it's also an easy option to make your own surf wax.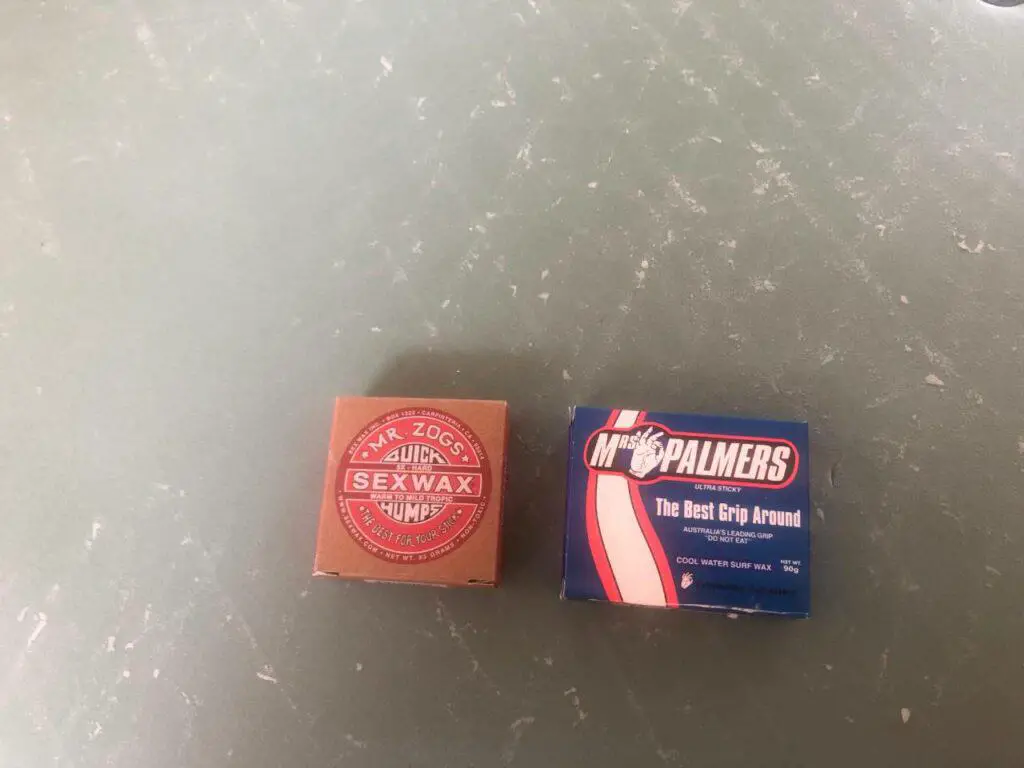 ---
We hope you have learnt something from our how to wax a soft top surfboard guide and if you have any questions or feedback about surfboard wax, feel free to let us know in the comments below!
Check out our article on how to repair a damaged soft top surfboard.