For the majority of surfers, a funboard surfboard is a critical member of their quiver. 
For an avid shortboarder, a funboard might be their go to board when the waves are just a little small and powerless for their shortboard. For a longboarder it might be the opposite, and the board they pick up when the waves are a touch bigger. 
A good funboard in the mid length range doesn't necessarily lack in the performance department either and many surfers love the fact that they are great all rounders – they can go well in anything from small to head high + waves. 
As the high performance end of soft top surfboards has come leaps and bounds in the last few years, so have the mid lengths. This guide will look at the ins and outs of the funboard surfboard and we'll pick our best of the best 6 – 8 ft foam surfboards. 
What is a funboard surfboard?
Funboard, mid-length, longboard, fish, shortboard, hybrid. There's not exactly a clear definition of what classifies a surfboard into one of these categories and sometimes it depends who you are talking to. The fact of the matter is, the lines blur and some categories overlap so it is not always as simple as saying "mid lengths are x to x feet".
This is especially the case for funboards and mid-lengths. A quick google search for funboard surfboard gives you a number of different ideas: some say board between 6.5 – 8.5 feet long, some say 6 – 8 and others say 7 – 9. Some talk of funboards being one and the same as mid-lengths, others differentiate the two. 
We think it's all in the name when it comes to funboard surfboards – fun. A funboard is your answer to waves that are maybe too big for a longboard but too small for a shortboard.
Perhaps you've started on a mini-mal and you're looking to get a bit more style and control in your surfing, or maybe it's the other way around; you're an experienced shortboarder but need a fun alternative for days when they waves are just too small for a shortboard and you don't want to lug around a big old longboard. 
Straddling the area between high performance shortboards and longboards and definitely within the mid-length size range, we like to think of the funboard as comfortably sitting between the 6 to 8 foot range. Any shorter and you are definitely looking at a shortboard and any longer and you are on a mini-mal or a longboard. 
Typically a funboard will have a rounder body with a little more width, and greater volume/float providing added stability. Aside from that, a funboard can have almost any tail, rail or fin design so there are many variations. 
---
What variations are there within the funboard surfboard category?
The main variations in funboards can be described as follows:
EGG shapes
Full bodied like a longboard which gives them good stability and buoyancy. 
Shorter length / thinner rails make it easier for turns
Speed EGG and retro shapes
Narrower than a more standard egg with a lower profile nose and pulled in tail. 
More speed down the line but still giving you ability to flow through smooth turns 
The straighter rail line caters to speed, flow, and maneuverability. 
Speed eggs tend to be the longest of the bunch in the funboard category.
Hybrid/ oversized Fish
Large fish shape with infamous wide swallow tail
Provides speed and agility but with less stability than the eggs
Good for progressing skills
Come in broad range of lengths
Fin Types
The fin set up is one key characteristic of the mid-length surfboard. Many mid-length/ funboard surfboards typically come as a single fin or 2+1 (single fin with 2 side bites), as opposed to a standard tri-fin or quad set up.
---
What are the pros and cons of a funboard surfboard?
Pros
Great for intermediate surfers as a transition board
Or for experienced surfer to add some variety to the way you normally surf
More maneuverable than a longboard
Versatile
Work well in most conditions
Stable and forgiving
They will allow you to catch/get into waves earlier
Sneaky nose rides
Easier to carry around and transport than a longboard
Easier to paddle out
Great all rounder if you were to just have 1 board
Mid-lengths are typically great boards for a wide variety of conditions from knee high mush to good overhead surf.
Cons
not as quick to gain speed as longboards, and 
not as maneuverable as shortboards or fishes.
The foam you took off trading a longboard for a funboard makes it harder to paddle into waves, and harder to keep your balance as you lose stability. This is the price to pay for increased control and maneuverability.
---
OUR TOP PICKS – SOFT FUNBOARD SURFBOARDS 
---
1. South Bay Board Co 6'8″ Casper
What we love about the SBBC Casper:
The South Bay Board Co Casper is the true definition of a funboard: it's wide full bodied egg shape which means it's stable, easy to paddle and to get into waves. But don't let its user friendliness deter you, it packs some solid performance factor with many rating its speed down the line and maneuverability. 
Sizes: 6'8″ x 21" x 2.75" (45L)
Features:
Hand tapered rails 
Rounded out nose, width and swallow tail for extra stability and fun performance
Fingerprint Texture in the foam on the top deck (NO WAX NEEDED)
I-Beam Stringer and Bamboo Layered bottom. The I-Beam Stringer covers the full length as well as the bamboo layers providing for a rigid deck with slight flex
EPS CLOSED CELL Foam Core
FCS Fin boxes with tri fin setup
User FEEDBACK: 
Performs much better than expected
Can make late drops into waves
Very easy to paddle
High quality construction
No unwanted flex
The low rocker and wide tail are great for weak summer waves
Super fun and fast down the line
Great surfboard for beginners and advanced
The bamboo bottom is well finished like a regular surfboard.
Great looking
---
2. Catch Surf Log / Plank 7'0″
The Catch Surf Log & Plank models are very popular and particularly in their shorter variations (6 – 7 foot). 
Probably because they offer shortboarders a drastically kind of board to surf without having to get a much longer board.
The Plank and Log are basically identical boards with the only exception being their fins, the Log is tri fin board and Plank a single fin. 
They pack a huge amount of volume into these boards so they really can catch anything, but their design is well refined so they can compete with the best of best of the mid length soft top surfboards. 
Size: 7'0" x 22.0" x 3.125" (72L)
Notable Features:
Triple wood stringers – very strong and limited flex
User FEEDBACK: 
Fun board for everyone including beginner and intermediate/advanced surfers.
Good for kids (smaller models) and very easy to surf and paddle.
High quality and durable, makes small days super fun and increases your wave count
Will muscle through chop and bumps and catch basically anything. A must have for anyone's quiver
---
3. Almond R Series Joy 8'0″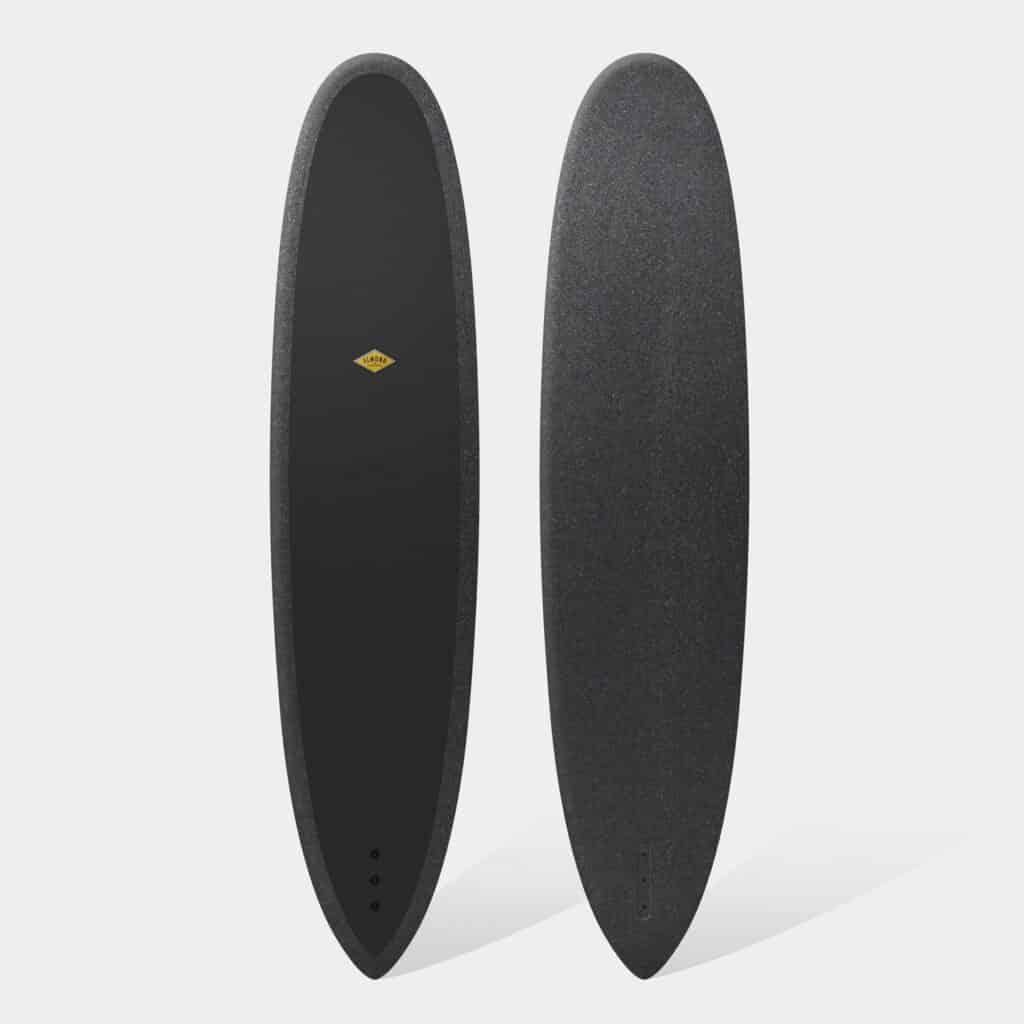 Almond Surfboards second foray into the softboard world is a remake of one of their most popular surfboard models –  the Joy.
With a low rocker and substantial volume, it's a wave catching machine which will get you into waves early. A pintail design helps it turn easily. Thankfully, Almond have retained the single fin box for this board which is rare for a foamie. 
Constructed with double stringer for real surfboard stiffness, a high density copolymer foam core with a waxless deck pad and future fins box
This board will suit a variety of surfers from beginner to advanced.
Size: 8'0″ x 22″ (72.2L)
User FEEDBACK: 

People love the recyclable construction and wax free deck
Great in shore break and decent size surf
Good feedback as to suitability for learners as well as seasoned surfers
Some feedback regarding deck/rails causing chaffing
Catches everything, easy to paddle into all size waves and gets into waves early
Manoeuvrable and versatile down the line speed
Holds well while riding in the pocket, doing bottom turns and cheating 5.
The dense foam construction is reported to ding, dent and tear quite easily if comes in contact with sharp or rough surfaces so you do need to take care 
People love the look of it
Reviewers comment that it surfs much like a regular board and many say it is the best softboard they have ridden, much more responsive
Available from Almond Surfboards with postage possible globally
---
4. Softech Bomber 6'4″ & 6'10"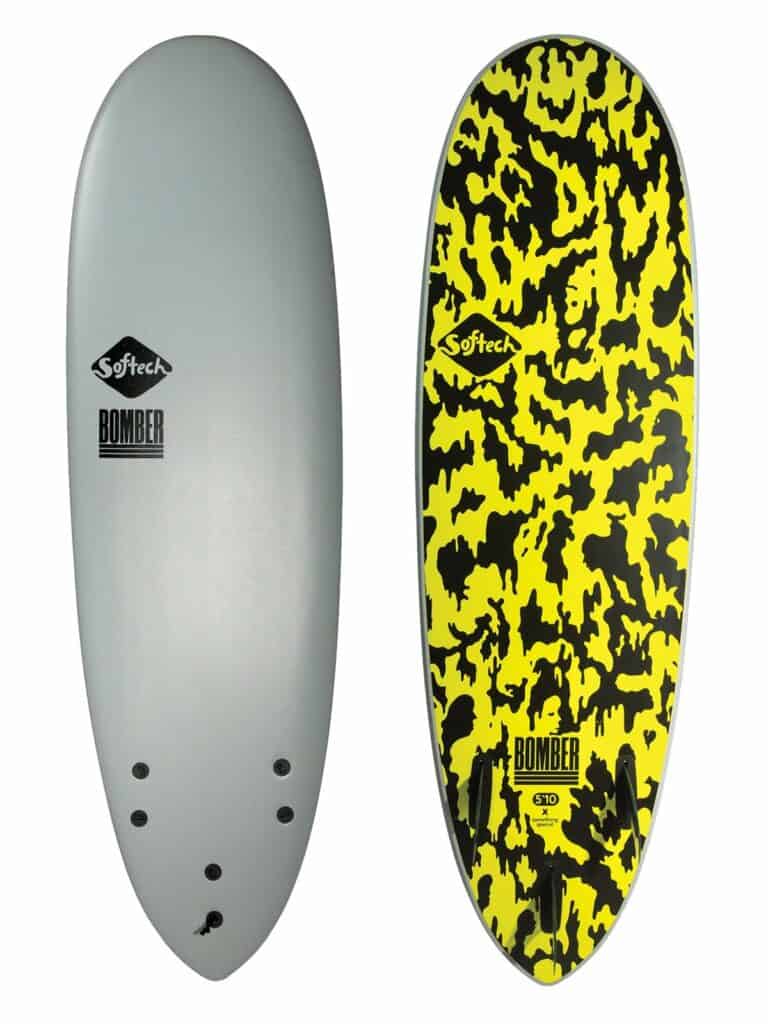 The Bomber has a pulled in almost pintail shape with a wide longboard nose, a pronounced domed deck. With all that foam it is very forgiving and stable. In terms of rocker it is fairly flat throughout with a little lift in both the tail and nose, with a double stringer for strength.
It paddles into anything and picks up speed really quickly, trims like a longboard but is very easy to move it around exactly as intended with a bit of pressure on the back foot so it really gives you the best of both worlds.
This board is suited to a wide range of surfers from beginners looking for a shorter but stable board, and intermediate to advanced riders after a board which has best of both worlds between performance and cruiser. All sizes have very high volume and the 6'4″ & 6'10" can cater for weights up to approx 90 – 100 kg.
User FEEDBACK:
Paddles like a dream and surfs like a mini-mal and a shortboard at the same time
Great board if you are transitioning from long to short
Really easy to paddle and glide into even the smallest waves
---
5. Mick Fanning Softboards Beastie 6'6″ & 7'0″
The MF Softboards Beastie with a little more focus on fun than some of the other more high performance boards available in their range. Mark Matthews (MF Softboards co-founder) describes this as his favourite of the bunch and the "Hypto Krypto" of softboards. Designed with a wide round tail to provide lift and push in weak waves, and a pretty flat rocker means it rides well in a variety of conditions.
With an even distribution of volume through the board, it's really stable so is a great board for someone looking to improve their surfing. At the same time if offers a very fun alternative to a longboard for more advanced surfers.

---
6. Formula Fun Noll 7'10"
For their mid-length model, Formula Fun have designed a user-friendly softboard that looks and functions just like a traditional surfboard. It's a solid cruiser with 78L of volume, but with refined rails, contoured bottom and sleek design is responsive and maneuverable. 
It boasts a wax free deck pad and comes with a hand hold at the mid point of the deck for ease of carrying. 
Size: 7'10" x 22 1/2″ x 3.36″ (78L)
User FEEDBACK: 
Aesthetic design is great

As it's bulky the hand hold is a 'handy' feature for carrying the board over longer distance

Recommended for anyone from beginner to intermediate or advanced for a bit of fun

Easy wave catcher/paddler

Very fun but responsive
---
7. South Bay Board Co Elefante 7'7″
The 7'7 Elefante Hybrid features an old school mid-length template, with widened out chest area for easier pop-ups and a pulled in tail for a looser feel on smaller waves. Featuring a larger single fin box with small side bite fins.
The company calls it the ultimate summer funboard cruiser, suited to advanced beginner through to experienced surfer looking to get in the water regardless of wave size.
Size: 7'7″ x 23" x 2.85" (57L)
Supports weights upto approx 250 lbs (110kg).
User FEEDBACK: 
Goes really well in waist to shoulder high surf
Great float
Waxless deck is a nice feature
Value for money
---
We hope our ultimate funboard surfboard guide will help you choose the best 6 – 8 ft foam surfboards for your needs.
Please contact us with any questions.
---