Impressive mid length softboard which combines best of longboard cruising and high performance factor
Softech Bomber Review by: Ant 
Dimensions: 6'10" x 21.5 x 3  (60L volume) 
Fins: FCS II – Tri fin set up 
What we like: paddles very well, very easy to get into waves, super stable, maneuverable 
What we don't: Not too much…can't duck dive (too buoyant)!
Rating: 8.5 / 10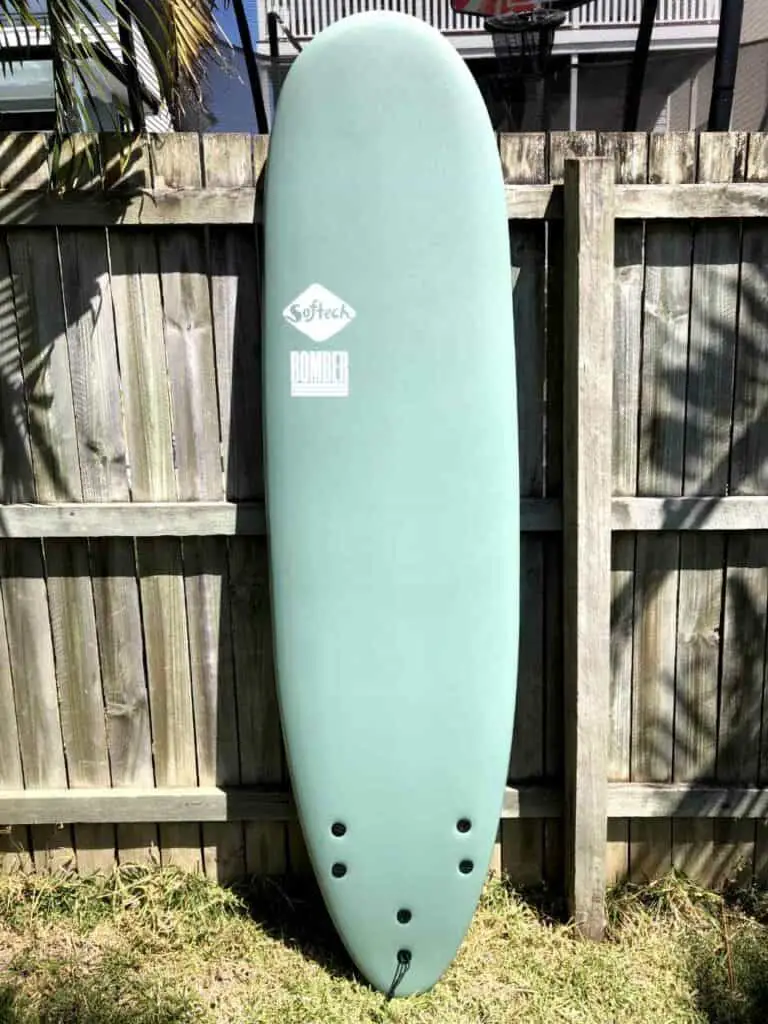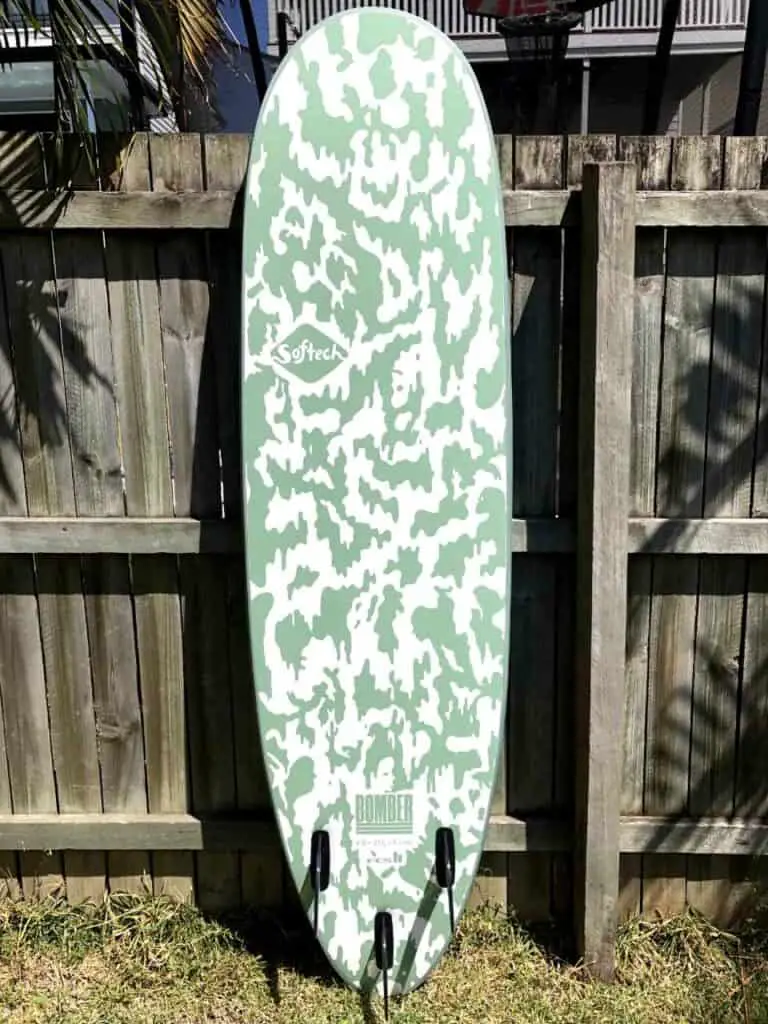 Softech positions the Bomber as part of their Performance Series: "its tapered tail shape with a longboard outline up front, make this board the ultimate cruiser that will flow down the line and turn on a dime". They make it in 3 variants being 5'10" (44L), 6'4″ (56L) and 6'10" (60L). 
The Bomber is the highest volume model in the Performance Series range by a mile but there's a reason they included it in their high performance range: it can move! 
I'd classify the 6'10" which I tested as a mid length board but from first impressions can say the above description is right – this board can cruise and turn on a dime which makes for best of both worlds between the flow and trim of a longboard with the performance features of a shorter board. On with the Softech Bomber Review….
Key Features
Tapered tail shape with a longboard outline out front, domed deck providing extra volume (super buoyant at 60L). As such it is very forgiving and stable.
Fairly flat rocker throughout with a little lift in tail and nose. 
Defined rails.
Double stringer so it's strong and rigid.
FCS II tri fin setup & comes with softflex fins. These fins performed well in my opinion but I've seen feedback of improved performance with hard fins in bigger surf
100% Waterproof X-Density EPS Foam Core
Experience in the surf
I first surfed this in short period and wind effected swell, so it wasn't ideal. However straight away found it so easy to get into waves with barely any effort at all.
Initially it felt way too bouyant but I have to admit that once I got the feel of it i changed my tune. It is so stable, it almost felt as stable as my 9'8 traditional longboard. 
It paddles into anything and picks up speed really quickly, trims like a longboard but with the pulled in tail it is very easy to move it around exactly as it is intended. 
I surfed it again in small clean waves and had a much better experience, surrounded only by longboards I was getting as many waves as anyone else. I'm yet to get this into a really decent lined up wave (will update when I do) but I am confident it will go really well in shoulder to head high surf. 
What kind of waves is the Bomber suited to?
Lined up point break or beach break with a bit of a wall to it. This will handle some size but I think due to its fairly flat rocker it going to have a bit of trouble when the waves get too pitchy. 
I was grovelling in windblown messy surf and managed to get the most out of it so in summary it is a good all rounder.  Riding this finless looks awesome too by the way ——–>>>>
What kind of surfer would this board suit?
I think this board could appeal to a variety of different surfers:
Shortboarder looking for something a little different for small or not so perfect conditions but who may not want to go to a standard longboard (I'd suggest the smaller 5'10" or 6'4" version of this board) and still wants to be able to move the board around
Longboarder looking to jump on to a shorter board but with some similar feel 
Less experienced surfer looking for a shorter board that is still really stable and forgiving
You could ride these boards much shorter depending on your preference – The 5'10" (44L) or 6'4" (56L) will definitely do the trick for more experienced surfers or those that like a shorter board generally because they have so much volume. I personally like length in boards – paddling is easier, getting into waves is easier. The only real down fall is difficult in duck diving when the waves get bigger (I imagine the 6'4″ is pretty impossible to duck dive too!).
In terms of size/weight of surfer the 6'4 & 6'10" will suit any surfers with weight up to approx 95-100 kg. For reference I am 75 kg and was testing the 6'10" but could justifiably ride the 5'10" or 6'4″ without issue. 
Does it compare to any other boards you've ridden?
Several years ago I had a Takayama scorpion 7'4" and this is basically a replica of that shape. This board does seem to surf very similar to that board but it's more buoyant and doesn't have the box centre fin of the scorpion so potentially is a bit easier to throw it around with the tri-fin setup (I used to ride the scorpion mostly as a single fin).
Conclusion
All in all this is a solid fun board! I would strongly recommend if you are looking for something in the hybrid mid-length/high performance space. You will definitely paddle with ease, catch a tonne of waves and be able to mix it up in a variety of waves from tiny, sloppy waves to lined up decent walls.  MY RATING 8.5/10.
What are others saying about the Bomber? 
(source – Softech). 
 "An awesome board for summer conditions. Performs well in 1ft-3ft surf. The best thing about the board is that it surfs through fat sections easily and when the wave reforms you can pick it up again. Buy it, you won't regret it" (surfer is 6'2″ height and 80kg)"
"Easy to to paddle into waves and to turn. Only problem I found was after first surf some creases on nose. Board not as tough as I would have liked but all in all great for someone looking to progress to a more performance board."
"Heaps of volume in the nose which make it really easy to paddle & glide into even the smallest of waves. The camo style print on the slick looks sweet."
"Have surfed this in everything from 1ft through to 4ft and it goes really well with a smooth cruiser style of surfing. The stiffer fibreglass fins from FCS make a noticeable improvement to how the board turns in the bigger conditions."
"Great board if you're transitioning from a long board to short. Easy to get into waves, stable but with allot of mobility."
Hope you enjoyed the Softech Bomber review. If you've got one yourself and have any additional feedback please drop a comment below.
Get Foamie will be reviewing more boards from Softech so stay tuned!