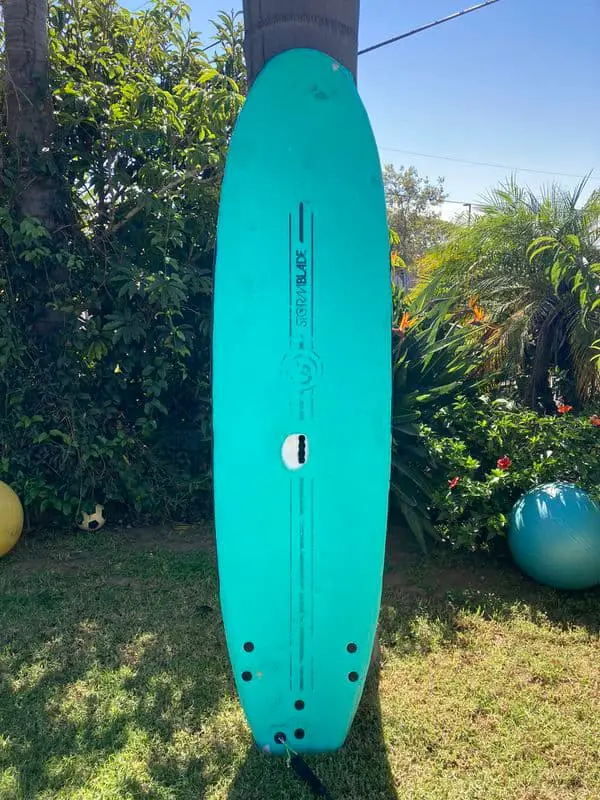 Stormblade SSR 8ft Review
Reviewed by: Mick
Dimensions: 8′ L x 22.59″ W x 3.26″ T / (81 L)
Fins: 3 x 4.5" Bolt Thru fin set (Slot Box available at select retailers)
What we like: Paddle power and stability
What we don't: Fins and grab handle positioning
Rating: 9/10
What does Stormblade Say:
"Our surfboards templates have been developed and refined over time through top shapers year after year. Through the fruits of testing and labor
Storm Blade surfboards have spawned shapes that work. Increased volume, rounded rails, and progressive outlines make this collection absolutely
fun to learn or push the limits on expressive surfing. The key has been our dedication to refined construction technology and a continuous realtime innovative approach to details that matter to surfers."
Key Features
Quality is excellent, with protective foam on rails, nose and tail. Foam fins are notorious for allowing water to ingress into the core, making the board heavy and rotting the wood stringers. The SSR comes with rubber gaskets to seal the fins with the deck. 
Note that the fins and black protective foam are not as durable as the rest of the board and will need repairs or replacement after some time. Deck is compliant, durable and most importantly does not become waterlogged.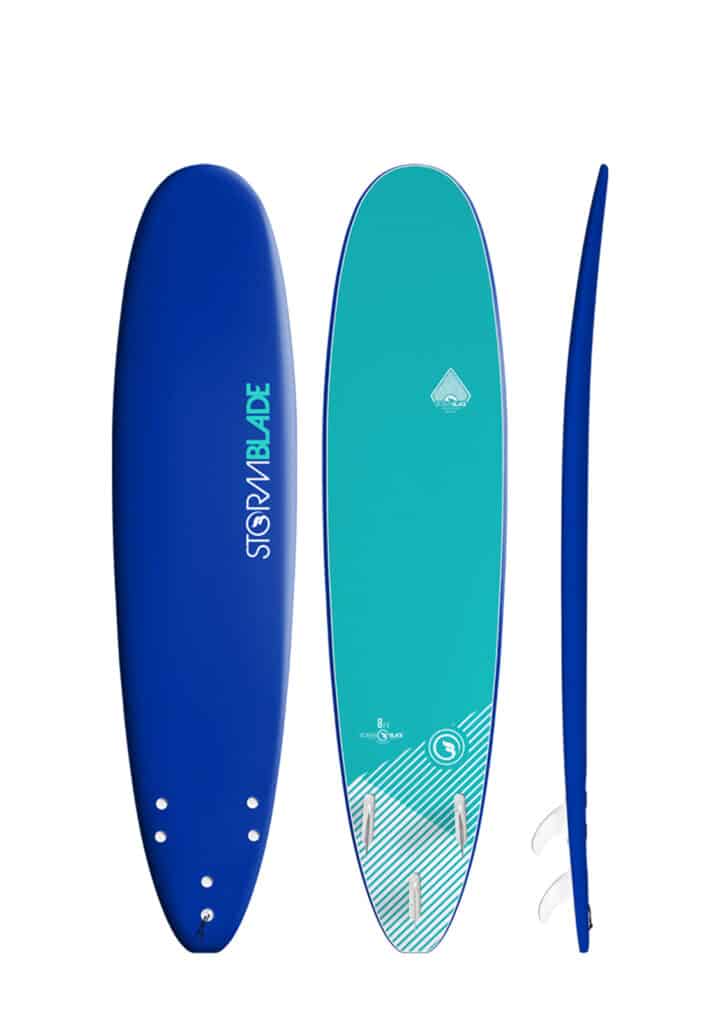 What do you like about the Stormblade SSR 8FT?
Excellent paddle power and stability on take off. Hides its weight and heft when carrying and in the water. Can catch anything bigger than a ripple if you paddle hard enough.
What don't you like about it?
Fins and grab handle are positioned poorly. Board is a cruiser on small waves, needs more powerful waves for turns and maneuvers.
Experience in the Surf
Surfed in Southern California mushy waves and 2ft semi hollow waves. The Stormblade SSR is is excellent for cushy long board spots and if the surfer is experienced, can ride across the face with confidence.
Early paddle in will allow for surfers to gain confidence in even more challenging waves where a late take off will be harder on a board with less volume.
What kind of waves is the board suited to?
Crumbly waves that need a lot a lot of board volume to catch. East coast and beginner west coast waves that are small and need a longboard. Happiest catching white water if honest.
What kind of surfer is this board best for?
Best for beginners to learn and intermediate surfers who want to make sure that they don't develop bad habits. Great for tandem rides if experienced.
Does it compare to any other boards (soft tops or regular) that you have ridden?
I want to compare this to my other foam longboards, a Surface 8'0, a wavestorm (made by the same company), and a INT longboard. This is more stable, has less flex and is made of nicer foam and material than any of the others. While not as slippery as a glassed log, this is very close for the size and price.
I was shocked at the durability and longevity that the stormblade showed me over the course of two seasons of running surf lessons . Board is happy to be in the water and is made to last and responds well to hotglue and plastic repairs.
Wrapping it up….
If you can deal with the poor performance of the stock fins, the board is perfect out of the box. I would invest in a sling to carry the board as it is heavier than what I am used to carrying. Other than that, the board delivers on its promise. It's a durable hunk of foam meant to get abused and help people get into the sport of surfing. If you treat this board well, I think people will be surprised at how long it will last and how capable it is.
As a solid learner board I would give it 9 out 10.
---
If you've got a Stormblade SSR yourself and have any comments to add we'd love you to hear your feedback below!