Whether you're an everyday surfer, or a weekend rider, you'll most likely need a car to get yourself to your favourite surf spot. 
The cars and vans that people use to get to the beach are also a big part of surfing culture.
When surfing was introduced in California, everyone flocked to the beach in cool cars that were able to carry a board or two, and cars like the iconic Volkswagen Transporter became a key symbol of the surfing lifestyle. 
We've put together a list of some of the best surf-friendly cars and vans we could find, championing both practicality and comfort, as well as affordability and style. Read on to find the perfect surf-wagon for you.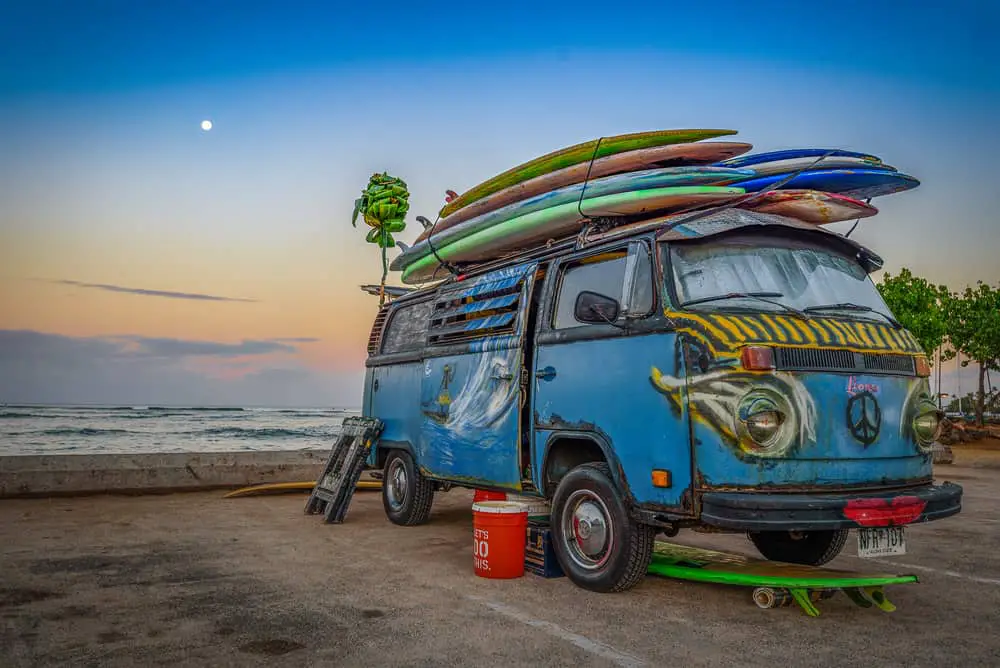 Volkswagen Camper Van (Transporter)
Is there a more iconic vehicle associated with surfing than the classic Volkswagen Camper Van? If you hit the waves regularly, you'll often see fellow surfers flocking to the coast in their VW vans.
These vans can be easily converted – especially if you want to save money on accommodation whilst on surfing trips. There's plenty of roof space which is perfect for storing your boards. 
These vans haven't been imported to the US since 1979, so if you do come across one for sale, they're going to be around 40 years old.
These old vehicles will require a lot of maintenance to keep them in working order. But what it lacks in power, it makes up for in style.
Owning one of these unique vehicles will take you further into the culture of the sport. 
Volkswagen Caravelle 
Based on the humble Volkswagen Transporter, the VW Caravelle is a more upmarket and luxurious version of the original van. 
The Caravelle is available in both short wheelbase and long wheelbase versions. Also pick between front or four wheel drive.
The 2.0-litre diesel engine is perfect for powering a surf wagon, and is also available in a twin-turbocharged version.
The VW Caravelle isn't the cheapest option, but it does have the look and feel of the classic VW vans, with a little added luxury. 
Subaru 
Pick a Subaru, any Subaru. These cars are well known for their dog-friendliness and eco qualities, but the entire catalogue of Subaru vehicles is perfect for almost any outdoor activity, including surfing. 
Each of Subaru's vehicles comes with a roof rail system which is great for adding racks to carry your boards.
Models like the Forester and Outback are even big enough to carry boards inside the car too if you're not keen on using a roof rack. 
Hyundai Santa Fe
If you want a practical (but good looking) SUV, the Hyundai Santa Fe is a great choice. 
The latest generation has had some serious upgrades in quality and comfort, making it the perfect car for long distance cruising.
The Santa Fe has a 2.2 CRDi diesel engine, making it powerful enough for carrying passengers and surf equipment. It's also pretty easy to install a roof rack for your boards. 
Alternatively, if you only need to use the driver and the front passenger seats, you can actually fold down the rear seats. This will give you enough room to fit your boards inside the car instead. 
If you're keen to do a little off-roading, there are four-wheel drive models available. These come with plenty of onboard tech and a safety kit for any emergencies. 
Jeep Wrangler 
The Jeep Wrangler isn't for everyone. It's expensive, not always reliable and you'll have to fork out a lot for fuel. But nothing can beat the feeling of driving with the roof/doors off as you cruise down the coast.
So, if you want to get that full Californian vibe, the Jeep Wrangler is the perfect car for you. 
The Wrangler comes in a few different versions with different wheelbase lengths, but each variant allows you to take off all the doors and lower the windscreen for that essential beach-side look. 
The four-door model provides a better driving experience compared to the two-door model. You can also have off-roading tires fitted which will help you cross dunes that are usually inaccessible by car. 
Although there is plenty of room for your surfboards and gear in a Jeep Wrangler, driving and owning one of these cars is more about the feeling than the practicality. 
Toyota Tacoma
The Toyota Tacoma is one of the most practical vehicles for surfing. The reliability of the Tacoma is virtually unmatched, and you can guarantee it'll always get you to the beach no matter how far away it is. 
The Tacoma may not have as much passenger room as an SUV or a wagon, but it's roomy enough to bring all of your surf equipment to the beach with you.
Thanks to the cargo bed, the Tacoma is also a great spot for you to clean your board after a day on the waves. 
Besides surfing, the Tacoma is also a great vehicle for those who love off-roading and/or camping trips. Just be sure to deck the car out with some off-road wheels.
Again, the Tacoma is a little on the pricier side, but they're well-known for never breaking down.
With the Toyota Tacoma you can guarantee that you'll have years of hassle-free reliability, which makes it worth the extra costs.     
Mercedes Benz Sprinter Van 
Whether you're an avid surfer or a member of a struggling indie band, the Sprinter van is the perfect vehicle for storing all your gear. 
The fact that the Sprinter is so roomy, also makes it a great vehicle to transform into a mobile home.
If you're an avid surfer, and find yourself travelling around a lot for surfing trips, this could be a great project that will help you save money on accommodation. 
Like the classic Volkswagen Campervan, the Sprinter will give you the ultimate laid-back beach vibe. 
Toyota Rav4 
If you're a city-body who likes to get away for the weekends to surf, the Toyota Rav4 is the perfect car for you. This compact SUV is perfect for driving around the city and cruising down the coastline. 
It may not have as much cargo space as other vehicles on the list, however, Toyota is known for being reliable when you need it the most.
Besides, you can easily attach a roof rack to the top if you're worried about fitting your boards inside the car. 
The Rav4 is a pretty affordable car, especially if you're buying second-hand. You'll also be able to get 35 miles per gallon, so you don't need to worry about breaking the bank on those longer roadtrips. 
Honda Pilot
The Honda Pilot boasts an incredible 55 cubic feet of cargo space, which is perfect for carrying all of the surfing gear you may need.
There's also plenty of space for passengers too. The roof is also great for strapping your boards to a roof rack. 
All in all, the Honda Pilot is a reliable and ready-built surf mobile. You can count on the Pilot to get you and your gear where you need to go, without breaking the bank.      
Peugeot Rifter 
The Peugeot Rifter is quickly becoming a favourite vehicle of surfers, thanks to its practicality and comfort.
The Rifter comes in 2 sizes, both five-seater and seven-seater. Whichever you decide, there's plenty of room inside – especially for your gear.
For passengers, there's lots of headroom, and loads of cool and clever storage solutions – including airplane-style roof bins. 
The Rifter might not be the most exciting drive, but you can be certain that this people carrier is both comfortable and powerful.                      
Buyer's Guide 
There are a few things you'll want to consider before splurging on a new surf mobile.
Budget
Before you splurge on a new car, you need to be practical about what you can afford. You can get some really good deals on secondhand or used cars, but keep in mind that the older a car is, the more maintenance work it'll need.
If you can afford to buy brand new (some cars on this list are a lot more expensive than others), you are guaranteed a few years of stress-free relief.                   
Practicality 
When buying a surf-friendly car, you need to think of the practicalities. Firstly, you'll want to make sure it's big enough to fit all your gear and boards, or (at the minimum) have the ability to attach a roof rack to carry your boards. 
You should also consider your lifestyle. For example, if you're someone who lives and works in the city, but comes to the beach on weekends, you'll want to pick a car that is slightly smaller than typical surf mobiles.
Consider something like the Toyota Rav4.   
Although you can't drive on most beaches, it's also a good idea to look into four-wheel drive/off-roading, as being able to get as close to the beach as possible will be super handy.
Uses
If you go away a lot for surfing weekends, you might want to consider looking at vans instead of cars, as you have the option to convert them into 'homes on the road'.
This will save you a ton of money on accommodation, and will make you feel like you're living a true surfer lifestyle.