Softlite Beaker Review by: Gerome (77kg with a bit over 3 years surfing experience)
Dimensions: 5'6″ x 20 7/8″ x 2 3/4″ (38L)
Fins: Twin Keel Fins
What we like: Performs well in both average and waves with a bit of size, easy to paddle and durable
What we don't: Duck diving (in larger surf), hard to get off older residual wax due to material and ends up looking a bit dirty
Rating: 9/10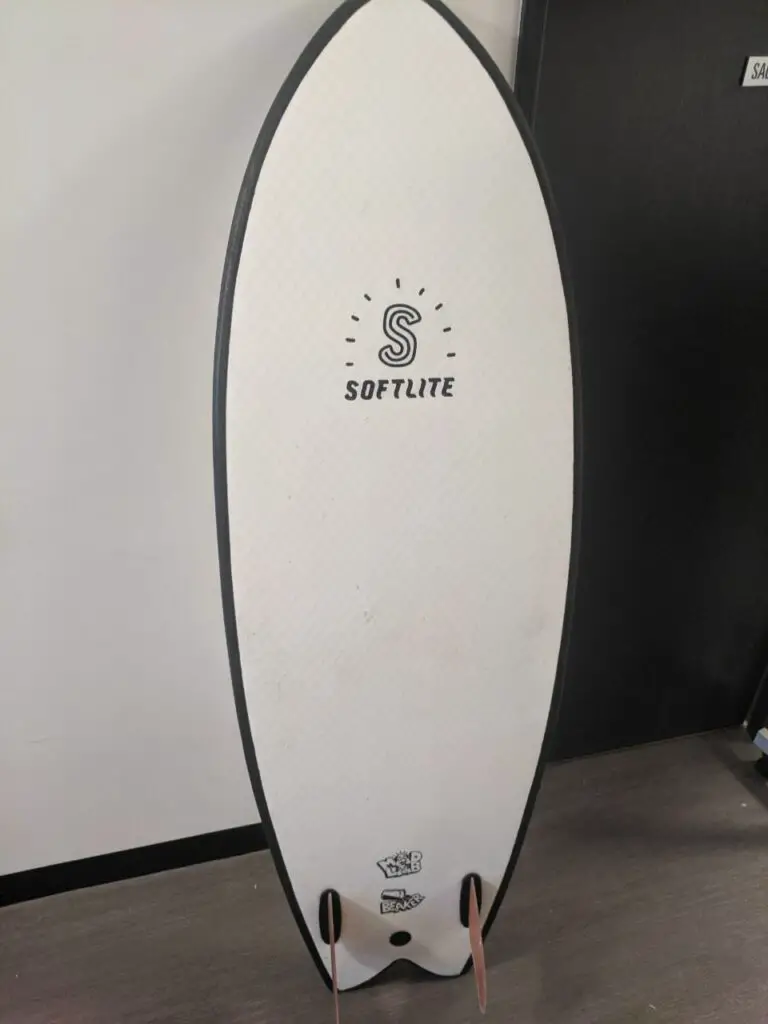 "The Beaker is our high performance fish shape. The Beaker has a nice high wide point for great paddle power and speed through flat sections. Overall, the template is still quite straight though, making it super fast if your surfing hollow waves and perfect for flowing turns.

This is the ideal board for the city slicker who is forced to surf quality waves between the flags, or even the ripping groms who aren't quite ready for a hard board yet.

While this is not the ideal board for beginners we would recommend this for beginner riders weighing 25-40kg. If you are an experienced surfer up to 80kg, it should float you as well and work a treat!"
Key Features
Flat rocker throughout – The rocker is pretty flat, great for mushy waves where you would have a hard time with a traditional short board.
Rails – The Beaker has what Soflite calls "Rolled Parabolic PE Rails" These are hand shaped and tapered rails, unlike some other softboards where the rails have a harsh squared off edge.
The Beaker also has a reinforced mesh on the bottom of the board to provide extra strength and stiffness.
What do you like about it?
I really enjoy this board. It performs very well and it has a fair bit of volume so it's easy to paddle.
Since it's a soft top it's incredibly durable. I don't fear breaking it on shore breaks and it withstands general wear and tear very well.
I still keep it in a board bag but that's more for heat protection. I've taken it on the plane a couple times with minimal protection and no issues.
A softboard also feels safer and I don't fear being injured by it.
What don't you like about it?
For myself (77kg) it can be difficult to duck dive deep which can be a problem in larger surf but generally it's not an issue in average conditions. The added volume is usually a bonus though and it's easier to catch the flatter waves where you need some extra momentum. 
One other gripe would be that it doesn't build up nice wax bumps like a traditional board and it since the material is somewhat porous on the surface it can be difficult to remove all of the old wax leaving it looking pretty dirty, this could be solved with a deck pad.
Experience in the Surf
I like to ride it in any sort of waves that either aren't steep or fast enough for a shortboard. This board is so fast its great when you may have to quickly get down the line to make the next section. The twin fins give it a nice a loose feeling but with some large keels, it still has enough hold to feel in control.
What kind of waves is the board suited to?
Anything that's a bit on the mushy side or sometime when you might think about taking out a long board but want something more maneuverable and fast.
What kind of surfer is this board best for?
The board would suit almost all levels. For the total beginner, it may be challenging since it's a very short board but for someone who is progressing into the intermediate stage the Softlite Beaker would be a great option since it still has a fair bit of volume so it's not a struggle to catch waves with. For an experienced surfer this would be great if they are looking for a twin fin that they can thrash around in shore breaks and have something to switch it up from the traditional fibreglass board.
Does it compare to any other boards (soft tops or regular) that you have ridden?
I have ridden a friends fiberglass retro fish with similar dimensions and the Beaker is very comparable. The Beaker probably feels a bit looser overall compared to the solid feeling you get from glassed on keels but that's to be expected.
Any other Comments?
All my friends who have tried it have been pleasantly surprised! Everyone enjoys it.
Wrapping it up….
For the Softlite Beaker 5'6″, I would give this a 9 out of 10. 
---
At this stage, Softlite surfboards are only available in Australia. Check out softlite.com.au.
---
If you've got a Softlite yourself and have any comments to add we'd love you hear your thoughts below! Feel free to check out our other high-performance softboard reviews HERE.