Little wave catching machine perfect for smaller and crowded surf spots where safety is a factor
Sanctum Surfboards Pocket 5'0″
Reviewed by: Craig
Dimensions: 5'0″ x 21 1/4″ x 2 3/8″ (33.9L)
Fins: FCS fin boxes with option of tri fin or quad fin setup. The fins included with the board a flexible soft fin.
What we like: Value for money, catches little waves with ease and good for using in crowded spots or between the flags
What we don't: Flexy fins included with the board don't provide much hold.
Rating: 7/10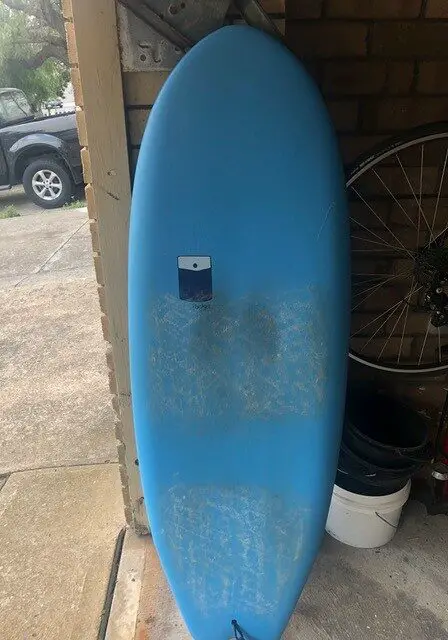 What does Sanctum Surfboards Say:
"This 5'0" is designed for small to medium wave. It generates speed quickly and is super-fun to ride.  These boards are set up with 5 fin plugs compatible with FCS so you can ride this board quad or thruster. Whether you want to surf between the flags or the unpatrolled part of the beach this board will have you shredding no matter what.

Sanctum Surfboards have crafted their Pocket softboards with concaved bottoms, refined rails, performance shaped fins and overall durable construction. The boards also have the ability to be surfed with regular FSC fins to provide even more drive when surfing. Pocket have used a combination of construction techniques to make the most high performance boards possible, featuring a light weight EPS core vacuum sandwiched with epoxy resin and fiberglass, further reinforced with 3 fibreglass T stringers and finished off with Hex core mesh slick bottom and soft xpe deck."
Key Features
Single Concave running the length of the board to light V out the back of the fins in the tail
Light concave Deck with full rail with mild step
Squash swallow tail
Low rocker for easy wave catching
5 flex fin set up (can be setup as thruster or quad fin)
Most of the volume is in the chest providing great paddle power
What do you like about it?
Great fun foamie for small to medium size conditions. Allows me to surf where they restrict fibreglass boards (North Bondi). It can easily catch anything and still really maneuverable.
What don't you like about it?
I find the included stock flex fins are too flexible for me and don't hold too well for turns. These flex fins are designed to limit any damaged caused if your fins connect with someone in a crowded surf spot so for that purpose they serve it well. On the plus side the fin boxes are FCS so I could change for high performance fins – I haven't had the chance yet – but I'm sure that would boost the hold and drive of the board. 
Experience in the Surf and what kind of waves is it suited to?
I have ridden the Sanctum Pocket in mostly small summer waves in the eastern suburbs of Sydney. I find it really easy to paddle and mess around in small to medium surf.
It is easy to duck dive for a foamie surfboard even though it's quite buoyant. I like that you can throw it around or ride it without a leash and not have to worry too much about it getting damaged or hurting anyone. 
It is best suited for small to medium waves for sure. For bigger waves I find it a bit short and doesn't hold very well. 
What kind of surfer is this board best for?
I would suggest this board is better suited to an intermediate surfer as it's very short/small and therefore is not exactly stable and sometimes hard to stand up on. You would need to be a confident surfer to ride it well and get the most out of it. 
Does it compare to any other boards (soft tops or regular) that you have ridden?
Not really. I guess the closest epoxy board I've ridden that feels like this for me is the Bear Fat Arse Wombat which has a similar shape and flat rocker, also the epoxy gives it that corky/buoyant feel that you get with the Pocket. 
Wrapping it up….
For the Sanctum Surfboards Pocket Softboard, I would give this a 7 out of 10. 
I think they are now making it in a few different sizes so might be good to add a bit more length. It's a great shaped small fun board and on the cheaper side for a good quality foamie.
---
The Sanctum Pocket is available in Australia via the Sanctum Surfboards website here. 
If you've got a Sanctum Pocket or other Sanctum Softboard and have some further feedback, we'd love to hear your thoughts in the comments below!