Matuse Wetsuits Review: Tumo 2mm fullsuit
Reviewed by: Ant
Wetsuit Materials: Geoprene, Satin seal taping
What we like: Quick-drying, very durable, warm
What we don't: Slight lack of flexibility but not overly so
Rating: 9/10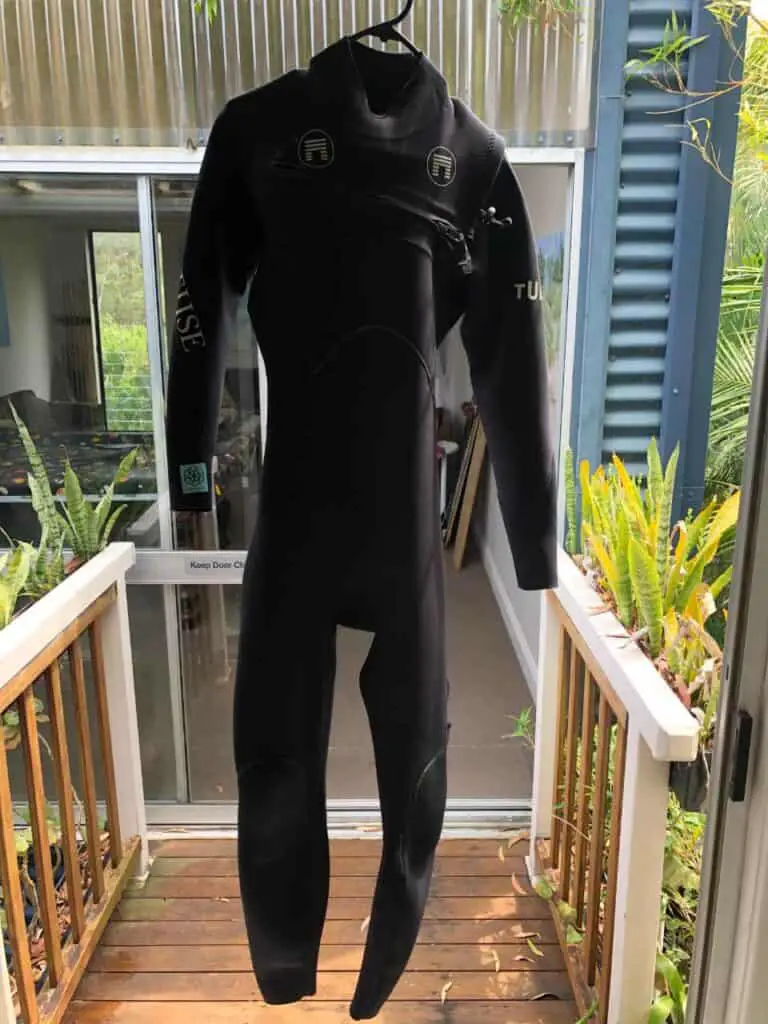 What does Matuse Say?:
The Tumo is named after the Buddhist meditation Technique where naked Monks sit in the snow, underneath a wet blanket, and dry-it-out with their own body heat. So jump into the coldest environments. The Tumo wetsuit has you covered even if you don't meditate.
The Matuse TUMO 2/2 Fullsuit and is constructed using 100% Geoprene and uses Strategic Paneling that is Anatomically Cut then sewn together with Glued and Blind Stitched Seams. The TUMO is an exceptional wetsuit, with the ThermoBelt Design that maximizes insulation in the chest and back without sacrificing performance. The TUMO also has a Diagonal Floodgate that allows the water that comes into the zip pocket drains from the other side.
Featuring a Chest Zip Entry that is designed for easy in and out, a Key Pocket, and a Saddle Seat which is designed specifically to keep your undercarriage happy because it won't ride up. Matuse doesn't stop there, the TUMO 2/2 also comes with a Hydrasilk Nylon Lining that rejects moisture, won't snag, and makes you feel all buttery inside.
Key Features:
Geoprene: 
Matuse Wetsuits utilise  a limestone based material called geoprene which they report has many advantages over more typically used neoprene wetsuit material (petroleum based). The advantages are due to geoprene being 98% water impermeable and thus they are:
Lighter
Warmer 
More durable
Sustainable
Hidden Chamber: Geoprene with built-in air chambers; stores radiant heat from body and improves the suits ability to slow down heat loss to the outside environment. 
Hydrasilk: Silky smooth, hydrophobic ( i.e. rejects H2O ) material that's your windbreaker in the water. Makes you feel all buttery inside.
Satin Seal Tape: A durable yet flexible SCS tape that provides extra seam durability that is soft and comfortable to your skin. 
Chest Zip Entry: With tightening feature and clip stop to keep in place
External zipped key pocket: located to side thigh with key loop
How Warm is It?
This suit being 2/2 mm all over is typically more of a spring suit suitable for water temperatures of around 17/18C to 21C (62.6 – 69.8 F). 
I surf on the Gold Coast, Australia where the coldest the water gets is about 20-21 degrees so the Matuse Tumo is more than sufficient for our winter (sorry any cold water surfers)!
The only time I've surfed this in slightly colder water was trip through France/Spain/Portugal in October where the water was probably about high 18C – 19C and I was really toasty in this suit.
One of the benefits of Matuse suits as mentioned above is their water imperviousness which means they don't get heavy and water logged and as a result they do seem to dry pretty quick which is a bonus if you are getting back into it when it is cold.
Comfort / Flexibility and sizing?
Matuse Wetsuits are designed to fit really snug so when I first put this suit on I remember it felt super tight and I wondered whether I had got a size too small. This is not unusual for Matuse and others such as Patagonia when you first put them on, and I found after wearing it for a session or so it began to loosen up and was comfortable. 
Probably due to the fitted sizing, getting the Tumo on and off is sometimes a little difficult. Once it is on it is very comfortable and no complaints there.
The Matuse suits to me definitely feel a little less flexible, for a 2mm suit the geoprene material feels a little rigid. It is not overly restrictive or anything though and I believe the payoff is quicker drying and longer durability (which I'll discuss later). 
I am 75 kg and 174 cm tall with broad shoulders – I have the size LS Tumo.  
Below is the Matuse sizing chart: PLEASE NOTE, MATUSE SUITS FIT 'TRUE TO SIZE'. IF YOU ARE ON THE HIGH-END OF A SIZE THEY RECOMMEND SIZING UP.
MEN'S FULLSUIT SIZE CHART
| | | | | |
| --- | --- | --- | --- | --- |
| Size: | Ft | LBs | CM | KGs |
| XS | 5'3″ – 5'6″ | 120- 135 | 160-168 | 54-61 |
| S | 5'5″ – 5'7″ | 135-145 | 165-170 | 61-66 |
| ST | 5'8″ – 5'10″ | 135-150 | 173-178 | 61-68 |
| MS | 5'6″ – 5'8″ | 145-155 | 168-173 | 66-70 |
| M | 5'8″ – 5'10″ | 150-165 | 173-178 | 68-75 |
| MT | 5'10″ – 6′ | 165-175 | 178-183 | 75-79 |
| ML | 5'9 – 5'11″ | 160-175 | 175-180 | 73-79 |
| LS | 5'7″- 5'9″ | 160 -180 | 170-175 | 73-82 |
| L | 5'10″ – 6'1″' | 170-190 | 178-185 | 77-86 |
| LT | 6'2″ – 6'4″ | 180-200 | 188-193 | 82-91 |
| XLS | 5'8″ – 5'10″ | 180 – 200 | 173-178 | 82-91 |
| XL | 5'11″ – 6'2″ | 190-215 | 180-188 | 86-98 |
| 2XLS | 5'9″ – 5'11″ | 205 -230 | 175- 180 | 93- 104 |
| XLT | 6'2″ – 6'5″ | 205 -220 | 188-196 | 93-100 |
| XXL | 6′ – 6'3″ | 205-230 | 183-191 | 93-104 |
| XXXL | 6'1″ – 6'6″ | 230-260 | 185-198 | 104-118 |
What do you think of its construction quality?
Matuse Wetsuits are known for their quality and it's obvious just from feeling this wetsuit that it's made of high quality materials and it is expertly crafted. Even after a few years of use this has remained the case, I will discuss further below. 
How has it held up over time?
I've had this suit for quite a long time probably 4-5 years. That said it doesn't get much use as even in our winter months I use wetsuit jackets and short john springsuits unless it is particularly cold. So there are probably only a few months of the year that I actually take the Matuse Tumo out. 
Therefore it probably only has been used the equivalent of a proper 1-2 seasons. However, based on its actual age it's in great condition it still looks pretty new and the only real signs of wear are a few of the internal join tapes have lifted slightly in probably 3-4 locations and only require a basic regluing which I have just been too lazy to do. 
I am not overly good about looking after it either I give it a simple fresh water wash but nothing more than that. 
My previous full suit was an O'neill Psycho II which I used heavily for about 2 seasons and that as a comparison showed a lot of wear after that time. I have no need to buy a new suit anytime soon and I am sure this will keep going for years to come.  
In summary – despite not submitting the suit to heavy use, it has held up very well over time so I would suggest the durability claims of Matuse Wetsuits are accurate, especially compared to cheaper alternatives.
Your thoughts on the price and value of the Matuse Tumo?
Matuse Wetsuits are also known as being expensive. They are. However, as I described, they are built to last so from an economic perspective (and an environmental one too), that extra spend can be justified. 
I believe the Matuse Tumo and their range in general offer good value for money for a product that will go the distance.
Final Thoughts and Rating
I would rate this suit as 9/10. 
For milder water temperatures this suit will keep you toasty and will last multiple seasons with ease, particularly given some extra care and maintenance. 
The quick-drying geoprene is noticeably effective at keeping the suit light, keeping you warm and makes getting back into the suit for the 2nd time in a day that little bit easier. 
The only slight negative for me would be based on comfort/flexibility which as described is not bad by any means, but could be improved particularly for a 2mm wetsuit.
---
Hope you enjoyed our Matuse Wetsuits Review. Do you have a Matuse yourself? We'd love to hear your feedback.
Get Foamie will be reviewing more surf wetsuits so stay tuned!