If there's one place that completely epitomises surfing, it's Hawaii. And what better place to learn to surf than the birthplace of surfing itself.
With a plethora of surf spots across Hawaii's islands, we're going to run through the best of the best surf spots for beginners. You may have a hard time choosing which island to visit, but rest assured you'll have a great time surfing wherever you choose. 
To make it easier we've broken these up into section for each of Maui, Oahu and Kauai.   
Maui
Maui is the second most visited island in Hawaii after Oahu, with less of the tourist crowds however the surf breaks are often very busy. On the southern and western shores of Maui, the summer waves consist of long, gently rolling sets, ideal for learning how to surf. In the winter, waves are larger and better suited to experienced surfers. 
Thousand Peaks 
Location: Ukumehame – South WestSeason: Summer months are better conditions for learnersThe Waves: Lots of peaks means surfers can spread out all over the wide break and catch waves so it feels less crowded, long rides Thousand Peaks gets its name from its many breaking waves offering both lefts and rights. It is very reliable surf spot which breaks all year round but it is softer and gentler in the summer which is when beginners should surf here.
The paddle out is quite long but there are some large channels which help to push you out without needing to paddle too hard. 
The break is suited bested to longboards.

Breakwall
Location: Lahaina – WestSeason: Any time of yearThe waves: Can get a little more hollow here so best in smaller swells for learners, easy access, excellent wave shape, sheltered from wind, breaks over a reef so watch it at low tide
Breakwall is a perfect location for longboarders, shortboarders, funboarders, and S.U.P. surfers alike; it's an ideal place for beginners as well as more experienced. There will be a rideable wave almost every day of the year. Expect large crowds but with many beginners, meaning that the water does not have a competitive atmosphere. 
If you ride too close to the break wall, you risk getting caught inside where the waves smash against the wall when the current is high. Also, at low tide it can get quite shallow so its advisable to surf at higher tide and/or wear reef boots. 
There are a number of surf lesson operators who teach surfing here as well as board rentals. 
The Cove
Location: Kihei (Maui, South)Season: Summer monthsThe waves: Gentle mellow wave, sandy bottom in many spots, short paddle out The Cove is one of the best places to learn to surf in Hawaii as it is consistent but the waves are always quite small. It is rare that the waves get too big for learners here and as such it does get very crowded with surf schools and beginners going at it alone. With mostly sand bottom and breaking close to sure it is a good training ground when picking up the basic surfing skills.  in Kihei is a very mellow place to start catching your own waves; a soft wave, it's rarely too big to be manageable for a beginner (in fact, it can sometimes be too small).  With sandy spots and a gentle shore break, its a great area to get used to falling properly or staying on the board, and very forgiving if learning when to stop in your wave.  Be aware of your surroundings, as many others are also learning to control their boards at this spot.
Middles
Location: Hookipa – North ShoreSeason: Summer monthsThe waves: Better for beginners who are transitioning to the next stage, offering a little more challenge, beach break, softer in summer months Middles is the most mellow of the 3 breaks at Hookipa (the others are Pavillions and the Point which are for more advanced surfers) and offers those that have mastered the basics at smaller more user friendly surf spots to challenge themselves. It's a good wave for longboarders.  It does get windy here and for this reason is a major windsurfing location, so you will need to watch the wind forecast and try and catch it when it's a bit cleaner.
---
Oahu
Oahu is the most visited island of Hawaii, and you may be put off by the crowds of Honolulu and Waikiki Beach, but there are many other areas beaches around Oahu which are away from the hustle and bustle.
For absolute first time surfers, they might actually benefit from learning and one of many surf spots along Waikiki Beach, as surfers here are used to beginners and there many surf schools and board hire shops. 
Some of the best surf breaks for learners in Oahu include:
Pops (aka Populars)
Location: Waikiki – in front of the pink Royal Hawaiian Hotel Season: Any time of yearThe Waves: Soft and mellow waves and vibes, a big break with inside and outside sections so there's plenty of space for everyone despite the crowds, long classic Hawaiian rides Located right in the heart of Waikiki, Pops is a large wide and mellow surf spot which breaks over a sandy reef and is well suited to beginner and intermediate surfers. As you'd expect it can get really crowded here but the vibe in pretty relaxed. The break is really spread out so even when there is a lot people surfing, the crowd can disperse over the whole area with multiple little waves breaking all over.  The paddle out may put off beginners as the surf only breaks really far out but there's a big channel which actually makes getting out easy. The waves themselves are really soft and beginning, which make them perfect for learners trying to get the hang of it and that fact that the crowd can spread out means that you won't get in people's way as much as you would at some other surf breaks.
Queens and Canoes
Location: Waikiki – in front of Moana Surfrider HotelSeason: Any time of yearThe Waves: Soft and mellow beginner friendly, long lapping waves, easy beach access. Queens and Canoes is commonly known as the birthplace of surfing. Here you'll find the popular Waikiki Banyan Tree and the Moana Surfrider, Waikiki's oldest hotel. For surfers of all abilities, the 2 beaches of Queens and Canoes are the most popular surf breaks along Waikiki so expect massive crowds at all times. Canoes and Queens beaches are separated by a breakwater and the Moana Surfrider's beachfront extends all the way to the edge of the massive Waikiki banyan tree. 
There are plenty of beginners here, as well as surf lesson operators and surfboard hire.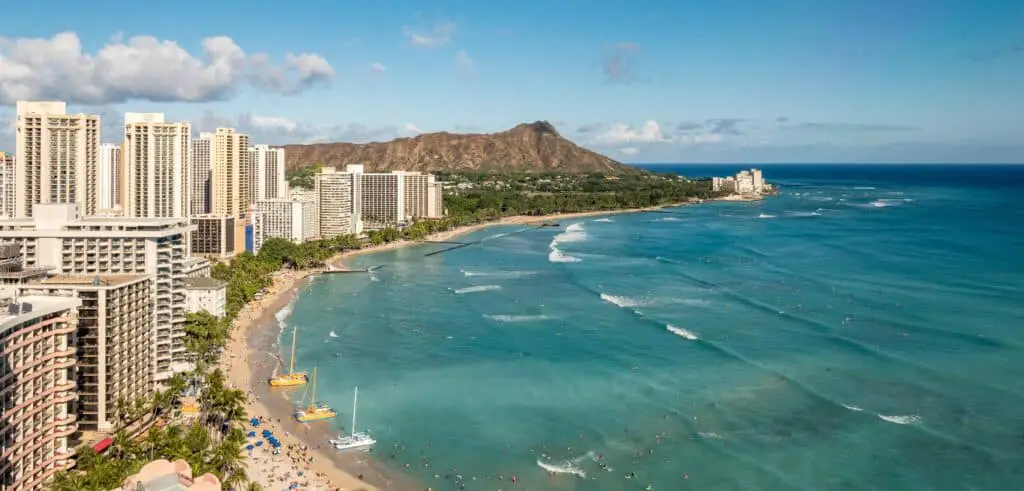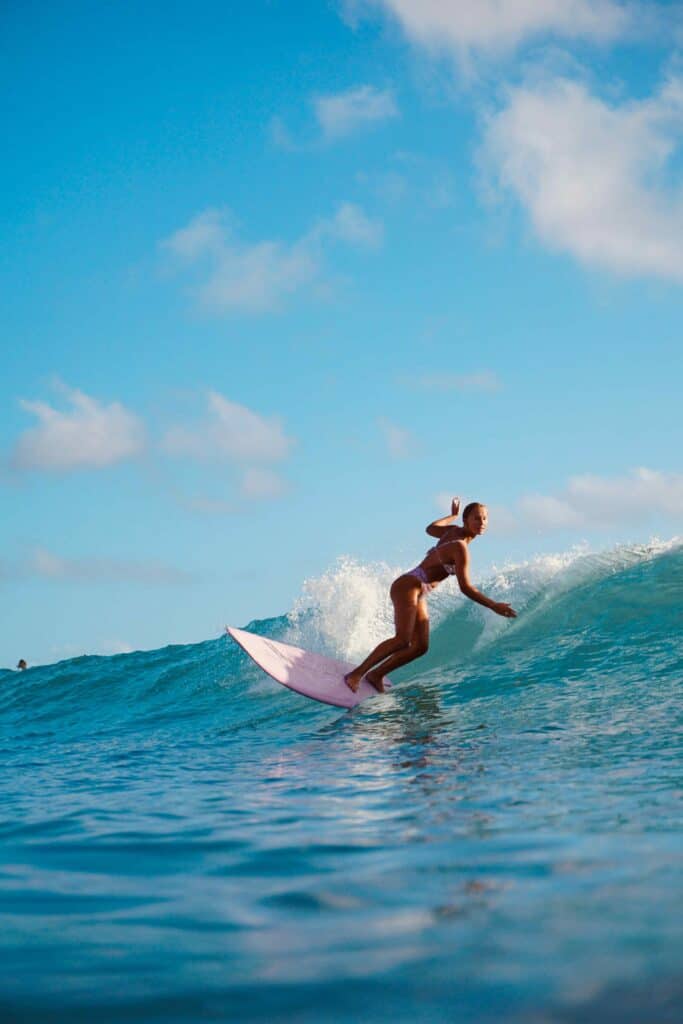 Puaena Point
Location: Hale'iwa (Oahu North Shore)Best Time of Year: Only breaks in winterThe Waves: safe place to surf when waves are big elsewhere, long rides and easy access but can be very crowded Puaena only breaks when the rest of the North Shore is huge, which is in the winter months. The interesting thing about it is that it offers a variety of waves from complete beginner to intermediate to experienced. The waves at Puaena reform several times on their way into shore getting progressively smaller so you get an inside section really well suited to beginners, and if you paddle out further the waves get progressively more challenging. Because of this, especially on weekends it can get crazy busy here, but does mellow out a bit during the week.
Castles/Melaekahana Beach
Location: Melaekahana, (Windward side, Oahu)Best time of Year: Fall, SpringThe Waves: Multiple breaks, short paddle out, manageable in larger surf, sandy bottom in areas Castles is a very playful wave that offers beginner and intermediate surfers some fun options and it encompasses a wide area. There are options to surf inside and near the sandy shore break, paddle out for longer rides, or farther towards the cliff wall for more advanced waves. Just keep in mind there can be a lot of people and surf schools here making it a crowded place. There is a campground here too which also has board hire – Melaekahana Beach Campground.
Barber's Point
Location: Kalaeloa, (South Shore Oahu)Best time of Year: Anytime of yearThe Waves: Gentle and consistent waves suited to beginners due to offshore reef Situated on the south west coast of Oahu, this area was formerly the Barbers Point Naval Air Station. Depending on swell direction the waves range from lefts to broken peaks. 
Barbers Point has good amenity in terms of surf lessons and board hire, and although it can be crowded, its nothing compared to Waikiki to the east. 
---
Kauai
Nicknamed the Garden Island, Kauai is known for its dense rainforests, dramatic cliffs, mountains and waterfalls. However, Kauai is also a surfing paradise set against some of the most amazing scenery anywhere in the world. The surfing options range from the gentle, beginner-friendly waves of Poipu and Kalapaki to the wild North Shore breaks that attract world champions in the winter months (not suitable for anyone but experienced surfers). 
Some of the most suitable spots for learning to surf are:
Lemon Drops
Location: Poipu – South ShoreSeason: SummerThe Waves: Small, soft waves with friendly and easy going crowd Situated on Poipu Beach, Lemon Drops is basically a beginners only surf spot so if it is your first time on a surfboard, this could be the spot for you. You won't find any angst or judgement from more experienced surfers at this spot, which can be an issue elsewhere.
Pine Trees
Location: Poipu (Kaua'i, South Shore)Season: Winter but can occasionally gets reasonable swells during summerThe waves: It can get big and dangerous in the winter swell season however when small it can be surfed by beginners Pine trees is a sandy beach break in the middle of Hanalei Bay, the largest bay on the north shore of Kauai and it gets its name from the ironwood pines that line the beach. Like all north shore locations across the Hawaiian Islands, the winter brings with it large swells and dangerous surf to the north shore but when the surf is smaller from around 2-3 foot this wave can be safe enough for beginners to have a go.