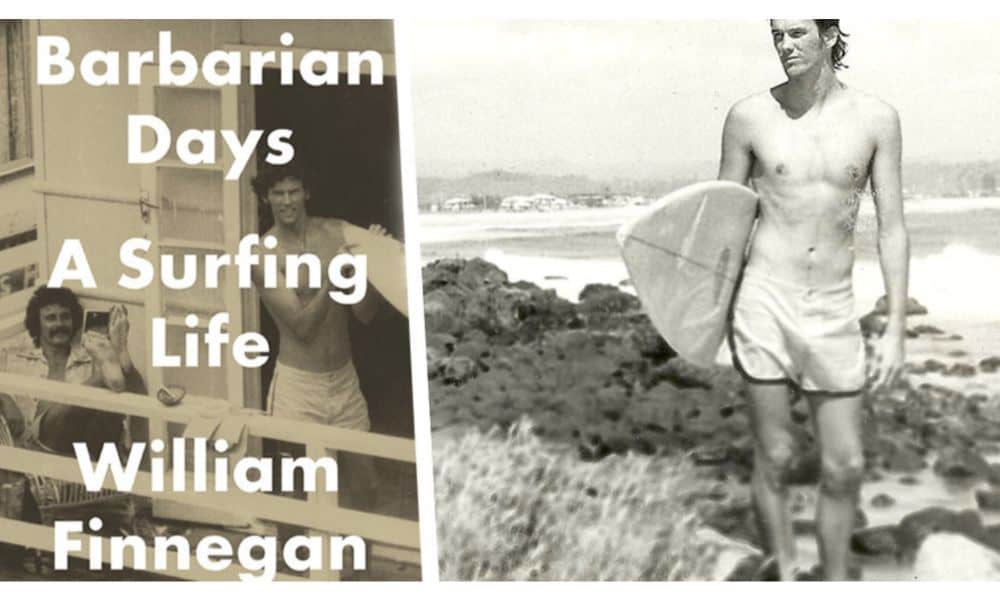 For a long time I glimpsed the cover of Barbarian Days: A Surfing Life by William "Bill" Finnegan here and there but for some reason I never looked into it. I hadn't really taken too great an interest in surfing books for some 15 years and considering all the fanfare for this book it seems I was hiding under a rock. But when I recently found myself with an Audible credit I gave it a go and I'm so glad I did. It hooked me immediately and I enjoyed Barbarian Days thoroughly.
This is a memoir which fundamentally focuses on a life lived obsessively around surfing but it offers so much more even for non surfers. After all, it won a Pulitzer prize in 2016. Some do complain that it does drag on a bit in the final chapters and I can understand that for someone without a knowledge or passion for surfing that it could become a little tedious. However ultimately this book is about Finnegan and surfing just happens to be the context. He's a fine story teller with an uncanny way of beautifully describing every little detail and somehow keeping it alive and interesting.
As a surfer with a keen interest in the period of surfing around the 60's and 70's, and someone who has always pined for the "good old days" and uncrowded waves, I found the author's accounts of that period through California, Hawaii, Fiji, Australia and South Africa among others fantastically interesting. Particularly Finnegan's travels which led him to extended jaunts at Kirra on Australia's Gold Coast (my local area) hit close to home, and his time in Cape Town (my birth place) – I could really connect with his journey. This stretch of the book between Australia, Asia and South Africa really grabbed me.
But it was also the struggles of the author which I could empathise with. As many do in their 20's I had also found myself on a consistent quest to find that intangible "something else", and had felt the self inflicted pains of being away from loved ones or leaving loved ones for good in an effort to find myself.
As Finnegan eventually pursued his true passion for writing as a career, he came to the realisation that he no longer lived for surfing – that it was a pastime that had deeply weaved its way into his life for good, but that it didn't feed his soul in isolation. I felt this was refreshing and a realistic message. I also found it inspiring the way in which Bill continues to surf throughout his life – sometimes more and sometimes less – but consistently and still into his later years. It's a running theme of the book, the struggle that all surfers have as they get older and the inevitable downward spiral of physicality and surfing ability – turning into a kook again as he puts it. 
There's a string of interesting characters that Finnegan introduces us mostly those who he has met through surfing but also some in the process of his journalistic endeavours. Equally, the author chronicles a considerable number of iconic surfing locations which form a key part of the narrative, outlining the rise and fall of some renowned surf spots as they go from secret to crowded and some of which he revisits over a number of decades. Also interesting is time spent surfing in places such as San Francisco and the committed surf community that calls it home.
All in all, Barbarian Days was immensely enjoyable and I would highly recommend it to any surfer who has an appreciation for the past and who seeks to better understand our sometimes delusional obsession with surfing. It's unlikely that anyone will more eloquently describe surfing, ever again.
Barbarian Days a surfing life summary
Finnegan's early life was spent in California before spending a number of middle schooling years in Hawaii, where he really embraced surfing in a serious way.  Returning to California for high school and University, he ended up dropping out to move back to Hawaii.
After a number of years between Hawaii and California and in his mid 20's Bill decides to head to the Pacific on a quest to find waves and on a journey without a defined end date. Along with friend Bryan he spends time in Samoa and Fiji, finding a truly world class and unknown wave in the process prior to heading to Australia, to work and live on the Gold Coast surfing another world class wave at Kirra.
Following that was a stint in Bali and Java surfing at waves such as Uluwatu and G-Land. Facing a serious bout of Malaria and almost forced to return to California, Bill eventually heads to South Africa, where he somewhat unexpectedly takes on a teaching job in Cape Town during the height of apartheid. This time heavily influenced Bill's journalism career and he ended up writing a book about the conditions in South Africa.
Eventually after some 4 years overseas, Bill returned to the United States where he settled for a number of years in San Francisco, surfing the cold and harsh waves there alongside a crew of equally obsessive surfers. 
Writing by now had been firmly established as the author's higher calling and he began taking on various assignments such as a piece one of his San Franciscan friends, a fellow lifelong surfer and doctor which he wrote for the New Yorker and eventually war correspondence and international politics. He continues to surf but more sparingly, taking regular trips to Madeira among other places.
Despite his ever-increasing age and his newfound responsibilities as a husband, father, and journalist, Finnegan refuses to end his obsession with waves, continuing to love and philosophize about his passion for surfing.
William Finnegan is a staff writer for The New Yorker, where he works as an international journalist. Some of his particular interests include race and bias in South Africa, Mexican and South American politics, and youth poverty in America. 
His work has earned him a number of awards; Barbarian Days won the 2016 Pulitzer for Autobiography. He has also received two John Bartlow Martin Awards for Public Interest Journalism, been a finalist for the National Magazine Award twice, and won a number of other awards for social justice journaling. He now lives and works in New York. He has written five books, and Barbarian Days is his most recent. 
Barbarian Days audiobook
I digested Barbarian Days as an audiobook, which is narrated by Finnegan himself who does a fine job. I enjoyed listening to him and his passion, energy, spirit and humour always shone through.

This compared to another surfing book that I recently tried to get through which was not narrated by the author, and which simply didn't resonate at all.
Finnegan's voice was a fine companion when driving over the last couple of weeks. 
If you enjoy audiobooks I would highly recommend this option.
Barbarian Days Pulitzer Prize
Barbarian Days won a Pulitzer Prize in 2016 in the biography category. I think this is illustrative of the quality of Finnegan's writing which speaks so clearly, descritively and passionately about a life long obsession (with happens to be surfing), in a way that can resonate with many surfers and non surfers alike.
Barbarian Days quotes
There are too many amazing quotes from this book to pour over here, but do yourself a favour and have a read of many summarised here. 
Barbarian Days movie
Make of it what you will, but it does appear that a film adaptation of Barbarian Days is in the process of being made of which Finnegan will have some involvement.
Amazon Studios has Oscar winning screenwriter Stephen Gaghan (Traffic) involved but otherwise details are limited at this stage.
To be honest, I'm (as others are I assume) not sure how they'll portray this as a film and the only way I can think that they could is by overdramatising some specific elements of the story such as his youth growing up and surfing in Hawaii in the 60's, discovering the "secret" wave in Fiji, time spent in South Africa, time spent in San Francisco. There's plenty of interesting material to draw on but the reality is Finnegan never tells his story in any kind of over the top way. The book is done so well because of his language, tone and pacing of his writing – skills that he's perfected over a lifetime in parallel to surfing. To convert that into a dramatised film about surfing that people will buy into? I can't quite imagine it, and do not have high hopes that they would pull it off, but I would be pleasantly surprised if they do.