If you're looking for a surf and yoga retreat in Mexico, you'd be hard pressed to find something better than Yantara Retreats in Sayulita.
Yantara throw unique personalised retreats for private groups. Co-founders, Charlotte and Eloise, pride themselves on using their wealth of Sayulita knowledge to organise a fully tailored retreat to suit your group and ensure you experience what is it really like to 'live' in Sayulita.
In a surf and yoga retreat, Yantara will give you a unique Sayulita experience. From waking up in a beautiful oasis to stretching in a yoga shala before munching on a locally sourced breakfast to energise you for an afternoon playing and surfing in the waves… it doesn't get much better than that, does it?
We've asked the founders of Yantara Retreats, Eloise and Charlotte – to give us a bit more insight into Yantara and Sayulita.
How did Yantara Retreats Come about?
Yantara Retreats was started by us- two friends, Eloise and Charlotte.
We first started travelling together fresh out of school with so many plans about where we wanted to go and what we wanted to experience in our lives- quite often these conversations involved 'we'.
With a shared passion for immersing ourselves in different cultures and communities, pushing ourselves out of our comfort zones and striving to maintain a healthy lifestyle, body and mind, we continued to travel at every opportunity throughout our university years, and this was how we stumbled across the magical Sayulita surf– the location of our new retreat.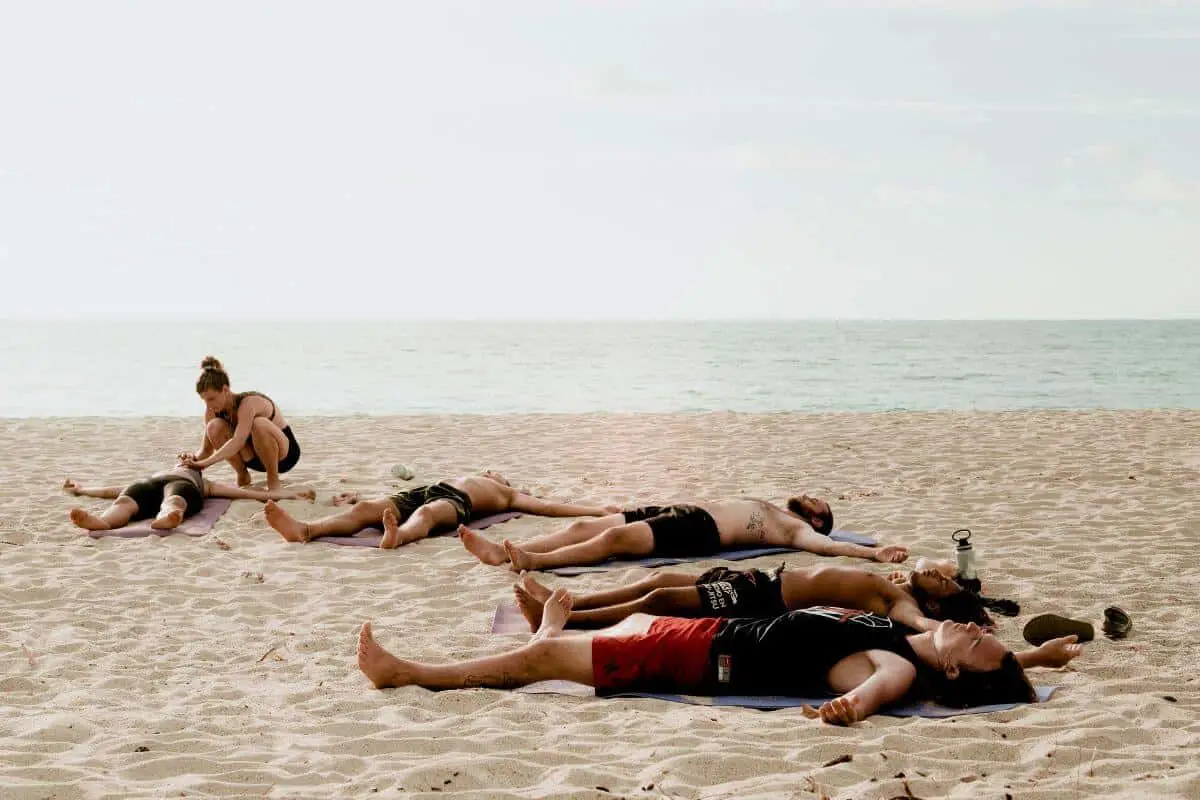 Our aim is to create retreats in various locations around the world that we know and have come to love, so that we can allow our guests to experience the culture of each of our locations, whilst enjoying the best of the surf and unwinding (and then twisting yourself up) with rejuvenating yoga sessions.
We are hosting in Sayulita for now with big plans to explore the rest of our beautiful world.
What kind of surfing can we expect in your Sayulita surfing retreat?
Sayulita is a popular surf spot due to its consistent mellow waves which are great from complete beginners to intermediate surfers and longboarders.
To the south side of the main beach is the beach break where you will have your first surf.
Surf Sayulita Mexico DISCOUNT for our readers: 10% Discount – Use code GETFOAMIE10 when you book via our website to enjoy a 10% discount.
At the centre of the beach and towards the north end you find the reef breaks.
You will quickly progress to surfing in this area where the waves are slightly bigger but still mellow.
The water is warm year-round, no wetsuits are required!
On your final day of surfing, we will make a trip to a nearby surf spot, which is popular among locals due to its cruisey waves and empty beach.
All surf coaching and surfing lessons Sayulita is taught by the Stalla Surf Centre which is owned and run by national champion and SUP race world champion, Fernando Stalla.
We may be biased, but we have no doubt that your surfing will be elevated to that next level under their watchful eye.
Sayulita yoga retreat – What about the yoga?
On this retreat expect to deepen your asana (physical yoga) practice.
Each morning we will begin the day with an invigorating vinyasa yoga flow, you can expect inspiring and uplifting classes which will test your strength, build on your alignment and allow you to have fun whilst experimenting with new postures.
We will build upon the practice to ensure that you are feeling stretched, lengthened, twisted, inverted and grounded.
The yoga classes will be mindfully planned to complement the surfing, hiking and paddleboarding which you will also enjoy.
We will wind down each evening with a gentle yin or restorative yoga class so that you can rest deeply and peacefully every night.
Our retreat is open to everyone and anyone, no matter your experience or knowledge of yoga and surfing, we welcome you with open arms.
Discount for Get Foamie readers: 10% Discount – Use code GETFOAMIE10 when you book via our website to enjoy a 10% discount.
What can you tell us about Sayulita – why is it so special?
In 2015 Sayulita was officially recognised as a 'Pueblo Magico'- a Magic Town and whilst we can try to sum up some of the key elements of what makes Sayulita so amazing there is an element which we will always struggle to describe to someone who hasn't been there yet… it just has a certain magic.
A boho, surfer chic town located on the Pacific Ocean at the south end of Nayarit, it is home to a unique blend of authentic Mexican culture and loved by expats.
As previously mentioned, the surf is amazing and you are just as welcome running into the waves as a total beginner as you are riding the waves at dawn with the pros.
The beach provides a platform for another moment of magic every evening… the sunsets. Truly, there is no time of year in Sayulita when you won't pause, jaw-dropping, at the beauty of the sun going down.
We have now also sussed out the best secret beaches to hike to and set up a bonfire so that we can enjoy this evening ritual with close friends and no one else.
And the Food you can try at Sayulita surf camp?
Whether you want to spend 15 pesos on a taco or tamale (vegan and vegetarian now available on the street stalls!) or splash out for a beachfront meal- Sayulita has it all.
What's also great about the cafes in Sayulita is that there are lots of co-working spaces serving up delicious bagels, acai bowls, smoothies or a big plate of guacamole with fresh tortilla chips.
They say it's for sharing but let's be honest, when it comes to fresh guacamole, I'm not sharing.
Discount for Get Foamie readers: 10% Discount – Use code GETFOAMIE10 when you book via our website to enjoy a 10% discount.
Anything else you'd like to tell us about surfing Sayulita Mexico?
The community in Sayulita is wonderful.
With constant fiestas happening in the main square, salsa bars that welcome anyone who wants to dance or learn to dance and friendly street vendors, you can't help but walk around and smile at everyone.
The activities range from hikes up monkey mountain, sunset paddle boarding, surfing, dancing or beach walks to nearby towns there really is no end to the ways to explore and enjoy Sayulita.
Thanks Eloise & Charlotte from Yantara Retreats!
For more information check out there website: https://yantararetreats.com/