If you've ever taken a look at a surf forecast or heard someone talking about good surfing conditions, chances are you would have come across the term wave period. This article aims to uncover what wave period means, how it impacts surf conditions and why you should get an understanding of it.
What is a wave period and why is it important?
Broadly speaking, wave period is the time it takes for two successive wave crests or troughs to reach a fixed point. Looking at it from another perspective, wave period is the distance between consecutive waves.  
The larger the distance between waves and therefore the longer the wave period, the wave has had more time over a long distance travelled to accumulate energy and travel faster. This means that the wave is more likely to be able to cope with local winds and currents when it arrives in shallow water and breaks near the shore. For the waves that we need for surfing, this normally indicates that the waves are faster and better-peeling.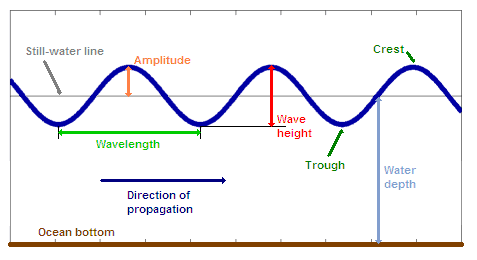 Taking a step back a bit, it helps to understand that the initial source of waves come from two different types of swell: ground swell and wind swell. These terms refer to how the wave was made. Groundswell waves are created when waves are generated far away from the coast and wind swell waves are formed by local winds near to the surfing spot.
Usually, groundswell waves are better for surfing as they have had time to generate more energy, so they tend to break cleaner. Wind swell waves have the tendency to be more choppy and difficult to surf.
Linking back to the concept of a wave period, waves with shorter periods are usually created by local storms and winds, meaning that they are probably wind swell waves. Alternatively, waves with longer wave periods are created much further from the coast, often as a result of high winds and storm weather in far flung locations.
Understanding the concepts of wave sources and long and short wave periods will help you to better understand surf forecasts and how they impact your particular local surf spot. 
What is measured by a wave period?
The period of a wave, also known as an interval, is measured in seconds, being the amount of time between two waves passing through a stationary point. 
It is possible to manually count the seconds between set waves reaching a stationary point, to give you an approximate wave period.
However, wave period gives you a lot more information about a swell than just how long it is between waves. Primarily, it provides a deep insight into the underlying energy contained in a swell. The shorter the period, the weaker and slower the swell, and the closer to the surface it travels. The longer the period, the more wave energy is contained within the swell and the faster and deeper beneath the sea surface it travels.
Indeed, it's the mathematical relationship between wave period and wave speed and how far the wave energy penetrates beneath the sea surface that allows forecasters to calculate, with great accuracy, things like swell arrival times as well as breaking wave heights. Big interval groundswells of 15 to 20 seconds carry much more energy, penetrating over 1000 feet below the sea surface (for 18 second intervals). 
This means groundswells feel the sea floor in much deeper water than windswells (a windswell is loosely any wave exhibiting periods of 6 seconds to 12 seconds) and hence will refract and react to the sea floor further offshore.
How does wave period affect surf?
While wave period is only a single factor among many that affect the quality of a surf spot at any one time, it is certainly a critical one. Other aspects that forecasts need to take into account such as primary and secondary swell sources, local weather conditions, wind speed and direction all combine with wave period to create good, or not so good surfing waves.
However, when it comes to reading surf forecasts, there's little that would get a surfer more excited than long period swell heading in their direction. 
Quite fundamentally, the quality of waves in a given location is largely dependent on the timing of sets coming in.
High quality waves from long period ground swells are generated in the open ocean, hundreds of miles offshore and can arrive to the coast (when the conditions are right) to otherwise calm conditions which are perfect for surfing waves.
Short period waves on the other hand with intervals of between 1 and 10 seconds are waves that are being generated by local winds or regional wave currents, and although not always the case, are generally of lower quality for surfers. Also, being the result of more local wind or storm conditions, this means that that those conditions are likely to be felt at the surf spot ie. heavy winds. 
When the surf forecast details 20 second periods between waves, as well as light offshore winds, the chances of powerful, glassy and perfects waves heavily increases.
Long period swells accumulate energy, travel faster, and can easily cope with local winds and currents, resulting in larger surf when it comes to average wave height. 
Forerunners are the first waves to reach the coastline from long-period swells. They usually move faster (have shorter intervals) than those that arrive later in the swell event.
Although forerunner waves carry a large amount of energy, they are not as easily spotted by surfers because they don't show much surfing potential. What they do indicate is that more quality waves are on the way.
So, what is a good wave period for surfing?
While it may seem, as we have indicated above,  that the simple answer is that long period surf is much better than short period, it does depend on the characteristics of the particular surf break and what kind of waves you are looking for. 
More often than not, big groundswells carrying greater and deeper water energy react to a sand bank in deeper water, often beyond the rips and gutters that shape good beach break surf which can tend to result in close outs that aren't great for surfing. 
Conversely, wind swells are often more broken up and only begin to react to sand banks in much shallower water, and are therefore more likely to produce good surf at beach break locations as they peel off along gutters and rips.
If you're surfing at reefs and point breaks, then longer period groundswells generally produce much better surf but this again depends on the characteristics of an individual break and the shape and depth of the seafloor that the approaching swell interacts with. Most of the world famous point breaks are at their best with long period ground swells that wrap in from oblique angles, producing long, high quality waves.
However, really big periods of 18 to 20 seconds don't always equate to good surf. Such high energy swells can be too much for some breaks, with all that deep water energy drawing too much water off the reef or sand bottom before the wave breaks.
Not only that, only the most skilled surfers can tackle waves when they are at this size.
What happens when there is a mix of swells?
The 'swell period' that surf forecasters use is a way of describing the most powerful waves in a swell event, but a swell will generally always have a mix of waves of different periods and you can't tell much about that mix from just the one number.  Granted, secondary and tertiary swell data can also be viewed on surf forecasting tools and websites.
If you are to look at only the headline swell's wave period, you could be looking at a 16 second period swell that will produce perfect sets of lined up waves, or a mixed up powerful sea with 16 second swell at the top end but wind junk in lower periods creating bumpy confused conditions. 
Wave period is still one of the most useful bits of information in surf forecasting but be aware of this shortcoming and the need to consider a likely mix of swells with differing wave periods. 
Difference between wave height and period 
You may be confused as to how swell height, wave period and wave height fit together. While swell height refers to the average size of the swell out at sea, wave height is the average wave size a surfer may expect to see when the swell reaches the beach.
When ground swells with long periods travel extensive distances across the open ocean, their energy extends from the ocean's surface towards the sea floor. When they reach a shoreline they are forced upwards by the sea floor and to form a wave. The longer the wave period the more energy that is underwater and that can be forced upwards forming a larger wave.
As a result of this, for example a swell event with swell size of 5 foot and 8 seconds wave period, will have a smaller wave height than another event with a swell size of 5 foot and 15 seconds wave period. 
What surfing conditions can you can expect with different wave periods? 
1 – 4 Seconds
Small and weak waves in the very early stages of being generated from strong local wind event and that are unlikely to be surfable. The waves will look lumpy and bumpy but you'll struggle to see individual waves. Because this sort of swell is unable to travel far from the storms that create it you can almost guarantee that there will be strong local winds.
5 – 6 Seconds
Similar to the 1 – 4 second range with the occasional weak ridable wave face but likely to pretty average surfing conditions. Again it'll be almost impossible to find this sort of swell without the strong onshore winds that create it so expect really ordinary conditions for surfing.
7 – 9 Seconds
This would be typical wind swell considered surfable by many surfers, especially those in areas that don't get great waves. Typically this sort of swell will still be in the path of the strong winds that created it, but it will hang around for a short time if the wind direction changes so offshore conditions are possible. 
The waves will generally be weaker and jumbled up without clear sets. However a good sand bank or bit of reef can generate decent waves and large storm swells at the upper end of this range can produce decent waves at the right spot with the right local winds. The surf produced by these swells will normally be slightly smaller in height than the swell that creates it, losing power as it enters shallow water, but a good reef can create a wave face larger than the swell size at the upper end of this period range.
10 – 12 Seconds
Swells in this range will often be starting to head away from the storms that create them. It's possible for them to travel in open ocean for some distance. They can often create good quality surf. These swells won't bend or 'refract' into hard to reach surf spots and are less likely to barrel when smaller than longer period swells. 
On average sandy beach breaks these mid period swells can create some of the best conditions, a reef or point break needing the swell to refract can prefer a longer period of swell. The waves produced by these swells will often be about the height of the swell itself given the right direction on the average beach. If other conditions are favourable swell in this period range will definitely be worth checking out.
13 – 15 Seconds
These swells are definitely ground swell – normally created some considerable distance from the beach by powerful storms. They most often arrive without the storm that created them, making for a good possibility of calm local conditions. They're powerful, they will bend or refract around headlands or into more sheltered coves and create, especially when smaller, hollow barrelling waves on even average sand bottomed beaches.
These swells will have more defined sets and look a lot more 'lined up' than lower period swells. Typically this sort of swell is great for creating surf and the waves created will often be bigger than the swell height as the swell refracts to focus its energy in shallow water and the wave shape changes. This sort of swell period would be typical of the peak of an Indonesian swell for example and can create absolutely perfect conditions if other factors are aligned.
16+ Seconds
Extremely powerful swells generated by distant storms and often travelling the breadth of the largest oceans to reach the beach. These swells can refract considerably as they approach shallower water, bending into sheltered coves, around significant headlands and focusing their energy on beach to create, with the right local conditions, ridable waves considerably larger than the swell height at the right spots.
A good example of scenarios in the upper end of this range would be powerful southern Hemisphere swells travelling all the way to California with maximum periods in the 21 seconds range. At just a couple of feet this sort of swell can create 6 – 9ft waves on the beach.