If you are new to surfing, or if you dream of becoming a surfer, odds are you're going to want to join a surf school for at least a few surf lessons or classes. Surfing academies often feature highly skilled instructors who are able to provide detailed, hands-on support, and most of them can teach you all kinds of knowledge and skills no matter what level of experience you have.
That said, there are definitely some surf schools that are outright superior to others, and there are several around the world known for their great prestige and strong records of producing talented and capable surfers. Whether you're starting from the bottom or working your way to the top, the best surfing academies in the world are out there and could be perfect for you.
What Makes A Good Surf School Or Surf Camp?
Before discussing any surfing lesson, it's important to explain exactly what the two types of academies truly are and what makes for a good one. The positive traits of either type of surf school come down to the same things as any school or tutoring program: They should be able to help you, whether you're new to surfing, or you're trying to perfect your skills. If they can do either of these, and they are in a prime location, they're likely to be worth your time.
As for the difference between surf schools and surf camps, this mostly has to do with the specific type of program. Most schools offer both school and camps, so the naming can be a little bit confusing. For the most part, a surf school is intended to give one lesson or two, while a surf camp is usually a longer-term program featuring daily surf lessons. Nonetheless, make sure you research your program well to ensure you're signing up for the experience that's best suited to your timing and skill level.
While Mojosurf is based in Australia, the company itself has far more branches than you'd expect. It offers programs in all sorts of regions, from Bali to Indonesia, and offers multi-day surfing adventures where you can learn and practice in a combination vacation/learning experience. By the end of the program, you'll have gotten a huge break from your home life and some constructive skills to push your surfing further.
If you do happen to be in Australia, though, you'll find that Mojosurf offers all sorts of other programs in this surf spot which vary more than their retreats located elsewhere. You could enjoy anything from individual lessons and trips to multi-month surf camp courses, or a group lesson that helps develop your independent surfing skills over time, making it an absolutely ideal surf academy in a spectacular location.
George's Surf School is a place to check out if you want to surf but prefer to remain in the UK. Many of their offerings include three or four day trips, where they provide daily surf practice, private or shared rooms with your classmates or group, and even some essential theory for learning the less physical aspects of the sport.
If you're an experienced surfer already and want to learn how to become a surf coach yourself, or even just obtain lifeguard qualifications, George's Surf School can also offer these sorts of programs, as well to help you learn proper teaching skills and surfboard water safety. Many programs are targeted to beginners and hobbyists, but this school can also be a great place to help turn your surfing into a proper career.
It almost goes without saying that Hawaii is home to a huge variety of surfing schools, and few of them are poor recommendations. It's a great location for surfing, complete with waves and a huge amount of support for both beginners on vacation, the intermediate surfer, and professionals trying to up their game. Kauai's North Shore Surfing School has a selection of lessons for either.
This program is much less about a multi-day surf trip and more about individual lessons, which might make it affordable and friendly for beginners who don't want to commit to anything major. It also offers several family lessons and affordable equipment rentals, making surfing accessible if you're new at it, happen to be in Kauai, and want to get started.
Soul Surfing School is an all-around surf camp for any kind of surfer, whether you're looking for simple lessons or a regular day camp to spend the summer at. There's a large amount of surf lesson variety in their programs, from individualized lessons to group lessons for teams of beginners looking for a fun activity to longer-term camps that offer constructive practice.
Soul Surfing may be helpful for younger surfers, givinggroup programs for kids who want to start off their surfing career strong. It's worth mentioning that Soul Surfing is also a Christian-inspired program, but the program is focused on learning and cooperating as a team to learn this fun and valuable sport.
Another place for advanced surfers to go is the Jo Moraiz Surf School in France, offering a more academic set of programs with many beginner classes. It also offers one of the widest arrays of advanced and expert courses for those looking to work further on their skills. This company is recognized by the French Surf Federation and is professional in its presentation, making it an option for anyone who wants to surf seriously.
If you aren't among the experienced surfers, though, don't feel too intimidated by these offerings. There are still several beginner surf team and training courses for those who aren't as experienced and there are even some free surf opportunities that can help you just surf without too much instruction or oversight. France's surf schools are of a high quality compared to other countries.
Many of the schools already mentioned offer a variety of water sport lessons, including paddle boarding and water safety courses, but Escape Surf School is dedicated entirely to surfing. This school offersan intermediate private lesson, both for adults looking for weekly practice year-round at a surf club and for younger surfers wanting to start their career off strong.
One of the key words is that it's"year-round," as Newquay has spectacular surfing seasons that make for great practice, with some large waves and a steady consistency in the tidal flow. It's a place to go if you want to become an expert, and it is a location with amenities and comfort for a longer surf break and vacation.
If you happen to be in Portugal and want to start your surfing experience in a premium locations, check out Caparica Evolution Surf School. This surf academy offers all sorts of programs that are especially quick for beginners, with emphasis on getting into the water, and tons of quick classes of under two hours to give you the basics of safety, theory, and balance.
Caparica Evolution also features one of the longer surf camps for younger surfers wanting to spend a full summer on the water, with a daily program that features everything from surfing to other activities like paintball and tree climbing. It's just as much a surf school as it is a vacation program, and it provides entertainment as much as it gives you your foundational surfing skills.
Another surf location in France is in the southern area of Landes, where surfers can experience some of the largest waves that make for great experiences for any kind of surfer. Rather than the dedicated and formal approach from Jo Moraiz, Aloha Ecole de Surf is a much more all-around school that offers everything from surf training to swimming lessons, and it has a great suite of introductory and one-time classes with surf instructors.
However, they also are flexible, for those who are more advanced and wish to continue their skills. With your coaches, you can discuss exactly how skilled you are, and get effective, personalized lessons that can help you improve in exactly the kind of ways you want and need.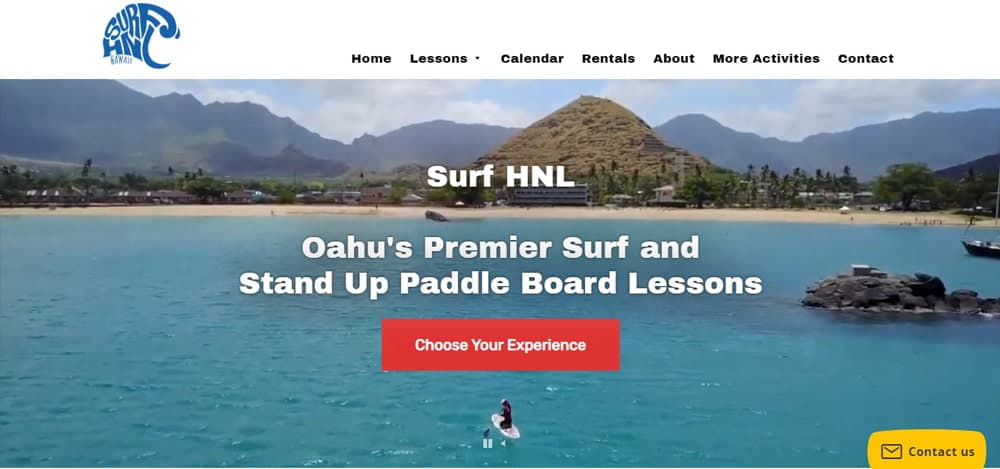 Once again, it's important to mention that Hawaii is home to a massive number of surf schools, and their various locations mean you're bound to get a great experience with nearly every professional surf academy on any island. Surf HNL is one of these, offering surf lessons that take no longer than an hour to get you on your board and freely going through the water, smoother than several surf schools around the world.
Unlike many of the other schools, Surf HNL is very much focused on beginners, sticking primarily to these hour-long lessons and not being as focused on long-term camps and programs. That being said, they have a wide variety of targeted lessons for different age groups and different combinations, from families to friends, making it a way to start and try out your surf dreams before committing to the sport further.
Located off the Torquay Surf Beach, the Torquay Surfing Academy can provide a specialized experience for any type of surfer, from a fresh beginner to an expert in need of second opinions. This surf academy prides itself on its private lessons, giving a specialized coach for you to work with and to satisfy whatever you need most from your surf experience. This school may be worthwhile for those who don't yet have their own equipment or who aren't able to bring it with them. The quality of products they provide through their store and rental hire service relate to any situation you're in, and their selection is wide enough to require little reservations in most situations. It's an experience for anyone, from pros to starting surfers.