Portugal has been quietly building momentum as a great surf destination for the past few years.
With the addition of two major surf contests each year, one in Peniche and one in Ericeira, Portugal's place on the surf map is now firmly in place.
With over 500 miles of coastline, and a lot of that with surf, it's easy to see why.
The country has a lot to offer too – the mecca of Peniche with the jewel in the crown of Supertubos, the World Surfing Reserve of Ericeira, and the Southern coast of the Algarve all add up to make Portugal a top destination for your next surf trip.
Can you learn to surf in Portugal?
One thing I have to say about Portugal – it is almost never flat. Meaning there are always some waves to ride. And if you are a beginner surfer or looking to take surf lessons, that's a great start!
The variety of the coastline is staggering – there's a variety of waves and seascapes too, from huge cliffs to long sandy beaches, points, and reefs. From beginner to intermediate and advanced surfers are all covered.
Pretty much every town or surf spot we mention in this article will have a surf school or a place to take lessons, so yes, learning to surf in Portugal is a great idea!
Where is the best place to surf for beginners?
Portugal has a lot of towns and surf camps which are great places to be based if you are a beginner surfer looking to take surf lessons.
Here are a few of the best surf towns in Portugal.
Peniche
In my opinion, one of the best surf destinations if you already are a surfer, or want to become one! The coastline here is crazy – on any given day, one break in the area will have favorable winds blowing offshore. Most of the beaches break onto sand too which is ideal if you are learning to surf.
It's best not to paddle out at a reef break or pointbreak when you are still a beginner surfer. Peniche is located just a short drive south of Nazare, home to some of the biggest waves in the World.
The famous surf spot of Supertubos to the south is probably off-limits when you are learning, but the mellow waves of Baleal are a perfect place to learn to surf.
There's also a load of surf schools and surf camps, restaurants, and bars to keep you entertained when you're on land too.
Ericeira
In 2011, Ericeira was officially declared a World Surfing Reserve – a move that aims to protect the waves, the surrounding ocean, and the environment.
It's a great idea because the amount of surf on offer in such a small geographical area is amazing.
Arguably one of Portugal's best surf towns with some of the best waves in Europe, situated 45 minutes drive North of Lisbon. Be sure to put Ericeira on your list if you want to learn to surf in Portugal.
The queen of the coast is the break of Ribeira d'Ilhas, on its day can produce leg-burning right-handers from your dreams. Likened to Bells Beach, Australia, it's just one of many World class waves in the area.
You can check the surf from the main road along the coast – and be sure to grab some surf wax from one of the huge surf superstores while you're en route. The town itself is great too, with lots of cafes, shops, and bars to hang out once your arms are noodles.
Porto
Not just the place to go to drink wine and eat delicious food – although if you visit, make sure you do plenty of both! Porto is surrounded by water and has great waves up and down the coast.
Check the mellow waves of Matosinhos if you are still learning and for more advanced surfers have a look at International Beach or Leca – great beach breaks that pick up any swell going.
Sagres
The town at the End of The World, Sagres is an awesome Portuguese fishing village. With plenty of blow-ins over the years, it has now developed into a hip hangout for all manner of European surfers.
With 4 beaches all within a short distance of one another, there is almost always a surfable wave on offer.
Beliche is a tube-seeker's dream. Always barreling, with short punchy peaky waves on offer all year round.
Tonel is the big daddy of the area, can get seriously heavy in Winter, and mellower in Summer.
Mareta can be wild at times, but most of the year it serves up mellow cruisy waves best suited to surf schools and beginners.
Martinhal can light up with a South swell, or in Winter huge wrapping swells can make this a good option too.
Aljezur
The hippy town of Aljezur in the Algarve is another great place to be based if you want to learn to surf, or just want a fun surf trip with friends.
The main spot of Arrifana picks up quite a lot of swell, but the main benefit is that fact it's protected from a variety of winds due to the huge cliffs surrounding the bay.
In Summer head north from town to the beaches of Praia da Amoreira or Monte Clérigo if the swell is small – these spots will pick up anything going!
Best Surf Spots in Portugal
Here's a list of 7 of the best places for consistent surf if you're an intermediate surfer or more advanced.
1. Direita do Casino
The beach break peaks of Espinho, just South of Porto offer up fun waves year-round. The best spot, made by the rock groyne in front of the casino, is appropriately named Direita do Casino or Casino Right.
Can hold a big swell up to double overhead, and produces long rippable walls and tubes. As a result, it gets busy with a talented crowd, so give respect and you will get some waves to remember.
2. Leca
Another quality beachie to check out in the North of Portugal, Leca serves up punchy rights and lefts year-round. Not really affected by the tide, it picks up a lot of swell so can be a great option in the Summer months.
Fairly crowded when on due to the proximity of Porto.
3. Praia Do Cabedelo
Super fun and long right-hander just to the South of Figueira da Foz. Can produce epic barrels on its day. Easy jump off from the rock pier.
If conditions align the longest right in Europe is just up the road (but you have to find this one yourself).
4. Supertubos
Amazing barreling waves aptly named. There are peaks up and down this long stretch of beach, but the main one is always pretty much in the center, on a small kink in the coastline.
Can get seriously heavy and dangerous in Winter, but also has a more playful side in Summer.
The World Tour has an event every year in February which is a great spectacle with over 50,000 spectators on any given day.
5. Ribeira D'Ilhas
A super long right-hand point break on its day is one of the best waves in the World.
Even when it is average the waves here are still very fun. Suitable for all levels depending on the conditions, the area has now been developed to the dismay of the hardcore locals.
Whatever your stance on this, the waves remain the same as they always have, and if you get up early enough, you might just score the wave of your life here. Definitely worth a visit.
6. Carcavelos
Just a short hop out of the capital city of Lisbon the punchy, peaky beach break of Carcavelos is a highlight in the area.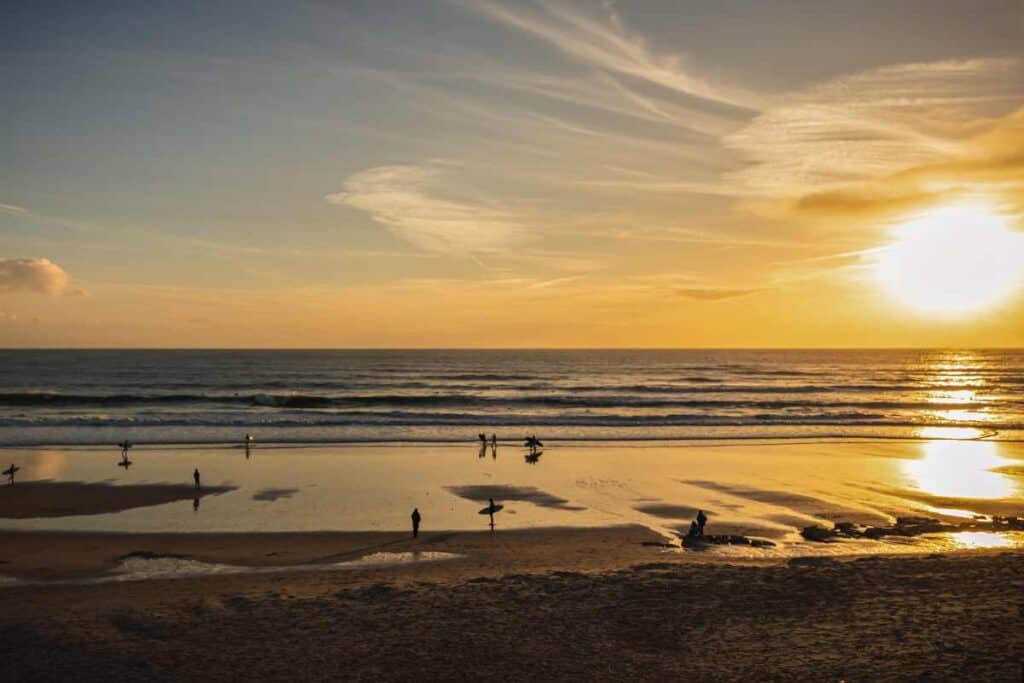 Picks up a lot of swell so can max out in Winter, it's a great place to head in Summer or Fall. A fairly long stretch of sand, find yourself an uncrowded peak, and get some tubes.
7. Punta Ruiva
Somewhat secret spot in the Algarve, Punta Ruiva is one of the rare left-handers in Portugal.
Can be affected by the tide, so put in the hours to find the best conditions – on its day rides can be pretty long with the odd tube section. A goofy-footers dream.
Final Thoughts
The waves in Portugal seem like they never stop – even in Summer, certain beaches are rarely flat.
It's easy to see why it is becoming so popular as a surfing destination. Add to that a rich history, culture, and cuisine a visit to Portugal ticks all the right boxes.
So, what are you waiting for? Book that trip today.
About the author:
Matt Hapgood is a surfer, father, and entrepreneur. He has worn many hats in his career, from teaching elementary kids to working as a removals guy. He's the founder and main contributor to MattHapgood.com and is currently living in the Algarve, Portugal.