El Salvador might not be the first place you think of when you think about the ultimate surfing destination, but it should be!
Here, we have given you our top picks across a whole range of preferences, whether you want a low-key surfing experience, or to enjoy the height of luxury after you cruise the waves.
Below is a list of the best luxury resorts that El Salvador has to offer.
Luxury Surf Resorts
Located in the stunning Playa Las Flores, the Las Flores Resort has unmitigated access to some of the best surf in the country. As a location, Playa Las Flores is a great spot to hone your skills and learn from some of the best instructors in world class surroundings.
Take your board down directly to the beach, a mere minute's walk from your doorstep down to the sea.
In terms of surf, you can expect the unique sand-bottomed point break beach which offers surfers the best of both long peeling point break waves and a forgiving sand bottomed breaker.
This makes it ideal for surfers who are starting out or want to spend time upping their game whilst still experiencing mega world-class waves.
These long waves mean that even novices can experience the joy of riding 50 to 100-yard waves, increasing your learning and ability to handle longer board rides.
You can hire surfboards and gear here easily in a range of lengths and sizes and you'll have expert advice on hand so you can be fitted to the right one.
The balmy El Salvadorian weather does away with the need for wetsuits, but don't forget that all-important sun protection!
In terms of the resort itself, the Las Flores is a luxury boutique resort with tonnes of opportunities to play around when you are in between surfs. Hotel Facilities include hot tubs, pool, sundeck, landscaped gardens, ocean views from your very own yoga deck, not to mention the signature Spa.
Las Flores Resort also offers off-site tours so you can make the most of your stay and experience what Eastern El Salvador has to offer.
If you are looking for a safe and secure place to chill out after a deluxe day surfing with friends, why not take a look at the gorgeous One Wave Surf House This amazing house offers you boutique luxury in the comfort of your own space. You can hire the whole villa out for up to ten people or book a private room in the shared villa.
You'll have access to on-demand help and support from top surfers and is open to surfers of all abilities, with a plan tailor-made to suit your needs. You have the opportunity to surf twice a day on top-quality surfboards and optional reviews and photos.
There are options to take yoga classes on the generous top deck balcony yoga studio and access to the exclusive staff who are available to book in for deep tissue or Swedish massages and cooking and cleaning.
Built in a private gated community, this villa is as safe and secure as they come, offering you a slice of home and true peace of mind if you want a real hands-off luxury escape.
Much more affordable whilst still providing gorgeous luxe vibes, Hotel Alma Azul is the best of both worlds. Nestled in the popular surf spot of Playa Las Flores you have access to the finest point break surf.
There is no wifi in the bedroom and no TVs. This is a place to digitally detox and experience the moment.
You can walk directly off your hotel deck and pick fresh mangoes, listen to the birds and watch the stars appear in the clear night sky.
In terms of surf, they offer a great selection of surf lessons for both beginners and intermediate surfers. You are 100 meters away from the nearest wave, so surf can be the first thing you do as you open your eyes in a tropical paradise.
This is the perfect place to base yourself as you explore El Salvador's coast and drink in the rich culture and history.
This boutique resort is in a prime location to enjoy the stunning Punta Roca waves. Look out of your window and see the beach right below.
You can walk directly from the hotel to the beach via a boardwalk, with access to top-quality surfing equipment to play with.
You'll have access to top-speed internet, private bathrooms, TVs, and AC so you can enjoy all the luxuries of home.
There are options for ocean dining at night, access to a large private pool, and of course to professional surf guides who can coach you, making sure you get the most out of your surfing break.
The rooms are all premium suites with daily cleaning and you'll have access to the resort's two exclusive restaurants serving local fish and a view of the setting sun.
As expected for a luxe resort, there are additional options for yoga classes and wellness retreats where you can indulge in a massage after a day's surf.
The resort is also just a stone's throw from the local fish markets in town at La Libertad, or you can venture out to El Tunco for some nightlife as well as nearby Sunzal and Mizata to explore the local history and culture on your doorstep.
The resort will also arrange for a private pickup from the international San Salvador Airport 30 minutes away upon request.
Surf Camps
If you're not one for all the bells and whistles of a luxury resort and would rather stick to the basics, take a peek at our selection of great surf camps in El Salvador.
With the focus purely on the surf, Maya Surf Tours can offer you tailor-made surf lessons and coaching to improve your skills amongst the Central American waves.
Based in La Libertad, Maya Surf School is close to the international airport and has excellent waves that are great for all surf levels.
This surf school focuses on both beginner and intermediate surfers and has a plethora of extras such as transportation services, lodging, and boat rides.
The program is based on four principles- discovery, development, support, and autonomy where you have the opportunity to build up your confidence through learning the skills and principles of surfing.
There are other activities available on the rare occasion that surf is flat, and it's all heavily based on exploring El Salvadorian culture and history, perfect if you want to really get a feel of the place and be guided by the local community with an emphasis on sustainability and agriculture.
Playa El Tunco is the destination to go to if you want to meet like-minded surfers who love to travel as much as you do. This vibrant town is choc-full of touristy things to do, has a rich history and is very friendly to surfers and backpackers.
If you are a young surfer looking to make new like-minded friends and discover the waves together, this surf house and surf camp could be the perfect thing. Think late-night bonfires, drinks with new friends, and low, low hostel prices.
The rooms are basic, but you have a lot of communal space to swim, enjoy the gardens and of course lots of on-site surfing with access to rentals for boards and instructors on hand to book time with.
Each year, Salty Souls holds an 8-day experience for women looking to learn to surf, embrace yoga and self-empowerment. These range between El Salvador, Indonesia, and Ecuador, though bookings go fast.
If you are looking for an opportunity to have 1-1 training with a surfing professional whilst building your mental and physical strength over the course of a week, Salty Souls may be just the ticket on your path to self-discovery.
Located in a safe and secure quiet beach town of El Zante, this surf camp is specifically for women and preferably those on a solo adventure looking to expand their minds and embrace the open waves.
Overlooking the world-renowned Punta Mango beach, Los Mangos Hotel was built in 2014 by Epic Adventures Surfing to provide a boutique hotel experience that's main focus was a great surf camp.
With an amazing rock beach and plenty of places to explore nearby, this is a great place to stay if you want private accommodation whilst still focussing on a good well-rounded surf camp.
They offer surf breaks and packages, or you can simply get cracking and explore the water yourself, as it's only a few yards from the door of your accommodation to the best waves in El Salvador.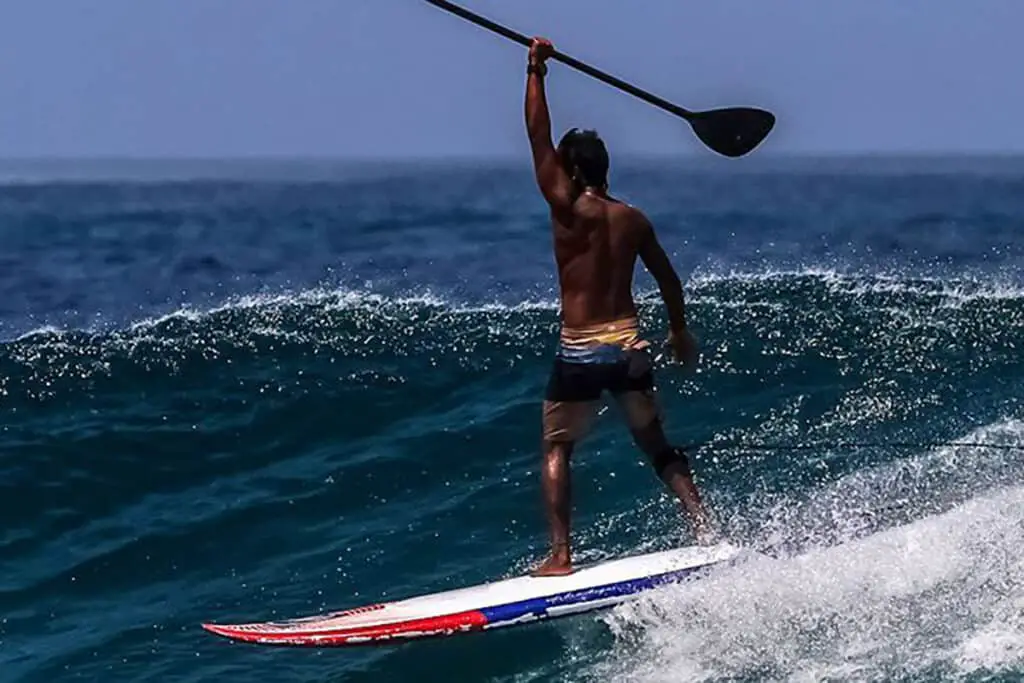 This is an all-inclusive surf camp package providing accommodation in a shared surf house or the option of a private villa, both just steps away from the surf.
The package is the perfect option if you want a stress-free holiday that's focused on surfing and having hands-on help from professionals at your side whilst being surrounded by like-minded people.
The package includes 7-night accommodation, 6 days of 4-hour lessons with qualified instructors at the surf school, airport transfers, surfboard rental, most of your meals throughout your trip, an 8-hour volcano tour hike, and a big party night out in the capital city of San Salvador.
A great choice if you want it all built into your holiday!
Travel In El Salvador
There are a couple of things to be aware of when traveling around El Salvador. Though a lot of these issues rarely affect tourists, it is probably a good idea to have your wits about you and not take any chances if traveling alone.
El Salvador has the highest crime rate in Central America, whilst it is still an amazing place to visit and has some of the most welcoming and generous people in the world, don't become a target of petty theft and keep valuables hidden when out and about. The crime rate is down to violence between government and gangs, so tourists are not targets at all.
El Salvador trips are usually trouble-free, but just be sure to behave sensibly, as you would in many other big cities or unfamiliar areas. Though the crime rate is high, this affects locals and communities but does not affect tourists and travelers, especially if you stay in safer zones and travel in secure tourist spots.
The rainy season in El Salvador runs from June until November, with extreme weather conditions, monsoons, and tropical depressions. Much like hurricane season in the Caribbean, which runs during the same period of time, it's definitely best to avoid traveling to El Salvador during this period of time.
The currency used in El Salvador is USD and Bitcoin is also an official currency, though ensure you know the risks and processes involved before you go if planning on using Bitcoin.
Frequently Asked Questions
What's The Sand Like In El Salvador?
It's an important thing to note that the beaches in El Salvador are a little different from those you'd find in the Caribean or other surf havens. The sands are made from limestone which can prove slippery, so be sure to watch your step, maybe a little more than usual as you're coming out of the waves.
What Are Some Of The Must-Visit Locations In El Salvador?
There are some stunning places to visit in El Salvador that would be a real shame to miss out on whilst you're there!
Tazumal Ruins – this historical landmark is an impressive selection of Mayan ruins, first settled in 5000 BC.
Playa El Tunco – if you're coming for the surf you have to check out this amazing beach town filled with beautiful beach caves and a hot spot for backpackers.
Suchitoto – the great gateway to the mountains, this old colonial city is a cultural magnet and has a plethora of street festivals and food to explore on the beautiful cobbled streets surrounded by Spanish colonial buildings.
Ruta de las Flores – otherwise known as the 'flower route', this architectural landmark walk takes you through the most beautiful villages in El Salvador.
Lake Ilopango – this insanely stunning freshwater lake is smack bang in the center of El Salvador. Formed by an earth-shattering volcano around 410AD, it is now a tranquil lake that is well worth a visit.
Montecristo National Park – this dense and nature-rich national park is easily accessed as part of a tour and you may get lucky spotting some incredibly rare animals out in their natural habitat!
Santa Ana– the second largest city in El Salvador, Santa Ana boasts vibrant buildings, a blossoming cultural scene, a neo-Gothic cathedral, and a great base for exploring the Tazumal Ruins nearby.
Is El Salvador A Good Place To Surf?
Yes! In fact, it's one of the best in the world for surfing. El Salvador even hosted the 2021 Surf City ALAS Pro Tour Surf Championship.
With many amazing tourist locations to visit and welcoming local communities to learn from, El Salvador is a buzzing and vibrant tourist destination for surfers that hasn't quite been completely enveloped by worldwide tourism yet, allowing you to still enjoy unspoiled beaches and amazing surf.
Is El Salvador A Safe Place To Travel To For Tourists?
Yes, it is, whilst it may have a suspicious reputation, El Salvador is safe to travel for tourists. Just be sensible, as you would in any major city, with displaying valuables, and be sure to practice common sense.
Listen to locals, as they will make you feel welcome and know what places are unsafe to travel through, and do some forward planning for your trip so you can ensure you make the most of El Salvador on your surfing adventures. This underrated destination is the perfect combination of culture, history, perfect surf, and luxury.
Final Thoughts
El Salvadore is the perfect destination if you want to explore a unique culture that's not yet choc-full of tourists quite yet. The weather is warm, the air clear and the surf impeccable. We hope this has given you some more ideas for your next surfing vacation and some ways you can make the most of your time in El Salvador.