Versatile High Performance softboard that goes really well in  hollow surf and a great option for kids
Sic Maui Dark Horse Surfboard 5'8
Reviewed by: Kalani (5) & His Mum & Dad (used by the whole family)
Dimensions: 5'8″ x 20″ (35L)
Fins: Quad or Tri fin setup with FCS fushion fin system
What we like: Stable, safe, comes with deck grip and (dad says) goes surprisingly well in solid surf!
What we don't: For an adult beginner it is a bit too small but for child or experienced surfer it's a great option
Rating: 10/10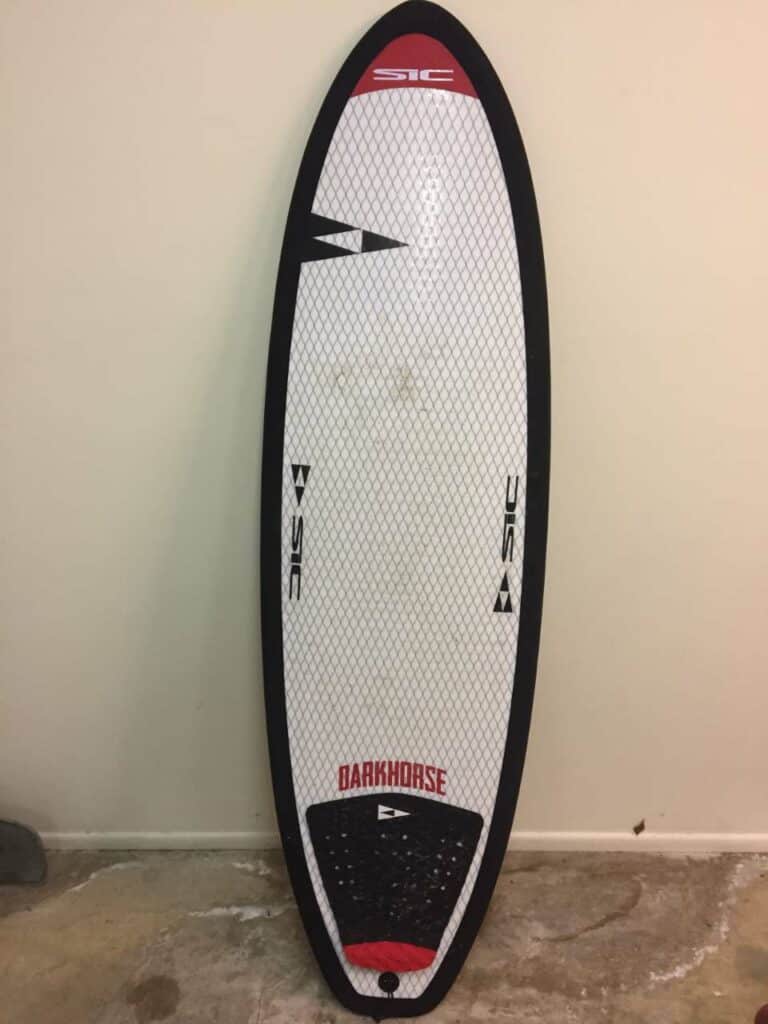 You may not have heard of Sic Maui, but the Hawaiian brand is a major player in the paddleboard and paddle racers world with a reputation for making high quality water craft. Within their more recently established surfboard range is a hybrid soft board called the "Dark Horse" which comes in four sizes – 5'8″, 6'8, 7'4″ and 8'4″
What does Sic Maui Say about the Dark Horse model:
"The all-new SIC Darkhorse is stepping up the game with its Vortex construction fusing the highest quality soft board technology with composite stringers and lightweight core materials to create fun and yet high-performance boards. 

The Darkhorse features a EPS core, the bottom and top skin are ultra-high-quality Vectra Ply reinforced polyethylene to promote speed, stiffness and durability. The rails are a high-density EVA to increase durability while being low friction, so they are comfortable on your arms when paddling. 

A key differentiating factor and core performance characteristic of the SIC Darkhorse is its Dullies™ (dual glassed reinforced composite rail stringers). This gives the board its unique stiffness without sacrificing its lively feel and pop! 

These boards are equipped with FCS Fusion compatible fin boxes and allow you to run the board as a quad or tri fin setup in the 5'8" and 6'8" lengths and a tri fin setup for the 7'4 and 8'4 lengths.
Our reviewers bought the Dark Horse primarily for Kalani, a 5 year old who has started surfing over the last year but dad (30 years surfing experience and level 1 surf instructor) and mum (3 years beginner) have both tried it out and have positive things to say about it.
---
What do you like about it?
Kalani – Stabile, catches waves easily, easy to paddle, it comes with deck grip witch is very cool, doesn't hurt when it hits me (vs fibreglass).
Dad – although a soft board, it is still fun and goes surprisingly well in descent surf, FCS fin set up and deck grip is a bonus.
Mum – fun, easy to catch waves and paddle but still lets a beginner start working on turns, doesn't look as kookie as other softies. Also makes the transfer to a fibreglass easier.
What don't you like about it?
Kalani – Nothing, it's my favourite board
Dad – Obviously it's not as high performance as a quality fibreglass shortboard, with just a bit too much volume. But then again, it was purchased as a beginner board for my son. In terms of quality, we haven't had any issues with ours but have friends with the same board and the glue on theirs holding the deck has started to let go a little bit. 
Ruth – A bit small for my liking as a lazy beginner (Adult)
How does it go in the surf and what kind of waves does it best suit
Kalani – White water and waves up to 1ft. Goes great, catches waves easy
Dad – Hollow, solid waves. The performance will surprise you!
Ruth – Much easier to handle than a big soft board in all ways. For its size, it still catches waves when small (1-2ft)
Overall for little kids or lightweight surfers it works well in white water and small waves but for adults and bigger people, you need bigger waves to get it going.
What kind of surfer is this board best for?
It is good fun for the whole family. As mentioned great for both beginner and more advanced surfer who is just after some fun. Caters for our whole family as a fun board. 
Does it compare to any other boards (soft tops or regular) that you have ridden?
We all prefer it over the Bombora (Surfboard Warehouse in Australia) and Mick Fanning Softboards. In terms of performance and build quality it's up there with the MF boards.
Compared to a fibreglass surfboard, it goes surprisingly well in bigger waves (says Dad). 
Wrapping it up….
As an experienced surfer when there are solid waves I find myself going for this board now,  with the quad fins it holds so well in hollow waves and it's easy to paddle. 
Great FUN for all levels, performs well above our expectations for a softboard!
We give the Sic Maui Dark Horse Surfboard a 10/10. 
---
The Dark Horse is available direct from Sic Maui in most regions check out their website here. 
We have also reviewed the Sic Maui Dark Horse 7'4″ HERE. 
If you are after more high performance softboard reviews, or buyer guides please check out the rest of our site! 
Any feedback on the Dark Horse is most welcome please drop a comment below. 🙂