Need Essentials Wetsuits Women's 3/2 Steamer (Chest Zip)
Reviewed by: Lyla
Wetsuit Materials: Limestone based neoprene
What we like: Very warm, well constructed
What we don't: Very tight initially, knee pads don't line up well with my knees
Rating: 9/10
What does Need Essentials Say?:
3/2mm Women's Premium Thermal – Chest Zip Wetsuit
This Women's Premium 3mm/2mm Chest Zip Steamer is designed and tested in cold conditions.  The torso and legs feature 3mm thick foam with an internal rapid dry thermal lining.  The entire suit is made from the highest grade limestone-based neoprene.  Arms and shoulders feature 2.5mm thick foam for increased flexibility when paddling.  All seams are sealed with a 3 stage process, Glued, taped and blind stitched seams give you a great seal with increase flexibility and strength. 
Key Features:
60% Rapid-dry thermal lining (torso and back)
3 stage – Glued, taped and blind stitched seams
100% Internally taped
Chest zip with extra internal barrier
Highest grade 4-way stretch neoprene [limestone]
Sealed cuffs
Internal key stash
4-way stretch knee pads
Chest zip closure adjuster
How Warm is It?
This is my winter suit and it is very warm for a 3/2. I have never been cold surfing in Newcastle or the Central Coast (East Coast Australia).
The coldest temperatures we get in winter months (July, August) are approx 17C.
The Need Essentials 3/2 wetsuit is designed for water temps between 14C to 20C / 57F to 68F water.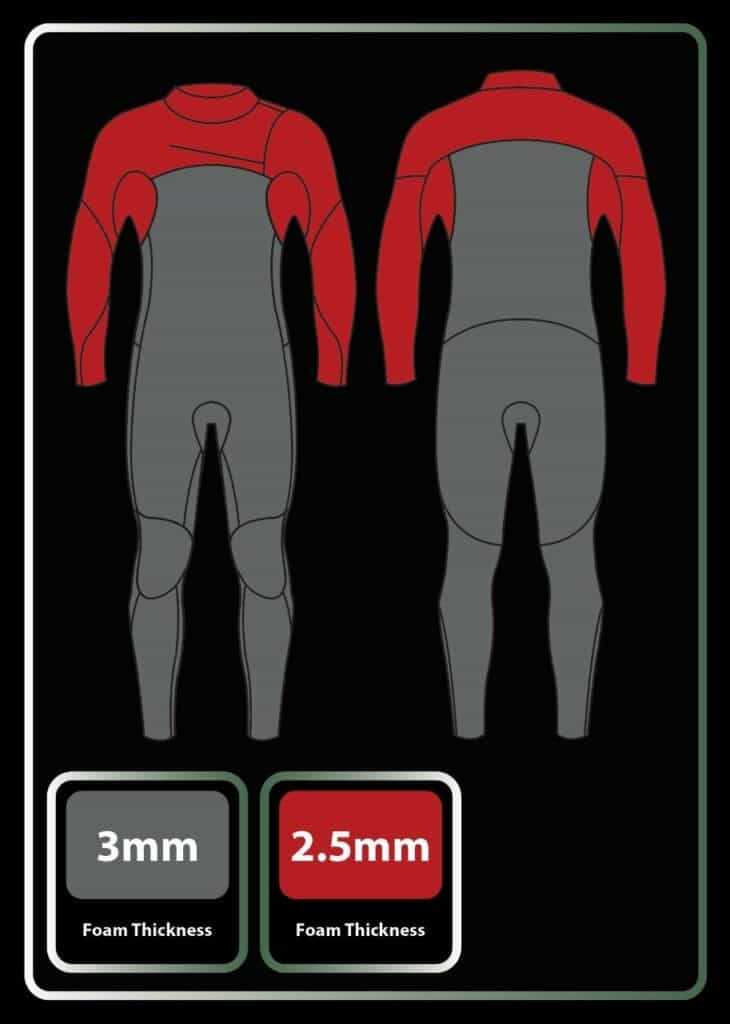 Comfort / Flexibility and sizing?
I found that it was very difficult to put on at first. The rubberized neck was so tight that it was painful and it pulled on my hair. I am very small so if you have a larger than average head this might be an issue. It has stretched out a bit and is easier to put on now. I have a Size 4, which fits small – I am 158cm and  52kg 
Below is the Need Essentials Women's sizing charts in cm/kg: PLEASE NOTE, Need Essentials suggests if you're on the higher size of the scale then it is recommended to choose next size up.
NEED ESSENTIALS WOMEN'S FULLSUIT SIZE CHART
| | | |
| --- | --- | --- |
| Size | Height | Weight |
| 4 | 155-160 | 45-54 |
| 6 | 160-165 | 50-59 |
| 8 | 164-168 | 54-63 |
| 10 | 167-170 | 59-68 |
| 12 | 169-173 | 64-72 |
| 14 | 172-175 | 73-82 |
What do you think of its construction quality?
Very well made other than that the knee pads don't line up very well with my knees but that might be just me. 
How has it held up over time?
I've had it for a year and it's held up very well. Other than stretching out a bit (for the better) it looks pretty much new.
Your thoughts on the price and value 
Great value, I paid $220 (AU dollars). I haven't found another as high quality suit that fits this well for the price.
Final Thoughts and Rating of the Need Essentials Women's 3/2 steamer?
I would rate this suit as 9/10. 
The Need Essentials fits way better than my old O'neill suit ever did. This size is great for shorter women with small builds.
---
Do you have a Need Essentials wetsuit  yourself? We'd love to hear your feedback so please comment below or even better – submit your own wetsuit review here. 
Check out our other wetsuit reviews here.